What Tito Vilanova Has Proven so Far in the Shadow in Pep Guardiola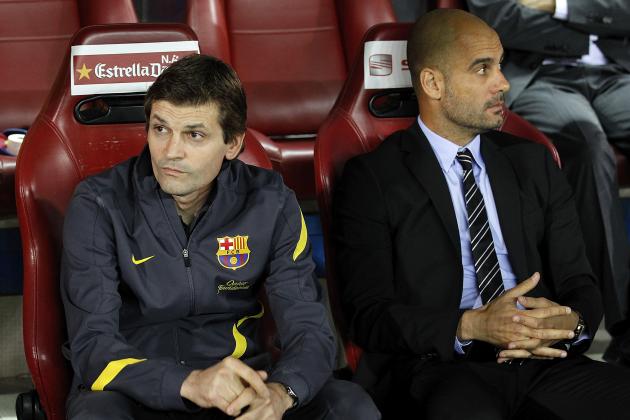 Angel Martinez/Getty Images

Pep Guardiola rocked the football world in April when he announced that he would not be returning to Barcelona (via ESPN).
The Catalan player-turned-coach won an astonishing 14 trophies with the Club in merely four years and is seen as one of the greatest coaches in Barcelona history.
As a farewell celebration commenced, tears filled the eyes of players and Guardiola himself as he was saying goodbye to his home.
The next step for the Club was a big one. Who was going to replace Pep in charge of La Blaugrana?
I had personally been calling for his long-time assistant, Tito Vilanova, even before Guardiola made his exit official.
Tito Vilanova, who also played for the Barcelona Academy, was quickly named as Guardiola's successor and his first season in charge of the Club has been outstanding so far.
Let us take a look at the new Barcelona manager and what sets him apart from his predecessor.
Begin Slideshow

»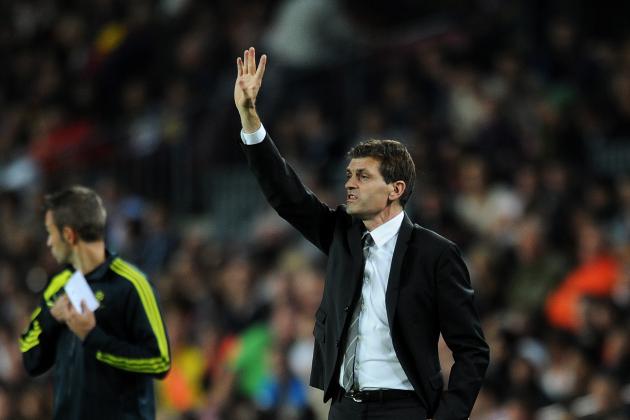 Jasper Juinen/Getty Images

The current Barcelona squad under Vilanova has achieved something that Guardiola never did.
This season, through 15 games without a loss and only one draw, Barcelona have set the record for the best ever start to a La Liga season (per fcbarcelona). This was surprisingly never achieved by Guardiola and is a feat that should be celebrated.
With such a start to the season it is difficult to not argue that this may be the best club La Liga has ever seen. If statistics are a factor then this squad must at least be recognized as one of the best of all time.
It is not merely down to the players; Vilanova has been instrumental in the success of this Barcelona squad.
Vilanova has been very wise for the most part in producing his starting lineups. But, he may be even wiser in his substitutions.
Barcelona started the season by squeezing out a few wins that they honestly did not fully deserve. Vilanova was able to make the accurate changes that produced a victory for the club and can already be seen a leader on the sideline.
Apart from the player organization, Tito has made slight changes to the Barcelona style. The attack is now more deliberate when it comes to scoring goals, as evidenced by the fact that they are scoring more goals than ever.
Every coach makes their fair share of mistakes. From time to time I ask myself why Vilanova is making a certain change or starting a certain player, but it is very hard to argue with results.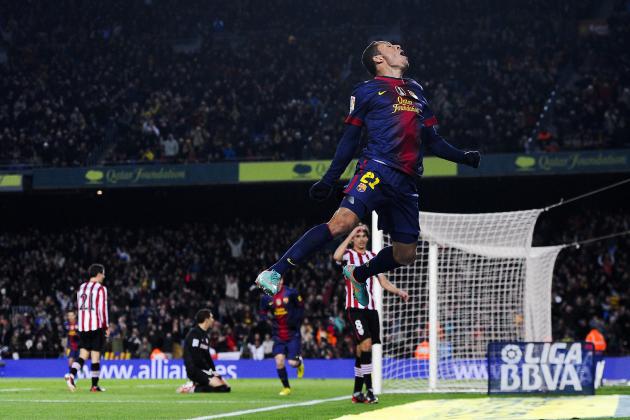 David Ramos/Getty Images

In his short few months in charge of La Blaugrana, Tito Vilanova has shown that he definitely knows his players.
The first glimpse the world saw of the Catalan manager's brilliance happened against none other than Real Madrid.
When Barcelona were thin in defense due to injury, Vilanova chose the Brazilian Adriano to feature as a center back (via Goal).
This move not only worked out, but was very surprising. It showed that Vilanova was wise enough to realize who can play where and what each player's limitations are.
But the manager has not stopped there.
Midfielder Cesc Fàbregas was reunited with his boyhood club last summer, but saw his first season home as a major disappointment. The player just could not find his form and some reports even claimed that he could be loaned out in January (via Mirror).
Tito Vilanova did what Guardiola could not, and that is a very tough statement to make.
Vilanova has found the role for Cesc in the Barcelona midfield similar to his role when he was at Arsenal. By not asking him to play too many positions, the midfielder is now arguably the best midfielder in the world.
Granted, the Cesc role came at the expense of moving Andres Iniesta to the left wing. But this move in itself is just another vision of the great mind of Vilanova. In fact, Iniesta has become an even better player now that he is on the wing.
Only time will tell just how well the manager knows his players and how good he is at lining up his squad.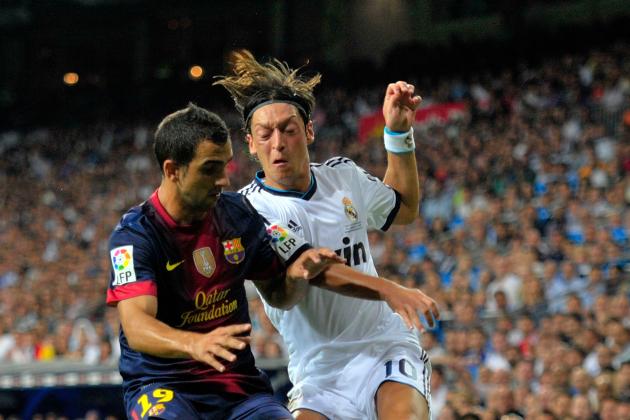 Gonzalo Arroyo Moreno/Getty Images

Barcelona is known for many things, and their youth system is definitely one of them.
From the stars such as Messi, Xavi and Iniesta, Barcelona continue to produce some of the world's greatest talent. Just as Guardiola was praised for giving chances to the youth of the Club, Tito has followed suit.
Martin Montoya has seen immense success this season at the right back position and may even be ready to take Dani Alves' position.
Though most of that time has been due to injuries to Alves, Vilanova has still put major faith into the 21-year-old.
Tito Vilanova has also slowly begun to work young defender Marc Bartra into the lineup with varied minutes throughout the season. Bartra has certainly impressed but Vilanova has been wise to not rush his progress as many would do.
Even the talents that remain at Barcelona B have been given their shot in smaller games.
Players such as Gerard Deulofeu, Sergi Roberto, Rafinha and Carles Planas have all seen first team action this season. Tito is not afraid to give the Barcelona products a chance and it will certainly work out for the best in the long run.
But let us not forget that Guardiola was also known for giving major chances to the Barcelona babies.
Some fans, myself included, have seen the danger of rushing youth. Though Guardiola did rush the development of former Barcelona striker Bojan, the other players tended to work out.
It is now Vilanova who sees the youth as the future. And to make sure their development is fully completed, the Catalan manager is showing great patience, a trait long forgotten in today's world.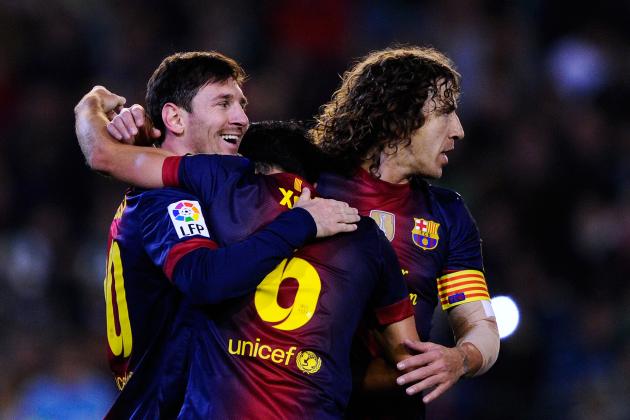 David Ramos/Getty Images

Every manager is different and each has their own approaches to situations.
Some managers like the spotlight while others tend to stay quiet. Every now and then a quiet manager can be recorded taking a jab at the opposition and it all comes with the territory of football.
But to this point, Tito Vilanova has not seemed at all interested in matters outside of his own clubhouse.
Vilanova has come across as a manager that will praise his players and stick up for them. This is obviously very important but it is an extremely vital aspect of Vilanova's coaching style.
"Mes Que Un Club" is the motto of Barcelona, meaning "more than a club."
Whether that be the Catalan nationalism which the Club represents or the family atmosphere of the Club, it is certainly a life blood statement full of truth.
Vilanova has so far lived by the motto as he has sought to be personally involved with each player on the squad on and off the pitch. He has expanded the family aura of the Club beyond what Guardiola began and it has been a huge success.
When other coaches can be seen making headlining statements to the media, Vilanova does what he does best: manages his team.
So far, he has not wasted time in meaningless media bouts; rather he has chosen to let his players do the talking on the pitch.
As long as Vilanova continues to be a manager of the players, he will have their loyalty. It will take a very long time for a manager to gain more loyalty at Barcelona than Guardiola had, but Tito is off to a good start.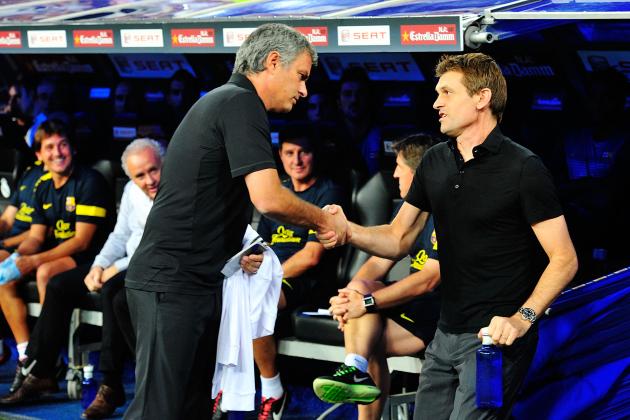 Gonzalo Arroyo Moreno/Getty Images

Only time will tell how successful Tito Vilanova can be at Barcelona.
Can the new manager equal the greatness of Pep Guardiola? I think he absolutely can. However, that is also a very unlikely thing to happen.
Guardiola will always be loved and missed at Barcelona and it is nearly impossible for someone to replicate his success.
However, the question of his replacement need not be addressed again. For me the answer was clear before it was made. Tito Vilanova was and is the only choice to replace Pep.
Barcelona is in Vilanova's blood and he has continued the work of his legendary successor.
The new manager is overseeing a wonderful Barcelona season and has won the hearts of the Barcelona faithful. I for one am proud to have Tito as the Barcelona manager and I hope he remains at the club for many years.
The tough part of the season is just beginning and the road to greatness is long. Vilanova must now continue to prove that he deserves the job. The learning curve has ended and now expectations must be met.
As I stated earlier, "It is hard to argue with results."
Here is to the rest of the reign under Tito Vilanova! May he continue at Barcelona for many years and become the next great manager of La Blaugrana!
Now to you, the readers. How would you rate Tito Vilanova to this point? Is he now settled as Barcelona's man for the present AND future?
Tre' Atkinson, The Catalan Blood of Bleacher Report. Follow @TreAtkinson
You can check out my latest Barcelona articles here:
Previewing Real Betis vs. Barcelona
Predicting Barcelona's Future Starting XI