New England Patriots: 6 Thoughts on the Pats' First Six Weeks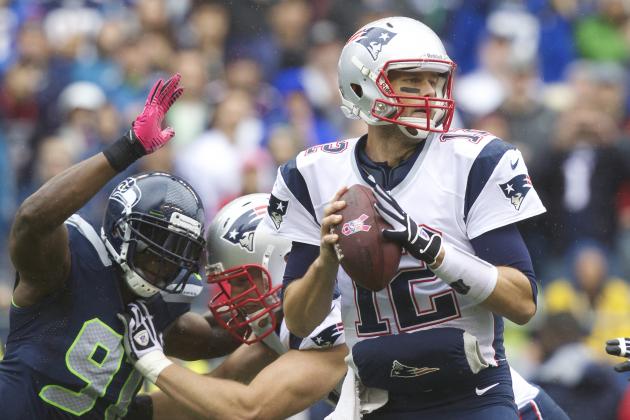 Stephen Brashear/Getty Images
Brady and the Pats offense moved the ball in Week 6, but struggled in crucial situations.
Scottish poet Robert Burns was right about the "best laid schemes o' mice an' men." For the New England Patriots, the 2012 season has "gang aft agley."
Still, Pats fans need not abandon hope of promised joy.
After all, at 3-3, New England has the third-best record in the AFC. Granted, they're tied with nearly half the conference for that distinction, but of all the seasons for the Flying Elvii to stutter out of the gate, this one would rank near the top.
There aren't any truly elite teams in the conference this year—the Houston Texans just got mopped by the NFC North's third-place Packers, and the Baltimore Ravens lost Lardarius Webb and Ray Lewis for the year.
The Pats aren't perfect—they might be better served employing scarecrows in their secondary, in hopes of spooking receivers into occasional incompletions—but they are still a Super Bowl contender.
That is, if they can improve on some of the late-game trends that have resulted in blown fourth-quarter leads and excruciating losses.
Here are six early returns–both positive and negative—on the Pats' first six weeks of play.
Begin Slideshow

»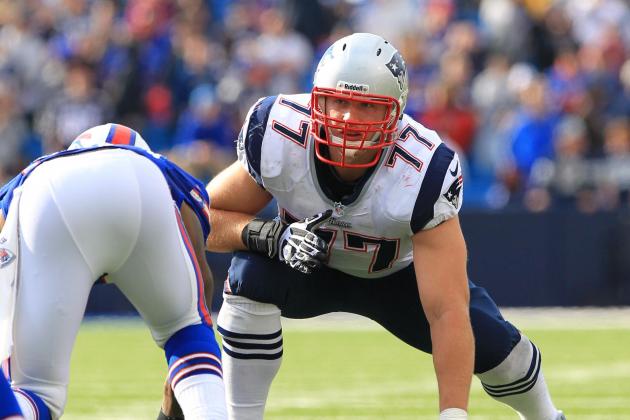 Kevin Hoffman-US PRESSWIRE

Brian Waters, eat your heart out.
Okay, that might be a little much. After all, entering Week 6 Waters' replacement Ryan Wendell was the only interior lineman in the NFL to have given up more than three sacks (per ProFootballFocus).
But the Pats' line has fared much better than anticipated, especially given Waters' disappearance, injuries to RG Logan Mankins and RT Sebastian Vollmer and the retirement of stalwart LT Matt Light.
Credit Patriots offensive line coach Dante Scarnecchia, who has done another brilliant job of taking patchwork personnel (remember Stephen Neal and Russ Hochstein?) and molding them into a cohesive group.
While they're just 16th in the league in sacks allowed, they've faced some vicious pass-rushes (four of the NFL's top-11 teams in sacks registered) and held their own. That's a great sign for a team that has had pass-protection issues in big games.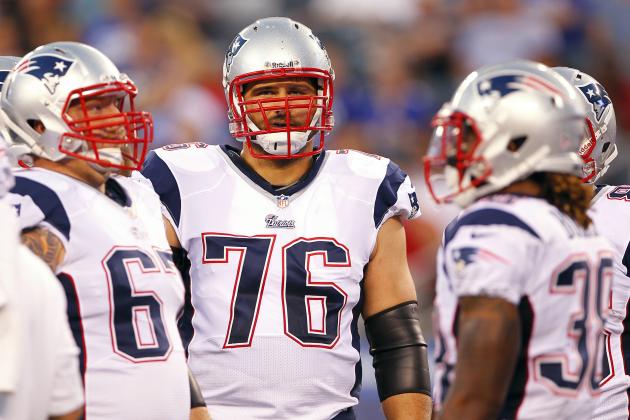 Rich Schultz/Getty Images

Last week, tackles Vollmer and second-year Nate Solder did a solid job against a vicious Seattle Seahawks pass rush.
Solder, in particular, did well in heading off rushers.
Opposing ends Bruce Irvin and Chris Clemons were lining up in a 5-or-6-technique (across from the tackle's outside shoulder), and Solder took good angles to the point of attack with a quick first step off the snap. In doing so, he prevented rushers from gaining the edge to Brady's blind side. That allowed Brady to step up in the pocket and take his time to make throws.
Solder played a big role on a line that yielded only one sack on 58 dropbacks to the No. 1-ranked defense in the NFL.
There's still some issues to iron out—including getting Mankins healthy—but the line doesn't look to be nearly as big a problem for the Pats as it seemed before the season started.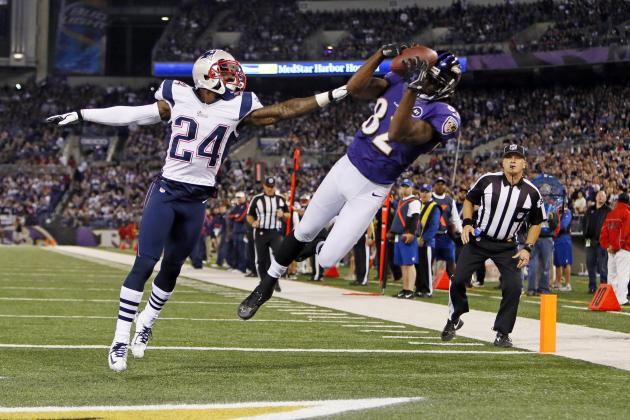 Mitch Stringer-US PRESSWIRE

There is plenty of blame to go around for the Patriots' loss to the Seahawks in Week 6.
The offense sputtered in the second half, managing just six points. The front-seven missed key tackles (here's looking at you, Jerod Mayo). Even special teams chipped in to the collapse—Zoltan Mesko's bad punt with 2:38 to play led to a 25-yard return by Leon Washington that set the Seahawks up with a short field.
But the biggest culprit in the collapse was—yet again—the Patriots' childishly awful secondary play.
It's maddening to watch the Patriot pass defense. They play soft coverage and still get beaten over the top. No one picks up pass-catchers in the flat. They bite on play-action as if a five-yard run would mean the end of the world.
Worst of all, even when they're in position to make a play on the ball, New England's defensive backs never turn their head. Their technique results in big-play completions or defensive pass-interference calls more often than not.
Something's rotten in the state of the Patriots secondary, and it runs deeper than the personnel.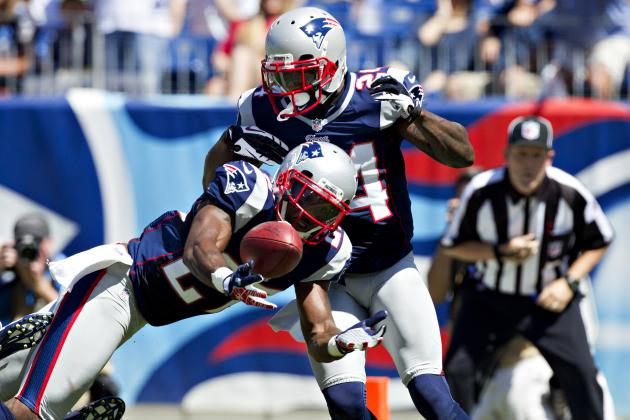 Wesley Hitt/Getty Images

The Pats defense is ranked in the bottom-five in the league in pass-yards-per-game, passing touchdowns allowed, completion percentage and yards-per-attempt.
The strange thing is, it's not as if their secondary lacks talent. New England's defensive backfield is loaded with high picks (Devin McCourty, Patrick Chung, Ras-I Dowling, Tavon Wilson) who seem to get worse the longer they play with the Pats.
It's almost like all of these talented players have their instincts coached out of them.
Whatever the case, it's gotten to the point at which cornerbacks coach Josh Boyer and safeties coach Brian Flores should be on the hot seat. There's no way that a well-coached defensive backfield yields a play like the game-losing strike to Sidney Rice on the Seahawks' penultimate drive.
Even below-replacement-level players should know not to fall for a double-fake in a situation where the opposing team needs a touchdown. And yet, that's exactly what Tavon Wilson—and Nate Ebner, who was caught in no-man's-land on the biggest play of the game—did.
The secondary is almost solely responsible for two losses already this year. Any more, and the Pats' playoff chances start to sink before they even get a chance to set sail.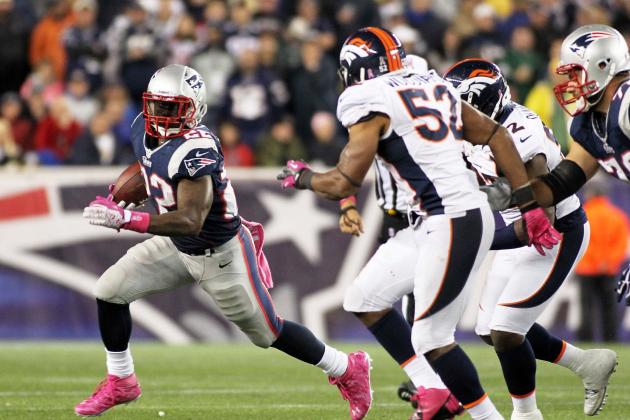 Stew Milne-US PRESSWIRE

For the first time since Corey Dillon hung up his cleats, the Pats—behind backs Stevan Ridley, Danny Woodhead and Brandon Bolden—are a threat on the ground.
New England ranks in the top-10 in total rushing yards, rush-yards-per-game, rushing touchdowns and yards-per-attempt. These stats are especially impressive given that five of the Pats' six opponents rank in the top-half of the league in run defense.
Consequently, running plays have become a much bigger part of the Patriots' gameplan this season. According to TeamRankings.com, New England jumped from a 60/40 split in favor of passing in 2011 to a near-even ratio of passing and running this year.
The new dynamic has proven immensely beneficial to their offense—entering Week 6, the Pats were seventh in the NFL in average time-of-possession. They finished last year just 27th in the league in ToP.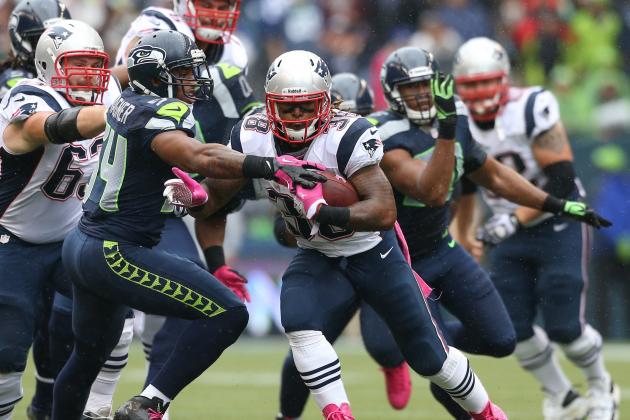 Otto Greule Jr/Getty Images

On the flip side, in their Week 6 matchup against the Seahawks, we saw what happens when that dynamic disappears. The Pats ran the ball just 26 times as compared to 58 pass plays in the loss.
Although they were able to move the ball effectively between the 20s, the offense had trouble scoring in the red zone. Tom Brady struggled mightily in forcing the ball into tight windows in the end zone, and an effective running game would have helped tremendously.
Without an established ground attack, the Pats also struggled to control the fourth quarter. They could have run the clock down with a couple first downs, but went three-and-out on their second-to-last drive. They had to punt with 2:38 left in the game and watch their defense relinquish the lead for good.
But even in last week's matchup against the Seahawks, New England put up 85 yards against a defense that yielded less than 70 yards-per-game heading into Week 6.
The Pats are now a top-five running team, and that will go a long way towards easing QB Tom Brady's burden as the season progresses. It also legitimizes play-action for the Pats, which draws safeties into the box and opens up the big play.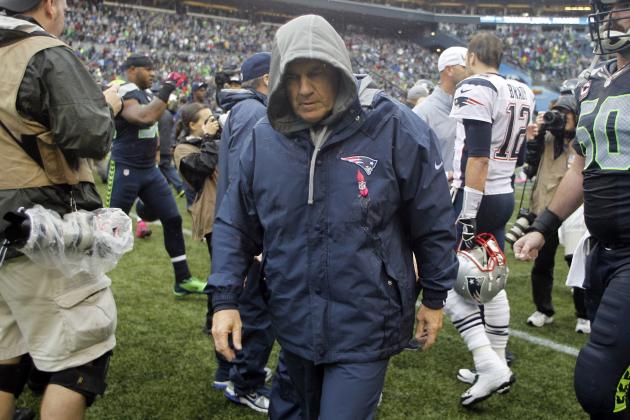 Joe Nicholson-US PRESSWIRE

Awful coverage techniques aside, I won't come anywhere close to saying the Patriots are poorly coached. That's a recipe for a whole lot of well-deserved blowback from knowledgeable football fans.
But coach Bill Belichick and his staff have done a poor job with clock-management in crucial situations this year.
There's plenty of blame to be placed on Tom Brady for committing an intentional grounding penalty at the end of the first half against the Seahawks—costing the Patriots a difference-making field goal—but events transpired two snaps prior that set up that gaffe.
Immediately following a first-down completion to Wes Welker that put the Pats in the red zone, Belichick and the Pats let 16 seconds run off the clock even though they had two timeouts– putting needless pressure on the offense to score on a quick strike.
New England could have called timeout with 35 seconds left, but instead inexplicably waited until just 19 seconds remained to use that timeout. That forced Brady to rush through his progressions on the next few plays.
Essentially, bad clock management put him in a position to fail before the ball was even snapped.
The Pats got zero points from a drive that ended inside the five-yard line. It would have been as close to a sure-thing as a FG can get. Those three points—in a game that the Pats lost by one—could have made all the difference.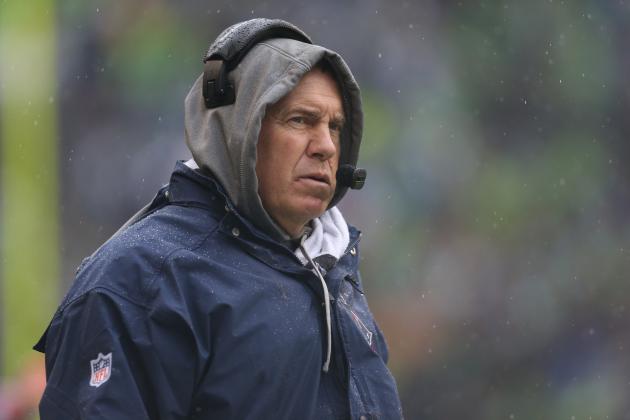 Otto Greule Jr/Getty Images

It's this kind of Andy Reid-esque clock management (apologies to Eagles fans) that has cost the Pats crucial wins. And it isn't unique to the Seahawks game—clock management played a hand in the Pats' loss to the Cardinals in Week 2.
Down two points in the waning minutes of the fourth quarter, Brandon Spikes forced a fumble which the Patriots recovered at the Arizona 30. The Pats offense had struggled throughout the day but had finally begun to gash a gassed Cardinals D on the previous drive.
They took a few quick shots to draw closer to the endzone, but then—following holding and false start penalties on Rob Gronkowski—proceeded to kneel down the final minute of the clock.
That left K Stephen Gostkowski with a 42-yard field goal— not a Jay Feely-level bomb, but not a chip shot either. Gost, who was perfect on his previous four kicks, shanked this one into the parking lot.
While it's true the Patriots wanted to avoid a turnover, they were unnecessarily conservative against a defense they had finally solved. They had the time, down and distance to take a few quick, low-risk shots at shortening the field goal try.
Even a few runs up the middle could have gone a long way towards making this an easy FG, and with little risk.
But taking a knee when the kick is far from a sure thing? That's playing not to lose.
The Pats need to be aggressive—and smart—in their decision-making. We haven't seen enough of that yet this year.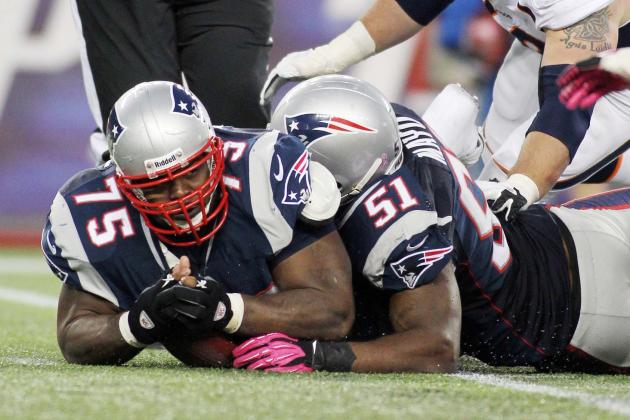 Stew Milne-US PRESSWIRE

Yes, the pass defense is still middling. But much of that blame goes to a secondary that is—yet again—among the worst in the league.
The front-seven? After six weeks, we can safely say that early returns on the defensive line and linebacking corps are positive.
Rookie DE Chandler Jones has been a revelation. He's got five sacks and three forced fumbles in six games—including a strip sack of Russell Wilson on a beautiful veteran move.
Stout DTs Vince Wilfork and Kyle Love have anchored a defense that's become notoriously tough to run on.
Tweener Rob Ninkovich gets a lot of criticism from Pats fans, but he does a lot of things well. He's been a playmaker in spurts, with 2.5 sacks and three forced fumbles.
There needs to be a more consistent pass rush—but when's the last time that hasn't been true of a Pats team? At least the Pats finally seem to have struck gold on a high-round defensive playmaker on the line in Jones.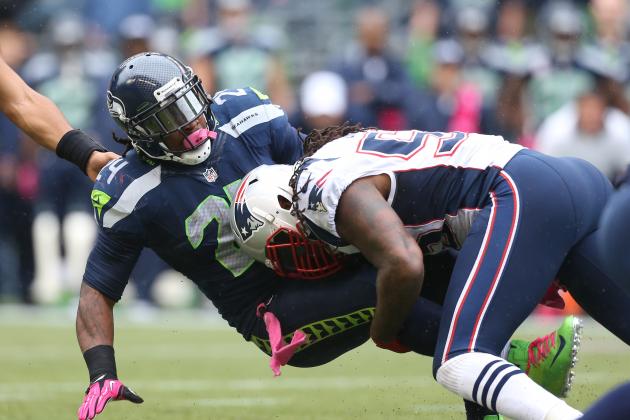 Otto Greule Jr/Getty Images

The linebackers, too, look like a strong playmaking group.
They've struggled in coverage—a theme among Patriots defenders—but the linebacking corps has played an enormous part in improving the Pats' front-seven.
Brandon Spikes and Jerod Mayo, in particular, have anchored the second-level of a much-improved rush defense.
Last year, they ranked 17th in rushing yards-per-game, which—coupled with their 31st-ranked pass defense—meant they couldn't stop anyone. This year, they've become a very good rushing D.
In 2012, the Pats are ranked sixth in the league in rushing D, allowing just 82.7 yards-per-game on the ground. They've also forced five RB fumbles, good for second in the NFL.
It remains to be seen how rookie LB Dont'a Hightower will recover from his hamstring injury, but if he's healthy, the Pats have playmakers at all three LB positions.
The Pats will need more consistent tackling out of their linebackers—Mayo and Spikes both missed key tackles against the Seahawks. Still, this group—with a healthy Spikes in the middle and Mayo at OLB—looks much better than last year's linebacking corps.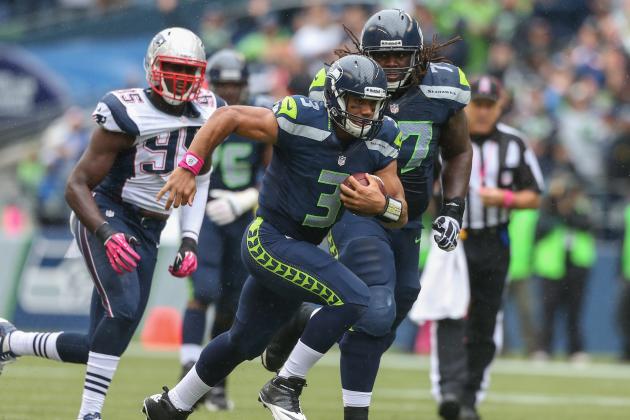 Otto Greule Jr/Getty Images

The Patriots' three losses this season have come at the hands of the Arizona Cardinals, Baltimore Ravens and Seattle Seahawks.
Notice a theme?
Perhaps the team got together this summer to watch Alfred Hitchcock films, or maybe Belichick suffers from acute ornithophobia.
Whatever the case, the Pats should consider themselves lucky that they don't face the Eagles or Falcons this year, or they might be in danger of missing the playoffs.
As it stands, there's no more bird-themed mascots left in New England's way, though they could well meet up with the Ravens in the playoffs.
Pats fans must hope that their team's inability to overcome creatures of flight doesn't extend to mechanical birds or birds of the sea, because they've got four games to play against the Jets and Dolphins.