After two straight losses to non-playoff teams from a season ago, the New Orleans Saints look like a different team from 2011. That offense, which was so unstoppable under Sean Payton is out of sync, and the defense is struggling without Greg Williams. In an improved NFC, the Saints appear to be in trouble. Payton was that important to this team, and it's showing.
In this week's power rankings, the Eagles and the Dolphins made the biggest leap, jumping seven spots, while the Bears and Redskins had the biggest fall, tumbling six spots. The Falcons cracked the top five, and the 49ers maintained their No. 1 ranking.
Enough of me spoiling it, time for you to find out for yourself where your favorite team ranks.
1. San Francisco 49ers (1): 2-0. For the second straight week, the 49ers defense shut down a high-powered offense. For the second straight week, Alex Smith shined. That's now 284 passes without throwing an interception. (Next game: at Minnesota)
2. Houston Texans (4): 2-0. The Texans look like they are the 49ers of the AFC. A game manager at quarterback, great rushing attack, and scary defense. That's a formula for success. (Next game: at Denver)
3. Green Bay Packers (5): 1-1. The Packers defense responded in a big way on Thursday night against the Bears. They needed that win. (Next game: at Seattle on MNF)
4. Atlanta Falcons (6): 2-0. I've been high on the Falcons since Day 1, and Monday night made me feel even better. Matt Ryan has gotten off to a perfect start this season. (Next game: at San Diego)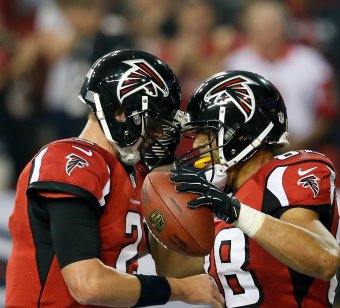 Kevin C. Cox/Getty Images
5. New England Patriots (2): 1-1. Raise your hand if you had the Patriots losing at home to the Cardinals on Sunday. Losing Aaron Hernandez doesn't help. (Next game: at Baltimore on SNF)
6. Baltimore Ravens (3): 1-1. Joe Flacco had a poor second half as the Ravens let one slip away in Philadelphia. Ray Rice needs to get the ball more. (Next game: vs. New England on SNF)
7. New York Giants (10): 1-1. Eli Manning did Sunday what he did all of last season: lead a fourth-quarter comeback. Manning torched the Buccaneers defense to the tune of 510 passing yards. (Next game: at Carolina on TNF)
8. Denver Broncos (8): 1-1. Peyton Manning rebounded from a miserable three-interception first quarter, but it wasn't enough to come all the way back in Atlanta. (Next game: vs. Houston)
9. Pittsburgh Steelers (11): 1-1. The Steelers played well in a trap game against the Jets and got revenge against that Tebow guy. Well, sort of. (Next game: at Oakland)
10. Philadelphia Eagles (17): 2-0. The fact that the Eagles have nine turnovers in two games and are 2-0 has to be an encouraging sign going forward. Michael Vick was brilliant in the game-winning drive against the Ravens. (Next game: at Arizona)
11. San Diego Chargers (15): 2-0. Am I seeing this correctly? Are the Chargers getting off to a fast start under Norv Turner? (Next game: vs. Atlanta)
12. Dallas Cowboys (9): 1-1. Tony Romo's woes in Seattle continued on Sunday. The Cowboys were run off the field. (Next game: vs. Tampa Bay)
Who will win the AFC West?
13. Chicago Bears (7): 1-1. I guess it wasn't a smart thing for Jay Cutler to wish the Packers secondary good luck on Thursday night. (Next game: vs. St. Louis)
14. Detroit Lions (12): 1-1. Something doesn't look right with Matthew Stafford this year. He hasn't looked sharp through two games. (Next game: at Tennessee)
15. New York Jets (13): 1-1. With their loss in Pittsburgh, the quarterback controversy returns in New York. Ah, the sports world we live in. (Next game: at Miami)
16. Cincinnati Bengals (18): 1-1. Andy Dalton rebounded from an ugly game in Baltimore throwing for 318 yards and three touchdowns against the Browns. (Next game: at Washington)
17. Carolina Panthers (20): 1-1. Similar to Andy Dalton, Cam Newton bounced back after a poor showing in Week 1. That was a nice win for the Panthers. (Next game: vs. NYG on TNF)
18. Arizona Cardinals (22): 2-0. After winning in Foxborough, I think Kevin Kolb has won the job in Arizona. Now he gets a chance to beat his former team. (Next game: vs. Philadelphia)
19. New Orleans Saints (14): 0-2. If the Saints lose to the Chiefs at the Superdome this week, it's officially time to hit the panic button. (Next game: vs Kansas City)
20. Seattle Seahawks (23): 1-1. Bill Simmons' preseason Super Bowl pick of the Seahawks winning the Super Bowl looked pretty good on Sunday. It would look even better if they can beat the Packers Monday Night. (Next game: vs. Green Bay on MNF)
21. Tampa Bay Buccaneers (19): 1-1. A thriller at the Meadowlands will be overshadowed by Greg Schiano and Tom Coughlin's argument at the end of the game. (Next game: at Dallas)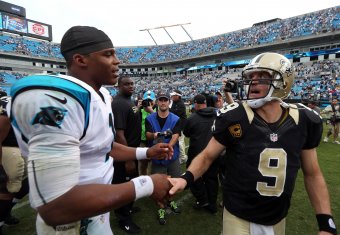 Streeter Lecka/Getty Images
22. Washington Redskins (16): 1-1. Had it not been for Josh Morgan's penalty, we might be talking about a different Redskins team right now. Stupid, stupid play. (Next game: vs. Cincinnati)
23. Buffalo Bills (28): 1-1. Through two games, C.J. Spiller has 29 carries for 292 yards. That's 10 yards per carry. (Next game: at Cleveland)
24. St. Louis Rams (29): 1-1. This looks like the Rams team we were expecting to see a season ago. Sam Bradford has looked sharp to start the year. (Next game: at Chicago)
25. Miami Dolphins (32): 1-1. They dominated the Raiders in their home opener and look to build on that when the Jets come to town this weekend. (Next game: vs. NYJ)
26. Indianapolis Colts (30): 1-1. That was the first of many wins for Andrew Luck in an Indianapolis Colts uniform. (Next game: vs. Jacksonville)
27. Minnesota Vikings (25): 1-1. Christian Ponder had his second comeback attempt in two weeks shut down by Andrew Luck on Sunday. (Next game: vs. San Francisco)
28. Jacksonville Jaguars (27): 0-2. The Jaguars season would have been a lot more exciting had Tim Tebow chosen to come to Jacksonville. Sigh. (Next game: at Indianapolis)
29. Tennessee Titans (21): 0-2. If the Titans continue to struggle like this, the Jake Locker experiment might be short-lived in Tennessee. (Next game: vs. Detroit)
30. Cleveland Browns (31): 0-2. Brandon Weeden and Trent Richardson had a much better showing in their second game for the Browns. Unfortunately it wasn't enough. (Next game: vs. Buffalo)
31. Oakland Raiders (26): 0-2. The Raiders haven't made the playoffs since 2002, and it doesn't look like that draught will end this season. (Next game: vs. Pittsburgh)
32. Kansas City Chiefs (24): 0-2. The Chiefs are starting 2012 off just like they did a season ago by getting blown out in their first two games. It's not pretty. (Next game: at New Orleans)