Breaking Down the Denver Broncos' Blue Print for Winning the Super Bowl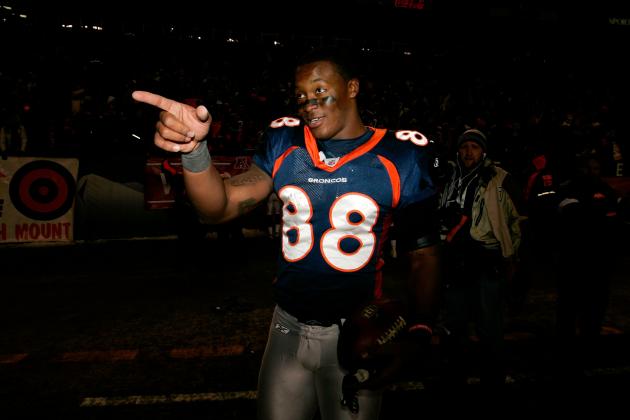 Justin Edmonds/Getty Images

A lot of people laughed at Sports Illustrated writer Peter King when he picked the Green Bay Packers over the Denver Broncos last week as his Super Bowl prediction.
While most agree that the Broncos will improve as a unit with Peyton Manning at quarterback and show growth in the defense and wide receiver corps, not many are predicting the Broncos to trot to New Orleans.
In reality, however, the Broncos are not an outrageous Super Bowl pick. Yes, they do play a very tough schedule, yet they play in a very winnable division in the league's more winnable conference.
The New England Patriots and the Houston Texans are certainly the most complete teams, yet the Baltimore Ravens, who many "experts" have picked to be Super Bowl attendees are notorious playoff busts and have lost their best pass-rusher in Terrell Suggs.
Should Denver play smart and cohesively, they could very well be Super Bowl bound. (My pick is the Chicago Bears over the Broncos, for the record.)
Begin Slideshow

»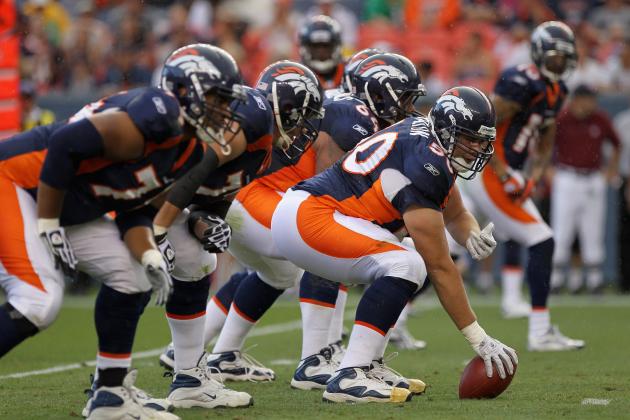 Doug Pensinger/Getty Images

Consistency in the offensive line was one of the keys to Denver being able to make the playoffs last season.
The unit, which was the only one in the NFL to start the same five men in all 16 games, provided then-quarterback Tim Tebow with tons of times to hustle, shuffle and pull off some exciting plays both in and out of the pocket.
With a much more immobile quarterback in Peyton Manning this season, the line will have to play even more solid, and injuries will unquestionably hurt the cohesiveness of the unit.
They have already faced adversity, as guard Chris Kuper will miss the first four games of the regular season, yet veteran fill-in Manny Ramirez should get the job done painlessly. As long as Kuper can recover and the rest of the guys can stay healthy, Manning will be protected in the pocket and can focus on what he does best.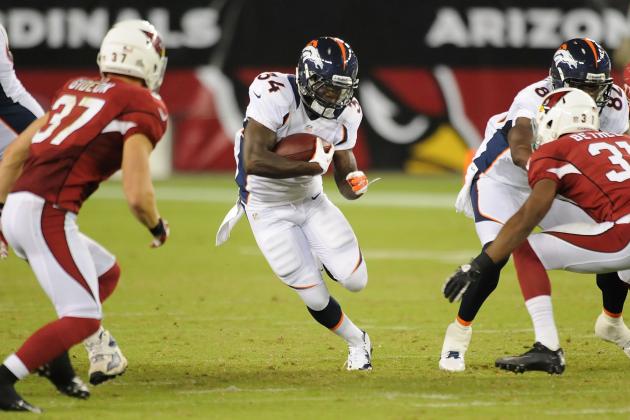 Norm Hall/Getty Images

Since coming to Denver, Willis McGahee has far exceeded expectations.
After three lackluster and injury-ridden seasons in Baltimore, many thought that McGahee would never beat the injury bug that so often plagues powerful rushers.
Well, he proved last season, with 1,199 yards, that he still has plenty of gas in the tank.
That being said, McGahee is still the big three-oh, and his body has taken its share of hits. He's going to need some help, and he'll have to get this help from rookie Ronnie Hillman, Lance Ball and Knowshon Moreno.
Ball is the best pass-catcher of the trio and he should be able to help on screen and pitches. Hillman is a rookie and has good explosiveness. Fans will hope he can turn four yards into twenty. The most pressure lies on Moreno, who has to prove to the city of Denver that he was worth keeping.
If these three men can help out McGahee and produce stats as a running unit, Denver is given a whole new strength.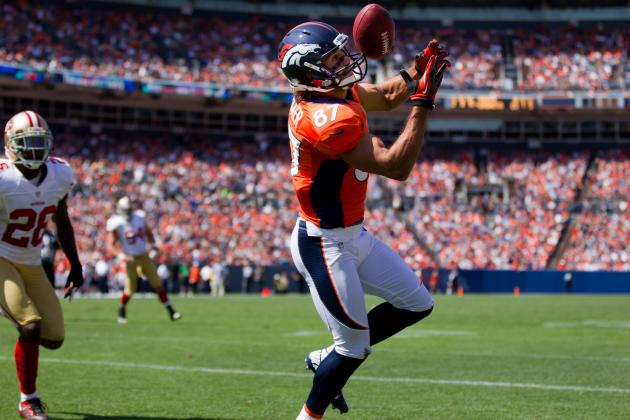 Justin Edmonds/Getty Images

It's well out-of-the-box now that Denver has two potential stars at wide receiver in DeMaryius Thomas and Eric Decker. The two men are young, fast and big. There are teams in the league that would kill for one receiver with their size and potential, and Denver is lucky enough to have them both.
Peyton Manning has potential to put up the best numbers of his career with these weapons, but success will only come if Peyton shows the young ones who is boss from the beginning.
Manning is 36. When he was drafted into the league, Decker and Thomas were schooling kids in Pop Warner. Obviously, Manning shouldn't act superior, but he needs to act as a mentor and a teacher to these young players. With Peyton's experience and awareness rubbing off on Decker and Thomas, Denver's passing game could be the best in the league.
Wide receiver Brandon Stokley, who has played with Peyton in Indianapolis, can also serve as a brilliant mentor to Thomas and Decker.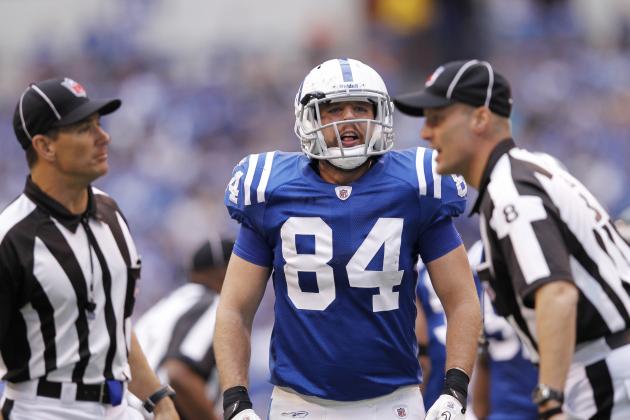 Joe Robbins/Getty Images

If Denver was brilliant in signing Peyton Manning this offseason, they were almost as brilliant in nabbing tight ends Jacob Tamme and Joel Dreessen.
Tight end is a position that has been amazingly mediocre for Denver over the past few seasons, and many were starting to wonder when it would be addressed.
Tamme had great success with Peyton in Indianapolis when he filled in for an injured Dallas Clark. Dreessen, who is one of the league's strongest blocking tight ends, was not getting fully utilized with the Houston Texans.
With the two of them on the field together, defenses could be completely overwhelmed as to who to cover and boggled over what they may do. Throw in a slot receiver, a wide out and a lone running back, and Denver has a very unique offensive scheme that could have linebackers, safeties and corners bumping heads (literally) .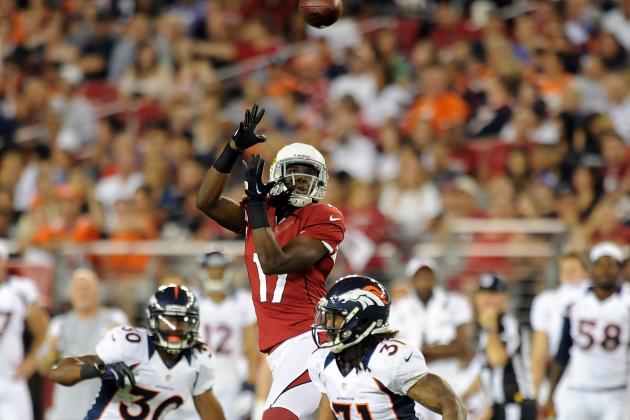 Norm Hall/Getty Images

Denver has a ton of talented youth in their defensive backfield, and they need to show this season that they are worth their hype.
At corner, veterans Champ Bailey and Tracy Porter will start, yet they are backed up by Omar Bolden, Chris Harris and Tony Carter.
As I stated in an article the other day, I think Denver made a mistake in releasing veteran corner Drayton Florence and keeping Carter; one more veteran cornerback on the roster could have made a perfect balance. Either way, Porter and Bailey will not play every snap, so Bolden, Harris and Carter will have to be ready to come in and play tight, fast defense.
Denver's schedule is unusually tough. In the first five weeks, they will face a surge of quick and strong wide receivers. (Pittsburgh's Mike Wallace and Antonio Brown, Atlanta's Roddy White and Julio Jones, Houston's Andre Johnson, Oakland's Denarius Moore and Darrius Heyward-Bey, and New England's Brandon Lloyd and Wes Welker)
With threats like this lining up, it doesn't matter how good Peyton and the offense play. The Denver cornerbacks are going to have their hands full, and getting burnt is not an option; it's a death sentence.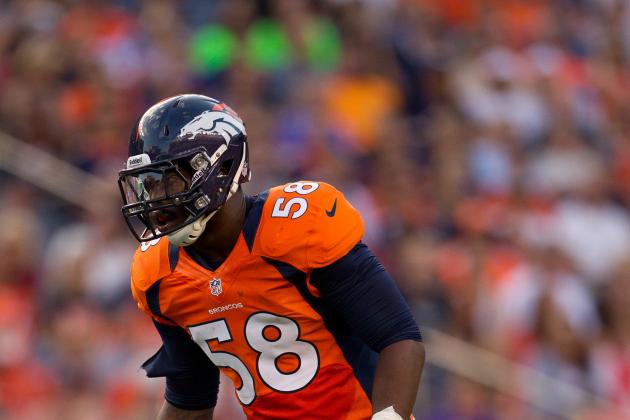 Justin Edmonds/Getty Images

Without too much argument, it's fair to say that the weak spot on the Denver roster is the linebacking corps.
Sure, Von Miller is a beast of a pass-rusher, yet their is no denying that he was one-dimensional last season. Miller was often taken out of the game on rushing plays last season, and this season he will have to grow to be more versatile and become more of an all-around linebacker.
Joe Mays did a solid job at middle linebacker last season, yet I want to see a bit more aggression out of him. 75 tackles is good, but Mays should try to up his game and collect 90-100. An interception or two would be nice as well.
Finally, the weak-side linebacker position is full of questions.
Wesley Woodyard is a strong player and has made a name for himself in this league after going undrafted, so that is always respectable. Still, Woodyard is just a fill-in for D.J. Williams, who is suspended at least six games. Williams needs to stay clean and out of trouble and hope that Goodell does not increase his suspension.
I do like rookie Danny Trevathan and he could see considerable time at weak-side linebacker, yet all this hustling and shuffling could spell disaster.
Consistency is key to winning championships, and on both sides of the ball, Denver needs to find their grooves, find their men and stick with them if they want to play February football.