Breaking Down the Training Camp Roster of the San Francisco 49ers
Ezra Shaw/Getty Images
San Francisco coach Jim Harbaugh has several of his former Stanford players with him in San Francisco.
Alex Smith finally had a season worthy of a top overall pick. The first player taken in the 2005 NFL draft led the San Francisco 49ers to a 13-3 record and an NFC West championship last year before falling in the NFC Championship game to the eventual Super Bowl Champion New York Giants.
The 49ers are hoping to improve on last year, and that means just one thing—a trip to the Super Bowl. Getting past the Giants and Green Bay Packers may prove difficult, but the Niners are the clear favorite to repeat as division champions.
They are loaded at the skill positions and have a great defense and a solid offensive line. Looking at their roster, almost every position features at least one Pro Bowl-caliber player. The Niners' rookies reported to training camp on July 21; the rest of the squad arrives on Thursday.
Begin Slideshow

»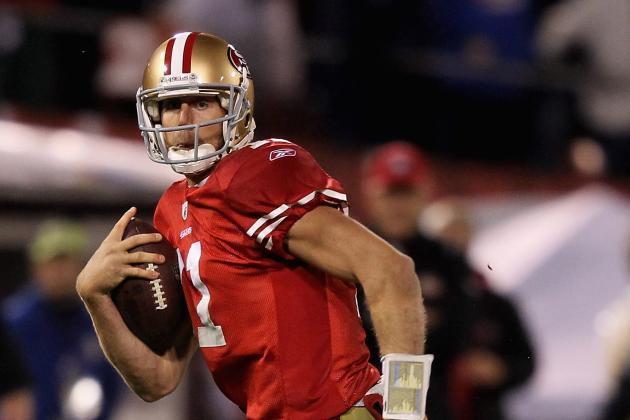 Jamie Squire/Getty Images
Alex Smith finally played like a first-round draft pick in 2011.
Josh Johnson; Colin Kaepernick; Alex Smith; Scott Tolzien.
Many thought Smith would be looking over his shoulder during the 2011 season after the team selected Kaepernick in the second round of the draft. Maybe that push is what Smith needed because he turned in the best season of his seven-year career.
He posted career highs in passing yards (3,144), completion percentage (61.3), quarterback rating (90.7) and rushing yards (179). He started all 16 games in a season for only the second time in his career and threw just five interceptions.
Kaepernick will be challenged this year by Johnson, who comes over from Tampa Bay after four years with the Buccaneers.
Tolzien went undrafted out of Wisconsin last year before being signed by San Diego. The Chargers parted with him, and he wound up in San Francisco as the third-string quarterback. His job security is in jeopardy with Johnson now in the fold.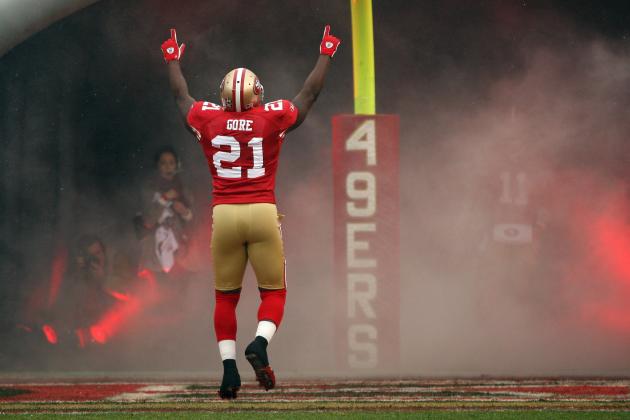 Ezra Shaw/Getty Images
Frank Gore is hoping he can make the Niners No. 1 in 2012.
Rock Cartwright; Anthony Dixon; Frank Gore; Jewel Hampton (R); Kendall Hunter; Brandon Jacobs; LaMichael James (R).
The Niners added a speedster in James to complement the bruising style of Gore, who is one of the league's best all-around back. Gore has had various injuries over his career, but has still posted five 1,000-yard seasons over his seven-year career. Gore had 1,211 yards last year for his best season since 2006 when he ran for 1,695 yards and caught 61 passes for 485 yards.
The 49ers signed Jacobs after the big, punishing back was released by the Giants. The addition of Hampton, an undrafted rookie, gives the 49ers a pair of running backs from Southern Illinois. Cartwright, who comes across the bay from Oakland for his 11th NFL season, Dixon and Hunter can provide additional depth behind Gore.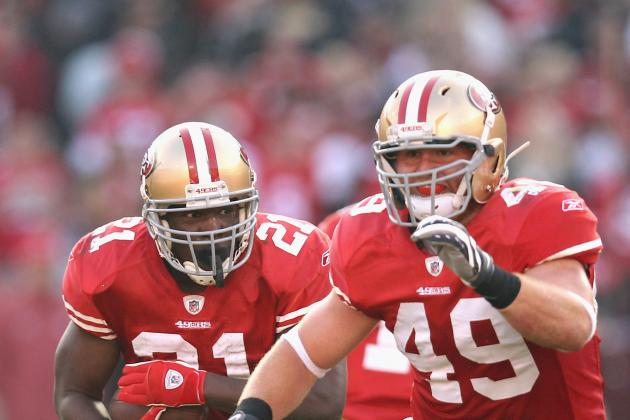 Ezra Shaw/Getty Images
Bruce Miller (49) paves the way for Frank Gore during the NFC Championship game last season..
Cameron Bell (R); Bruce Miller.
Miller was a seventh-round draft pick last year out of Central Florida. He started eight games and even scored a touchdown on a 30-yard pass. Miller played linebacker in college and was twice the Conference USA defensive player of the year.
Bell switched to fullback last year after playing tailback at Northern Illinois. He helped pave the way for Chandler Harnish, who rushed for 1,379 yards and 10 touchdowns last year. Jasmin Hopkins added another 997 yards and 15 rushing TDs.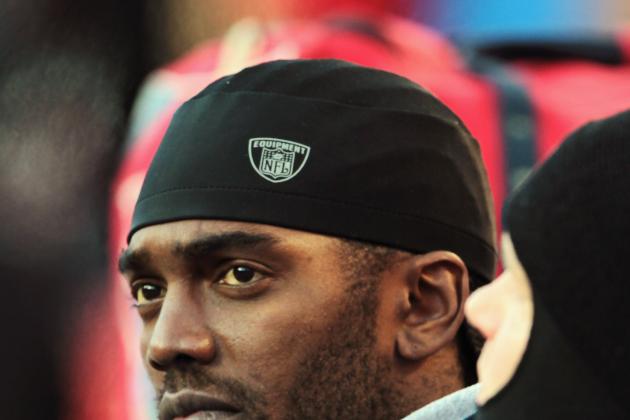 Jamie Squire/Getty Images
Can Randy Moss revive his career in San Francisco?
Michael Crabtree; Ted Ginn Jr; Joe Hastings; A.J. Jenkins (R); Mario Manningham; Randy Moss; Kyle Nelson; Chris Owusu (R); Nathan Palmer (R); Brett Swain; Brian Tyms (R); Kyle Williams.
Moss and Manningham join an already talented group with Crabtree and Ginn. Moss is trying to revive his career after taking the 2011 season off. The future Hall of Famer caught just 28 passes in 2010 while playing for three separate teams.
Manningham comes over from the Giants, for whom he caught 160 passes for 2,315 yards and 18 touchdowns over four years.
Crabtree is coming off his best season as a pro with 72 catches for 874 yards. Ginn enters his third season with the Niners, and sixth overall, as one of the league's most dangerous return men. He had a kickoff return for a touchdown last year to give him three for his career. He also has three career punt return TDs, one of which came last year.
Another playmaker the Niners added could be Jenkins, whom they drafted late in the first round. The former Illinois star was highly thought of by several teams, and the Rams likely would have taken him three picks later. Jenkins caught 90 passes for 1,276 yards and set several Illini receiving records along the way.
Swain is back with the team, but the group has become crowded. Hastings is a second-year player from Washburn College who has little chance to make the team. Nelson has played tight end and spent time with the Chiefs and Saints.
Palmer, an undrafted rookie from Northern Illinois, received a particularly high signing bonus of $10,000. Owusu and Tyms are also undrafted rookies from Stanford and Florida A&M, respectively. Owusu has talent but also has a history of concussions. Tyms is a raw talent with good size at 6'2", 202 pounds.
Williams made himself known in last year's NFC championship game when he fumbled two punts that led to 10 points for the New York Giants. Following San Francisco's loss, he received death threats from fans. A sixth-round pick in 2010 from Arizona State, Williams has 21 career receptions for 249 yards and three touchdowns.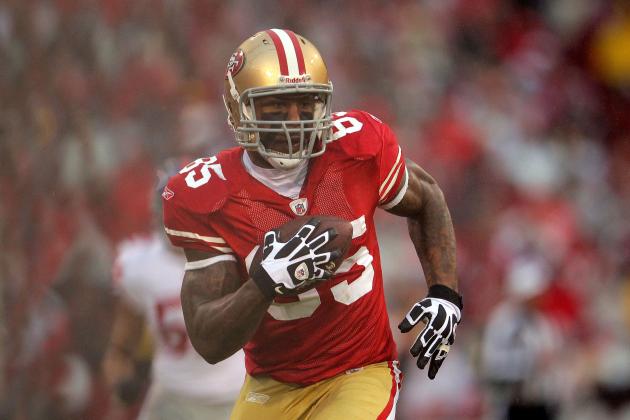 Doug Pensinger/Getty Images
Vernon Davis had one of the more memorable playoff catches last season.
Nate Byham; Garrett Celek (R); Vernon Davis; Konrad Reuland; Delanie Walker.
Davis was already a star when the 49ers made the playoffs last season. His breakout season came in 2009 when he caught 78 passes for 965 yards and 13 touchdowns. His numbers dipped to 56 catches for 914 yards and seven scores a year later.
Davis had 67 receptions for 792 yards and six touchdowns during the 2011 regular season. None of those touchdowns was bigger than the one he caught to beat the Saints in the playoffs.
Known now as "The Catch 3," Davis' score catapulted him into super stardom status, and he leads a group of tight ends that is pretty good. The No. 2 tight end is Walker, who's most dangerous in two-tight-end sets when teams are keying on Davis. A former fullback, Walker is also a solid run blocker and has the receiver-type speed.
Byham is another solid run blocker and was a sixth-round draft pick in 2010. He has five career receptions for 27 yards. Reuland went undrafted last year out of Stanford, where he played for Niners coach Jim Harbaugh. He has good hands and great size (6'6", 260) but hasn't had a chance to display his skills during a regular season game.
Celek, undrafted from Michigan State, is the younger brother of Eagles tight end Brent Celek. The younger Celek was a good blocker for Sparty before shoulder surgery shelved him. He is best known for his hot model girlfriend, Sarah Hinton, and that's usually not a good thing when talking about a guy's chances to make an NFL roster.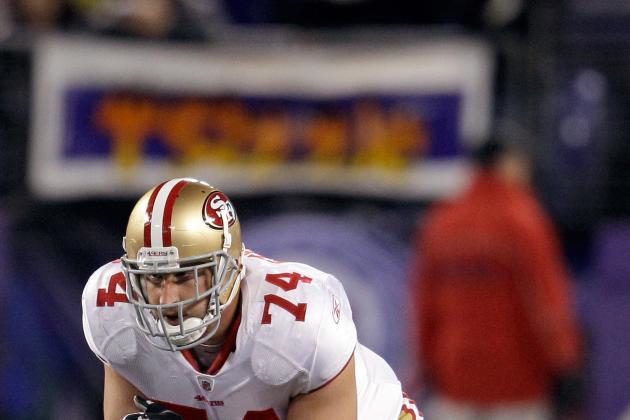 Rob Carr/Getty Images
Joe Staley has been a stalwart on the 49ers line.
Alex Boone; Anthony Davis; David Gonzales (R); Derek Hall; Joe Staley; Kenny Wiggins.
Staley has started every game he's played in since getting selected 28th overall in the 2007 draft. He went to his first Pro Bowl last year and is bookended by Davis, a first-round pick in 2010 who has also started every game since. The Niners are set here, and behind Davis and Staley is a mixed bag of youngsters.
Hall, a first-year player from Stanford, didn't get a lot of experience in college while playing right tackle. He's only 24 years old but has upside and good size at 6'5", 307. Wiggins is another first-year player from Fresno State.
Boone has been with the 49ers since they signed him to a rookie free-agent deal out of Ohio State in 2009. He has since played in 13 games. Gonzales went undrafted this year after standing out at Washington State. He's not the strongest or quickest lineman, but does have good technique.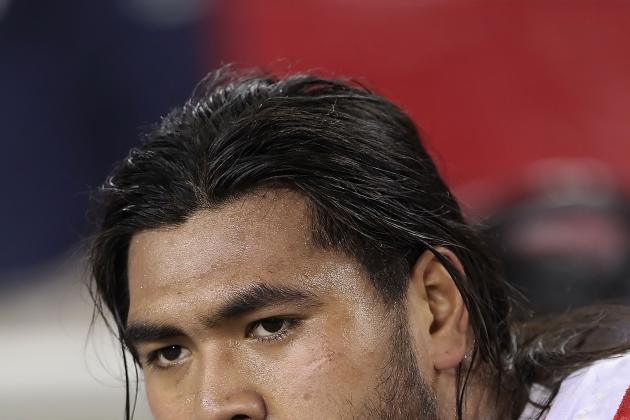 Christian Petersen/Getty Images
Mike Iupati hasn't missed a start since being drafted.
Garrett Chisolm; Mike Iupati; Daniel Kilgore; Joe Looney (R); Al Netter (R); Mike Person; Jason Slowey (R).
Iupati has been a mainstay at left guard since the 49ers took him in the first round of the 2010 draft. The former Idaho Vandal has started all 32 games since. The Niners need somebody to win the right guard spot with Adam Snyder and Chilo Rachal both gone.
That job could fall to Kilgore or Person, both of whom were with the team last year as rookies. Kilgore was a fifth-round pick while Person went undrafted out of Montana State. Slowey, an undrafted rookie from Western Oregon, and Looney, a fourth-round pick from Wake Forest, have also gotten some early work in at right guard.
But the lion's share of the first-team reps have gone to 6'8" tackle Alex Boone, who is attempting to transition inside to give the 49ers some extra beef.
Chisolm, undrafted in 2011 from South Carolina, could be the odd man out. He was on the practice squads of the Dolphins, Panthers and Ravens last year before signing with the 49ers this year. Netter played tackle at Northwestern, but the undrafted rookie will be moved inside.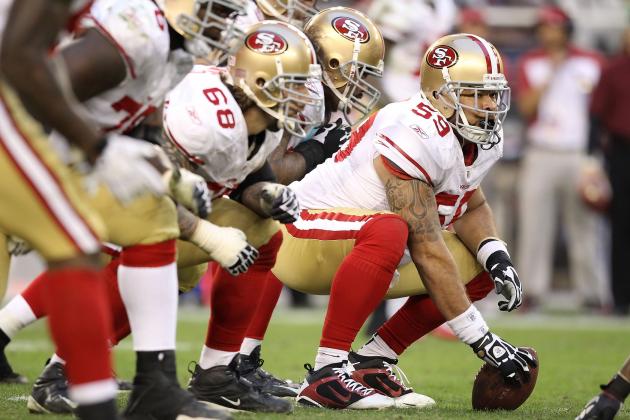 Christian Petersen/Getty Images
Jonathan Goodwin is back at center for the 49ers.
Chase Beeler; Jonathan Goodwin
Goodwin is the starter, but his backup, Adam Snyder, is gone. That's probably good news for Beeler, who could get—at the very least—a practice squad spot. Beeler was an All-American for now-49ers coach Jim Harbaugh at Stanford in 2010. He was signed as an undrafted rookie last year and was on the practice squad.
Goodwin was a Pro Bowler in 2009 for the Saints and came to San Francisco as a free agent last year. He started all 18 games, playoffs included, for the Niners and received the team's Bobb McKittrick Award.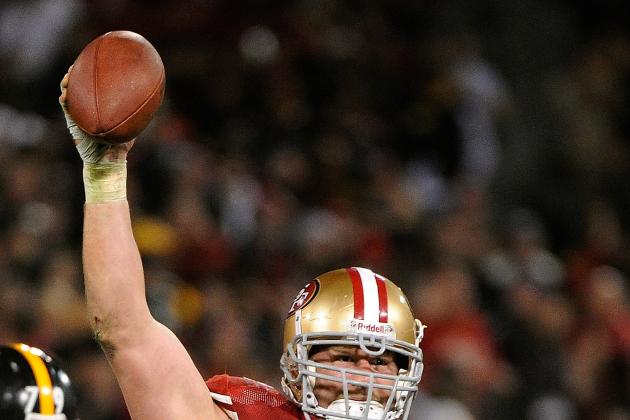 Thearon W. Henderson/Getty Images
Justin Smith has 14 career forced fumbles and is coming off an All-Pro season.
Patrick Butrym (R); Demarcus Dobbs; Ricky Jean Francois; Tony Jerod-Eddie (R); Matthew Masifilo (R); Ray McDonald; Justin Smith; Isaac Sopoaga; Will Tukuafu; Ian Williams.
The Bengals made Smith the fourth overall pick in the 2001 NFL draft. He started 11 games that season before starting each game of the 2002 season. He's started every game since then, too, including the last four years in San Francisco.
Smith is an absolute animal with an amazing work ethic and incredible strength. He's been selected to three straight Pro Bowls and has 72.5 career sacks with 14 forced fumbles and three interceptions.
McDonald and Sopoaga have been the other line starters. Sopoaga is one of the league's strongest players and has 6.5 career sacks over eight years while stacking up the middle. McDonald was a third-round pick in 2007 and is coming off his best season as a pro with 5.5 sacks in 15 starts. He has 10.5 career sacks.
Jean Francois has been a solid contributor since being taken in the seventh round of the 2009 draft. He got the first two starts of his career last season, but his lone career sack came in 2010.
Williams, a Notre Dame alumnus, went undrafted in 2011 and played in one game last season. Another undrafted rookie from 2011, Dobbs, also made the team last year. Dobbs has improved this offseason and has impressed the coaches during organized team activities. Tukuafu, undrafted in 2010 and originally signed by Seattle, has also had a good offseason.
Masifilo can generate a good push up the middle and collapse the pocket. He played for coach Jim Harbaugh at Stanford, but it will be hard for him or the talented Jerod-Eddie to make an already excellent group. Butrym isn't a flashy player, just a hard worker coming from Wisconsin. He may have to find some pizzazz and flash to make the team.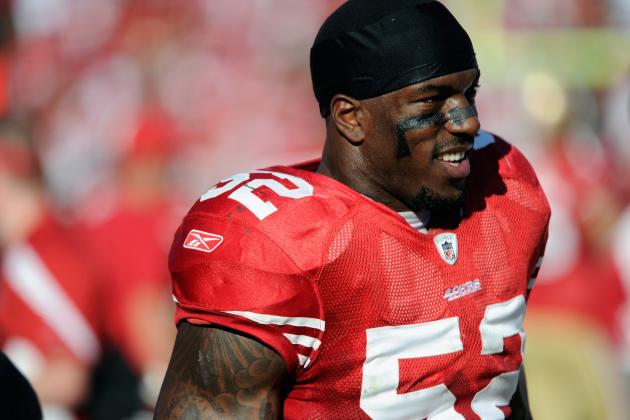 Thearon W. Henderson/Getty Images
Patrick Willis is among the best in the business at middle linebacker.
Eric Bakhtiari; NaVorro Bowman; Ahmad Brooks; Kourtnei Brown (R); Darius Fleming (R); Tavares Gooden; Larry Grant; Parys Haralson; Joe Holland (R); Cam Johnson (R); Aldon Smith; Michael Wilhoite; Patrick Willis.
Willis is one of the league's best middle linebackers, and Bowman is growing into his own in San Francisco's 3-4 defense. Bowman started all 16 games last year and recorded 143 tackles. Smith made a smooth transition from a defensive end at Missouri to becoming one of the league's most feared pass rushers at outside linebacker.
Those three are a big reason why the linebacker group may be San Francisco's strongest unit.
Grant tapped into his talent pool and had moments where he shined—especially against the Rams. The 49ers think highly of Haralson, a fifth-round pick in 2006. Haralson is due over $2.5 million this year, and he could be dropped if the 49ers feel that is too high of a price tag for a backup.
Gooden was a third-round pick by the Ravens in 2008 and started 12 games for Baltimore in 2009. He signed with the 49ers last year a day after his release from Baltimore and was a special-teams ace. Brooks is entering his fifth season with the team—seventh overall— and had a career-high seven sacks last year to give him 20 for his career.
Fleming is on the physically unable to perform list and will likely be headed for injured reserve after tearing his ACL in May. He was a fifth-round pick from Notre Dame this year.
Johnson, a seventh-round pick from Virginia, had a minor surgery in June to clean out his knee, but he's back in Santa Clara for camp. Brown has drawn comparisons to Smith, but it'll be hard for the former Clemson standout to break through to the 53-man roster.
Bakhtiari has been with six teams since signing with the Chargers after the 2008 draft. He also spent part of 2008 on San Francisco's practice squad. He had four tackles in 2009 for the Titans and was last with Kansas City.
Wilhoite was with Omaha of the United Football League last year before getting signed to the 49ers' practice squad. Holland, undrafted out of Purdue, is athletic, but suffered a foot injury during the full-squad minicamp.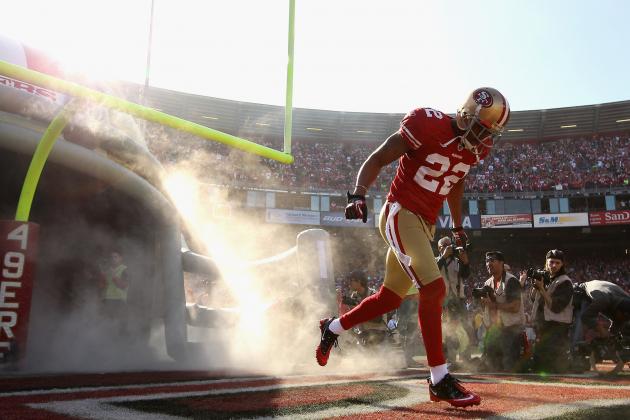 Ezra Shaw/Getty Images
Carlos Rogers went to the Pro Bowl last year after picking off six passes.
Tramaine Brock; Tarell Brown; Perrish Cox; Chris Culliver; Ben Hannula; Curtis Holcomb; Darcel McBath; Anthony Mosley (R); Cory Nelms; Deanté Purvis (R); Carlos Rogers.
Rogers went to the Pro Bowl last year following his first season with the 49ers and recording six picks. That tied safety Dashon Goldson for the team lead.
Brown is the other starter. Brown started all 16 games last year for the first time in his five-year career. He recorded six interceptions and gives San Francisco a formidable duo on the outside.
Cox comes over from Denver, where he had one interception—and a run-in with the law. He was acquitted of a sexual assault charge in 2010, but Denver's fifth-round pick that year was out of football in 2011.
Brock was undrafted out of Belhaven and spent part of 2010 on the practice squad before getting promoted to the active roster. He has two career interceptions over the last two seasons. Culliver was a third-round pick last year from South Carolina and recorded an interception to go with 32 tackles and seven passes defensed.
Hannula is a former wide receiver who can play safety or cornerback, but it's unlikely he'll make the team. Holcomb, a seventh-round pick last year, is trying to bounce back from an Achilles injury that caused him to miss his rookie season.
McBath comes over from Jacksonville, where he was for one season after two years in Denver. Signed by the Niners this week, McBath has two career interceptions.
Mosley is a raw talent from Kentucky with some upside and speed (4.4 40-yard dash). Nelms is also a speedster with a track background. The former Miami Hurricane will have a tough time racing up the depth chart. Purvis is a burner from UNLV but also faces a crowded secondary.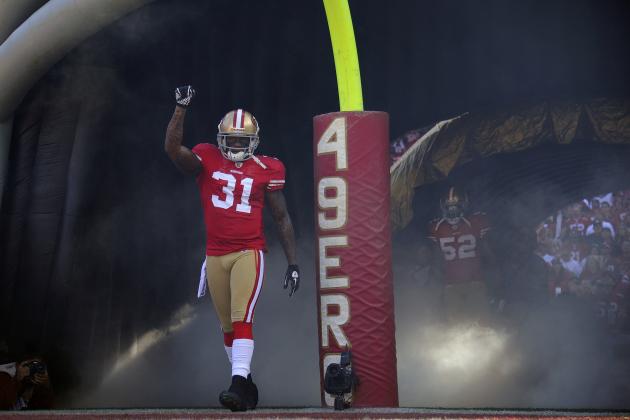 Thearon W. Henderson/Getty Images
Donte Whitner (31) and Dashon Goldson comprise a nice safety tandem for the Niners.
Dashon Goldson; Colin Jones; Mark LeGree; Trenton Robinson (R); C.J. Spillman; Michael Thomas (R); Donte Whitner.
Goldson tied for the team lead with six interceptions and was elected to his first Pro Bowl.
Whitner is the other safety and gives the Niners a nice tandem in the defensive backfield. He came over to San Francisco last year after spending five seasons in Buffalo. The eighth overall pick in the 2006 NFL draft has seven career interceptions.
Jones and Spillman should be the primary backups. Jones was a sixth-round pick from TCU last year. Spillman joined the 49ers in 2010 and got a new three-year deal last February.
Thomas played for coach Jim Harbaugh at Stanford and stays in the Bay Area. Robinson is a Bay City native and was the team's sixth-round choice this year. He played college ball at Michigan State, where he had 80 tackles and four interceptions last year. LeGree was a fifth-round pick of the Seahawks last year but spent 2011 bouncing through four different teams.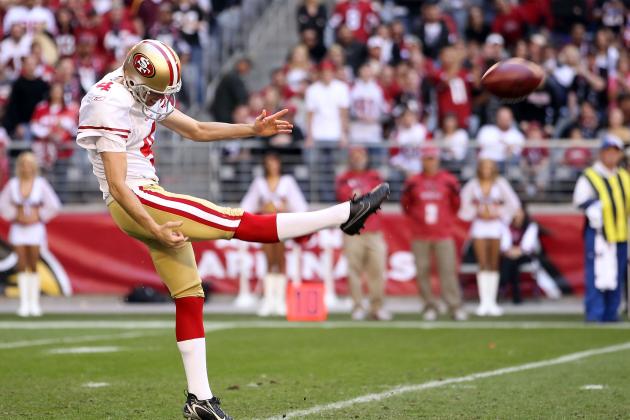 Christian Petersen/Getty Images
Andy Lee might be the best punter in football.
LS Brian Jennings; K David Akers; K Giorgio Tavecchio (R); P Andy Lee.
Jennings is a veteran long snapper who can also play tight end, not that the 49ers need him to with talented players like Vernon Davis and Delanie Walker already there. Jennings does not have a single reception in 12 NFL seasons, but he does have a pair of Pro Bowl selections as a long snapper.
He is just one of three very talented specialists for the 49ers as Akers and Lee are two of the league's best at their positions. Lee averaged better than a 50-yard gross last year with a net of 44.6 yards. Tavecchio is simply a camp kicker.