Dan Duquette, Baltimore Orioles at a Crossroads in 2012 Season
June 29, 2012

Rob Carr/Getty Images
Dan Duquette is in a difficult position. The Baltimore Orioles Executive Vice President of Baseball Operations has some important decisions to make.
What began as a bump in the magical road against a hot LA Angels team has spiraled into a situation that has Orioles fans shaking heads.
Coming in to Thursday's game, the Cleveland Indians had lost five straight games. But Thursday, this streaky team strolled into Camden Yards and destroyed Baltimore 7-2.
While it is true the Orioles are still 41-34, still in striking distance of the first-place New York Yankees, the same issues keep rearing their ugly heads.
Again, Thursday an Orioles starting hurler failed to get deep into a ballgame. Wei-Yin Chen pitched 6.1 innings, surrendering six earned runs in a mediocre performance at best.
Again, Baltimore's bullpen had to hold the fort to ensure this team did not get blown out for the second straight night in its own ballpark.  
Again, an Orioles third baseman made an error.
Again, the Orioles left runners in scoring position—eight to be exact. A scary thought as to just how bad things could have been for Baltimore: Cleveland left 19 on base.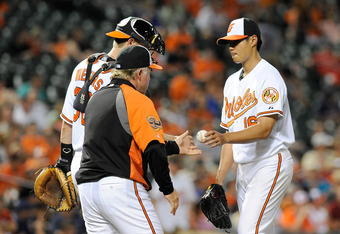 Greg Fiume/Getty Images
I have been an ardent supporter of the Orioles this season. And I still am. I truly believe this team has the potential to achieve something special.  
But to be objective, this club has played terribly lately. Granted, losing streaks are part of a long baseball season, but Baltimore's problem is that they are not even competing.
Right now, the Orioles are like an old military aircraft. It has flown missions valiantly with spare parts. But it is now springing leaks. And if this warbird does not get into the hangar quickly for hardcore maintenance, it has potential to crash.
But what will Duquette do to remedy things?
Will he stand pat and build for the future?
Or will he make splash moves in the face of pressure for this team to win now?
The answer to these questions is anyone's guess.
But Duquette must answer a key question—aside from bolstering an increasingly taxed starting rotation.
What to do about Mark Reynolds?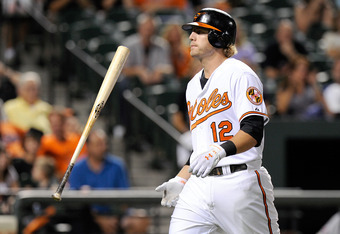 Greg Fiume/Getty Images
Reynolds struck out three more times against Cleveland, while leaving four runners in scoring position.
This season, Reynolds is batting just .213 with six home runs and 22 RBI. His slugging percent is .385.
While Baltimore's front office was well aware of Reynolds' feast-or-famine history, it seems feast has been devoured by famine.
And perhaps it is now time to pull the trigger on a trade that will help the Orioles acquire prospects that will help this club in the future.Another question, does Duquette have enough of a stockpile to launch a major splash before the trade deadline?
While the Orioles have players at the big-league level that may be appealing to other clubs, the same is very thin at the minor league level.
It is this very "do nothing or do something" big thought that makes life frustrating for Orioles fans who really want to see this team compete.
It is also this thought that puts Duquette in a very undesirable Catch-22.
Related Articles:
5 Reasons Buck Showalter Should Win Al Manager of Year
Buck Showalter's Team, Orioles Fans Beginning to Believe 
5 O's Pitchers that Deserve to Make 2012 MLB All-Star Game