Jimmie Johnson Finally Grabs 200th Hendrick Win at Darlington
May 14, 2012

Todd Warshaw/Getty Images
Racin' with Russ—Jimmie Johnson managed to save enough fuel during the closing stages of the NASCAR Sprint Cup race on Saturday night to win his 56th career trophy and the 200th Cup victory for Hendrick Motorsports.
The Darlington Speedway event began with Greg Biffle on the pole, yet a number of drivers took turns out front. Biffle led the opening 43 laps before Johnson took over for the first of several stints in the lead. The first caution flag didn't fly for nearly the entire first half of the race, and that was for debris.
Kyle Busch led for a while as did Kasey Kahne, Denny Hamlin and Martin Truex Jr. Over the final hour of competition, pit strategies for tires and/or gas became paramount. Drivers out front such as Johnson were shutting the car on and off during cautions to save precious sips of gas.
After the final restart, Johnson was out front and ran to the checkers worried about a hard-charging Hamlin and Tony Stewart. Hamlin came up oh-so short and Stewart ran out of gas on the final lap, still able to notch third place right behind Hamlin. Kyle Busch and Truex Jr. capped the top five.
Not many Darlington races end without some type of controversy, and this year's edition was no different. After working hard all night to stay among the top 10, Kurt Busch spun out after getting one of several Darlington stripes. Ryan Newman also spun at the same time to avoid hitting Busch, the result of a tap from Aric Almirola.
The two drivers were able to pit for repairs, but when Busch went to leave his pit, he blasted through Newman's pit, narrowly missing several crew members. At the end of the race, some of Newman's crew approached Busch with anger in their hearts and fists in the air. NASCAR officials broke up the near melee, people were summoned to the NASCAR hauler and I'd expect to hear fines and penalties all around on Tuesday.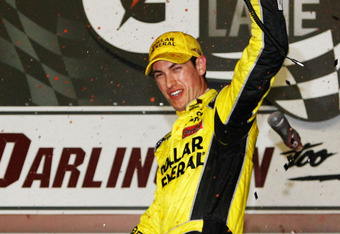 Tom Pennington/Getty Images
The latest results find Biffle still on top of the charts, but only by two points over Matt Kenseth and 14 over Dale Earnhardt Jr. After starting 38th, Danica Patrick finished six laps down in 31st. She was never really a factor, but did finish the race with all four fenders on the car and no one upset with her.
Nationwide
Joey Logano won his third Nationwide race of the year on Friday night after mistakenly taking out title competitor Elliot Sadler during a late-race restart. He also had to hold off the likes of Denny Hamlin, who led most of the race with ease. Rounding off the top-five finishers included Brad Keselowski, Sam Hornish Jr. and rookie Austin Dillon. Patrick finished 12th, her second similar finish of the season. Ricky Stenhouse Jr. maintains his position on top of the charts, now with a 23-point lead over Sadler.
Across the Pond
Pastor Maldonado edged Ferrari driver Fernando Alonso in the Spanish Grand Prix to claim his first ever Formula One win. Returnee Kimi Raikkonen earned another great finish in capturing third. Alonso and Sebastian Vettel are tied on top of the points.
From Rumorville
NASCAR officials are about to take away some of the down force on their Cup cars by braising the height of the side skirts as much as two inches, allowing more air under the car, thereby slowing the cars down.
NASCAR officials also felt that Danica Patrick's deliberate wrecking move against Sam Hornish Jr. in last week's Nationwide race will go away with just a warning, which I and many others think is nonsense. I guess it's now open season on retaliation for whatever reason. More preferential treatment for Princess Manica. First it was the ability to pretty much buy the ability to qualify for every race and now she can wreck whoever she wants.
Sad Note
Automotive enthusiasts around the globe were saddened last week by the news of Carroll Shelby's demise. The 89-year-old legend brought Ford to the forefront of racing by modifying and creating various race cars strong enough to beat the likes of Ferrari on some of the toughest racetracks on the planet.
Add to Shelby's impressive résumé the creation of the two-seater Cobra sports car and various impressive Mustang high-performance models and you realize how much this visionary will be missed. God speed, Carroll.
That's it for this week. Next week, RWR will review the NASCAR action from the non-points All-Star event in Charlotte along with more racing news from around the globe.