New Orleans Saints 2012 NFL Schedule: Game-by-Game Predictions, Analysis & Info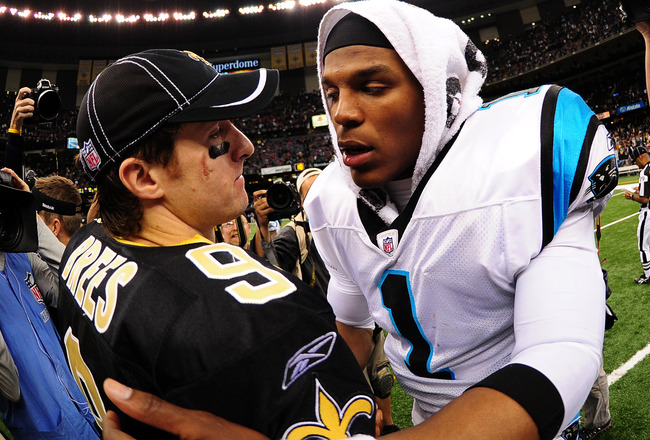 Scott Cunningham/Getty Images
As the NFL schedule came out Tuesday evening, the New Orleans Saints were somewhat surprisingly still a marquee team in terms of their prime-time visibility and have only one game that figures to be a cold weather game.
They weren't even given dreaded back-to-back-to-back road game slates and even the one time in the schedule where there's nearly a month in between home games is made less brutal by the presence of the bye week.
In other words, Roger Goodell clearly had nothing to do with the Saints' 2012 schedule. Considering the strength of the opponents they had to face it's about as friendly as it possibly could be.
September 9: Noon CT vs. Washington Redskins at Mercedes Benz Superdome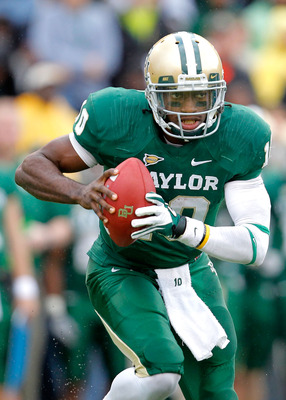 Sarah Glenn/Getty Images
It seems likely that Robert Griffin III will make his NFL debut under the daze of the New Orleans Saints' home crowd at the Mercedes Benz Superdome.
The last time a rookie quarterback began his career in such a stage Matthew Stafford threw three picks and had a horrible 27.5 QB rating. He managed to throw for 200 yards and completed a touchdown drive with a one-yard scamper but overall was rather ineffective.
This year's likely No. 2 selection is a much better overall pro prospect in my opinion, but the talent surrounding him in 2012 is unlikely to compare even to the 2009 version of the Lions offense.
More to the point, it was actually quite nice of the league to put the Saints in a position where they start the regular season at home against a team likely to start a rookie QB. Even with the possibility of missing multiple defensive starters, Steve Spagnuolo and Co. ought to excel with a relatively simple scheme and superior play from veteran free-agent acquisitions Curtis Lofton and Broderick Bunkley.
Prediction: Saints 34, Redskins 20
September 16: Noon CT at Carolina Panthers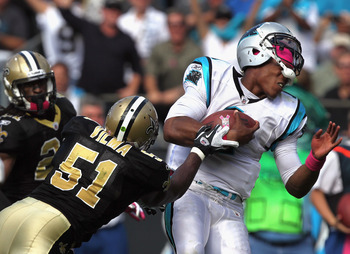 Streeter Lecka/Getty Images
Game No. 2 features the first opponent former Saints' defensive coordinator Gregg Williams apparently placed a bounty payment upon—specifically on Panthers' quarterback Cam Newton.
There was already bad blood between these two teams—as Steve Smith made headlines last year when he declared the Saints a dirty team. There is now evidence he was right. For that the Panthers will look for revenge.
This game also marks the earliest in the calendar the Saints have visited Charlotte since their emotional opening week 23-20 victory on September 11, 2005—mere days following Hurricane Katrina. John Karney kicked the 47-yard winning-field goal with three seconds left to deliver one of the most emotional victories in franchise history.
Much can be said about this game, but here's the main thing—Drew Brees is still better than Cam Newton. Enough said.
Prediction: Saints 24, Panthers 20
September 23: Noon CT vs. Kansas City Chiefs at Mercedes Benz Superdome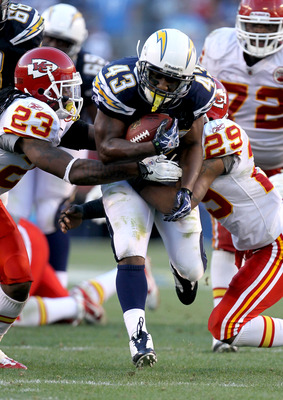 Stephen Dunn/Getty Images
I can't stress this enough. The Saints have about as generous an opening part of the schedule as possible. The Chiefs have started the season horribly ever since the Scott Pioli era began in Kansas City.
Though the team is now run by Romeo Crennel, it's still the same 'ole franchise. With that said, the Saints figure to benefit from a team that is annually sick with disease in the month of September.
Darren Sproles (shown here as a Charger versus the Chiefs) figures to excel against Kansas City's 3-4 Cover 2 defense. Look for him to catch swing pass and dump off after dump off as the Saints methodically move the ball down the field against this bend-but-don't-break defense.
Though the Chiefs have made an effort to improve their offense, it will ultimately be overwhelmed by the noise of the Dome and the likely return of some key veterans to the lineup.
Prediction: Saints 41, Chiefs 10
September 30: 3:15 CT at Green Bay Packers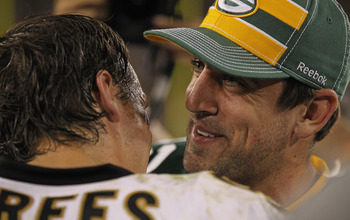 Jonathan Daniel/Getty Images
There are simply too many storylines in this game. Here are the primary ones:
1. Drew Brees and Aaron Rodgers played the QB position on a completely new level in 2011. They were the two most celebrated quarterbacks in postseason awards, as Rodgers won MVP while Brees won Offensive Player of the Year.
2. Rodgers is another quarterback Gregg Williams apparently placed a bounty upon. Much could be said, but frankly I'd rather let others waste their time on that. Nonetheless it is a storyline that should be mentioned.
3. Much like 2011, the Saints and Packers figure to be prime contenders for the NFC's Super Bowl spot. It is another possible NFC Championship Game preview.
4. The Saints want revenge for that sour taste in their mouth from last season's opening game loss. That loss prevented the Saints from getting a first-round bye. In fact, had the Saints won that game they probably would have received the No. 1 seed. If that had happened they'd likely be holding their second Super Bowl trophy right now.
5. In the Drew Brees era the Saints have only lost to the Packers once (only played three times).
Prediction: Packers 31, Saints 27
October 7: 7:20 PM CT vs. San Diego Chargers on NBC at Mercedes Benz Superdome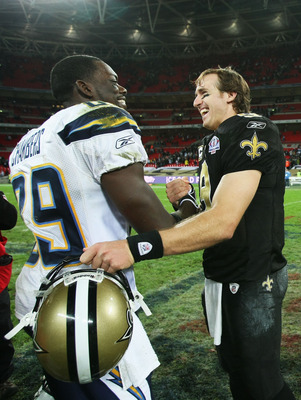 Nick Laham/Getty Images
This is the second time Drew Brees faces his former team—somehow the NFL has been dumb enough (or smart enough depending on how Chargers fans would respond) to keep the game away from San Diego. And it's the first time Darren Sproles faces his former team.
It is also Robert Meachem's return to face his former team, the one which he helped win a Super Bowl.
This is also the Saints' first official prime-time game, though the late afternoon time slot against Green Bay works in a similar fashion.
Of course the Saints are always better under the lights and the extra cameras that Sunday and Monday Night Football provide.
Though I personally believe the Chargers will be much improved in 2012, it's nearly impossible to predict this game and not expect the Saints to win.
Prediction: Saints 38, Chargers 27
October 21: Noon CT at Tampa Bay Buccaneers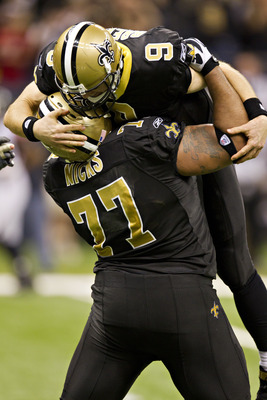 Wesley Hitt/Getty Images
This is the first time Carl Nicks will take on his former team—the one he won a Super Bowl with and became an All Pro for—at home in Week 7 of the NFL schedule.
In this sense the NFL did the Saints no favors—as their first two division games are on the road. With Nicks and Vincent Jackson adding to the Bucs offense—and the likely addition of the best running back prospect in 10 years—Trent Richardson—the Bucs figure to be able to match the Saints offensively.
It is also Greg Schiano's first chance to X and O against this Saints squad—though he is lucky to some extent in that he doesn't have to do so against Sean Payton.
The question becomes whether the Saints can win a game on the road when everything is likely to be against them?
Prediction: Saints 24, Bucs 23
October 28: 7:20 PM CT on NBC at Denver Broncos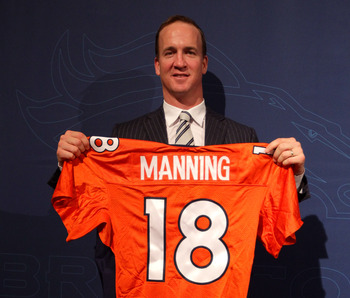 Doug Pensinger/Getty Images
Aside from the bounty scandal no other news piece has been more annoying this offseason than the "Peyton Manning saga." Where will he go?! OMG...barf!
Thankfully, Manning and the Broncos will have already played close to half a season and some of the honeymoon love will have worn off by the time this game starts.
One interesting side note in this game would not only be former Saints Tracy Porter, but his relationship to Manning after his pick-six in the Super Bowl a few short years ago.
Denver can be funny, but I'm guessing the weather will favor New Orleans and not be too cold or snowy yet. If that's true, it's hard to imagine the Saints not performing well in this game.
Prediction: Saints 34, Broncos 17
November 5: 7:30 PM CT on ESPN vs. Philadelphia Eagles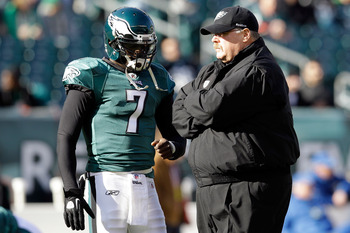 Rob Carr/Getty Images
The Saints came out of this schedule sitting pretty. With three of their four prime-time games coming at home (and another semi-prime-time game vs. SF in Week 12) the Saints figure to get close to their 8-0 home record of 2011.
Michael Vick hasn't faced the Saints since he left Atlanta in 2007 due to his suspension caused by his arrest for running a dog fighting ring in his home.
In his one season facing the New Saints (I'm patenting that one, for the Saints since 2006) Vick was 0-2 and had zero success against New Orleans. Though the Eagles have plenty of talent, the Saints have just as much and that added bonus of a crazy home crowd.
Prediction: Saints 42, Eagles 31
November 11: Noon CT vs. Atlanta Falcons at Mercedes Benz Superdome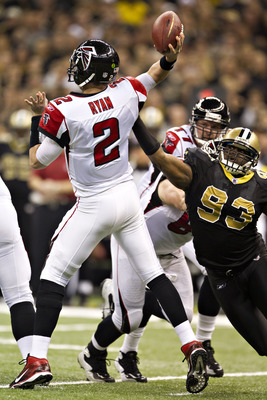 Wesley Hitt/Getty Images
This is the first time the Falcons and Saints play in 2012, and the first time since the Saints embarrassed the Falcons on Monday Night Football en route to breaking the all-time single-season passing record against them last December.
The New Saints have dominated the Falcons, going 10-2 against them since 2006.
As for this matchup, the Saints' only scheduling favor is in that they don't have to travel after having played a Monday night game the week before.
The last time the Saints played the Falcons on a Sunday at noon after a Monday night game the week before happens to be the last time they lost to the 'Clowns when Garrett Hartley missed a field goal and the Falcons won in overtime.
Prediction: Saints 35, Falcons 23
November 18: 3:05 PM CT at Oakland Raiders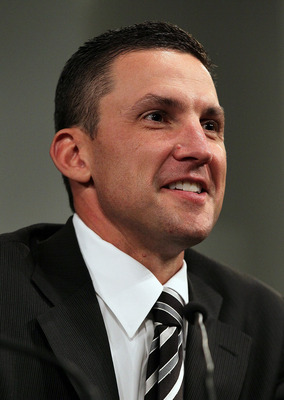 Justin Sullivan/Getty Images
Apparently former Saints defensive backs coach, and newly-hired Oakland Raiders head coach, Dennis Allen, has clean hands in the Saints' bounty case. Unfortunately for him that's about the only thing going well for him about now.
He is after all coaching the Raiders, a dysfunctional franchise if there ever was one. And the Raiders have been doing something lately that had not happened to them when Al Davis was even remotely functioning at optimum level—they are now losing star players.
First it was Nnamdi Asomugha to the Eagles, now it's Michael Bush to the Bears. In that light Allen steps hoping to re-embolden a franchise whose light was once flicked quite strongly.
The Saints are likely the model franchise Allen will look to copy, minus the whole Bounty thing of course. If Allen can figure a way to model Sean Payton, the Raiders could be looking up sooner than later.
Prediction: Saints 37, Raiders 17
November 25: 3:15 PM CT vs. San Francisco 49ers at Mercedes Benz Superdome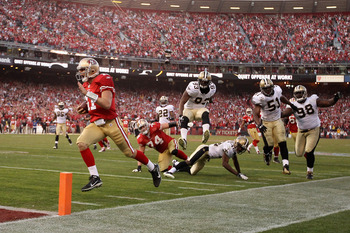 Ezra Shaw/Getty Images
In the ultimate revenge game the Saints get their chance to redeem themselves against Alex Smith and the 'Niners when they visit New Orleans in late November.
Of course the game is also one of relative revenge for Smith as well, after he learned earlier this offseason he was targeted as part of the Saints' bounty system. Even more 49ers wide receiver Michael Crabtree and his ACL ought to be hoping to make good on the Niners' revenge games after being singled out by Williams.
Whoever is best able to tap into their inner Denzel Washington has the best chance to win this game.
Prediction: Saints 27, 49ers 21
November 29: 7:20 PM CT on NFL Network at Atlanta Falcons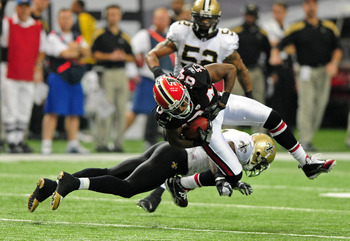 Scott Cunningham/Getty Images
Though the Falcons figure to excel in the running game they generally struggle against the Saints in that department. But in their Week 13 matchup it will be quite imperative they get the running game going as the Saints defense—in the latter part of the third quarter of the season—will finally be mastering the Spagnuolo pass-rush scheme.
That will make life difficult on Matt Ryan and Co. And it will put the onus on Michael Turner and that running game to do something it rarely does against the Saints.
If it is able to, it can win the game. Sadly I think the home crowd and enough of a running game will get the job done in this particular game.
Prediction: Falcons 27, Saints 23
December 9: 3:15 PM CT (Flex) at New York Giants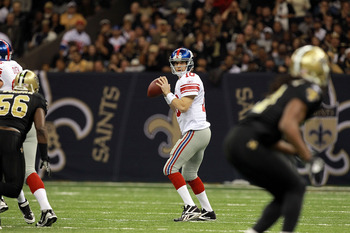 Ronald Martinez/Getty Images
Last season Eli Manning and the New York Giants came into New Orleans on a late November Monday night and got whacked. They of course then went on to win the Super Bowl. Go figure.
It isn't that either team will necessarily be looking for revenge in this game. But both teams figure to have a lot to play for in this game and a win will be quite necessary.
Of course, Drew Brees is rather desperate to get what Eli has—two Super Bowl rings. It is quite inconceivable to the rational football fan how Eli has more rings than Brees, Rodgers or his brother Peyton. Of course Ben Roethlisberger also has two, so again, go figure.
We'll take the cold weather, and a Saints team beginning to struggle for the first time all year as reasons a victory may slip their grasp. If so, hopefully they can continue the reversal of fates and capture their second Super Bowl title in February back in the Dome.
Prediction: Giants 31, Saints 21
December 16: Noon CT vs. Tampa Bay Buccaneers at Mercedes Benz Superdome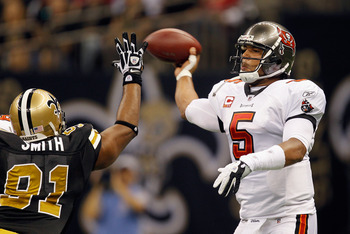 Streeter Lecka/Getty Images
By the time December 16 rolls around many fans are focused on Christmas shopping and party planning, but the Saints figure to face a must-win game—both because Tampa will be right on their hip for a division title, and also because after losing two straight losing simply is not an acceptable option.
This game of course marks Carl Nicks' first game back in the dome, and Schiano's first coaching in the dome. He never faced a crowd or arena like this back at Rutgers in the Big East, or otherwise.
Of course the Saints will have to figure out a way to keep under wraps a potentially explosive passing game and the dynamic duo of LeGarrette Blount and Trent Richardson. That's quite a tall task. Doing so at home ought not be as difficult as it would at Raymond James Stadium. But it also promises no ease in its do-ability.
Prediction: Saints 34, Bucs 27
December 23: Noon CT at Dallas Cowboys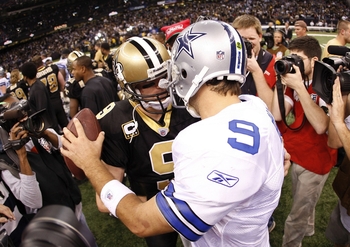 Chris Graythen/Getty Images
In the New Saints era, every game played between Dallas and New Orleans has been memorable for one reason or another.
In 2006, you had the Saints who no one knew what to think of stomp into Dallas with Sean Payton and crush his mentor.
In 2009, the Saints were 13-0, playing at home, and going for a perfect regular season when a beaten up Dallas team shocked them on national television.
Then in 2010 on Thanksgiving, Brees and Co. got off to an early lead only to allow Dallas to take a late lead before Brees hit Lance Moore in the end zone with less than a minute to go to steal away a holiday win.
If this game provides as memorable a finish I don't think any casual football fan would complain. Of course one set of hometown fans would be mighty upset.
Prediction: Cowboys 23, Saints 16
December 30: Noon CT vs. Carolina Panthers at Mercedes Benz Superdome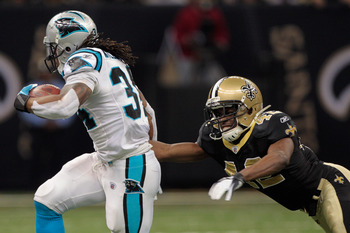 Chris Graythen/Getty Images
It's become almost routine—Saints host the Panthers in Week 17. Fans can pretty much bank on it. In fact, if anyone was stupid enough to make odds pre-the NFL unveiling its schedule and they actually had you winning money should you bet the Panthers at Saints in the Week 17 matchup, then take it, and run!
It's as close to a guarantee as anything I know. And sadly I can't remember a time the game meant anything. The Saints have always had their playoff plans cemented in stone prior to the playing of this game.
It seems unlikely to be any different this year when the two teams match up in the Mercedes Benz Superdome two days prior to New Year's Day. In all of those matchups, other than this past one in 2011, the Panthers have arose victorious. I can't guarantee anything but that wouldn't surprise me much this year either.
Prediction: Panthers 27, Saints 10
Keep Reading

New Orleans Saints: Like this team?