Lakers Trade Rumors: Candidates for LA in Summer of 2012
March 16, 2012

Sam Greenwood/Getty Images
The passing of the March 15 NBA trade deadline means that Pau Gasol and Andrew Bynum can rest easy…for now.
It's true that the starting front-court of the Los Angeles Lakers will finish the season wearing purple and gold, but that doesn't mean the trade rumors won't resurface after their playoff run.
If the Lakers don't manage to win this year's NBA title, look for general manager Mitch Kupchak to trade away at least one part of their "Big Three".
While Kobe Bryant still possesses tremendous trade value for a player finishing his 16th season, there is no way that Lakers management would contemplate moving him—which leaves Gasol and Bynum as the two targets to acquire.
Although both names are bound to arise in new trade rumors, the deal that is most likely to get done is one that has already been visited before.
Let's revisit three trade scenarios from this season and see how they would work out in the future.
Andrew Bynum for Dwight Howard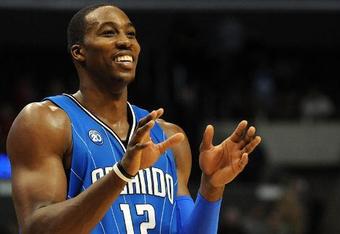 No matter how you break it down or how many draft choices the Lakers will include, the bulk of this trade still centers around the two All-Stars. 
 Just because Dwight Howard waived the early termination option in his contract, doesn't mean he won't be traded.  It simply means that he'll just have to wait one more year before hitting free agency.
Before the trade deadline, Orlando Magic general manager Otis Smith revealed that, "We weren't rolling the dice." in regards to having Howard join another team without receiving compensation.
Look for this sentiment to remain throughout the rest of Howard's time in Orlando.
If both sides can't agree to a long-term deal between now and next season's trade deadline, expect the trade rumors to repeat like a broken record.
After Howard, the next best thing at center is Andrew Bynum. 
This trade would not only net Orlando someone of comparable talent, but also someone of younger age.
While Bynum averages three points and two rebounds fewer than his counterpart, he operates as his team's third scoring option and receives less playing time.
And although Bynum is two years younger than Howard, he has proven to have an expanded offensive repertoire that Howard can't match.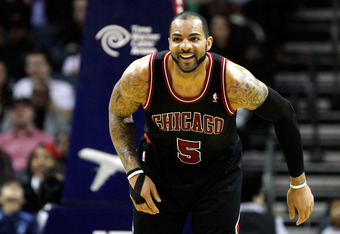 Streeter Lecka/Getty Images
Amid all the trade talks, "Superman" revealed his wavering personality.  By contradicting himself through the media and in action, D12 has proven that he can change his mind at any time.
Even if the 26-year old center doesn't demand a trade, there is still a high possibility that the Magic come calling.
Pau Gasol for Carlos Boozer
The Chicago Bulls were reportedly hoping to acquire Gasol for their championship run.
Although Los Angeles was uninterested in a proposed package that featured Carlos Boozer, look for the offer to improve if Chicago were to fall short during their title run.
Even after acquiring Ramon Sessions to address their point guard issues, the Lakers remain relatively thin and unproven at that position.
The inclusion of fifth-year veteran, C.J. Watson, might be enough to tilt the scales in Chicago's favor.
Although a point guard by label, Watson has the tendency and ability to create his own shot.  He has the ability to lead a starting unit while performing well off the bench.  If coach Mike Brown assigned him to the latter, Watson would immediately upgrade a second-unit that ranks near the bottom in scoring.
In Brown's offensive set, he likes to place the power forward near the top of the free-throw line—somewhere that Boozer makes his living.
With Bynum occupying the post and Boozer in the mid-range game, Los Angeles might be able to improve offensively in more ways than one.
The fruition of this deal is contingent on the improved play of John Lucas; Chicago's other backup point guard. 
Lucas' best performance came in a contest which reigning MVP Derrick Rose missed.  In 27 minutes of extended action, Lucas was able to contribute 24 points on 9-of-12 shooting, while being guarded by LeBron James for the final period.
Although it's unrealistic to expect Lucas for that kind of production on a consistent basis, all the Bulls need him to do is fill the void that would be left by Watson.
Pau Gasol for Rajon Rondo
Not only are the Boston Celtics struggling to make the playoffs, but also appear close to a rebuilding stage, so in theory, this trade doesn't make sense.
What seems to have been forgotten is the fact that this Celtics team is specifically built for the playoffs and not a 66-game condensed regular season.
Playoff basketball has a track record to come with the combination of a slowed tempo and increase in physicality.  Two things that are imperative to playoff success include veteran leadership and stout defensive play—areas in which the Celtics excel.
Boston only allows 90.1 points per game (which ranks third), so it wouldn't be surprising to see them make a deep run.  If this happens, Boston management may prolong the thought of rebuilding for at least another season.
Although essential, Rajon Rondo does come with his own baggage.
For a team of veterans who are in the twilight of their careers, Boston can ill-afford any internal distractions.
This makes Rondo expendable.
Rondo would give the Lakers their best ball handler and distributor since the days of Magic Johnson.  Rondo's on-ball defense is also top-notch and would lead to an increase in fast-break opportunities—another area in which the Lakers lack.
Gasol in green would give them an interior scoring threat that Kevin Garnett can no longer provide.  What KG can do for Gasol is something that Bynum already does—which is spare him from defending against stronger post-players like Dwight Howard and Nene Hilario.  Garnett's length and lateral quickness would allow him to handle power forwards like Blake Griffin and Dirk Nowitzki, players who have abused Pau in the past.
While it's still a long shot, it isn't absurd to think of the NBA's two most decorated franchises looking to each for help.