2012 NFL Free Agency: Looking at Every Team's Offseason Shopping List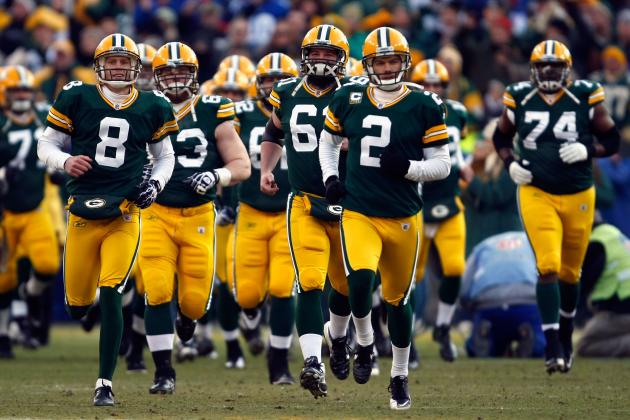 Scott Boehm/Getty Images

The NFL lockout last season screwed up the entire league offseason. Most notably, free agency turned from a long bidding process into a two-week rush to sign the best player at the highest price as soon as possible.
This season, free agency begins for the league March 13, a month and a half before the NFL Draft. What does this mean for teams? Roster needs can be fulfilled well before the draft. When teams go into their war rooms at the end of April, they will already have a great idea of what kind of team they are and what exactly they need to draft in order to complete the puzzle. Free agency will fix teams and the draft will be for the impact players.
This slideshow will take you through all 32 NFL franchises and list the free-agency needs of every team. Keeping in mind the draft comes after free agency begins, the needs for a team in the draft may not match those of their free agency.
Here now are the free-agency wish lists for all 32 NFL teams.
Begin Slideshow

»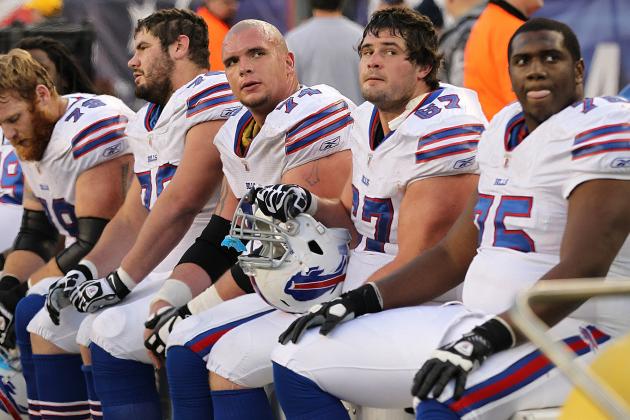 Jim Rogash/Getty Images

Free-Agency Needs: LB, WR, CB
The Bills are flip-flopping defenses as if they don't know whether they want to run a 3-4 like they say they want to or whether it'll look more like a traditional 4-3.
In either formation, the Bills need linebacking help. At No. 10, expect Buffalo to get an impact linebacker in the draft, but they'll need depth on the other side.
The ideal guy to make this defense a legit 3-4 scheme would be Mario Williams from the Texans. He may or may not be franchise-tagged by Houston. In the event he's not and tests the waters, a good "all in" move by the Bills would be to splurge to get him.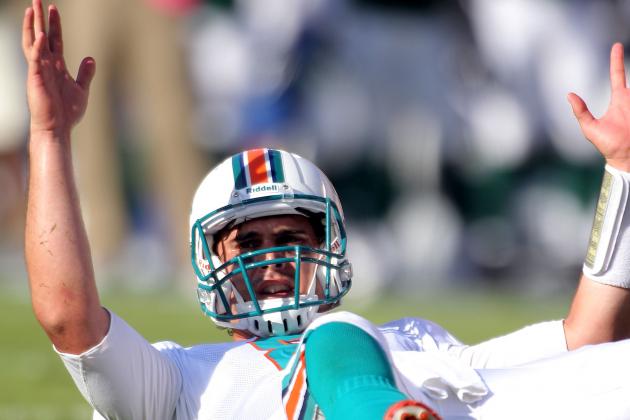 Marc Serota/Getty Images

Needs: QB, OT, DT
Depending on if the Miami Dolphins can land an improvement at quarterback in free agency will dictate what they do in the draft.
With the news that former Green Bay offensive coordinator Joe Philbin has been hired as the new head coach in Miami, the logical choice for replacement quarterback would be current Green Bay backup Matt Flynn. Flynn's stock exploded following his Week 17 performance in relief of Aaron Rodgers against the Detroit Lions. His price tag may be elevated, but the chemistry and previous knowledge of the system is invaluable.
If the Dolphins can't get Flynn or any other QB who can challenge Henne to start, they'll likely draft one then in April.
Other free-agent needs include a right tackle upgrade and some defensive tackle help.
Elsa/Getty Images

Needs: SS, CB, OG
New England is a near-flawless team offensively. Defensively, however, the team has a serious problem stopping opposing offenses, especially in the passing game.
The Patriots are sitting pretty this offseason. They have two first-round draft picks because of the move they made last spring trading down with the New Orleans Saints, who wanted Alabama running back Mark Ingram.
Because of that move, the Pats have options. They can go out and make a splash in free agency with defensive back help like a Cortland Finnegan or LaRon Landry, or they could find depth for an aging offensive line and combine those two first-round picks to go up and get Morris Claiborne from LSU in the top five.
It's great to be in a position of power, isn't it?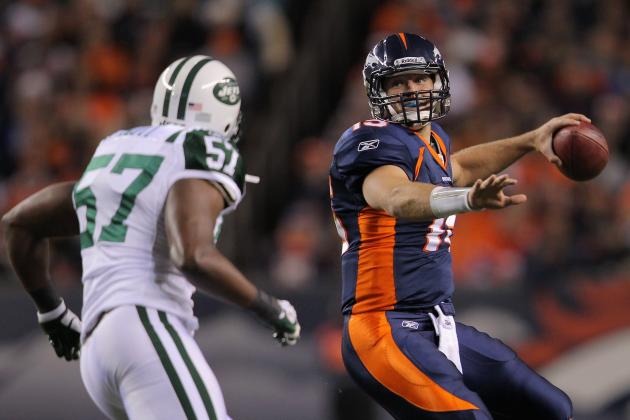 Doug Pensinger/Getty Images

Needs: OLB, QB, WR
The Jets will be one of the most interesting teams to monitor this offseason. Head coach Rex Ryan is putting himself on the hot seat via his gums and the "Sanchize," Mark Sanchez, is regressing.
This team needs to get back to what they did when Ryan came in three years ago. Ryan needs a defensive playmaker at linebacker to complement Bart Scott and get back to the insane, crazy blitzes to cause pressure.
Another area of addressing may be the QB position. New York needs to bring in somebody to challenge Sanchez. It could be anyone at this point, as long as they're a veteran.
Maybe that someone is Peyton Manning?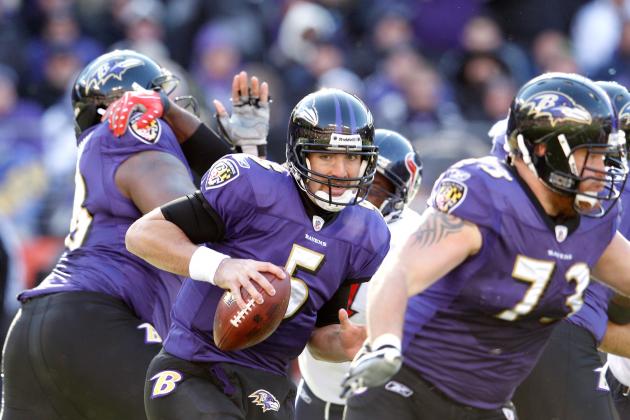 Rob Carr/Getty Images

Needs: TE, FS, LB
Things look pretty good for the Ravens. This team really doesn't need to improve at any position except for the tight end. Most of this offseason will be spent finding replacements for veterans like Ray Lewis and Ed Reed, who are getting close to the conclusion of their careers.
The Ravens will need a youth movement this offseason. Normally, the draft would be the place to get that done, but since free agency begins before the draft this year, free agency has to address the issue.
Tyron Branch would be a nice immediate fix at safety while two inside linebackers—Stephen Tulloch and David Hawthorne—would both give depth to the linebacking crew.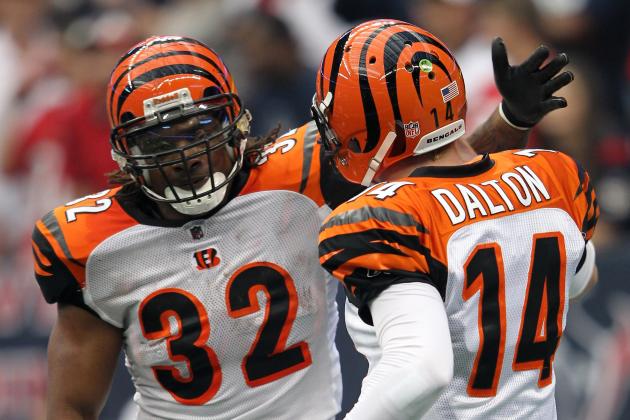 Jamie Squire/Getty Images

Needs: CB, RB, FS
The Bengals were a surprising youthful team in 2011 that captured a playoff berth with a rookie wide receiver and rookie quarterback. The next piece to the youth movement is finding a young running back to replace Cedric Benson, who is up for free agency.
There are a few mid-20-year-old running backs who could hit the market. Should Marshawn Lynch, Matt Forte or Ray Rice decide to hit free agency, any one of them would make logical sense in Cincinnati.
The Bengals do need to improve at corner as well since they lost Johnathan Joseph to the Texans last season in free agency. Cincy is sitting on a pair of first-rounders this season, so likely they'll take one in the draft.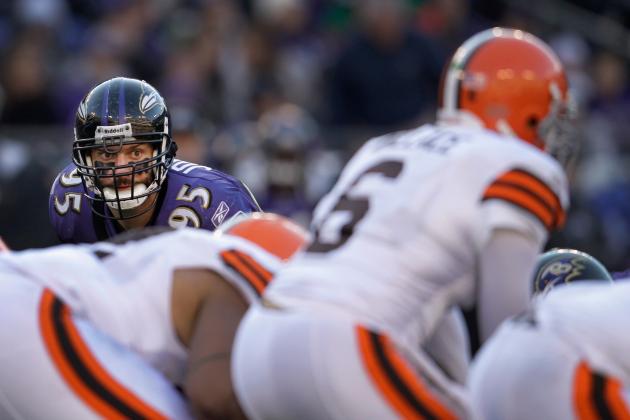 Rob Carr/Getty Images

Needs: WR, QB, OT
Say all you want about the quarterback play from the Browns, but look at what Colt McCoy and Seneca Wallace have to work with around them. Peyton Hillis redefined the term "one-hit wonder" with a dismal 2011 season.
Oh, and the wide receiver unit is nothing to brag about either.
Cleveland struck gold when they traded down with the Falcons last April and now have a plethora of picks in the draft. They would be wise to use their picks on position players like a receiver and a running back.
Free agency will likely spell offensive line depth, a veteran QB and linebacking help.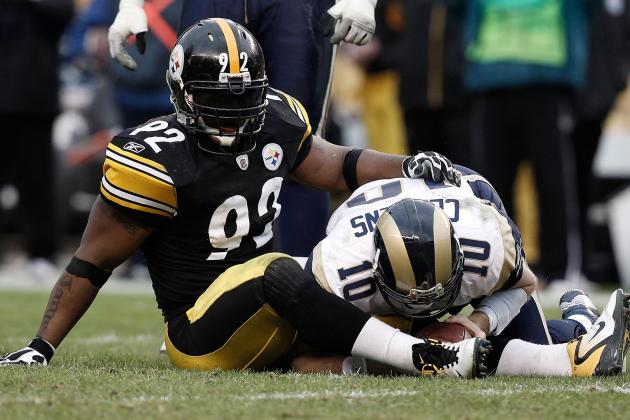 Jared Wickerham/Getty Images

Needs: LB, RB, OT
It's one thing to lose in the Wild Card Round of the playoffs. It's another to be the first playoff victim of Tim Tebow.
Who would've thought that at season's end, Steelers quarterback Ben Roethlisberger would suffer another foot injury that could've cost his team in the playoffs? Protection is the best way to avoid that.
The Steelers had a problem moving the football on the ground. Rashard Mendenhall had a tough season and lost his big-play ability. Is now the time to make a change in the backfield?
Free agency is going to be a time for Pittsburgh to revamp the linebacker unit and get some backup for the guys who are nearing the end of their careers.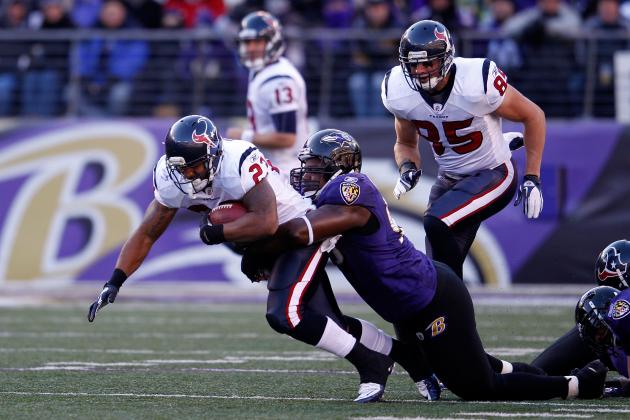 Rob Carr/Getty Images

Needs: OG, WR, SS
How tough must it be to be a Texans fan? This team had everything you need in order to make a Super Bowl run. Houston had an elite running game and a stellar defense, but it wasn't until the Texans were forced to start a third-string quarterback in the playoffs that the team had met its match.
This is another team that seems to be in a pretty good situation. Some interior offensive line depth could be an area of concern to address. Finding a No. 2 receiver who can complement Andre Johnson would be a solid improvement as well, especially if he misses games with injury again.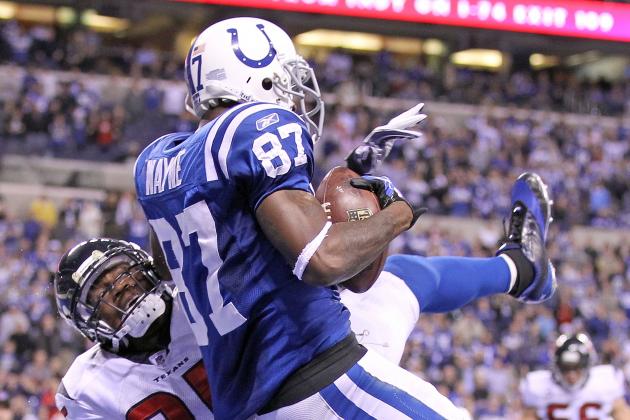 Andy Lyons/Getty Images

Needs: C, G, CB
Who the hell knows what will happen with Andrew Luck and Peyton Manning?
Regardless of who is under center, the position needs an upgrade. Jeff Saturday is nearing the end of his career and with a new QB likely coming to town, why not start him off with a new center so they can learn together?
In addition, two offensive guards should be an area of concern. A great key addition would be signing Carl Nicks if he reaches free agency from the Saints.
In addition, both starting corners need addressing. Indy has had a poor pass defense for years. About time it got taken care of.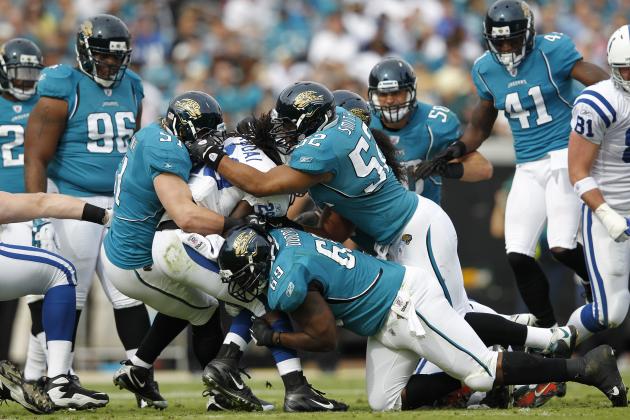 Joe Robbins/Getty Images

Needs: DE, WR, CB
It wasn't a pretty first year for Blaine Gabbert and Co. in Jacksonville. The team was so bad in fact that Jack Del Rio lost his job midseason as the team's head coach.
Both sides of the football need to get better for the Jags. Offensively, the team would be smart to bring in a veteran QB to mentor Gabbert, but they also need playmaking receivers. Names like Dwayne Bowe, DeSean Jackson and Vincent Jackson could all be available.
On defense, the Jaguars needs to generate more of a pass rush. A free-agent defensive end like Robert Mathis or John Abraham would be nice additions, but they could also fill this need with their high first-round draft pick.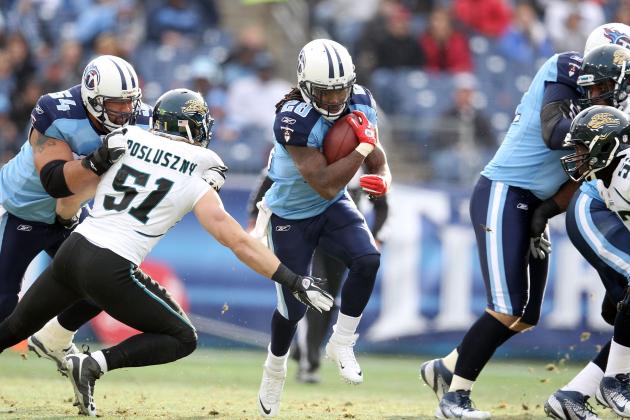 Andy Lyons/Getty Images

Needs: OG, DE, C
Outside of the offensive and defensive lines, the Titans appear to be okay with star players.
The Titans will be very busy locking up both starting safeties that are up for free agency as well as their best cornerback. Assuming they can work out deals with Michael Griffin, Jordan Babineaux and Cortland Finnegan, Tennessee will be looking to upgrade on the interior of the offensive line while adding a pass-rusher.
Eugene Amano had a brutal year at center for the Titans. I would assume that when Tennessee picks at No. 20 in the draft, they will break the ice on centers taken. Free agency then will likely yield a couple guards and a veteran defensive end.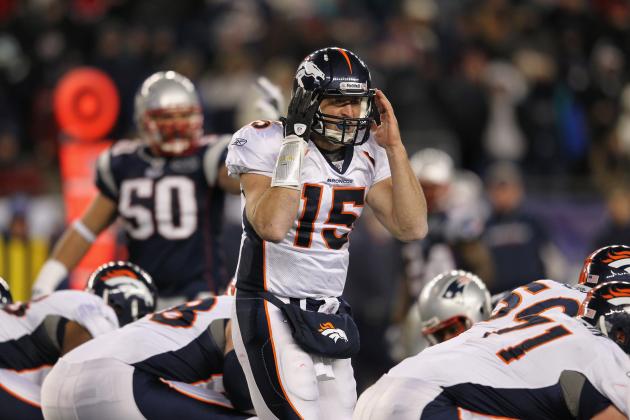 Jim Rogash/Getty Images

Needs: FB, WR, CB
The Denver Broncos are in a very unique position.
At quarterback, the team has a dynamic athlete who plays the most untraditional style of quarterback since Jeff Garcia. Instead of continuing to fight against the college spread-option game that Tim Tebow is accustomed to, the Broncos should just invest into the scheme and build its weapons appropriately.
Things the Broncos would need to complete a triple-option attack include a fullback like a Vonta Leach and another running back to aid Willis McGahee.
It would certainly help to have another playmaking receiver, which is something the Broncos can focus on in free agency. If they don't land one they love, they can go get one in the draft.
Corner help for an aging Champ Bailey would be a smart investment as well.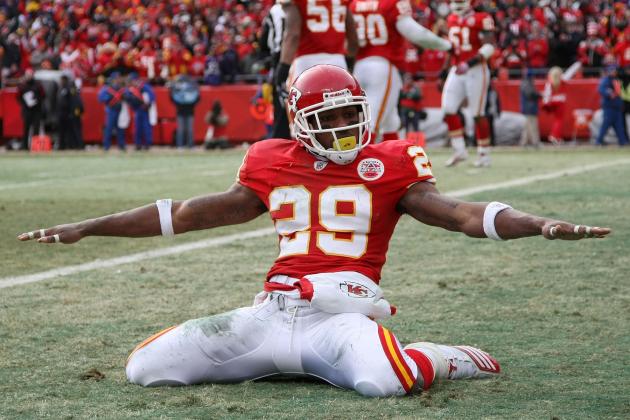 Doug Pensinger/Getty Images

Needs: QB, OT, DT
With Matt Cassel returning next season, it would have been ideal for the Kansas City Chiefs if they could've hired Josh McDaniels as the offensive coordinator, reuniting the pair.
Without McDaniels, Cassel remains a middle-of-the-pack quarterback at best. This team will likely be under the direction of Kyle Orton then, meaning they could use a backup to complete the depth chart.
A new right tackle and a nose tackle for Romeo Crennel's Chiefs would be good offseason additions. Given their draft positioning, the right tackle will likely be addressed in April.
This means KC can splurge on a defensive tackle like Antonio Garay or Jason Jones. Either would provide that interior pass rush.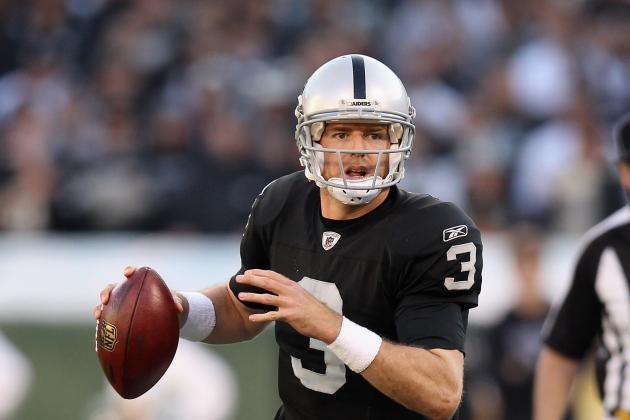 Ezra Shaw/Getty Images

Needs: LB, DT, OG
The Raiders will be very free agent-heavy this season after trading their first-round pick for this year's draft and a second-round conditional pick next season, which could become a first if the Raiders see an AFC title game for former Bengals quarterback Carson Palmer.
The holes to fill for the Raiders aren't so drastic. Oakland will be making the transition from a 4-3 defense to a 3-4 scheme, so a premier outside linebacker who can also play snaps as a down linesman is a key. With that, a nose tackle is also a need that should be addressed.
Add in some interior offensive line depth and the Raiders are looking to contend in 2012.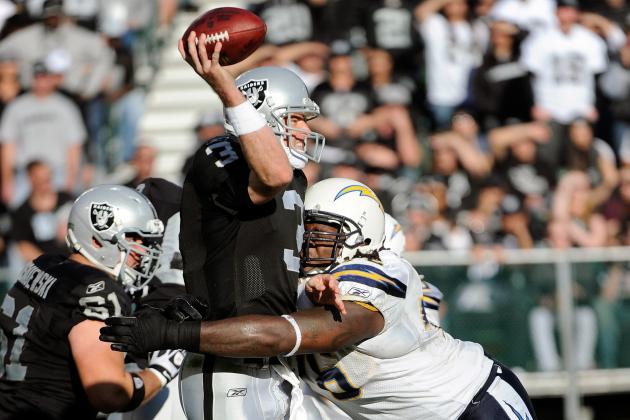 Thearon W. Henderson/Getty Images

Needs: CB, OG, OT
The free-agency needs for the Chargers don't necessarily reflect the need for upgrading positions as much as they do filling what appear to be voids caused by injuries.
Marcus McNeill has been battling a bad back for seasons now and Kris Dielman is still not 100 percent after having multiple concussions last season. Losing an offensive tackle and guard like them both leaves big holes on the offensive line.
Other than that, a young cornerback like Cortland Finnegan would make sense defensively. Quentin Jammer is on the wrong side of 30 and may need a replacement in the upcoming seasons.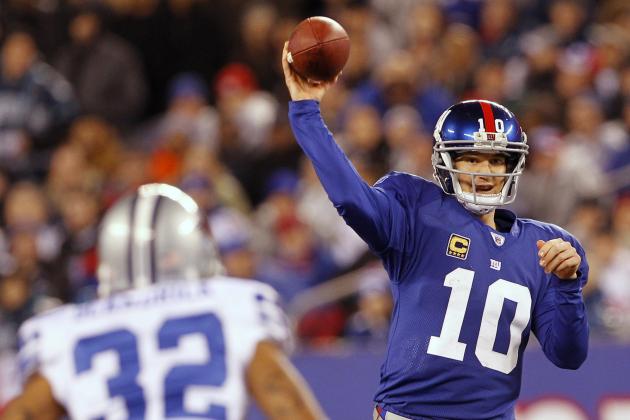 Rich Schultz/Getty Images

Needs: CB, OG, C
The first position that absolutely has to get better for the Cowboys is cornerback. Look inside the NFC East at the opposing No. 1 receivers the Redskins, Eagles and Giants all feature. The Cowboys have nobody who can keep up with Victor Cruz, DeSean Jackson or Santana Moss when healthy. Terence Newman is not the answer.
Dallas could go one of two ways to fix the problem. The draft could land them Dre Kirkpatrick, who is in some legal trouble now following reports of drug possession. With that hurting his draft stock, he could fall to the Cowboys late first round or even into the second round.
The free-agent solution would be to add Brent Grimes or Carlos Rogers to fill the void.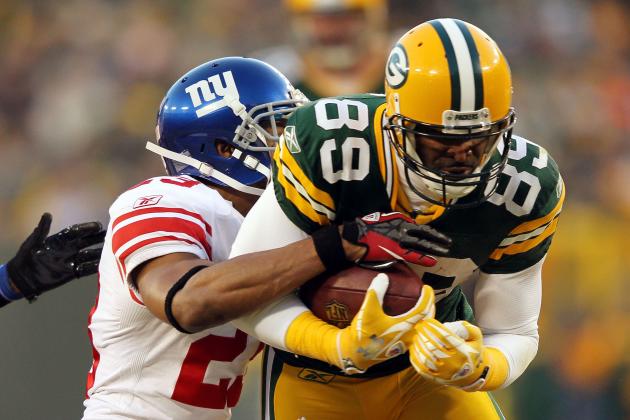 Jamie Squire/Getty Images

Needs: SS, CB, FS
The New York Giants came on with a full head of steam to close out the 2011 season. Not many teams finished as strong as the Giants did. A lot of that success can be contributed to the play of wide receivers Victor Cruz and Hakeem Nicks compliments of Eli Manning, who has developed into the top-five QB conversation.
The only area that needs addressing for the Giants is the secondary. Injuries were the story of the 2011 season for the Giants safeties and corners. If they can find a second corner and safety depth, they should be alright.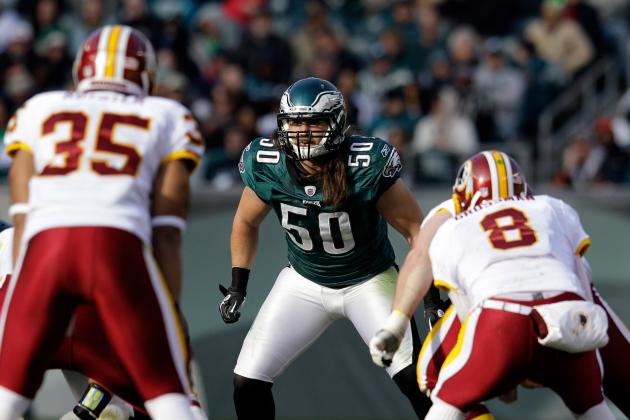 Rob Carr/Getty Images

Needs: LB, SS, WR
Dream Team my ass.
Philadelphia closed out the regular season playing like people expected them to play all last season. They face an offseason that will be filled with more questions than answers.
The offense could face a big problem if DeSean Jackson doesn't re-sign or get franchise-tagged and leaves to test free agency. Jeremy Maclin is a quality receiver, but Michael Vick needs more than one weapon to throw to. This is a likely destination for one of the Vincent Jacksons, Dwayne Bowes or Marques Colston—assuming any of them become available via free agency.
Philly's defense needs help at linebacker, especially outside. It's likely they could address this issue in the draft, but veteran depth is never a bad thing to have.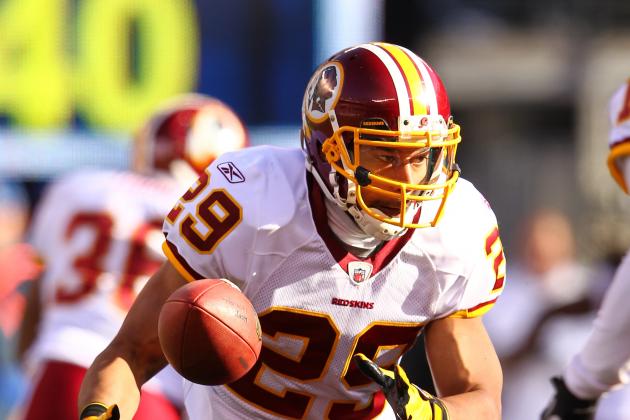 Al Bello/Getty Images

Needs: QB, WR, OG
The Redskins are another very interesting club to monitor this offseason. The Skins need desperately to upgrade at quarterback. Rex Grossman and John Beck are not going to get the job done. Grossman's current deal is up as well, so the odds of him returning are slim to none.
Washington has to bring in an experienced quarterback not just to help teach the ropes to Beck, but also to the likely college quarterback they'll draft in April. There will be a definite youth movement under center for the Redskins.
Free agency could be a chance for the Redskins to bring in an impact receiver. But because of how early teams can sign free agents in relation to the draft, they'll have to promise free agents they'll go get a player like Robert Griffin III.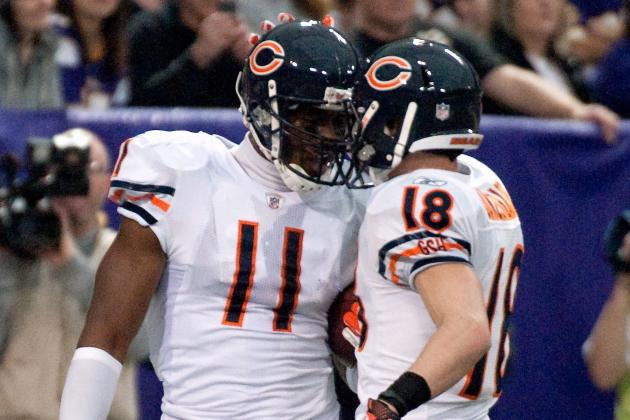 Hannah Foslien/Getty Images

Needs: WR, OT, CB
The Chicago Bears are a mess heading into the offseason. The team has no franchise left tackle, the defense is getting long in the tooth quickly and the team has no depth at quarterback. Consider that the team's best offensive player, Matt Forte, is dealing with a knee injury and Brian Urlacher suffered an MCL injury week 17.
Here's the obvious: the Bears need weapons. Chicago has to sign a big-name wide receiver, a receiving tight end and offensive line depth. The Bears could address all of those needs in the first three rounds (Chicago has four picks in the first two days) and sign the rest.
Chicago would be smart to draft a receiver, sign a big-name receiver and acquire a star tight end. The Bears can't have enough weapons for Jay Cutler.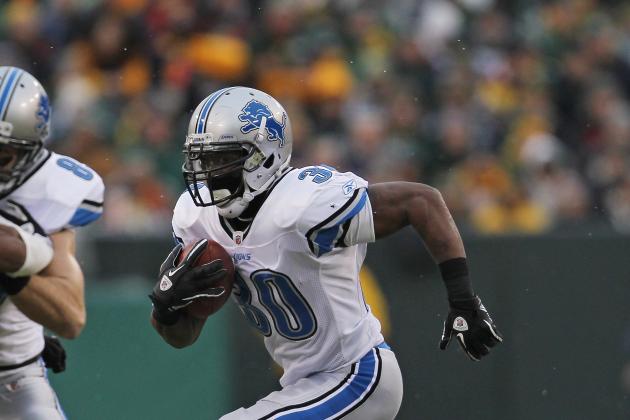 Jonathan Daniel/Getty Images

Needs: LB, CB, RB
The Detroit Lions have become a pass-happy team since the emergence of Matthew Stafford and Calvin Johnson. The run game wasn't there for the Lions in 2011, but neither was their 2011 second-round draft pick Mikel Leshoure from Illinois. The running back suffered an ACL tear before the season. It's important to mention that, because he will be making his presence felt this year.
For the Lions, free agency can be all defense. Scoring wasn't a problem, but stopping opponents from doing the same to Detroit certainly was. An aggressive corner like Cortland Finnegan or Brandon Carr would look nice in a Lions uniform.
At linebacker, the Lions need to re-sign Stephen Tulloch and add another piece on the cheaper end. Dan Connor or London Fletcher would make sense.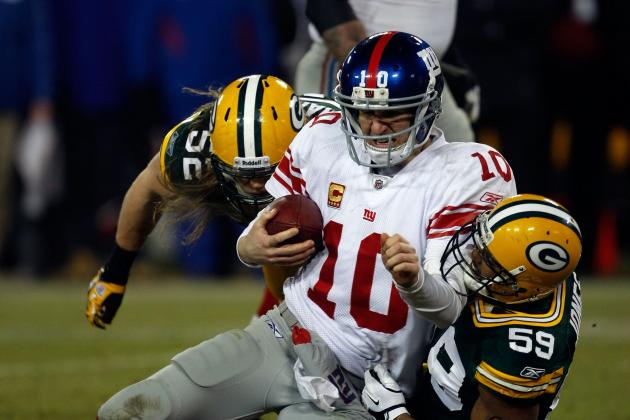 Scott Boehm/Getty Images

Needs: CB, DE, FS
Green Bay fans shouldn't panic because the Packers aren't defending their Lombardi Trophy this season. Because of the great front office and drafting this team has managed the last three years, Green Bay is primed for multiple more Super Bowl runs in the very near future.
This offseason, the Packers really only need to address one starting position. Charles Woodson is a future Hall of Fame cornerback, but his time remaining in the NFL is getting low. Green Bay could focus on that by either signing a free agent or drafting one in the late first-round.
Toss in a pass-rusher to help take over the better offensive lines in the NFC, and things are looking good for the Green and Yellow.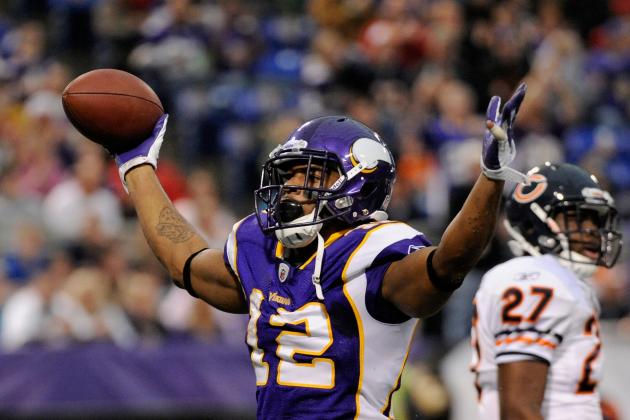 Hannah Foslien/Getty Images

Needs: LT, WR, CB
The 2011 season was an absolute letdown for the Minnesota Vikings. A team that was two years removed from an NFC Championship Game has hit the bottom.
The winds of change are blowing in Minnesota. Christian Ponder now has a full season under his belt as the starting quarterback. That experience will go far as he progresses in his sophomore campaign.
More than a few building blocks are needed for the Vikings as they begin a new era of football. The team desperately needs a left tackle. That will more than likely be settled when the Vikings select third overall in the draft. A veteran would help in the learning process.
Additionally, receivers are needed to help give the offense a chance to make big plays. Minnesota would love to have four Percy Harvins line up at receiver.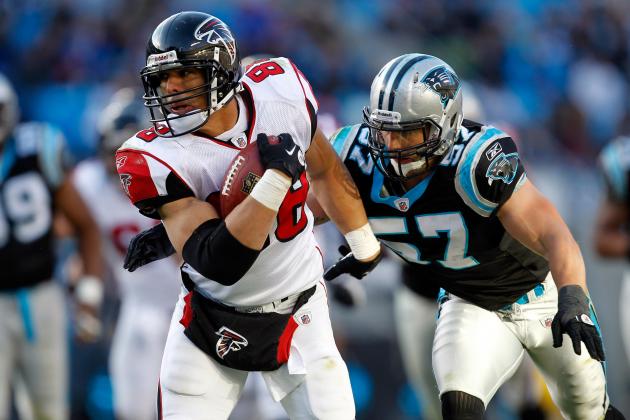 Streeter Lecka/Getty Images

Needs: TE, OG, SS
Things are looking up for the Falcons these days. The team is solid and well built. For years, Atlanta was never able to put together back-to-back winning seasons. Since Mike Smith has been at the helm, the Falcons have done it regularly.
There's really no drastic upgrades needed for this club, much like the other good teams in the NFL. One area to look towards would be the tight end position. Tony Gonzalez has said he's coming back for another crack at a Super Bowl ring, but he may be in his final season.
A right guard and safety depth would be nice free-agent areas to address as well. Atlanta will have only free agency this offseason unless they trade for picks. The Falcons gave up a whole lot to the Browns for Julio Jones.
Chris Graythen/Getty Images

Needs: WR, DT, LB
As the Panthers are coming off of an eye-opening 2011 season, it will be interesting to see how sexy Carolina is to free agents looking to play with Cam Newton. It's no secret he needs weapons with Steve Smith late in his career. With how deep the free-agent class is, Carolina should go fix that position prior to the draft.
When it does come to the draft, the Panthers are likely looking for help up the middle of the defensive line and linebacking help. We saw how important that was for the Panthers in 2011 with no Jon Beason.
The offense of this team is not a problem. The defense is.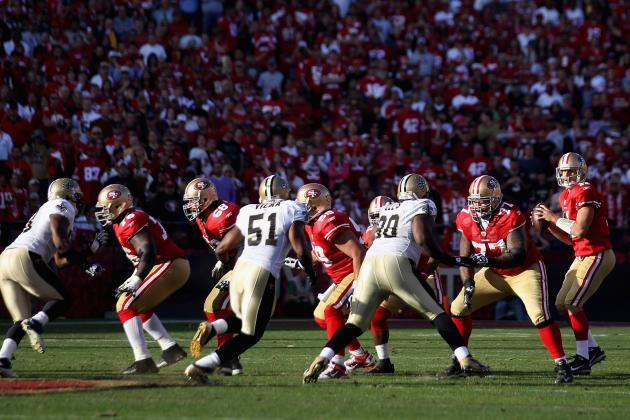 Jed Jacobsohn/Getty Images

Needs: WR, DT, LB
New Orleans will be very busy this offseason locking up their own. The Saints have a huge number of free agents to deal with. Drew Brees, Carl Nicks, Marques Colston and Robert Meachem are all due new money on offense. It's likely the Saints will lock up Brees and tag Nicks, or vice versa. That means the receivers are on their own with contracts without the hopes for franchise tags.
New Orleans will likely have to spend money to revamp the receiver corp if they lose any of these guys to free agency.
On the defensive side of the pigskin, the Saints are looking to pick up a tackle and some linebackers. They could be tight on cash though, so they likely won't challenge the cap with a big-name guy.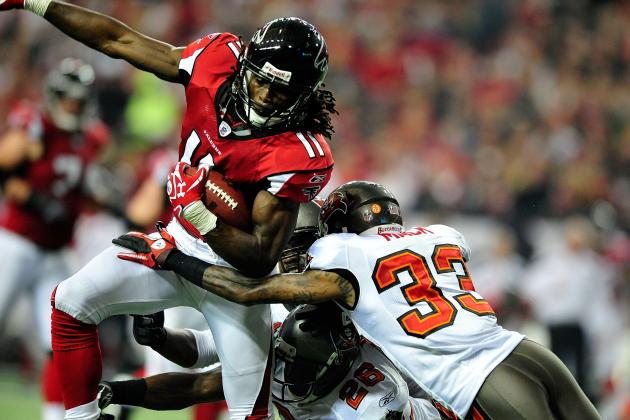 Grant Halverson/Getty Images

Needs: CB, LB, OT
The Bucs are in need of a pair of starting corners. It would make sense for them to draft one if there's an impact player left when they choose in the first round of the draft. In addition, the Buccaneers should find a free agent and start a totally new pair cornerbacks for 2012.
Tampa Bay locked up Davin Joseph, arguably the best right guard in the NFL, last season with a long-term deal. The team needs to do the same at the left tackle position. It would be one of a few necessary changes the club would need to make on that offensive line.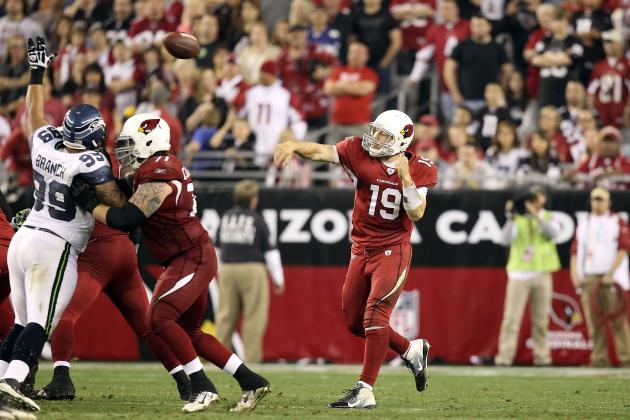 Christian Petersen/Getty Images

Needs: OT, LB, WR
Stated frankly, the offensive line for the Cardinals is awful. This team needs help at almost every position but especially at both tackles. This could very well be the main target for their early draft picks. They need plenty of help, however, so they could take a shot on some free agents, maybe even at guard.
Arizona would also benefit from the addition of an interior linebacker and defensive end. Generating a pass rush was a little bit of a challenge for the Cards in 2011. If there's a certain key free agent that they covet, go sign him.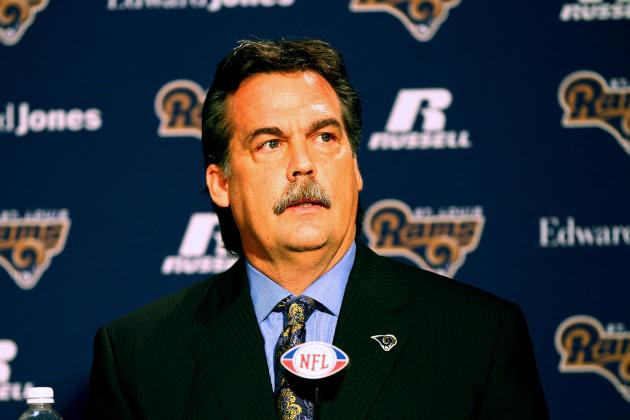 Dilip Vishwanat/Getty Images

Needs: OT, WR, OG
Now that there's a new man in charge of the Rams, head coach Jeff Fisher will see to it that St. Louis becomes a power team built from the bottom up.
Fisher has stated he feels the Rams are in a good place with Sam Bradford under center and with Steven Jackson in the backfield. It's the rest of the offense that seems to be a problem. The Rams are in desperate need of improving the offensive line at both tackles and at left guard. They also drastically need receivers.
Here's where things get interesting for St. Louis. They currently hold the No. 2 spot in the NFL draft. They will likely be on the clock with their choice of any player minus Andrew Luck. When free agency begins, they should try and trade down from No. 2 and receive extra picks or players in return.
This team has so many holes to fill, free agency alone might not be enough.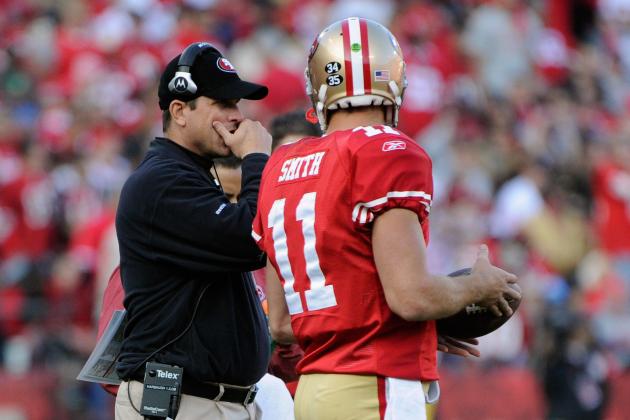 Thearon W. Henderson/Getty Images

Needs: CB, WR, FS
What a great story the San Francisco 49ers were in 2011 with the emergence of Alex Smith and that front seven of the defense. No team tackled as well as the 49ers did, which is part of why this team was so good stopping the run.
Vernon Davis has taken his play at tight end to the next level. To ensure his effectiveness in the future, the Niners need other weapons so that defenses don't double-team Davis and just Davis. A big-name wide out would make a lot of sense.
How attractive is San Fran as a landing spot? It might have become much more sexy since the NFC title run and seeing what Jim Harbaugh was able to do in a short amount of time—even with the lockout and all.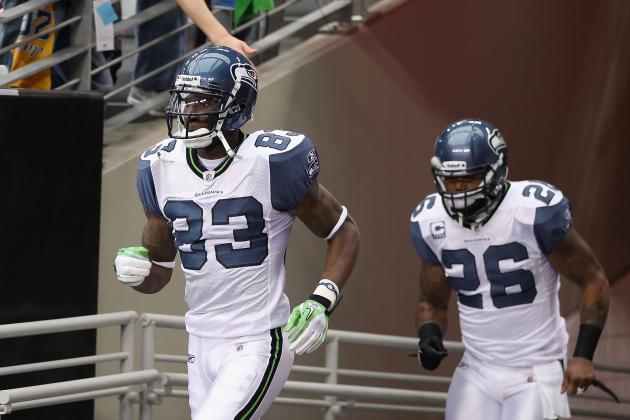 Christian Petersen/Getty Images

Needs: OG, QB, DE
Last but not least, Pete Carroll's Seattle Seahawks, who had one of the best rushing attacks last season after Marshawn Lynch exploded onto the scene. They forgot the deep passing game ability was there too, however, which is part of the reason signing Tarvaris Jackson is now a regrettable mistake.
Jackson wasn't horrible, but he wasn't great. He's not the kind of guy who will lead this team into the playoffs. Signing a backup who could challenge him for the starting role could work out.
An offensive guard would help ensure the running game stays effective. The signing of Robert Gallery was a so-so move as the former Raider struggled in his first season with the Hawks.
Brett Lyons is a Featured Columnist for Bleacher Report. Unless otherwise noted, all quotes were obtained firsthand or from official interview materials.
Follow Brett Lyons on Twitter @BrettLyons670.