AFC Playoff Picture: How New York Jets Can Still Get into Postseason
December 25, 2011
Christopher Pasatieri/Getty Images
The New York Jets are going to need a lot of luck to make the playoffs.
For the optimist, this is great because it means that there is still a chance for another AFC Championship appearance.
Pessimistic fans are going to groan as soon as they see what needs to transpire in order for their beloved team to get back for the postseason for the third-straight year with Rex Ryan and Mark Sanchez leading the team.
Gang Green gets in the playoffs only by winning against Miami this coming week, along with the Bengals, Titans and either the Raiders or Broncos losing.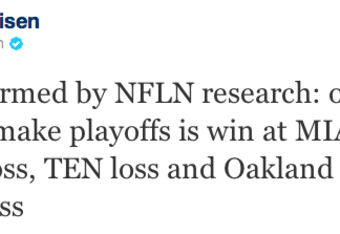 It's been a wild year and New York is lucky to still be in contention for a postseason spot after losing two straight games in Week 15 and 16.
They really blew it against the Giants on Christmas Eve and made their road much tougher than it needed to be.
Jets fans are going to have starting cheering for the Ravens, Texans, Chargers and Chiefs for a week and pray that those teams come away with a victory in Week 17.
Coach Rex Ryan knows his group has a chance to win it all if they can just get into the postseason.
"I think there's benefit of going through the playoffs and gaining that experience," Ryan said. "Well, no team has won more playoff games than the New York Jets have over a two-year period — not Green Bay, not anybody — so that's going to help us. We have to get there first, obviously, but that could make us dangerous."
As deadly as the Jets could be, they are going to need a lot of help to get in from a bunch of teams who won't be anxious to assist a major threat.