Tim Tebow: Denver Broncos QB Is Here to Stay Whether You Like It or Not
December 13, 2011
Garrett Ellwood/Getty Images
Did we see this coming? Was this meant to be? Is he the Mile-High Messiah? How about the Rocky Mountain Man-child?
Tim Tebow is an icon in Denver, the savior of the city. We have heard all of the sayings: It's Tebow time, Tebow mania, Tebow saves, that was Tebow-riffic, WWTD, or here comes the Tebow Train.
The nicknames are creative like TIMMMAAAAYY (courtesy of South Park), Big Show Tebow and as I previously mentioned, the Mile High Messiah and the Rocky Mountain Man-child.
What people need to understand that try to argue against Mr. Tebow is you're not going to win your argument. Just stop already!
I'm a diehard Lions fan, and my Lions killed Tebow; they mocked him, and everyone jumped on him, saying he can't throw the ball. But since that loss, he is undefeated!
The man is 7-1 as a starter this year. I'm sick and tired of people stating, "Well Adam, he doesn't give you four quarters." "Look at his passing efficiency." Or, "He's terrible in the first quarter and can't complete a pass."
Guess what Raiders, Chargers and Chief fans, it doesn't matter. He is 7-1.
I would be perfectly fine if he only completes one pass throughout the whole game and gets sacked five times. If he still gets you the win, he gets you the win. A win is a win.
The man is clutch in the fourth quarter and overtime. I don't know what else he has to do to prove all of you critics wrong, except maybe putting four solid quarters together. However, he's winning games with only one good quarter, so what does it matter?
Tebow doesn't have the best talent around him, but he finds a way to work with average and above-average receivers and an OK offensive line.
He has grit, toughness and the will to win, but he has something many players in this league don't have. That's what he calls "competitive greatness" and "competitive excellence."
What does that mean? It means Tebow knows what to do in crucial situations to get his team in the best position to win.
Tebow does deserve all the credit in the world, but how about this Denver defense led by Von Miller and his 11.5 sacks? It has been the backbone to most of these wins when Tebow has started, and they deserve way more credit then they are getting.
Tebow brings out the best in his teammates. Why wouldn't you want to play with this guy? He's a role model on the field, off the field, on the mike, and he donates money to many charities.
The man is simply a class act, and others are just arrogant and jealous of the fact that they don't have him as their QB. Get over it. He is 7-1!
It's just like the Ndamukong Suh situation. Yes, Suh needs to figure out where his head is at, but every team in the league would take him in a heartbeat if he was available.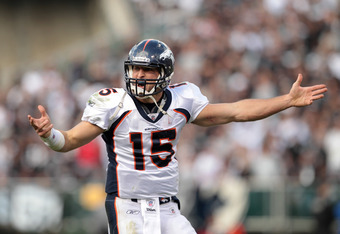 Ezra Shaw/Getty Images
I hope Tebow keeps shutting the critics up. You cannot dog and trash a man that has revived a city that embraces its football team.
While they are squarely in the playoff race and have the division lead, the Broncos probably won't win the Super Bowl. Nevertheless, this has been one heck of a season for Bronco fans and for Tebow.
Just imagine when Tebow gets more talent around him. The man will become that much better. His work ethic is second to none. The dude just knows how to win, baby, and that's all that matters.
Good luck to your Broncos, Denver fans...or maybe you don't need luck with the so-called Savior at the helm.