David Akers: San Francisco 49ers Kicker's New Meaning for "My Left Foot"
December 10, 2011
Rob Carr/Getty Images
Close is only good enough in horseshoes and hand grenades—and the San Francisco 49ers offense.
That's bad news for teams that think they've shut down the 49ers, only to watch Pro-Bowl placekicker David Akers jog onto the field.
With 32 field goals (out of 37 attempts), Akers has arguably been the biggest on-field difference-maker for the 49ers this year—beyond resurrected quarterback Alex Smith, hard-charging running back Frank Gore and sure-tackling linebackers Patrick Willis and NaVorro Bowman. 
The No. 1 difference overall has to be first-year coach Jim Harbaugh, who has taken a talented team that couldn't win and turned it into one that can hardly lose.
Even with Alex Smith's dramatic improvement this year, the Niners have been winning with a smothering defense, great special-teams play (as observed by Bleacher Report's Jesse Reed) and just enough offense. 
Often, that "just enough" has come in the form of Akers field goals. They're like that little bit of salary you stick in the bank every week. Individually, the deposits amount to little. But over time, they add up.
Case in point: During the first half last Sunday against the St. Louis Rams, the 49ers stalled three times. On came Akers, and at halftime the score was 9-0. Later, he added another field goal and two extra points after 49er touchdowns. Final score: 49ers 26, Rams 0 and Akers 14—more than half of the Niners' total.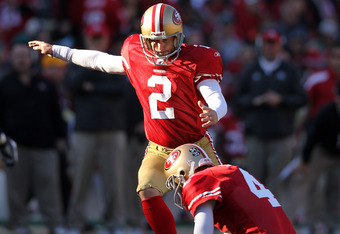 Ezra Shaw/Getty Images
It's been that way much of the season. He scored 15 points—including four field goals—in San Francisco's Week 1 33-17 victory over the Seattle Seahawks. Two of the Niners' touchdowns came from Ted Ginn runbacks, so the offense was responsible for just 19 points that day. More than 75 percent of that output came via Akers' left foot; the rest resulted from a single Alex Smith touchdown run.
In midseason, during back-to-back weeks, Akers was 4-for-4 on field goals against the Washington Redskins and then the New York Giants. In each game, he scored 13 points out of 19 (versus Washington) and then 27 (against New York). 
With that kind of production, it's hardly surprising that Akers' 32 field goals lead the league (Dan Bailey of the Dallas Cowboys is second, with 29). His twin 55-yarders against the Cowboys and Detroit Lions rank as the fifth-longest in the NFL this year. From 50 yards or longer, he's a perfect 6-for-6. On PATs, he's also perfect—26-for-26.
You might think consistency of that sort might breed over-confidence. In Akers' case, far from it. He was recently asked on the website for his charity, David Akers Kicks for Kids, if he ever got the jitters. 
"I know this might sound cliché," he said, "but preseason to the Super Bowl I get just as nervous."  Then he added, "Thank goodness for Pepto."
As the postseason approaches, the thought of Akers chugging down pink antacid may provide cold comfort for opposing teams. From the great George Blanda of the old Oakland Raiders to current redoubtables such as the Indianapolis Colts' Adam Vinatieri and the Tampa Bay Buccaneers' Connor Barth, placekickers often mean the difference. The 49ers still have a few things to fix before the playoffs, but with Akers booming away, the kicking game isn't one of them.