San Francisco 49ers: Report Card Grades for All 22 Starters, Midseason Edition
Jim Harbaugh has turned the 49ers into winners
Thearon W. Henderson/Getty Images
The San Francisco 49ers are one of the pleasant surprises of the season and have gotten off to a 6-1 start and a commanding four-game lead in the NFC West. The Niners finished the 2010 season with a record of 6-10. Nobody expected the kind of turnaround they have accomplished thus far.
With most of the same basic roster in place from 2010, the only major change has been the coaching. Jim Harbaugh has the 49ers well prepared every week and the players are believing in everything they're doing.
You can see it during practices and the games. These 49ers are having fun and they have bought into what Harbaugh and his staff are teaching.
I will give a midseason analysis and grade for each of the 49ers' 22 starters.
Quarterback: Alex Smith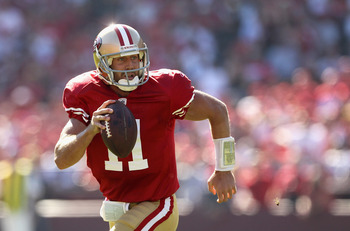 Alex Smith is developing into a solid NFL quarterback
Ezra Shaw/Getty Images
Alex Smith chose to stay in San Francisco, which nobody would have believed at the end of 2010. Jim Harbaugh elected to sign Smith and put him in charge of the 49er offense, which again, nobody would have expected.
Harbaugh saw something positive in Smith and felt that he could help Smith learn and develop into a competent NFL quarterback. Together, the two have flourished and their success has helped to lead the 49ers to a 6-1 start.
Smith has completed 115 out of his 182 pass attempts, a 63.2 percent rate. He has thrown for 1,267 yards and nine touchdowns with only two interceptions. His QB rating of 95.7 is in the top 10 in the NFL.
Most importantly for the 49ers and Smith, he has managed the games well and not committed key turnovers to cost the 49ers ballgames.
Grade: B+
Running Back: Frank Gore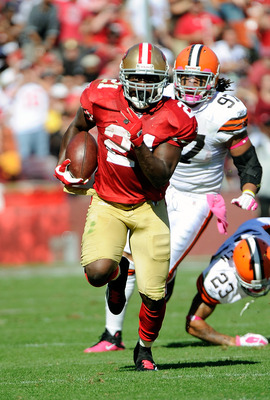 Frank Gore has rushed for over 100 yards in 4 straight games
Thearon W. Henderson/Getty Images
Frank Gore was coming off a season-ending hip injury in 2010 when the 49ers completed a contract extension for him in the early stages of training camp. Gore started off very slowly, rushing for only 148 yards in his first three games.
There was talk that Gore had lost a step because of the hip injury and that at 28 years of age, he was starting to decline.
In the past four games, Gore has made believers out of everyone again. He has rushed for at least 125 yards in each of those games. For the season, Gore has 675 yards on 140 carries, a 4.8-yards-per-carry average.
Grade: A-
Fullback: Bruce Miller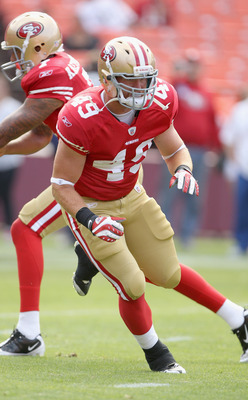 Bruce Miller has filled in admirably for Moran Norris
Ezra Shaw/Getty Images
Creativity and out-of-the-box thinking has been a positive trademark of Jim Harbaugh. He has brought that to the offensive play-calling, but we also saw that as early as the NFL draft.
The 49ers drafted Bruce Miller in the seventh round of the 2011 NFL draft. He was a defensive end from Central Florida, but the 49ers envisioned him moving to fullback. The plan was to let him contribute on special teams, while he learned the position from incumbent Moran Norris.
Norris was injured and has missed the past five games. Meanwhile, Miller has stepped in and done surprisingly well. He still makes a mistake every so often, but his overall play has been very good.
When Norris returns, he may not reclaim his starting job. In addition, I believe Miller is virtually certain to claim the starting job in 2012, if not for the rest of this year.
Miller has done a good job blocking for Frank Gore and also in pass protection. He does not carry the ball much, but looks like he can handle the job of being a blocking back.
Grade: B
Left Tackle: Joe Staley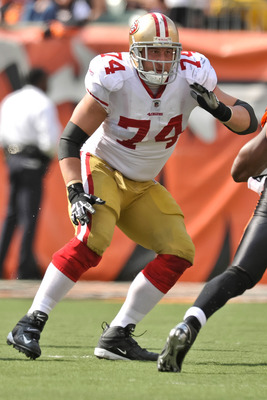 Joe Staley has become more consistent in recent weeks
Jamie Sabau/Getty Images
Left tackle Joe Staley had some poor games early in the season. He was having trouble as the faster defensive ends got around him and the stronger players were bull-rushing him back into the quarterback.
In recent weeks, however, Staley's play has improved. He has protected Alex Smith's blind side fairly well for the most part. In a true mark of Jim Harbaugh's play-calling creativity, Staley even caught a pass on a tackle-eligible play and rumbled for 17 yards and a first down.
Grade: B
Left Guard: Mike Iupati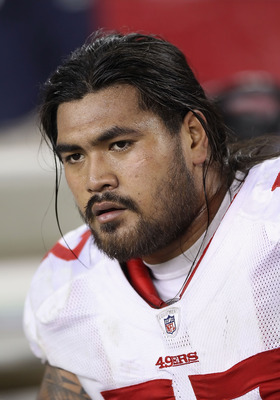 Mike Iupati is the 49ers' most dominant run blocker
Christian Petersen/Getty Images
Mike Iupati was drafted in the first round of the 2010 NFL draft. He has emerged as the top lineman on the 49ers line.
Iupati is a devastating run-blocker. You will often see him pancake his man or drive him several yards off the line of scrimmage. Iupati is also a solid pass-blocker and will be a Pro Bowl participant very soon.
Grade: A
Center: Jonathan Goodwin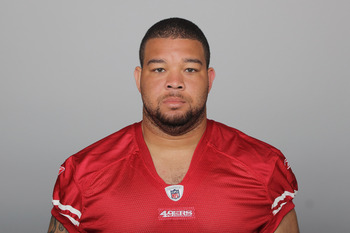 Jonathan Goodwin came to the 49ers from the Saints
Handout/Getty Images
Jonathan Goodwin is in his 10th year in the NFL. He spent the past five years in New Orleans and has a Super Bowl ring to show for his work.
Goodwin struggled early on with the 49ers but like the entire line, has stepped up his play as the season has progressed. Goodwin barely beat out journeyman Adam Snyder for the starting center spot, but is now firmly entrenched at his position.
Goodwin's improved play mirrors that of the entire line.
Grade: B
Right Guard: Adam Snyder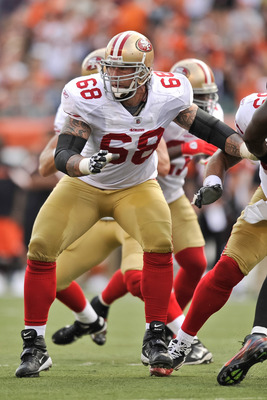 Adam Snyder has taken over the right guard position
Jamie Sabau/Getty Images
The 49ers offensive line was struggling when Adam Snyder took over at right guard for Chilo Rachal. When Snyder stepped in for the disappointing Rachal, the 49ers line started to gel.
Snyder has experience at all of the offensive line positions, but rarely stayed at any one spot for a long time. It appears as though he has earned the starting job at right guard and the 49ers offensive line is playing much better since he won the job.
Grade: B+
Right Tackle: Anthony Davis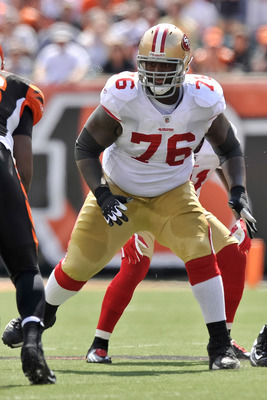 Anthony Davis has shown improvement
Jamie Sabau/Getty Images
Right tackle Anthony Davis has shown improvement and greater consistency over the past few weeks. However, there was substantial room for improvement.
Davis was one of the poorest starting tackles in the league and was frequently beaten on pass protection and one of the most flagged linemen in the league. The fact that he came into camp somewhat out of shape also put him behind.
Davis' footwork still needs to improve, as he often gets off balance and onrushing defenders can either get around him or push him back into the quarterback.
To his credit, Davis has improved his play over the past few weeks. He still needs help from time to time, but he is getting better.
Grade: C
Tight End: Vernon Davis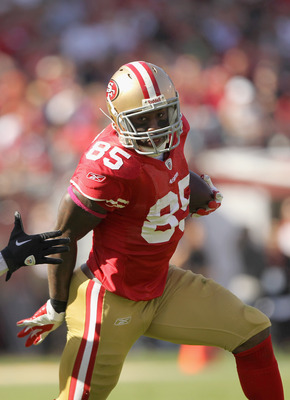 Vernon Davis is having a strong year
Ezra Shaw/Getty Images
Vernon Davis is one of the most dangerous offensive weapons the 49ers have. He creates matchup problems for defenses, as he's too fast for linebackers and too big for defensive backs.
Davis is also a very good blocker and is a valuable asset on running plays. He is having a Pro-Bowl-caliber year.
Davis has 27 receptions for 298 yards and three touchdowns. His numbers are not spectacular for two main reasons. The 49ers have been controlling many of their recent games with the ground attack. Also, defenses often bracket Davis, making it hard for quarterback Alex Smith to get him the ball.
Grade: A
Wide Receiver: Michael Crabtree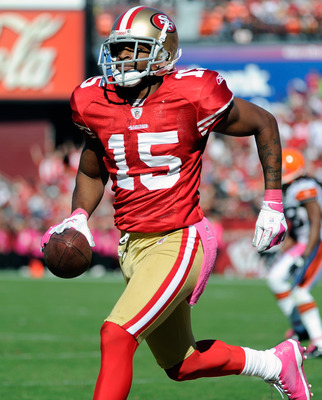 Michael Crabtree scores his first touchdown of the year
Thearon W. Henderson/Getty Images
Michael Crabtree missed the first two games of the season due to a chronic foot problem. He returned in Week 3 and started slowly. He is beginning to become a factor in the 49ers offense, to which his 14 catches in the last two games will attest.
The best thing I can report about Crabtree is that he has toned down his "look at me" attitude and diva-type behavior. Again, I believe this is a coaching influence, as Jim Harbaugh will not tolerate that sort of attitude.
In his five games, Crabtree has caught 25 passes for 263 yards and a touchdown.
Grade: B-
Wide Receiver: Braylon Edwards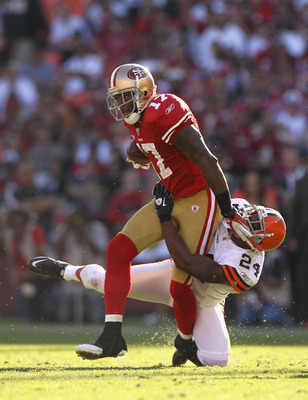 Braylon Edwards fights for additional yardage
Ezra Shaw/Getty Images
Braylon Edwards was signed as a free agent this past offseason. Early in the year, he looked like he would become the 49ers' top threat at the wide receiver position.
Unfortunately, Edwards tore his meniscus and had to have surgery, which caused him to miss several games. He is now back in uniform and has eight receptions for 90 yards.
Grade: Incomplete
Defensive End: Justin Smith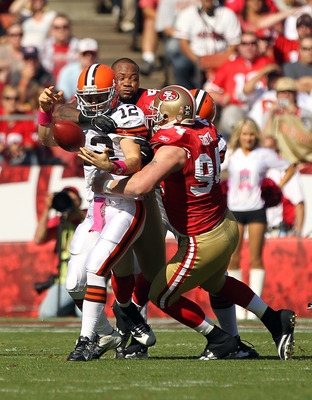 Justin Smith is having a Pro Bowl season
Ezra Shaw/Getty Images
Justin Smith is having a great season for the 49ers. He is a leader along the defensive line and has 26 tackles and 4.5 sacks. Smith is a high-energy, hustling player that never quits and will battle you every play, from beginning to end.
Smith is a key reason the 49ers defense has not allowed a 100-yard rusher in the past 29 games.
Grade: A
Nose Tackle: Isaac Sopoaga
Isaac Sopoaga exhorts the crowd
Ezra Shaw/Getty Images
Isaac Sopoaga has replaced the departed Aubrayo Franklin at the nose tackle position. He has done a fine job on defense and we have also seen him as a blocker in the 49ers' jumbo packages.
Head coach Jim Harbaugh even designed a play that called for Sopoaga to catch a pass. He did so and went for 18 yards and a key first down against the Browns.
Although Sopoaga has only seven tackles, his main job on defense is to occupy blockers and keep them off the 49ers linebackers.
Grade: A-
Defensive End: Ray McDonald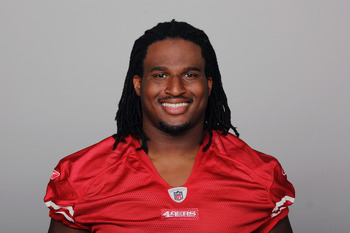 Ray McDonald has been a stalwart on the defensive line
Handout/Getty Images
Ray McDonald was having a fine season when he strained a hamstring last week. Hopefully, he will not be out long, because he was playing well. McDonald has 13 tackles, including three sacks.
Grade: A-
Outside Linebacker: Parys Haralson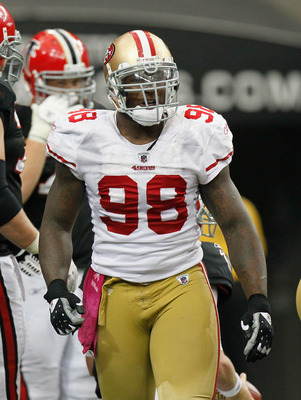 Parys Haralson tries to keep Aldon Smith on the bench
Kevin C. Cox/Getty Images
Parys Haralson starts at one of the outside linebacker positions. He is being hard-pressed by rookie Aldon Smith for his starting job. It would not surprise me if Smith, who leads the 49ers with 6.5 sacks, did not win the starting job in 2012.
Haralson has 14 tackles and three sacks.
Grade: B-
Inside Linebacker: Patrick Willis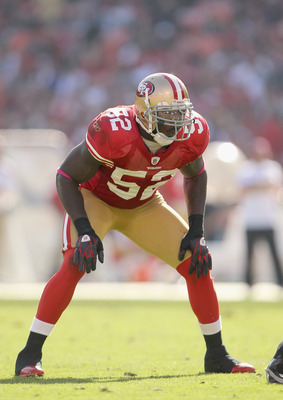 Patrick Willis is the leader of the 49ers' defense
Ezra Shaw/Getty Images
Patrick Willis is having another outstanding year. The perennial Pro Bowl linebacker leads the No. 1 defense in the NFL. The 49ers lead the league in allowing the fewest points per game with an average of 15.3.
Willis has accumulated 54 tackles, including one sack. He is on track for his fifth straight Pro Bowl selection.
Grade: A
Inside Linebacker: NaVorro Bowman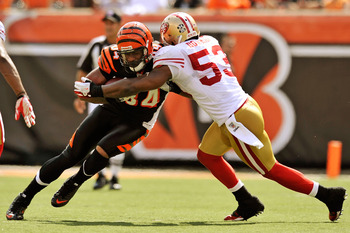 Navorro Bowman has emerged as top playmaker
Jamie Sabau/Getty Images
The 49ers drafted NaVorro Bowman in the third round of the 2010 NFL draft. He showed flashes of his athleticism last season, but often made rookie mistakes and was out of position.
When last year's starter Takeo Spikes left in free agency for San Diego, Bowman inherited his starting position. Bowman has been outstanding and his ability to play in both running and passing situations helps a thin linebacker corps.
Bowman leads the 49ers with 68 tackles on the season. He and Patrick Willis team up to be the top pair of inside linebackers in the league.
Grade: A
Outside Linebacker: Ahmad Brooks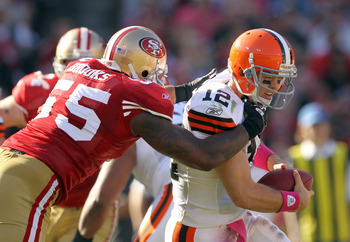 Ahmad Brooks closes in on a sack
Ezra Shaw/Getty Images
Ahmad Brooks has had a solid season at the strong-side linebacker position. He had his best game of the year last week against the Cleveland Browns when he collected three tackles, including two sacks and also forced a fumble that led to a 49er touchdown.
There have been games where Brooks has seemed to disappear for long stretches. For the season, he has 22 tackles and four sacks.
Grade: B+
Cornerback: Carlos Rogers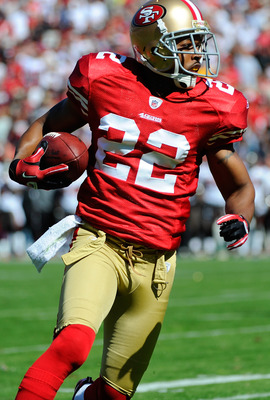 Carlos Rogers returns an interception
Thearon W. Henderson/Getty Images
One of the best moves the 49ers made in the offseason was letting Nate Clements go and signing Carlos Rogers to take his cornerback spot. Rogers has been steady in coverage and also leads the 49ers with three interceptions.
Rogers has provided good leadership for a unit that was a weak link for the 49ers over the past few seasons. His excellent play has allowed the safeties to roam more freely or help on the opposite side of the field.
Grade: A
Cornerback: Tarell Brown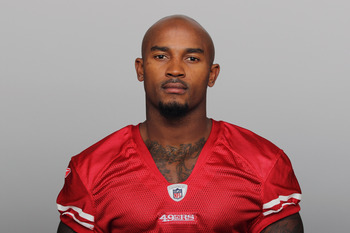 Tarell Brown stepped in for Shawntae Spencer
Handout/Getty Images
The 49ers expected Shawntae Spencer to hold down the cornerback spot that Tarell Brown currently occupies. However, Spencer has battled injuries all year and has not been able to stay on the field consistently.
Brown has taken over Spencer's starting cornerback position. His play had been adequate, but not above that. Brown has been beaten on some long touchdown passes, but his overall play has improved as the season progresses.
Grade: C+
Safety: Donte Whitner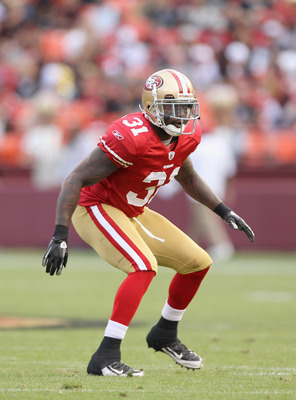 Donte Whitner came to San Francisco as a free agent
Ezra Shaw/Getty Images
The 49ers acquired Donte Whitner as a free agent this past summer. The six year veteran played his first five seasons with the Buffalo Bills.
Whitner has given the 49ers a good veteran presence and some steady leadership. He is also a solid tackler on running plays. There have been times where Whitner has had trouble in coverage, but overall, he has been quite solid.
Whitner has 24 tackles and one forced fumble.
Grade: B+
Safety: Dashon Goldson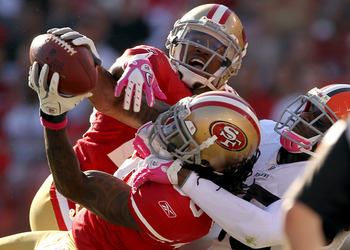 Dashon Goldson makes a spectacular interception
Ezra Shaw/Getty Images
Dashon Goldson missed the first couple games of the season due to an injury. Since his return, the 49ers' defensive secondary has improved steadily.
Goldson is a hard hitting safety with a big upside. He benefits greatly from having the veteran Whitner at the other safety spot. This enables Goldson to concentrate more on his own assignments than worry about the positioning of the entire defensive backfield.
Goldson is very strong and athletic, with a tremendous upside. He has gotten beat a few times, but overall his play has been very good. Goldson has 33 tackles and one interception.
Grade: B+
The San Francisco 49ers Have Surprised the NFL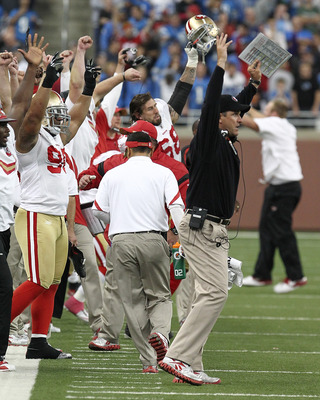 Touchdown 49ers!
Dave Reginek/Getty Images
The San Francisco 49ers are the surprise team in the league. They have the second best record in all of football at 6-1.
The 49ers' coaching staff has done wonders with this team. They are playing confidently and believe they can win every game. Defensively, their execution has been excellent. Offensively, the 49ers produce enough points to get by, but the key is that they do not turn the ball over.
The 49ers have a plus-10 turnover margin, a crucial factor in their success.
One other key factor that often gets overlooked is the stellar play of the 49ers' special teams. Kicker David Akers has been outstanding, as has punter Andy Lee. They, along with the coverage units, often give the 49ers a distinct field position advantage.
Return man Ted Ginn Jr. has done a good job and already has two touchdowns on the year. He has also not turned the ball over, which had been a problem for the 49ers in years past.
The 49ers are well on their way to their first winning season and playoff appearance in 10 years.
San Francisco 49ers' Overall Grade: A
Keep Reading

San Francisco 49ers: Like this team?