Tim Tebow and Drew Stanton Are Two Sides of the Same NFL Coin
October 28, 2011
In some ways, the NFL is an unflinching meritocracy. With billions of dollars on the line, nobody gets a scholarship. The players who can play, play. The coaches who can coach, coach. The executives pair one with the other.
Anyone not pulling their weight is gone in a heartbeat. Yet somehow, people slip through the cracks.

Good players get hurt or put in the doghouse. Coaches get stuck with players they don't want. Players land into specific systems that hide their flaws and magnify their strengths—or the other way around. Problems with chemistry and synergy can make working relationships untenable.
Success and failure in the NFL are, sometimes literally, a coin flip apart.

Drew Stanton and Tim Tebow are two sides of the same coin. Both moved across thousands of miles in their youth. Both became highly touted high school quarterback prospects.
Stanton, a Rivals 4-star prospect, was Rivals' sixth best pro-style QB. Tebow was a 5-star recruit; Rivals' No. 1 dual-threat QB. Moreover, both were multidimensional athletes who had real potential as baseball prospects and both led their team to a state championship; Stanton in back-to-back years.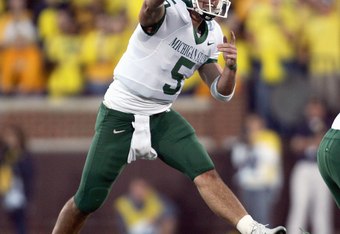 Harry How/Getty Images
Stanton and Tebow attended in-state universities. Both contributed to their teams immediately in unconventional ways (Stanton a special teams gunner, Tebow a situational change-of-pace quarterback).
They were strong, vocal leaders who often willed their team to win. Both gained yards on the ground—both by accident and design—through athleticism and toughness rather than speed.

Clearly, Tebow ascended to greater collegiate heights than Stanton did. With a much better coach and supporting cast, Tebow won a Heisman Trophy, and led his Gators to a BCS National Championship.
Stanton cracked several Heisman watchlists throughout his career, but he and his inconstant Spartans simply weren't at that level. Stanton, however, didn't leave the record books untouched, as he lead the biggest comeback win in NCAA history (bringing his team back from a 35-point third quarter deficit in 2006 against Northwestern).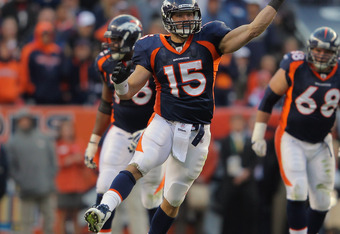 Doug Pensinger/Getty Images
Tebow was unquestionably the better college quarterback, but Stanton was unquestionably the better professional prospect. Both quarterbacks went to the Senior Bowl; Stanton completing eight-of-12 passes for 63 yards and a touchdown and was named the North's Offensive MVP.
As ESPN draft analyst Todd McShay said, Tebow's week in Mobile "could not have gone worse from an on-the-field standpoint."

Scouts, Inc. graded Stanton as an 87, an "Outstanding Prospect" and a high second-round grade. Meanwhile, Tebow got a 78, a third-round grade.
Most observers (including myself) pegged Tebow as a third-rounder—whether as a long-term quarterback project, or as an an unholy marriage of Chris Cooley and Kordell Stewart, a "fullback/H-back/tight end/linebacker."
I asked B/R's own NFL draft scout, Matt Miller, about Stanton as a prospect. "Drew Stanton has everything I look for in an NFL prospect at quarterback. While he has every skill set, not all skills were equally developed by the time he left Michigan State," he told me.
"Stanton was and is a very good passer. From a pure standpoint of throwing a football to a moving or stationary target, he's exceptional. Stanton is smart, hard-working and patient with the football. I liked most that I rarely saw him rush things at MSU. He was poised in the pocket."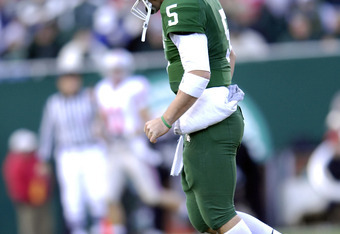 S. Levin/Getty Images
On the negative side, Miller noted that Stanton's tendency to put pressure on himself sometimes caused him to wilt, and mistakes to snowball.
"A bad route from a receiver or a dropped pass and you could see his demeanor change. Much like an Eli Manning or Jay Cutler." Miller also rightly pointed out that Stanton has struggled to stay healthy in both college and the pros.
"When comparing Stanton to Tebow, I give the upper-hand to Stanton. A quarterback's primary job is to deliver a catchable pass to the wide receiver so that he can make a play. Tebow doesn't deliver consistently on this. As Brandon Lloyd said, 'Any delay in delivering the ball . . . just throws a monkey wrench into all the time and anything you are trying to accomplish down the field.' Tebow's delayed motion make him a liability at the position, not to mention his accuracy suffers in long stretches."
Miller underscored the importance of consistency and accuracy in the pros. "Starting quarterbacks in the NFL are expected to throw one or two bad passes per game, they all do, but Tebow is the opposite—he throws one or two great passes per game. Those odds are too low for my liking."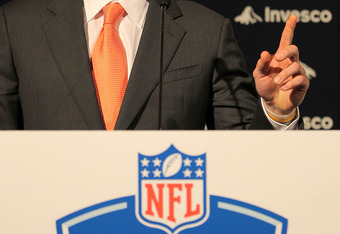 Doug Pensinger/Getty Images
When it came time to draft, the Lions traded into the 43rd overall pick to select Stanton. Per Scouts, Inc., that was right where he should have been drafted (he was their 41st-ranked prospect).
We know that Tebow was a lesser prospect in the eyes of most scouts—but in the draft, as they say, it only takes one team to fall in love. Broncos then-head coach Josh McDaniels was smitten with Tebow.

The Broncos dealt the 114th, 70th, and 43rd (!) pick in the 2010 draft to move up to No. 25 overall and take Tebow. That's right, the Broncos traded away the exact same slot the Lions used to draft Stanton, plus a 3rd and 4th-rounder, to draft Tebow and make him their quarterback of the future.
Meanwhile, Stanton was not beloved by the Lions coaches; offensive coordinator Mike Martz wanting nothing to do with him. McShay said in the wake of the 2010 Senior Bowl that Tim Tebow needed to be completely torn down and rebuilt as a quarterback. Martz tore Stanton down like that but never rebuilt him.
The Lions put Stanton on IR to save a roster spot, and he lost a season of mental and physical practice. Stanton's mechanics were ruined, and he was getting no coaching and no reps in Martz's complicated offense.

When Martz was fired after the 2007 season, the Lions simplified the playbook and called in a new quarterbacks coach: Former Michigan QB coach Scott Loeffler. Loeffler undid what Martz had done, restoring Stanton's natural throwing motion.
Stanton flashed a little of that magic in a preseason game against the Bengals; throwing a 50-yard touchdown and ran for another. I'm embedding this fan-shot video because it's as terrible as it is awesome.
Stanton was again injured, again stashed on IR, and again his progress halted. After one season working with Stanton, Loeffler was hired away from the Lions by the University of Florida—to polish up Tebow.

It's here where Stanton's career as a Lion truly begins, with the hiring of Jim Schwartz and Scott Linehan. With every OTA, training camp and preseason since, Stanton has taken a step forward.
Last season, Stanton did what everyone had waited for: He started and won a big game for the Detroit Lions. It wasn't always pretty, but he got the W. His contract ended after last season, but Lions GM Martin Mayhew brought Stanton back.

"Scott [Linehan] came in during year three and we saw a dramatic improvement in his ability, his throwing and his accuracy and all those things got better. But still, they weren't quite where you wanted them to be," Mayhew said. "We got into training camp and he had a pretty good camp, he made plays for us in the preseason. And then late in the year, we called on him to play and start and he won some games for us as a starter."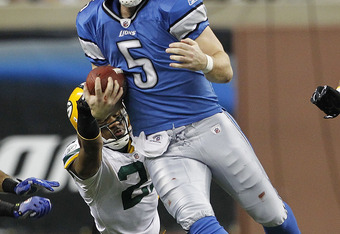 Leon Halip/Getty Images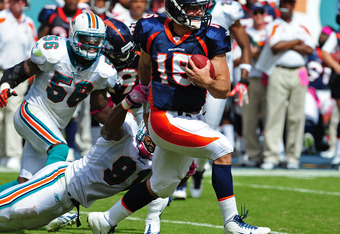 Scott Cunningham/Getty Images
In a moment of candor, Mayhew admitted that Stanton had already surpassed his ceiling. "I really didn't envision him doing that prior to this season, being able to get that done." As to Stanton's future with the Lions? "I thought he showed a lot of improvement so we plan on having him here this year and seeing if he continues to improve that way."

Tebow's story is the same, almost in reverse. He was drafted by a coach that utterly believed he could be a premier NFL quarterback....and then the rug got pulled out from under him. McDaniels was fired, along with anyone who had any investment in Tebow's success.
John Elway and John Fox were brought in to start a new-new era of Broncos Football, and Tebow suddenly had to prove his worth.

Last week, Fox trusted Tebow with the starting job, and Tebow delivered victory. Like Stanton's big win against the Packers last december, Tebow put some ugly stuff on tape—but he made it happen when it counted.

It's not a stretch to say that Drew Stanton, as a player, is Tim Tebow's professional upside. They share weaknesses, only Stanton's aren't so weak. And where Tebow's stronger, like literal strength, it's less useful in the NFL.

While Tim Tebow's immaculate character borders on caricature, Stanton is quietly one of the best "good guys" around. His relentless charity work has earned Stanton a perennial stranglehold on the Lions' Robert Porcher Man of the Year award. There will never be a plaque immortalizing a Stanton speech, but he knows how heavy a football team is when you place one on your back and carry it.

In the infinite possibilities of other dimensions and alternate timelines, there is Drew Stanton who was drafted by a good team that believed in him, and he's now coming off his first Pro Bowl appearance. In others, Tim Tebows are moonlighting on special teams and goal-line offense packages.
In our corner of the multiverse, Tebow is the starting quarterback for a Denver Broncos organization that could be secretly hoping he fails. As Tebow faces the Lions this Sunday, Stanton will be be watching from the sidelines—possibly in street clothes, inactive as the Lions' third quarterback.
Will either have a long, successful NFL career? At this point, I'd call it a coin flip.