NHL Realignment: Conferences Divided North-South? Outside the Box Possibilities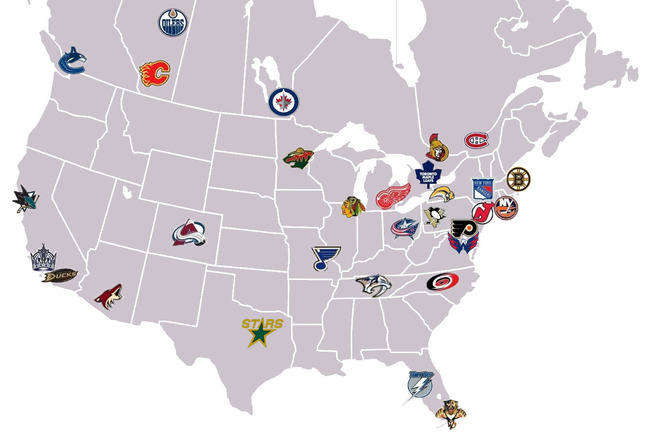 NHL Realignment is on the horizon for the 2011-12 season. The Winnipeg Jets are most certainly leaving the Southeast Division and the dominoes will start to fall from there.
All of Nashville Predators, Detroit Red Wings, and Columbus Bluejackets are aiming to move to the Eastern Conference to take the place of the former Atlanta Thrashers. But it doesn't take a Geographer to realize that the Detroit Red Wings simply do not belong in the Southeast Division.
After reading the excellent NHL Realignment Project on Tomfulery, I was inspired to come up with some different possibilities.
Any alignment needs the following four points to be considered:
Travel Time
Schedule balance
Games outside of a teams time zone
Games against traditional rivals
I will be posting a series of posts detailing slightly outside-the-box possibilities for NHL Realignment. In some way, these all stretch the paradigm in some way.
Today we will switch from the East-West Alignment of the past 18 years and instead we are going to have a Northern Conference and a Southern Conference. Each Conference will have two divisions of seven or eight teams.
Northern Conference: Canadian Division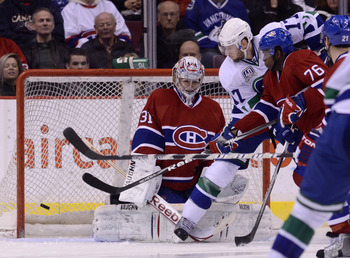 Rich Lam/Getty Images
Confession time: this alignment exists for this one division. As a Canadian hockey fan, I find this incredibly exciting at first glance.
When the Calgary Flames and Montreal Canadiens play now it is just a night on CBC or TSN, but in this situation it will be a high stakes Division match up. What is not to love about this?
Even more exciting, given that this is a seven team division, there is room to add one more Canadian team should another struggling club in the American South need to move!
But at second glance, we have some major travel and time zone issues. This division has four time zones represented, making television times for road games very awkward.
Also, there is an astonishing 3,686 km between the home rinks of the Vancouver Canucks and Montreal Canadiens—over 100 km more than the distance between Winnipeg and Florida.
Of course, teams like the Boston Bruins, Minnesota Wild, and Buffalo Sabres lose out on being in a division with a regional or traditional rival.
But this also does help minimize the times when the poor drawing Canadian teams visit American markets. I can't imagine the Colorado Avalanche like having the Calgary Flames come visit so many times.
Lastly, going by 2010-11 records, this division is very week. Only two of the seven teams made the playoffs, with the Vancouver Canucks being the only really serious playoff threat last season. Competition wise, this division would be almost as bad as the pre-Ovechkin Southeast Division.
Northern Conference: Central Division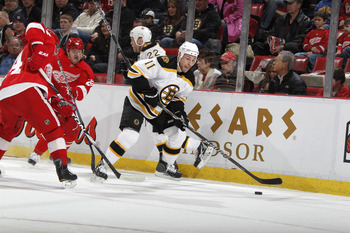 Gregory Shamus/Getty Images
Boston Bruins
Buffalo Sabres
Detroit Red Wings
Minnesota Wild
This division gets most of the "Traditional" NHL Markets and preserves a number of strong rivalries. Boston-Buffalo, Detroit-Chicago, and all New York Metropolitan Teams are kept together. I like the inclusion of Minnesota, since they share a division with Detroit and Chicago in both the NFL and MLB, which preserves a city-rivalry.
Having two teams in the Central Time Zone would be inconvenient for the (rather spoiled) New York teams, but I am sure they would rather share a division with the Chicago Blackhawks than the Florida Panthers, as has been proposed elsewhere.
If we have divisional playoffs (more on that in three slides) we are guaranteed to have some major TV markets represented. Something both the NHL and NBC would surely love.
The only thing I don't like about this division is the name. We can't exactly call it Northeast if it includes Minnesota and excludes Montreal, we can't even call it East since Chicago and Minnesota are in the Central Time Zone. I went with the familiar Central name, but it is intended to be on the North-South Axis instead of the East-West axis that it currently sits on. Should any of you out there in comment land think of a better name, let me know and I will gladly change it up.
Southern Conference: Southeast Division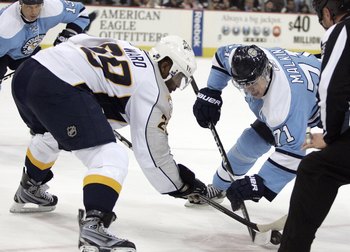 Justin K. Aller/Getty Images
Columbus Bluejackets
Florida Panthers
Nashville Predators
This is a bit of a hodgepodge of division. It preserves a number of current rivalries like Philadelphia-Pittsburgh, Tampa Bay-Florida, and Pittsburgh-Washington. Also it unites Columbus with Pittsburgh, which should be the case given their proximity to one another.
Struggling teams in Columbus, Florida, Nashville, and Carolina are given favourable TV times, and games against high profile opponents to help build a fan base, which should be a huge boost to all four of them.
Now should they continue to struggle, the league would have little choice but to strongly consider relocation, and since it is an eight team division, one team could be moved out—and to say, Quebec City and the Canadian Division—without going back to the drawing board.
Of the four divisions considered, this is probably the best one for time zones. The Nashville Predators are the only team that plays outside of the Eastern Time Zone, but they are so close to Carolina, and both Florida based teams, I am certain that would not be a major issue.
Southern Conference: Southwest Division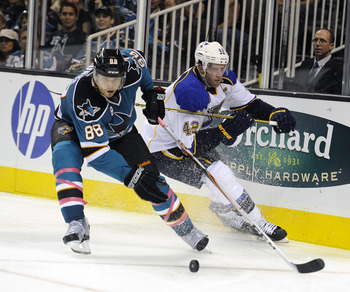 Thearon W. Henderson/Getty Images
Colorado Avalanche
St. Louis Blues
Essentially, these are the teams that are left after everything else is settled.
The five current teams in the Pacific Division are joined by the Colorado Avalanche and the St. Louis Blues.
The Blues and Stars were rivals in the Central Division before 1998, and the Colorado Avalanche were once with the California teams in the Pacific Division.
St. Louis is not Geographically Southwest by any means, and would lose out on old rivalries with Chicago and Detroit. But they could build on their NFL Rivalries with Arizona and San Francisco – represented here by Phoenix and San Jose respectively.
Like the Canadian division, there is an extremely large distance here. The arenas of the St. Louis Blues and Los Angeles Kings are almost 3,000 km apart, but that is a pretty comparable to the distances between Minnesota and Vancouver, two current division rivals.
The seven teams are pretty evenly split between the Pacific, Mountain, and Central Time Zones, which are all represented in the current Northwest and Pacific Divisions much less evenly.
The biggest wildcard for this division is of course the Phoenix Coyotes and the threat of them having to relocate. If they move to Kansas City, Las Vegas, Seattle, or Houston, no major changes would need to happen. However, if they moved to Quebec or Hamilton, then this division would need to add either Minnesota or Nashville, which both seem like a stretch geographically. The ownership questions in Dallas and St. Louis place less pressing, but similar concerns.
Schedule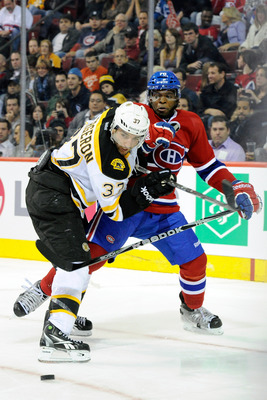 Richard Wolowicz/Getty Images
Obviously this is a very large concern for any Divisional setup. In an effort to balance out concerns of travel within the division, and the separation of old rivalries like Montreal-Boston, St. Louis-Chicago, and Philadelphia-New Jersey, I'd like to propose the following schedule:
For Teams in an Eight Team Division:
Four games against each of the seven divisional opponents for 28 games
Two games against each of the other 22 teams for 44 games
10 rivalry games against traditional, regional, or other teams (no more than two extra per team)
For Teams in a Seven Team Division:
Four games against each of the six divisional opponents for 24 games
Two games against each of the other 23 teams for 46 games
Two extra games against an opponent from the other Seven Team Division, this can be either on a rotating basis, or set to build or expand upon existing rivalries—Winnipeg-Phoenix comes to mind
10 rivalry games against traditional, regional, or other teams (no more than two extra per team)
This leaves us 82 games and gives both balance and freedom in the schedule.
Playoffs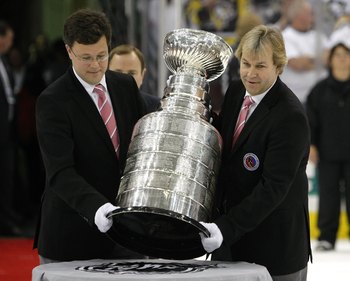 Dave Sandford/Getty Images
As for playoffs, there are a few possibilities.
Either we could stick to the 1-8 Conference setup that we currently have; this, however, would leave the possibility of a Philadelphia-Anaheim or Vancouver-Boston first round, which would wreck havoc on travel expenses and television schedules.
We could go with divisional seedings, which would ease this. Based on the 2010-11 standings, we would get the following playoff brackets.
Canadian Division
Vancouver Canucks
Montreal Canadiens
Calgary Flames
Toronto Maple Leafs
Central Division
Detroit Red Wings
Boston Bruins
Chicago Blackhawks
Buffalo Sabres
Southeast Division
Washington Capitals
Philadelphia Flyers
Pittsburgh Penguins
Tampa Bay Lightning
Southwest Division
San Jose Sharks
Anaheim Ducks
Phoenix Coyotes
Los Angeles Kings
While we get some marquee matchups in the first round like Chicago-Boston, San Jose-LA, and Pittsburgh-Philadelphia, there are still some issues here.
How on earth can the Toronto Maple Leafs with 85 points make the playoffs while the Nashville Predators with 99 points miss it?
How can the Washington Capitals, with the second best record in the NHL be "rewarded" with a first round match against a team that had 103 points in the regular season?
To help that a little, I'll propose a compromise. The top three teams in each division make the playoffs, with the next four teams qualifying as Wild Card teams, and joining divisional playoffs based on the standings of the division leader. The lowest seeded Wild Card Team goes against the top ranked division leader, the second lowest Wild Card Team goes against the second ranked division leader and so on.
After the first two rounds, the four "Division Champions" would be reseeded with the one of the best record getting the one with the fourth best, and so on.
This gives us a total of four guaranteed divisional matchups in the first round, rewards the best regular season teams, gives us the chance for the best two teams in the league to play for the Stanley Cup, and gives us a very small chance of having traditional rivals like Toronto-Montreal, or Pittsburgh-Washington play for the Stanley Cup.
Plus it would gives us the following seeds.
Canadian Division
Vancouver Canucks
Montreal Canadiens
Calgary Flames
Buffalo Sabres (Fourth seeded Wild Card vs. Top seeded Division Leader)
Central Division
Detroit Red Wings
Boston Bruins
Chicago Blackhawks
Tampa Bay Lightning (Top seeded Wild Card vs. Fourth seeded Division Leader)
Southeast Division
Washington Capitals
Philadelphia Flyers
Pittsburgh Penguins
Los Angeles Kings (Third seeded Wild Card vs. Second seeded Division Leader)
Southwest Division
San Jose Sharks
Anaheim Ducks
Phoenix Coyotes
Nashville Predators (Second seeded Wild Card vs. Third Seeded Division Leader)
There could obviously be some give or rules based on travel (Washington-Los Angeles first round seems tough on travel budgets), or they could consider alternate playoff schedules. Currently the NHL uses a 2-2-1-1-1, but they could go for the NBA Finals option of 2-3-2, or some other option that minimizes travel, or perhaps it could be optional depending on the wishes of the higher seed.
Verdict?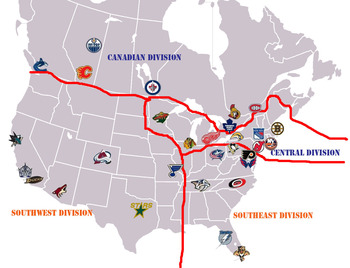 The Dividing Lines of the New NHL?
There is lots to love and some things to be desired with this alignment.
Plus:
Most rivalries are preserved like Pittsburgh-Philadelphia-Washington, the three New York Area teams, Detroit-Chicago, and all three California teams get to stay in the same division
An all-Canadian division benefits just about everyone except Boston and Buffalo
Struggling teams in Columbus, Florida, and Carolina get some very strong divisional opponents
Fair and flexible scheduling matrix
Nashville, Detroit, and Columbus get to save on travel
Compelling playoff format
Minus:
The incredible distances in the Canadian and Southwest division are both impractical and unfair
The legendary Montreal-Boston rivalry would be split
All of the Original Six Teams, which are strong road draws, are with teams that don't really need the help with attendance
Time zones and TV starts are not practical
In conclusion, this starts out with a fun and romantic idea for an All-Canadian division, but it sort of falls apart from there. To me, the minuses far outweigh the pluses. Time Zones and travel distances are simply too important to consider it plausible.
I consider this to be a very unlikely scenario.
Join me next time when I look at an NFL Style Alignment, consisting of two parallel conferences.
What do you all think about this North-South possibility?
Others Possibilites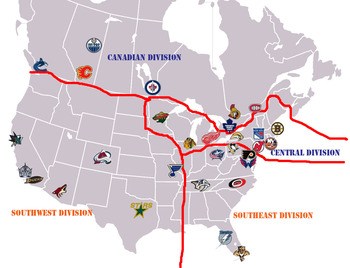 Keep Reading

Winnipeg Jets: Like this team?