NHL Realignment: Is an Original Six Division Possible?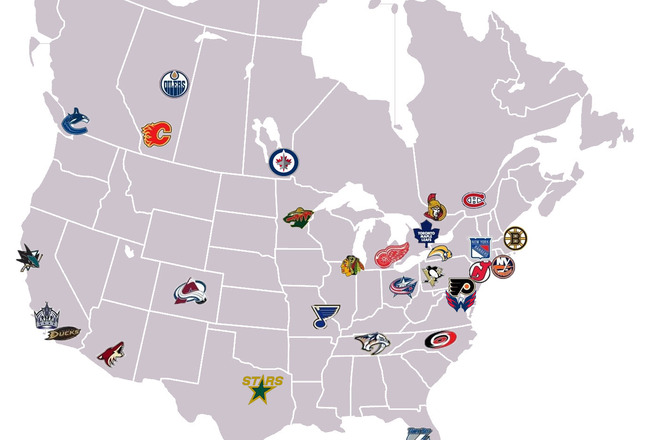 Welcome to the sixth installment of my NHL Realignment series.
From the first time, recall that NHL realignment is on the horizon for the 2012-13 season.
The Winnipeg Jets are most certainly leaving the Southeast Division, and the dominoes will start to fall from there.
The Nashville Predators, Detroit Red Wings and Columbus Blue Jackets are aiming to move to the Eastern Conference to take the place of the former Atlanta Thrashers.
But it doesn't take a geographer to realize the Detroit Red Wings simply do not belong in the Southeast Division.
After reading the excellent NHL Realignment Project on Tomfulery, I was inspired to come up with some different possibilities.
Any alignment needs the following four points to be considered:
Travel Time
Schedule balance
Games outside of a team's time zone
Games against traditional rivals
I will be posting slightly outside-the-box possibilities for NHL realignment. In some way, these all stretch the paradigm in some way.
In this edition we will divide the NHL into four divisions based on history. Geography and recent rivalries will be ignored and we will go in the order of Expansion. This is done with the goal of creating an "Original Six" division, and trying to build off of traditional rivalries.
Howe Division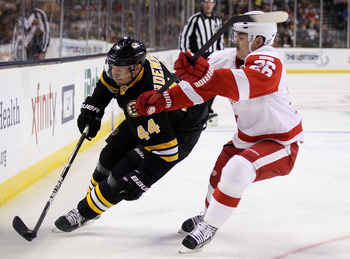 Elsa/Getty Images
Boston Bruins
Chicago Blackhawks
Detroit Red Wings
Montreal Canadiens
New York Rangers
Toronto Maple Leafs
St. Louis Blues
We start with the "Original Six" teams of Boston, Chicago, Detroit, Montreal, New York, and Toronto, who were the only six teams in the NHL from 1942-1967.
After 1967, the NHL added six more teams in the Pittsburgh Penguins, Philadelphia Flyers, St. Louis Blues, Minnesota North Stars, Oakland Seals, and Los Angeles Kings. One or two of these six teams needed to be added to this division in order to make sure that we could have seven to eight teams in this division.
Oakland moved to Cleveland and then disbanded, so they are easily an out. Minnesota moved to Dallas, and they and LA are discounted for obvious travel reasons.
Philadelphia and Pittsburgh should be kept together, due to their strong rivalry. So the options are either to put both Pennsylvania teams in this division, or the St. Louis Blues.
I chose the Blues since they already have a long standing rivalry with Chicago and Detroit, plus they are old divisional opponents of the Maple Leafs. Also, they would ensure that Chicago is not the only team in the Central Time Zone in this division. Lastly, putting the two Pennsylvania teams in this division would stack it way too much in terms of national draws.
They were named after one of the biggest pre-expansion stars. While it would obviously hurt die hard Habs fans to play in a division named after Maurice Richard's greatest rival, it does have some delicious irony to it.
Orr Division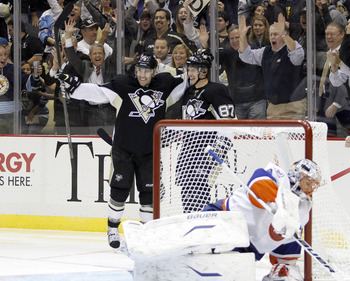 Justin K. Aller/Getty Images
Buffalo Sabres
Calgary Flames
Dallas Stars
New York Islanders
Pittsburgh Penguins
Philadelphia Flyers
Los Angeles Kings
Vancouver Canucks
This division is named after the biggest star in the 12 team era, and the greatest defenseman of all time, Bobby Orr.
The four other 1967 expansion teams, Philadelphia, Pittsburgh, Los Angeles and Dallas (via Minnesota) are the first four teams to be added to this division.
Then, in 1970, the NHL added two more teams in Buffalo and Vancouver, and two years after that the New York Islanders and Atlanta Flames started playing. The Flames, of course, moved to Calgary in 1980.
This division is a true coast-to-coast one, but no team is fully isolated geographically. Sure LA is far from the others, but they share a time zone with Vancouver, and are already in the same division as Dallas.
Gretzky Division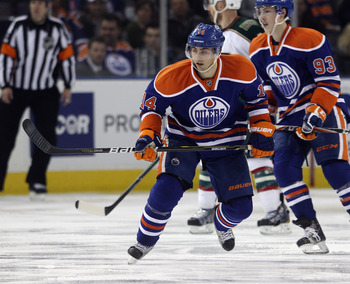 Bruce Bennett/Getty Images
Carolina Hurricanes
Colorado Avalanche
Edmonton Oilers
New Jersey Devils
Phoenix Coyotes
San Jose Sharks
Washington Capitals
In 1974, the NHL added teams in Kansas City and DC. The Scouts moved to Colorado and then New Jersey. In 1980, the NHL added teams in Quebec, Winnipeg, Hartford and Edmonton when the WHA folded in 1980. Of course, three of those four teams have relocated.
The NHL stayed at 21 teams until adding the Sharks in 1991, and we'll stop here to keep the division at seven.
This division groups the teams up pretty nicely by geography. Edmonton and Colorado are sort of close, San Jose and Phoenix are close, and the three East Coast teams are pretty close.
Like the Orr Division, it is truly coast to coast. And given that Edmonton is here, there's no question but to name it after the Great One.
Lemieux Division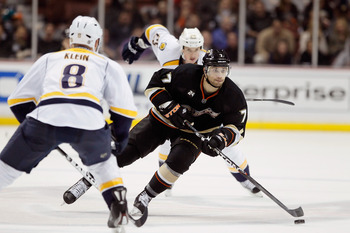 Jeff Gross/Getty Images
Anaheim Ducks
Columbus Blue Jackets
Florida Panthers
Minnesota Wild
Nashville Predators
Ottawa Senators
Tampa Bay Lightning
Winnipeg Jets
These are the teams that Gary Bettman put into the league starting with Ottawa and Tampa Bay in 1992.
Nashville is close enough to both Florida teams, Minnesota and Winnipeg are close, and Ottawa and Columbus are near enough. Anaheim is most definitely the team that loses the most in this division. They are the only team on the West Coast, and every other team is at least two time zones away.
This division is most of the teams that nobody wants to see thrown in together, with Ottawa and Tampa as possible exceptions. Hopefully, they form some sort of rivalry to help build some interest in struggling markets like Columbus and Florida.
It was named after Mario, since he was becoming the most dominant player when most of these teams came to be, and he's probably the next best player to not have a division named after him—apologies to Maurice Richard.
Schedule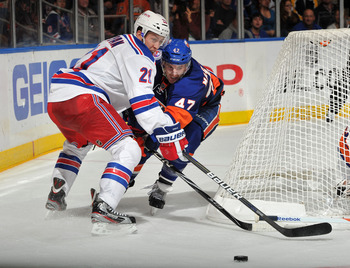 Christopher Pasatieri/Getty Images
Given the vast geographic distances, we may need to get a bit creative with the scheduling.
Four games against every team in your division for 24 or 28
Two games against every non-divisional opponent for 44 or 46
Remaining 10-14 games against nearby geographic rivals
This makes sure that everyone gets to go to everyone else's arena, and we get a number of games against divisional rivals with a few extra games between geographical rivals that are in separate divisions, like the three New York area teams.
This is a pretty fair schedule as far as travel and competitive balance, since every division except for the Howe Division is coast to coast.
Playoffs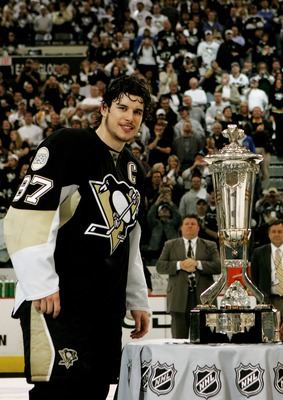 Bruce Bennett/Getty Images
The easiest and best way to do this is to have the top four teams in each division get bracketed together, which would look like this based on last year's standings.
Howe Division
1. Detroit Red Wings vs. 4. Montreal Canadiens
2. Boston Bruins vs. 3. Chicago Blackhawks
Orr Division
1. Vancouver Canucks vs. 4. Los Angeles Kings
2. Philadelphia Flyers vs. 3. Pittsburgh Penguins
Gretzky Division
1. Washington Capitals vs. 4. Carolina Hurricanes
2. San Jose Sharks vs. 3. Phoenix Coyotes
Lemieux Division
1. Tampa Bay Lightning vs. 4. Minnesota Wild
2. Anaheim Ducks vs. 3. Nashville Predators
Those first two brackets look great, don't they? Next two — in the words of Borat — not so much.
Any playoff system that includes the 86-point Minnesota Wild but excludes the 96-point Buffalo Sabres is deeply, deeply flawed. Add in the obvious fact that two divisions have eight teams, and two divisions have seven teams and we end up with some strong imbalances.
Maybe we can change it up a bit and have the top three teams in each division make it, plus the next top four "Wild Card" teams. Wild Card teams get seeded into their division if they finish fourth in that division, and cross over into a new division if no other team is good enough to make it in that one.
So if we do that little bit of tweaking, Carolina and Minnesota miss the playoffs and are replaced with Buffalo and Dallas, both from the incredibly stacked Orr Division, while Montreal and LA are both good enough to be Wild Card teams, and can stay in their division.
Washington has a better record than Tampa Bay, so they get Dallas into their bracket, who had a lower point total than Buffalo.
So the Howe and Orr Divisional playoffs stay the same as above, but we get the following match-ups for the final two:
Gretzky Division
1. Washington Capitals vs. 4. Dallas Stars
2. San Jose Sharks vs. 3. Phoenix Coyotes
Lemieux Division
1. Tampa Bay Lightning vs. 4. Buffalo Sabres
2. Anaheim Ducks vs. 3. Nashville Predators
The first two rounds of these playoffs would stay in the division, and then the final four teams would be reseeded based on regular season point totals.
Verdict?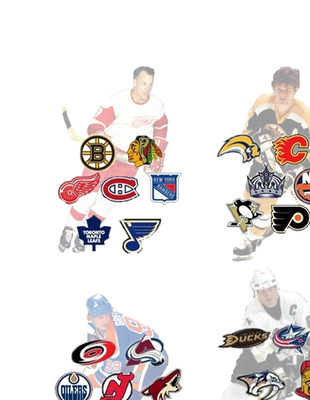 Plus: A huge amount of games between Original Six teams would be a license to print money for the NHL and NBC.
- A number of rivalries are preserved
- Three of four divisions are coast-to-coast, which makes travel very fair, and makes more stars visible across the country
- The playoff format is both fair and easy
- Putting so many non-traditional markets in the Lemieux Division gives them a higher chance of a deep playoff run, which would help their bottom lines and could help drum up interest.
Minus: Every team in the league has an increase in travel time and expenses.
- Lots of geographical rivals like Rangers and Islanders, Senators and Maple Leafs, Oilers and Flames, are split
- Divisional playoffs can lead to a competitive imbalance; I mean, look at how stacked that Orr Division is!!
- Struggling teams are mostly left to fend for themselves.
All in all, I'm not a huge fan of this alignment. I would love to see an Original Six Division, but the fact is that most of the league loses with this setup. This alignment disregards both time zones and travel distances, which are two major, major things to ignore.
Two massive thumbs down for this possibility!
Other Realignment Possibilities...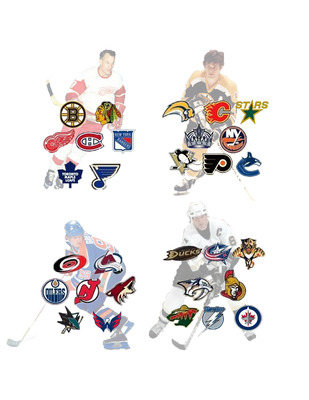 Keep Reading