Bills Roll, Pats Fold, and Other AFC East Predictions for Week 4
September 26, 2011
Rick Stewart/Getty Images
Less than one month into the 2011-12 NFL season, and not an empty seat to be found on the Buffalo Bills bandwagon.
It's like something out of the Twilight Zone. Where did all of these Bills fans come from?
Ryan Fitzpatrick and the Cardiac Kids are in the driver's seat of the AFC East, speeding by like teenagers in a school zone. Consecutive 30-plus point outings. Second half comebacks. The beard of one Harvard alumnus. 
Buffalo has the makings of a Cinderella story. A bone-crushing, pancake-blocking Cinderella.
It's early, so trends observed today may not be trends observed tomorrow. Although, Buffalo faces the Bongals—Bengals—of Cincinnati this Sunday. Low expectations are in order for Ohio's second best NFL franchise, a team that the San Francisco 49ers held to eight points in a loss on Sunday.
Look for Fred Jackson and the Fitz to light up Cincinnati's B-grade defense, and the Bills to move to 4-0 without having to give up twenty points in the first half.
Dead in the Water
Dolphins fans must be scratching their necks with all that winning going on in Buffalo.
Facts being facts, and Miami being just terrible so far this season, it's time to cut losses, and figure out if Andrew Luck drinks Fuji or Evian. He'll need two bottles pre-game. Two bottles post-game.
A disheartening 17-16 loss to the Cleveland Browns and the franchises third 0-3 start in five years are blaring alarms. This may not be a drill.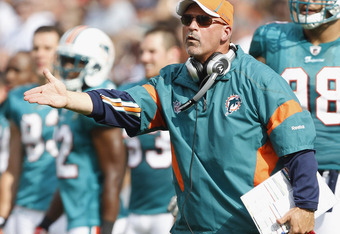 Matt Sullivan/Getty Images
Expect Miami to do what it does best, and lose in San Diego to a rebounding Chargers team. The Fins end Week 4 an imperfect 0-4 as head coach Tony Sparano inspires even less confidence than before. 
If that hot seat gets any hotter, expect his mustache to melt off.
Exit Jets, Enter Patriots
As for the rest of the AFC East, New England take its bruised ego to Oakland, where the league's premier rushing offense awaits, anchored by MVP forerunner Darren McFadden and his 171-yard, two-touchdown performance in the Raiders' 34-24 stomping of Mark Sanchez and the New York Jets.
Tom Brady and Wes Welker will score points in Oakland-Alameda County Coliseum. Probably a lot of them. Oakland will take its lumps, fight back, and find a way to win late in the second half. Raiders move to 3-1 on the shoulders of McFadden and stingy defense. Pats slip to 2-2 in a shootout.
Which leaves us with Rex Ryan and and the Jets, who scamper out of Oakland to square off with the Ravens Sunday night in Baltimore. Ravens quarterback Joe Flacco dismantled the St. Louis Rams in a 37-7 beat down on Sunday, throwing for 389 yards and three touchdowns.
Odds are Flacco won't produce numbers like that against the Jets, but seeing as Oakland lit up Gang Green for 234 yards on 7.3 yards per carry, it may just be time for Ray Rice to shake the cobwebs off and diversify Baltimore's offensive portfolio a little bit as all eyes will be on rookie wideout Torrey Smith, who had five receptions for 153 yards and three touchdowns against the ghost men who start for the Rams secondary.
Baltimore wins a hard-fought battle, abusing a shaken Mark Sanchez into costly mistakes as the Jets fall to 2-2, and the Ravens soar to 3-1.
Week 3 saw some major shakeups to the AFC East. In Week 4, look for Buffalo to stay hot, New England and New York to be bullied, and Miami to continue its best flailing fish impression.
And if NFL action this Sunday is nearly as entertaining as it was last Sunday, they may just need to install oxygen masks and defibrillators on all these rickety bandwagons.