NBA Playoffs 2011: The NBA Postseason as Told by "The Hangover"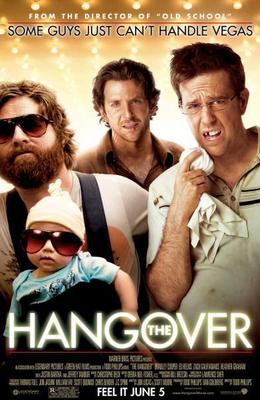 In honor of the comedy-classic The Hangover, as well as the unspeakably entertaining 2011 NBA Playoffs, I present to you a combination of Hangover quotes used to tell the story of the playoffs thus far; hopefully this will also subliminally trigger your subconscious to excite itself for The Hangover Part II.
Feel free to leave your thoughts.
With a nod to Bill Simmons, enjoy!
"Your Language Is Offensive!"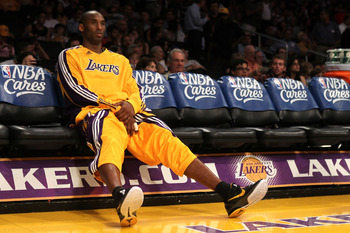 Stephen Dunn/Getty Images
To Kobe Bryant. Yes, he dropped the double "F" bomb during the regular season, but it was too perfect.
The double F'er cost the five-time champion a hefty $100,000.
"How Is My Hair? Is It Cool Like Phil's?"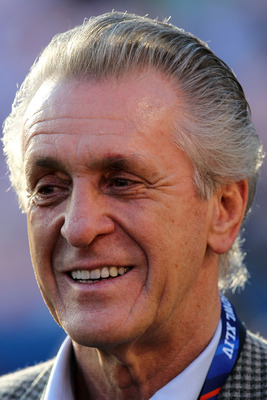 Ronald Martinez/Getty Images
To Pat Riley, who pulls off the best Phil Wenneck hairstyle in all of the NBA.
Or is that Gordon Gekko?
"We Don't Wanna Call Attention to Ourselves!"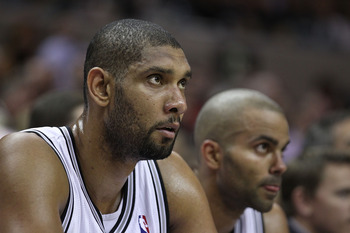 Jed Jacobsohn/Getty Images
To the San Antonio Spurs, who cruised through the regular season virtually unnoticed.
But they couldn't hide from the Memphis Grizzlies, who ousted them from the first round in six games.
"Don't Let the Beard Fool You, He's a Child!"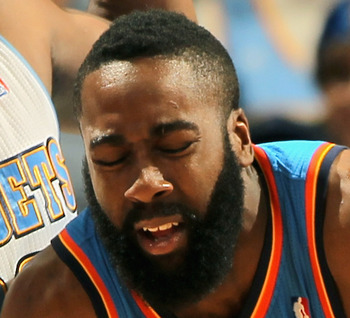 Doug Pensinger/Getty Images
To 21-year-old OKC shooting guard James Harden, who is currently sporting the most prolific beard in the NBA.
"C'mon, Man. I'll Be Your Doug!"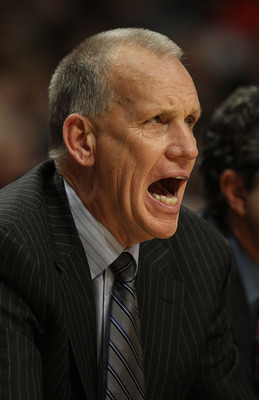 Jonathan Daniel/Getty Images
To Doug Collins, professional team-rejuvenator.
This Doug led the Philadelphia 76ers to a 14-win improvement from last season and the seventh seed in the East, where they were ultimately bounced by the Miami Heat.
"Drivin' Drunk, Classic!"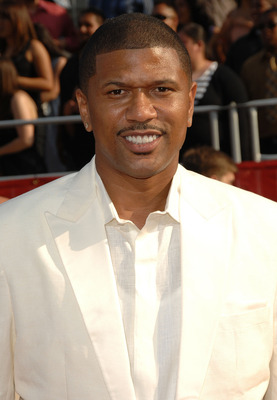 Stephen Shugerman/Getty Images
To ESPN NBA analyst Jalen Rose, who admitted to being legally drunk after crashing his car in a suburb of Detroit March 11.
"There's a Tiger in the Bathroom!"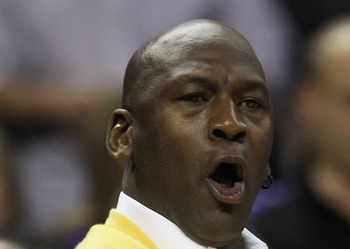 Streeter Lecka/Getty Images
To Michael Jordan and the Charlotte Bobcats, who missed the playoffs and wasted yet another season (slight pun intended).
"Who Was That Guy? He Was so Mean!"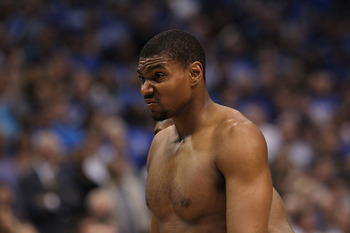 Ronald Martinez/Getty Images
To Andrew Bynum, after he blindsided sub-six-footer Maverick JJ Barea with an elbow minutes before he and the Lakers were swept.
"To a Night the Four of Us Will Never Forget!"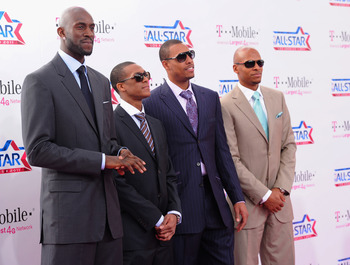 e.g. 'Chicago Blackhawks', 'Chicago Cubs'
Alberto E. Rodriguez/Getty Images
To Boston's Big Four, after watching LeBron James single-handedly bring the Heat back in Game 5. He scored the final 10 points after Miami trailed the Celtics the whole game.
The Heat won the game and the series.
"Not You, Fat Jesus!"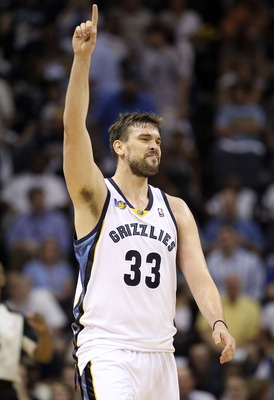 Andy Lyons/Getty Images
To Marc Gasol, simply because, well, I think you can figure it out for yourself.
"Yeah, I Checked All the Rooms. No One's There. Check Its Collar or Something."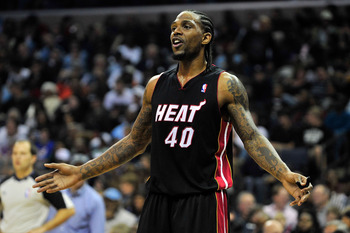 Grant Halverson/Getty Images
To Udonis Haslem.
His much-anticipated return to the Miami Heat consisted of three minutes in which he missed a shot, recorded two fouls plus a technical and topped it off with a turnover.
"Not at the Table, Carlos."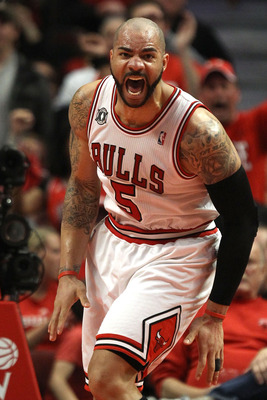 Jonathan Daniel/Getty Images
To Carlos Boozer, for his amazingly annoying, incessant screams that occur on nearly every play involving the former Dukie.
"I Just Wish Your Friends Were as Mature as You."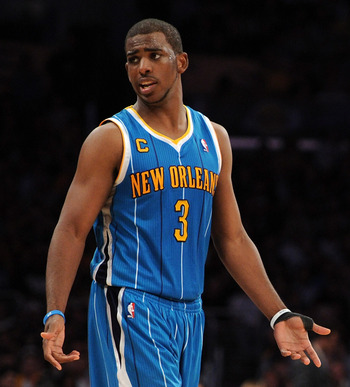 Harry How/Getty Images
To Chris Paul, who absolutely willed his Hornets to two wins over the two-time defending champion Lakers. Paul put on a couple of the most spectacular point guard performances the NBA has seen in years.
If only he had a little help from his friends...
"Toodle-oo, Mother*******."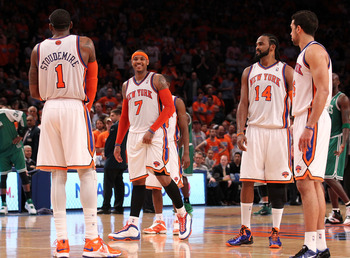 Nick Laham/Getty Images
To 'Melo, STAT and the New York Knicks.
Despite what they and the City That Never Sleeps thought, the Knicks never had a chance against the Boston Celtics, injuries or no injuries.
"I Look Like a Nerdy Hillbilly!"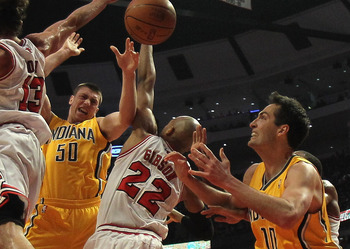 Jonathan Daniel/Getty Images
"That's Right, You Better Walk On. I'll Hit an Old Man in Public."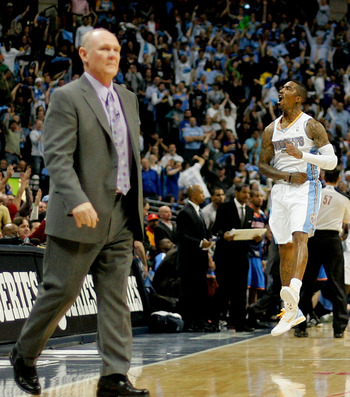 Justin Edmonds/Getty Images
"He Seemed Like a Real Straight-Shooter."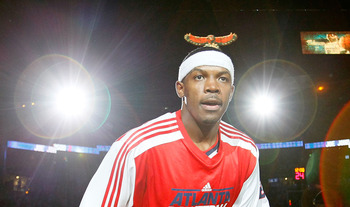 Kevin C. Cox/Getty Images
To Hawks management, who find themselves having to justify the enormous and confounding six-year $119 million dollar contract given to semi-star Joe Johnson in the offseason.
Johnson averaged a meager 18.2 points and four rebounds in the playoffs.
"No, Don't Cry, It's OK, Everything's Fine, Don't Cry..."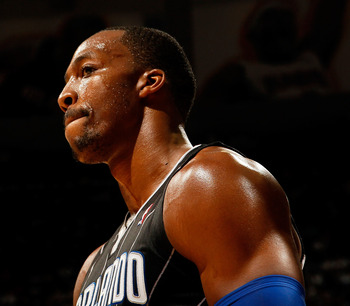 Kevin C. Cox/Getty Images
To Dwight Howard, who will need more convincing than ever from Orlando management to stay with the team that drafted him No. 1 overall in 2004.
The Magic lost in the first round to the Atlanta Hawks, a team they swept a season ago by 25 points per game.
"Hey Guys, When's the Next Haley's Comet?"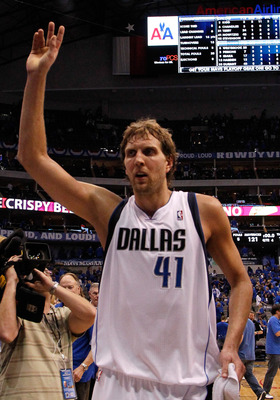 Tom Pennington/Getty Images
To Dirk Nowitzki, whose performance in Game 1 of the Western Conference finals was a thing of beauty and something we may not see again for quite some time.
His 12-of-15 from the field, along with a perfect 24-of-24 at the line, led to a breathtaking 48 points; the most efficient 48 points the NBA has seen since the days of Wilt Chamberlain.
Those Larry Bird comparisons don't seem so insane anymore.
"And We're the Three Best Friends That Anyone Could Have!"
"And we'll never ever ever ever ever leave eachother!"
Hannah Foslien/Getty Images
Admit it, no matter how much you hate 'em, this one had to make you smile.
Keep Reading

Miami Heat: Like this team?