Are Eli Manning's Flaws Beyond Repair?
June 15, 2014

Getty Images
At 33, Eli Manning—the sixth-oldest starting quarterback in the NFL—is learning a new offense for the first time in a decade. Not easy but necessary. That's the case when you've dug a hole as deep as the one the two-time Super Bowl MVP is currently working to free himself from. 
On paper, that proverbial hole is so deep that he'd be setting a new precedent by finding a way to climb back to the top. 
Last season, Manning became the first 30-something-year-old quarterback in modern NFL history to complete fewer than 60 percent of his passes, throw 25 interceptions and post a passer rating ranking in the bottom three in the league. 
He also led the NFL with 25 picks in 2010, making him the only quarterback this century to throw that many interceptions on more than one occasion. And his passer rating since that year ranks 16th among 28 quarterbacks with at least 1,000 attempts.
Quite simply, he's been a mediocre quarterback for the majority of what was supposed to be his prime, and now it's fair to ask whether it's too late for a former golden boy to get it back. 
With new offensive coordinator Ben McAdoo bringing a fresh, contemporary approach to the offense, there may be a window for No. 10. And he appears to realize that. 
Here's what Manning told Steve Serby of the New York Post earlier this offseason: 
I think I got great football ahead of me. I'm excited about the new offense that we have, and the way that I can play within this offense. A lot of it seems to fit my strengths, so I'm looking forward to working, learning and getting around our teammates and getting back to where we're winning games and making the playoffs and giving ourself an opportunity to winning another championship.
The good news is that despite the fact he was expected to fall behind after undergoing arthroscopic surgery on his left ankle in April, the three-time Pro Bowler is already back on the practice field and 100 percent healed, per Conor Orr of The Newark Star-Ledger.
That gives him plenty of time to try to master McAdoo's West Coast-oriented offense while trying to finally rid himself of the bad habits that have jeopardized his legacy in recent years.  
This is supposed to be a change for the good, as former Giants quarterback and current CBS analyst Phil Simms told Newsday's Bob Glauber: 
I would think this will make it easier on Eli because it will be a more quarterback-friendly system. I have great respect for Kevin Gilbride winning two Super Bowls. He was worried about hitting four of those big passes every game, and I love that about the Giants' offense. It wasn't 17 screens every game.

But I would think the West Coast offense and some of the thinking will help the quarterback. It's not always putting the pressure on the quarterback, which I am a big believer of in today's game. Give the quarterback 50 percent of his completions as 'gimmies.' There are other times you want to make those four or five special throws.
But nothing comes easy when you're a 10-year veteran—a gunslinger who has become infamous for making a lot of the same mistakes over and over again.
What is most concerning about the state of Manning's game is his declining accuracy.
His unacceptable 2013 completion percentage of 57.5 ranked ahead of five qualifying quarterbacks, but after taking drops, throwaways, spikes, batted passes and throws affected by hits into account, Pro Football Focus (subscription required) actually determined that Manning was the least accurate qualifying quarterback in the NFL. 
After watching and re-watching every throw from Manning in 2013, that's easy to believe. He was constantly overthrowing receivers regardless of pressure. We saw it in the first quarter of the first game against Dallas...
Credit: NFL Game Pass
And again with no pressure on a crucial throw to Brandon Myers later in the season. We'll freeze this one midway through the footage in order to illustrate just how wide open the intended receiver was...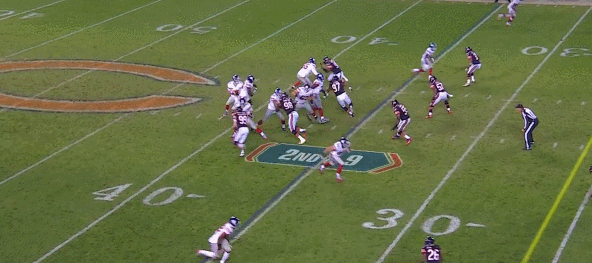 Credit: NFL Game Pass
Another example came against the Seahawks late in the season, with Manning just completely missing what should have been an easy back-shoulder throw to his best receiver, Victor Cruz, who was matched up one-on-one with a backup cornerback...
Credit: NFL Game Pass
There was no pressure there either, but even if Manning is given more opportunities to make those easy underneath throws in McAdoo's offense, he'll have some kinks to work out. Don't think he was only making mistakes on tough sideline throws downfield. Here, he fails to lead Hakeem Nicks on what should have been an easy pass-catch-and-run...
Credit: NFL Game Pass
Another example on an interception against Seattle...
Credit: NFL Game Pass
Also concerning is that Manning continues to make far too many questionable and/or baffling (there's a difference) decisions. 
Questionable like this too-bold throw into a way-too-tight space against the Chargers, something that we saw consistently from him in 2013...
Credit: NFL Game Pass
And baffling like this example of complete lack of awareness on a rookie-style pick-six to Tracy Porter against Oakland, which is also something that has become all too familiar...
Credit: NFL Game Pass
All that being said, there's no doubt that in 2013, pressure and a lack of overall support from his backs and receivers hurt Manning in a major way. 
Nicks joined the witness protection program, Rueben Randle screwed up more routes than a defective Garmin and the running game averaged just 3.5 yards per carry, ranking 29th in the NFL. 
He also spent the majority of the 2013 season without two veteran starters along the offensive line and his left tackle, Will Beatty, often looked as though he forgot football is a contact sport. PFF gave that line the second-worst pass-blocking efficiency rating in the league. 
That might explain why Manning resorted to so many ugly, back-footed throws that missed the target by yards rather than feet or inches. Two particularly painful examples from a tough night in Chicago, one resulting in an interception and the other nearly resulting in a pick...
Credit: NFL Game Pass
But those excuses aren't all-encompassing. Six quarterbacks, including Russell Wilson, Matt Ryan and Carson Palmer were pressured more often than Manning on a per-dropback basis, according to PFF, and 13 quarterbacks (including Tom Brady, Peyton Manning and Tony Romo) were victimized by more dropped passes from their receivers. 
Pressure happens, and Manning has to know when to throw in the towel on a play. I know that's not the gunslinger mentality, but the bad has been greatly outweighing the good for far too long. His game has to change. 
You'd swear it was a confidence thing, especially with everything going to hell around him. But that doesn't appear to be the case. Quarterbacks who lack confidence don't attempt those throws against the Bears or that toss to a hidden Myers in San Diego. And they definitely don't go at Richard Sherman despite transparently perfect coverage...
Credit: NFL Game Pass
That's what's troubling. You can regain confidence, but accuracy and poor decisions are plaguing Manning. It's extremely hard to come back from those issues this late in one's career, and NFL quarterbacks simply can't afford to be inaccurate as often as Eli Manning circa 2012 and 2013. 
Improved pass protection, more support from the running game and better weapons in the receiving corps could make a huge difference—and the Giants addressed all of those areas quite aggressively in the offseason—but there's only so much those improvements can do to make Manning more accurate, even if they do help him avoid situations in which he is prone to boneheaded decisions. 
Ultimately, though, you can't count Manning out. Not after what he did in 2007 and again in 2011. He's been one of the lowest-rated, most mistake-prone quarterbacks in the league for two years running—and we all know the cliche about old dogs and new tricks—but dudes like him are somehow able to bounce back in these moments. 
Positive circumstances help. Brett Favre threw 29 interceptions as a 36-year-old in 2005 and rebounded to become an MVP candidate in 2007 and 2009. Phenomenal athletes with ice in their veins aren't predictable. 
So while every piece of empirical evidence indicates Manning is probably going to continue to be burned by his deep-rooted flaws, we'd be best to wait and see.