Left tackle Russell Okung's turf toe injury cast a bit of a pall over the Seattle Seahawks' otherwise-dominant 29-3 victory over the San Francisco 49ers Sunday night.
The NBC Sports Twitter account broke the news of Okung's injury immediately after it happened, and Mike Wilkening of Pro Football Talk relayed the official diagnosis later in the night.
Injury alert: Seahawks LT Russell Okung being carted to the locker room after appearing to injure his left leg. #SNFonNBC #SFvsSEA

— NBC Sports (@NBCSports) September 16, 2013
Turf toes can range from mere nuisances to truly debilitating injuries. They can also linger for weeks or months—or longer. To understand why, let's zero in on the anatomy of the injury.
This time, the subject is the big toe.
The phrase "turf toe" is an umbrella term for a sprain or other injury of the first metatarsophalangeal (MTP) joint. The MTP marks the location where the middle portion of the big toe—or proximal phalanx—meets its base, the first metatarsus. It is the innermost part of the "ball" of the foot.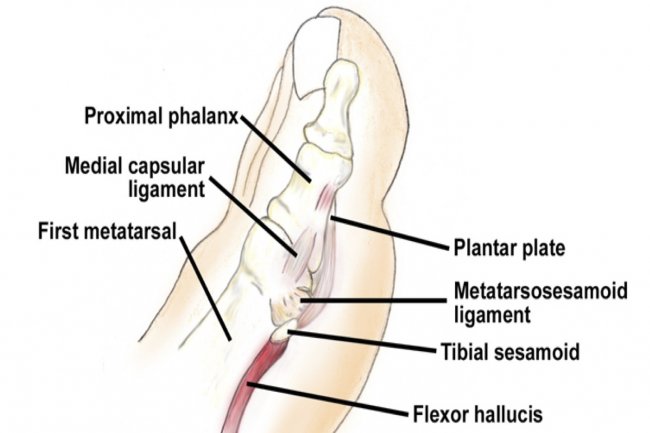 As the name suggests, athletes sustain turf toe more frequently when playing on artificial turf than compared to natural grass.
Why?
Since turf is less forgiving than grass, when it doesn't give way, structures within the MTP joint do.
Within the MTP, ligaments—such as the medial capsular ligament—connect the proximal phalanx to the metatarsal and prevent the toe from moving too far left or right.
The plantar plate—also within the MTP—prevents the toe from bending too far upward, while also serving as a kind of shock absorber.
Usually, ligaments and other tissues tear when an outside force overwhelms their ability to deter the motion they usually prevent.
In this case, according to Fox Sports 1's Mike Garafolo, Okung sustained a partial tear of the plantar plate.
Seahawks LT Russell Okung has a tear of a toe ligament, as @AdamSchefter noted. Source says it's a partial tear of the plantar plate.

— Mike Garafolo (@MikeGarafolo) September 16, 2013
A GIF of Okung's injury is below, courtesy of SB Nation.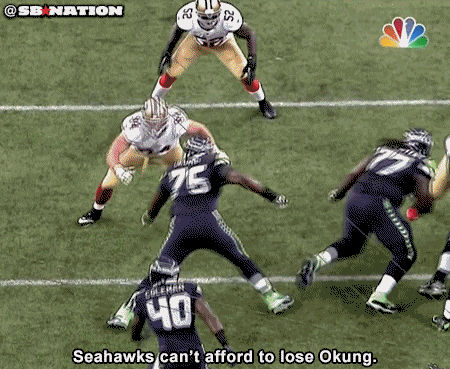 As seen in the video, Okung forcefully plants his left foot on the ground with his second step. As a result, the ground forces his toes to bend upward. Additionally, he appears to place most of his weight on his big toe—the strongest of the five—causing it to hyperextend.
To make matters worse, Okung also receives a downward-directed push from a 49ers defender just as he plants his foot, exacerbating the toe hyperextension and likely leading to the injury.
A partial plantar plate tear will likely end up costing Okung at least a week or two, but as with all injuries that involve weight-bearing joints, that timetable is a mere guess—at best.
Weight-bearing joints are extremely prone to re-injury if a player tries to return too quickly, and linemen are especially vulnerable.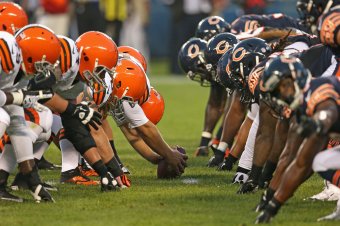 Jonathan Daniel/Getty Images
Offensive linemen must stay on their toes—as well as push off of them—to protect the quarterback.
On the other side, in order to rise out of the three-point stance, defensive linemen must push off the ground with their legs. This action starts by placing maximum hyperextension-type stress on the toes, one of the mechanisms of injury that can lead to turf toe in the first place.
Unfortunately, that isn't the half of it.
Any movement that necessitates stopping and changing directions—such lateral motion and cutting—uses the toes and risks re-injury.
What does that mean for Okung?
Simple. He needs to fully recover before returning to the field.
Rushing back from a turf toe injury risks entering a cycle of re-injury and reaggravation that can become tough to break.
Can the Seahawks survive without Okung?
Luckily, partial tears usually do not require surgery to fully heal. Rather, a few to several weeks of rest and physical therapy should suffice.
Additionally, this injury chose its timing well.
The Seahawks face the lowly Jacksonville Jaguars next week, so the smart money says Okung will sit out at least until Week 4—when Pete Carroll's squad travels to Houston.
However, do not be surprised if he remains out quite a bit longer until the Seahawks medical staff ensures he is 100 percent ready.
UPDATE: Friday, Sept. 20, 1:40 pm
According to ESPN's Chris Mortensen, Okung received encouraging news from foot specialist Dr. Robert Anderson. However, he will likely go on IR with designation to return.
Seahawks LT Russell Okung gets encouraging news from foot specialist Dr. Robert Anderson on toe. Likely headed to IR w return designation.

— Chris Mortensen (@mortreport) September 20, 2013
The move represents a tough blow for the Seahawks in the short term, but it may be in their best long-term interests. Assuming no further complications, he'll likely be fully ready by the time he comes off IR.
However, for the reasons above, it's going to remain tough to predict, and the Seahawks are understandably electing to play it safe with the late season and postseason in mind.
--End of update--
After all, when a team has Super Bowl aspirations and starts a right-handed running quarterback, the left tackle position becomes just about as important as any other on the field.
Dr. Dave Siebert is a resident physician at the University of Washington. He is also a medical analyst for Bleacher Report and contributes to Will Carroll's Under the Knife blog.