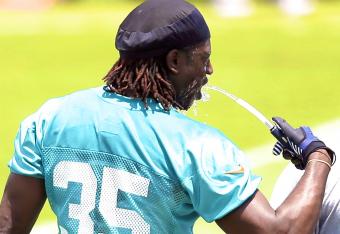 AP Images
On a 100-plus-degree day, the sweat is dripping down the face of the football players. The heat and humidity has worked on them through the drills and the runs. Their feet feel hot with the reflections coming up off the turf. The water breaks help, but some still vomit. One takes a knee and in moments shuts down.
Sometime in the next month, someone will die. As NFL camps open, followed by college, high school and youth practices, the temperatures will often creep above 100 degrees, with humidity and equipment adding to the issue. Despite nearly universal awareness, the problem still exists and the downside isn't a strained muscle or a missed game, but death.
In the last five years, 18 players around the country have died—the highest level since these statistics were collected. Even one is too many, but the increase is terrible. The problem is much more widespread than most imagine. Over 9,000 athletes were treated for heat illness symptoms in 2010, according to the Centers for Disease Control and Prevention, and 75 percent of those were football players.
Heat illness is still poorly understood, but the management of conditions like this makes it a fixable issue. For less than $20, a team could have the materials needed to keep an athlete from significant problems due to heat illness, including brain damage and death. While some programs are beginning to use ice baths for competitive and recovery reasons, they could be lifesavers.