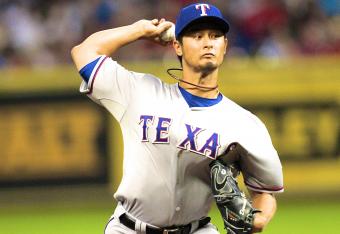 On Thursday night, Yu Darvish beat the Detroit Tigers and threw 130 pitches. It wasn't his best performance this year or even this month, but it may end up the most scrutinized.
As Darvish's pitch count climbed, everyone—including announcer Matt Vasgersian and analyst Tom Verducci—had something to say about it. Vasgersian called Darvish's deep pitch count a "Herculean feat."
Unfortunately, Rangers CEO Nolan Ryan wasn't in his customary seat just to the left of the Texas Rangers dugout, so the camera couldn't cut to him. Ryan, who pitched in the major leagues for over two decades and was inducted into the Hall of Fame in 1999, was as well known for his durability as he was for his fastball.
While I don't know what Ryan thought about Darvish pitching the eighth inning with a six-run lead or giving up the ball in the ninth, we can look back and see what Ryan the pitcher did in similar situations. It's food for thought when considering whether more pitchers could go as long as Darvish, if only their managers would let them.