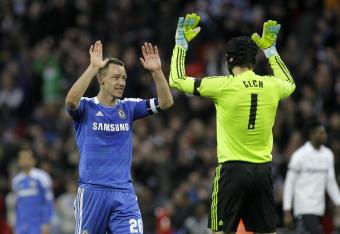 Terry and Cech won't be celebrating together the rest of this season.
Sang Tan
Chelsea came away with a tie in Madrid on Tuesday, but it came at an exceptionally high cost. The team has lost both first-choice goalkeeper Petr Cech and team captain John Terry for the rest of the season.
Cech has a dislocated shoulder that may require surgery, while Terry will miss at least a month with a foot injury. Both will miss both the next leg of the Champions League as well as the key match with Liverpool this weekend.
It took one awkward fall to take perhaps the world's best goalkeeper out of the Champions League and the remainder of the Barclays Premier League season. Chelsea's Petr Cech has a dislocated shoulder and is done for the remainder of the 2013-14 campaign, leaving his team to rely on 41-year-old Mark Schwarzer.
Replays were not clear whether Cech was undercut during his defense of a corner, but it was clear that he landed on his outstretched right arm. The force of the fall and his body pushed the humeral head out of joint, and it took several minutes for Dr. Eva Carneiro to stabilize Cech's arm enough for him to walk off the pitch. The joint was later reduced, or popped back into place.