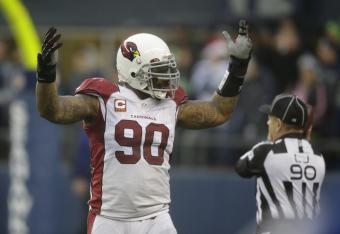 Stephen Brashear/Associated Press
The injury bug bit the Arizona Cardinals on Monday when defensive end Darnell Dockett went down during practice with a torn ACL. According to NFL.com's Mike Coppinger, Dockett left the practice field on a cart due to the injury and will undergo surgery at some point in the future.
Coppinger adds that NFL Media Insider Ian Rapoport reported Dockett did not tear his MCL. MCL injuries frequently come along with ACL tears, and the lack of an MCL tear may allow the lineman to go under the knife sooner.
Shortly after the injury occurred, ESPN's Adam Schefter pointed out that Dockett has missed only two NFL games in the past 10 seasons. Such an incredible statistic unfortunately proves that even the most durable players in the NFL can fall victim to an ACL injury. Frequently, all it takes is a perfect storm of awkward positioning, a planted foot and a sudden shift in momentum.
To analyze what possibly happened in Dockett's case—a clear video of the injury is not available—let's crack open the anatomy textbooks and take a closer look.