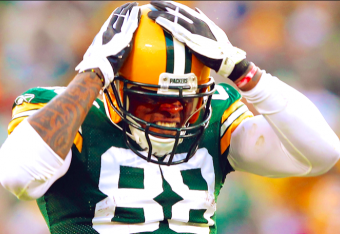 Getty Images
Last October, a terrifying collision left tight end Jermichael Finley briefly paralyzed on the turf of Lambeau Field. Much to everyone's relief, Finley recovered quite well. In fact, the former Green Bay Packer told ESPN Wisconsin's Jason Wilde that this past week is "the best (he's) felt in this entire crazy process."
Wilde added that Finley "very much wants to return" to football as a member of the Packers. He currently remains a free agent.
Almost nine months after the injury, Finley's health remains a topic of discussion throughout the NFL. As expected, the injury—a spinal cord contusion that eventually led to spinal fusion surgery just under one month later—massively complicates his return to the game.
In short: Is it worth the risk?
As one might guess, there is no easy answer, and the discussion involves multiple parties.