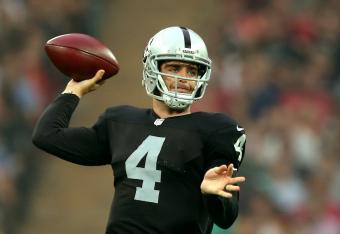 Ben Hoskins/Getty Images
Nothing went right for the Oakland Raiders on Sunday, and quarterback Derek Carr's ankle and knee injuries added insult to injury—or injury to insult, as the case may be.
Midway through his team's 38-14 loss, Carr went down awkwardly. Those watching saw him hobble off the field in obvious pain, favoring his left leg. CSN Bay Area's Fallon Smith later tweeted that the quarterback himself said he suffered a high-ankle sprain and a medial collateral ligament (MCL) sprain.
What's next for the struggling Raiders? To help answer that question, let's look at the best- and worst-case scenarios for their young quarterback and his injury combination, starting first with an overview of the sprains themselves.
High-Ankle Sprain Overview