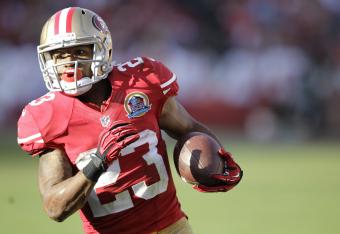 Ben Margot/Associated Press
The beginning of training camp did not prove kind to San Francisco 49ers running backs LaMichael James and Kendall Hunter, both of whom went down with injuries on back-to-back days earlier this week.
According to Cam Inman of the San Jose Mercury News, Hunter suffered a torn ACL and will miss the entirety of the 2014 season. It comes as no surprise, as reconstructive ACL surgery almost always requires seven to eight or more months of rehabilitation, essentially eliminating the chances of the young back meaningfully contributing this year.
The prognosis for James, though, sounds more promising—despite initial grim reports from NFL.com's Mike Coppinger and others stating the running back required a cart to leave the field after going down. In fact, CSN Bay Area's Matt Maiocco tweeted Wednesday that the 49ers expect the former Oregon Duck to be ready for Week 1:
In other words, it seems James thankfully avoided serious damage in or around his joint. As always, a closer look at the anatomy can help explain the positive turn of events.