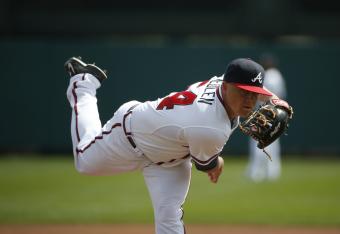 Alex Brandon/Associated Press
There is no such thing as a five-man rotation anymore. Looking around the league, teams are planning ahead for injuries to their pitchers to determine how deep they can go, packing in seven or eight guys rather than trying to prevent injuries or shorten up the rotation. A great example of this is the Atlanta Braves, a team that is already suffering through injuries to Mike Minor, Kris Medlen and Brandon Beachy, as well as a known issue with new acquisition Gavin Floyd.
The Braves announced Tuesday morning that an MRI on Medlen showed "ligament involvement." Given that Medlen had Tommy John surgery in 2010, this is not a good sign. Dave O'Brien of The Atlanta Journal-Constitution had more info:
While Medlen will have more tests, many speculate that he will need a second replacement of his UCL. Leo Mazzone, a former Braves pitching coach, was on 680 The Fan in Atlanta and said, "Any ligament involvement is bad." Medlen does not have a complete tear (rupture) of the ligament, though it is also more difficult to read the ligament after the replacement, due both to physical changes and the hardware used.
What the Braves have now is a mess. If the season were to start today, the most likely scenario would have Freddy Garcia as the second starting pitcher and Alex Wood, who would be the bullpen lefty in a perfect world, would shift over to be the third man in the starting rotation. Behind them, the Braves would have to get creative, with prospect Cody Martin being the top possibility.