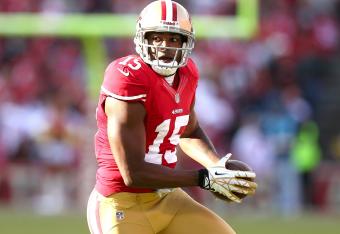 The San Francisco 49ers' hopes of returning to the Super Bowl took a big hit during their OTAs when wide receiver Michael Crabtree suffered a torn Achilles tendon, as reported by USA Today. This is a serious injury, but it is no longer the devastating one that costs seasons or ends careers. It is possible that Crabtree could return this season.
While the mechanism is unknown, the injury is a simple one. The Achilles tendon connects the calf muscle to the foot and is involved in almost every running and athletic move on the football field. Like any tendon, it can become inflamed due to irritation or mild strains. In some cases, the stress on the tendon goes beyond what it can handle and there is a traumatic strain or even rupture (a complete tearing of the tendon's fibers).
Achilles injuries have a tendency to be traumatic. One play happens where the tendon is overtaxed and gives. While there is often some sign that can be seen in retrospect, this is a very difficult injury to predict or prevent. It is not an "old man's" injury, as some have termed it, but simply one that can happen at almost any time.
The NFL has always dealt with these types of tears due to the demands on the field. A number of recent players returning quicker than normal from Achilles injuries offers some hope and some lessons for Crabtree and the fans watching his rehab and return.