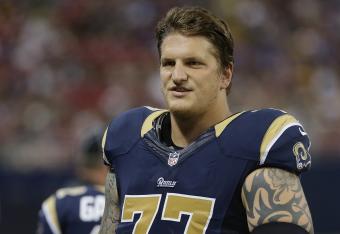 Seth Perlman/Associated Press
For the St. Louis Rams, injury made an already-awful late-October Sunday take a turn for the worse when veteran left tackle Jake Long's season likely ended due to a torn ACL.
According to Pro Football Talk's Mike Florio, the Rams "(believed Long) tore the same ACL that was torn last season" during a Week 8 matchup against the Kansas City Chiefs, adding that a Sunday night MRI later confirmed the diagnosis. The news almost certainly means that the former 2008 No. 1 draft pick will land on injured reserve for the fourth season in a row.
When it comes to injuries, some guys run out of luck.
Literally.
More often than not, ACL tears do not involve full-speed contact to the lower leg. Rather, they frequently stem from a minimal or non-contact perfect storm of lower body positioning, weight distribution and unfortunate timing.