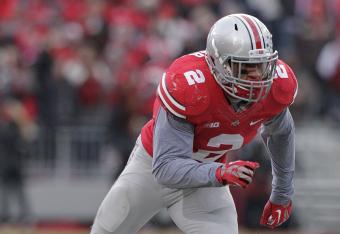 Jay LaPrete/Associated Press
Currently suffering from a hamstring injury, former Ohio State University linebacker Ryan Shazier doesn't exactly carry with him the flashiest of diagnoses heading into the NFL draft. After all, it's just a hammy.
Right?
Well, perhaps.
News of Shazier's injury first surfaced during the NFL Scouting Combine when, according to the Cleveland Plain Dealer's Doug Lesmerises, it prevented the linebacker from running the 40-yard dash.
Lesmerises notes that Shazier returned to run at Ohio State's pro day on March 7. He posted a blazing time of 4.36 or 4.37 seconds, but he pulled up afterward with an apparent re-injury:
Unfortunately, when it comes to the NFL draft, even an injury as benign as a pulled hammy merits attention.