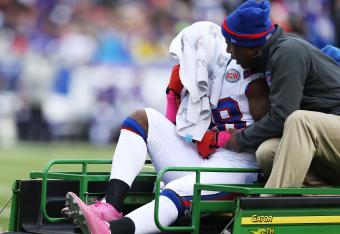 Brett Carlsen/Getty Images
Disaster struck the Buffalo Bills on Sunday when almost incomprehensibly bad luck sent running backs Fred Jackson and C.J. Spiller to the locker room within minutes of each other due to serious injuries.
Those watching the Bills' Week 7 matchup against the Minnesota Vikings saw Jackson fall to the ground awkwardly toward the end of the first quarter due to a tackle. Replay showed him come down with his right leg seemingly limp underneath him. He then immediately grabbed near his inner thigh and walked off the field extremely slowly.
Shortly thereafter, an official Bills announcement of a groin injury—one declaring Jackson out for the game—came via the team's Twitter account.
Following Jackson's injury, Spiller briefly provided Bills fans with a sigh of relief by churning out a 52-yard run down the left sideline. However, at the end of the play, a defender tripped him up, causing him to land hard on his left shoulder. After he left on a cart, the Bills tweeted that the young running back would not return to the game—a mere 33 minutes after declaring Jackson done for the day.