49ers vs. Seahawks: Full Roster Report Card Grades for Seattle
Steven Bisig-USA TODAY Sports

In a pivotable matchup between division rivals, with first place on the line, the Seattle Seahawks obliterated the San Francisco 49ers by the score of, 29-3. The Seahawks announced to the rest of NFC that they are ready to live up to the hype that has followed them since last season.
Defensively, the Seahawks played almost flawlessly. The 49ers struggled to get anything going and actually had more turnovers (five) than they did points (three).
The offense wasn't as perfect. Seahawks QB Russell Wilson struggled in this game, as did the offensive line at times, but both did enough to help the Seahawks blow out the 49ers.
Here's the complete roster grades for Week 2:
Begin Slideshow

»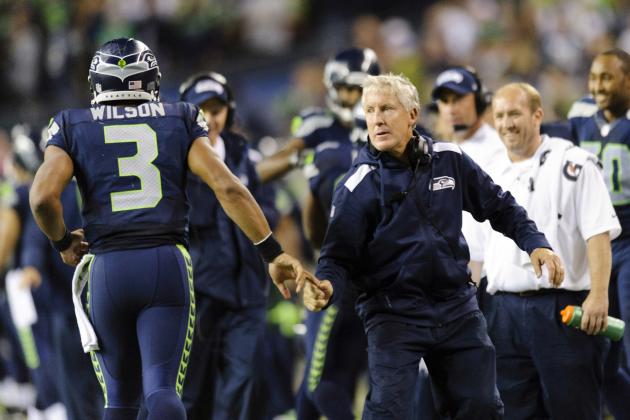 Steven Bisig-USA TODAY Sports

Russell Wilson: C+
Wilson missed on his first six passes, and ended just 8-of-19, for 142 yards and one touchdown. He also was sacked three times and threw an interception.
Those stats aren't going to impress anyone, but Wilson did make some key throws when the Seahawks needed them, including a big 51-yard pass to Doug Baldwin to set up a score.
It wasn't pretty, but Wilson did enough to protect a win.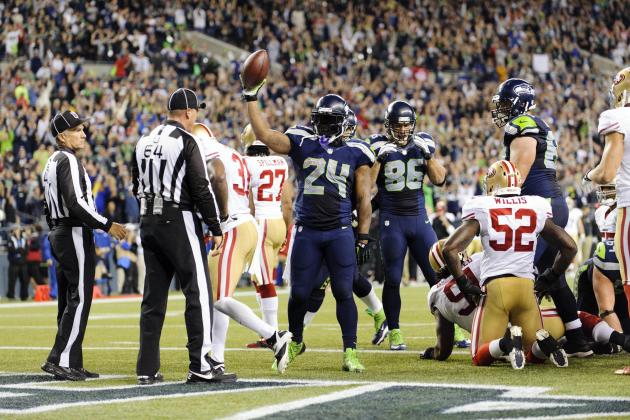 Steven Bisig-USA TODAY Sports

Marshawn Lynch: A-
Lynch had a huge night, scoring three touchdowns for the Seahawks. His 28 carries for 98 yards led the Seattle offense to the win, but his 3.5 yards per carry is much lower than he and the Seahawks would like.
Robert Turbin: A
Turbin looked explosive in limited action. He finished the night with just six carries for 31 yards, but he also had a big gain called back because of a penalty.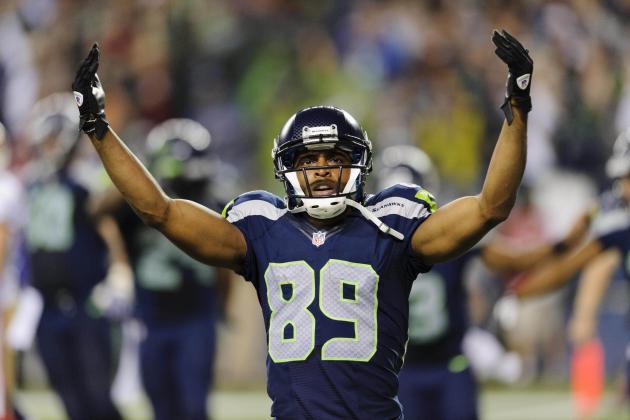 Steven Bisig-USA TODAY Sports

Composite Grade: C+
The Seattle wide receivers had just three receptions combined, and no WR had more than one catch. This was partially because the receivers struggled to get open and partially because Russell Wilson spent much of the game "running for his life."
Doug Baldwin's big 51-yard reception set up a score that changed the complexion on the game. Other than that, it wasn't a great night for Seattle's wideouts.
Jermaine Kearse and Stephen Williams were both held without a catch.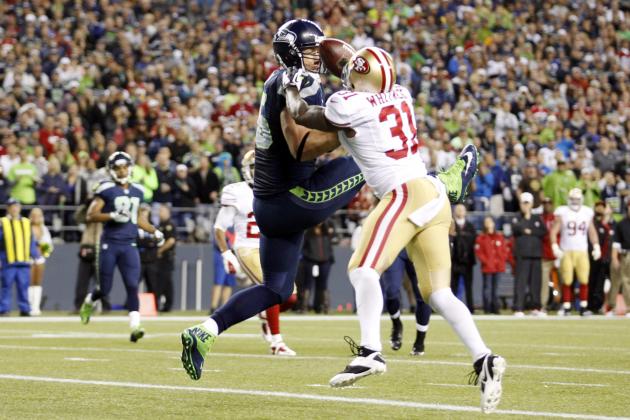 Joe Nicholson-USA TODAY Sports

Zach Miller: B+
Miller had two catches for 22 yards, but his impact was felt much more in the running game. Miller provided solid blocking on the edges in both run blocking and pass protection. He also took some nasty hits in the passing game, but managed to hang on to the football.
Luke Willson: B-
Willson played sparingly and mostly in blocking situations. For a player who's skills should make him a solid receiving threat, Willson needs to begin making an impact in the passing game.
Kellen Davis: C-
Davis is still learning the playbook, but that's no excuse for false-start penalties. He did provide a nice upgrade in blocking in two- and three-tight end sets, but penalties are a killer with as few snaps as Davis played.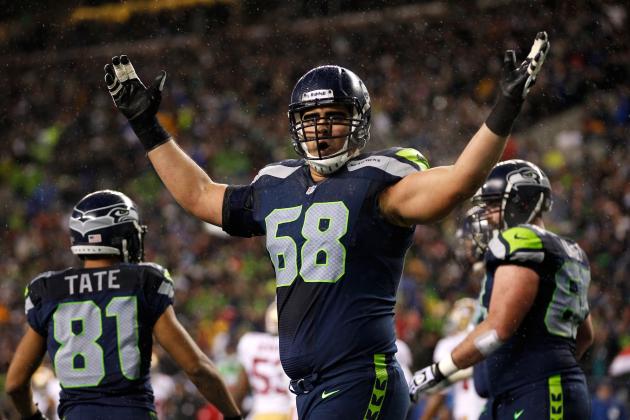 Otto Greule Jr/Getty Images

Run Blocking: B
The run blocking was far from perfect, but it was much more productive than a week ago. James Carpenter was especially effective, and Seattle ran behind him and Max Unger for most of the third quarter when the Seahawks began to pull away.
Pass Blocking: C
The pass-blocking left much to be desired, much like in Week 1. This was especially true once Paul McQuistan replaced the injured Russell Okung at left tackle. McQuistan was overmatched and struggled to contain Aldon Smith.
Overall: B-
All of the linemen made mistakes, but only McQuistan struggled consistently. Even the much maligned J.R. Sweezy had some solid play, at times, for the Seahawks.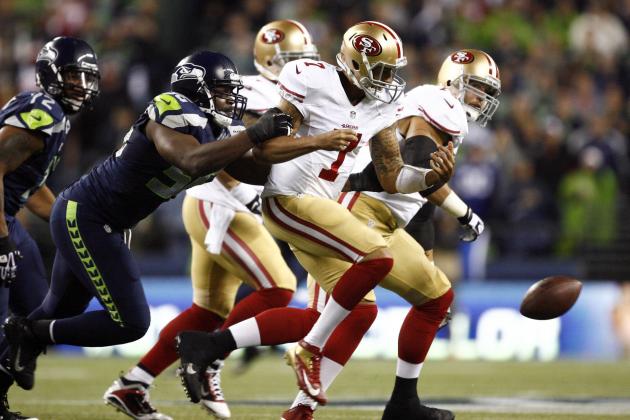 Joe Nicholson-USA TODAY Sports

Cliff Avril: A
Avril had a strip-sack, a pass deflection and another QB hit in his first game in Seattle. He was also getting pressure on Kaepernick regularly.
O'Brien Schofield: B+
Schofield saw a large decrease in playing time due to the return of Avril, but he still managed to make a impact. He had a big tackle for loss on Gore and also got pressure on Kaepernick a few times.
Red Bryant: A
Bryant's two tackles don't jump off the box score, but Bryant's contribution isn't typically measured in box score stats. Bryant's ability to dominate offensive tackles and clog running lanes allows other players to get after RBs and get tackles. Bryant was a big reason why Frank Gore struggled to get anything going in this game.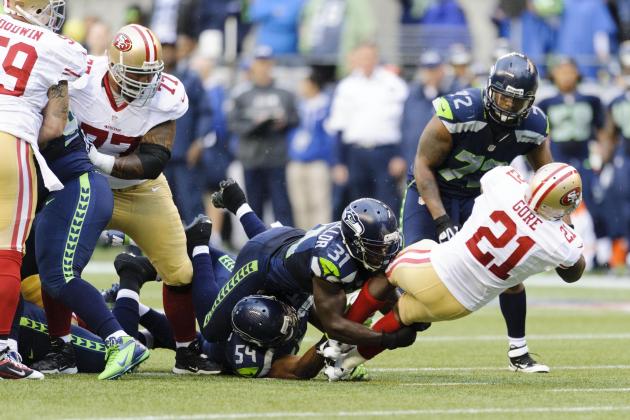 Steven Bisig-USA TODAY Sports

Composite grade: A+
The Seahawks swapped four players in and out at defensive tackle, and all of them played extremely well. This included Clinton McDonald, who was just re-signed after being cut prior to Week 1. Brandon Mebane and Tony McDaniel started, with McDonald and D'Anthony Smith both getting playing time as well.
The quartet of DTs was instrumental in stopping the 49ers rushing attack and were a big reason why Frank Gore finished the game with just 16 yards rushing.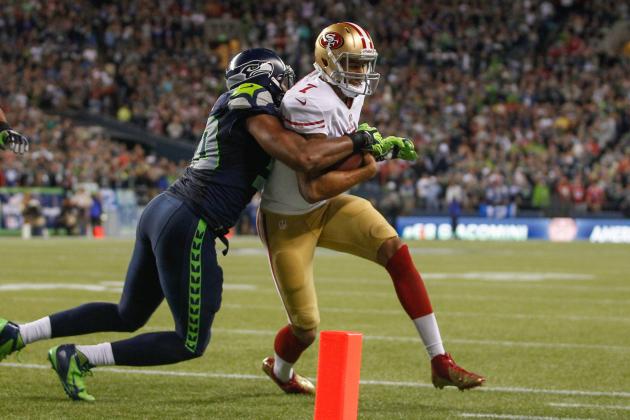 Otto Greule Jr/Getty Images

Bobby Wagner: A-
Wagner finished with seven tackles and one pass defended. Those are strong totals, given how few players the 49ers ran in the game. The only reason this isn't an solid "A" grade is because he took a couple of bad angles when chasing Kaepernick, leading to some 49er first downs that didn't need to happen.
K.J. Wright: A
Wright had a very good game for the Seahawks, finishing with six tackles, a sack, a pass defended and a QB hit. Wright's tackles also included a couple of big plays, like when he kept Kaepernick out of the end zone and forced the 49ers to settle for a FG.
Malcolm Smith: B
Smith played well and did a good job of covering the RBs coming out of the backfield. He finished with three tackles in limited playing time.
Mike Morgan: B
Morgan getting snaps was a bit of a surprise with Avril back in the lineup, but he put together a solid effort, including one tackle. Morgan was also able to get pressure on Kaepernick, despite only playing a few snaps.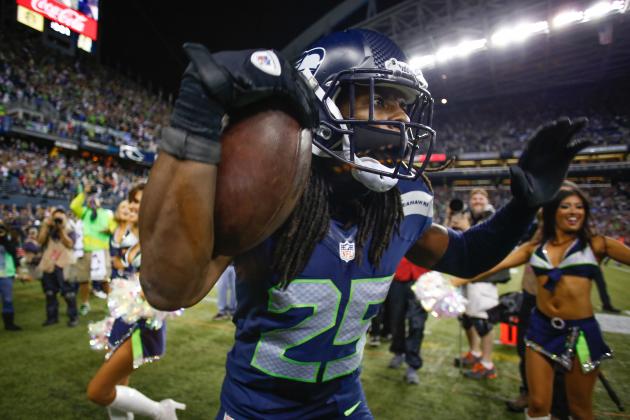 Otto Greule Jr/Getty Images

Richard Sherman: A+
Sherman had one of the best days you'll ever see from a CB. Tasked with shutting down 49ers WR Anquan Boldin, Sherman ended the day catching the same number of Kaepernick passes (one) as Boldin did.
Walter Thurmond: A
Thurmond got another start in place of the injured Brandon Browner and played extremely well. He also broke up the pass at the goal line that Earl Thomas eventually picked off.
Bryon Maxwell: A
This was a solid performance by Seattle's nickel CB. He paired strong coverage in the secondary with a fumble recovery to make his case for increased playing time even after Browner returns from his injury.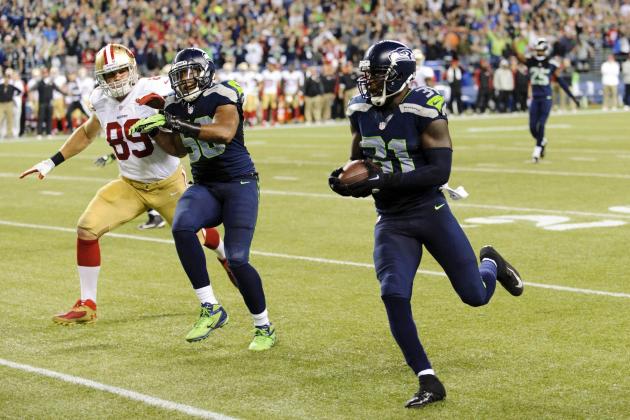 Steven Bisig-USA TODAY Sports

Earl Thomas: A
Both safeties had huge games for the Seahawks. Thomas was huge in coverage and made a couple first-down saving tackles. He also picked off Kaepernick at the goal line.
Kam Chancellor: A
Chancellor was key in keeping the 49ers TEs in check, while also picking up a few key tackles against the run. Chancellor also snagged an interception of his own in this game.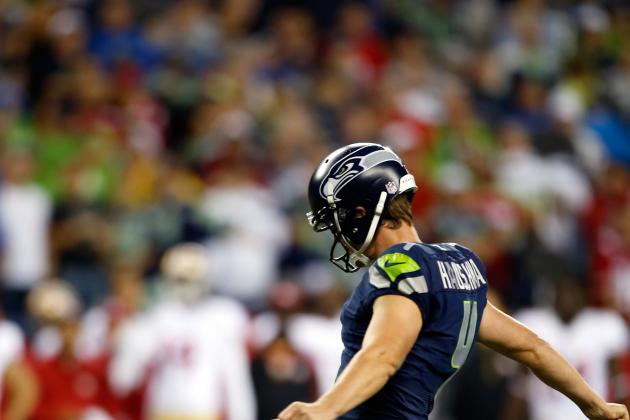 Otto Greule Jr/Getty Images

Steven Hauschka: A
Hauschka continues to be perfect with his field goals and extra points. He's also continues to drive most of his kickoffs through the back of the end zone for touchbacks.
John Ryan: B+
Ryan had a punt blocked, but that was clearly not his fault. He also overkicked his coverage at one point, leading to a big return. Luckily, a penalty on the 49ers negated the big return.
Coverage Teams: B-
The coverage unit allowed a blocked punt, which should never happen. The rest of the game it played well, but that blocked punt removed any chance at a higher grade.
Return Teams: A
The return teams were solid, especially for punts where Golden Tate averaged an impressive 15.5 yards per return.