Best Trade Packages NY Knicks Could Build Around Tyson Chandler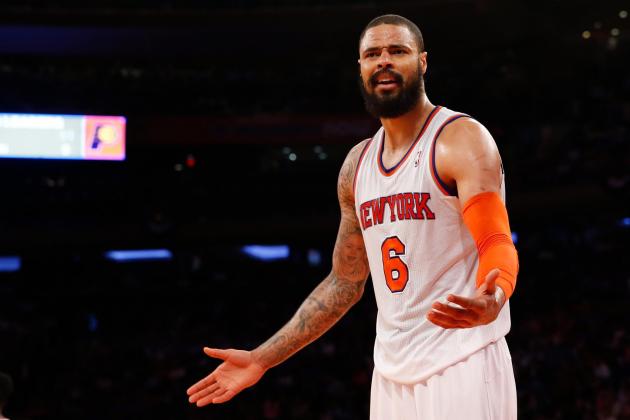 Anthony Gruppuso-USA TODAY Sport

The New York Knicks are not expected to make any drastic changes to their roster this offseason, but it could be beneficial to get creative and explore their options on the trade market.
In the past, the Knicks have explored trades for Iman Shumpert, but after seeing his performance in the playoffs, it's clear letting go of him would be a mistake.
New York could instead think about trades for Tyson Chandler, who could bring back more salary in return, or possibly help the Knicks to shed salary to allow more spending in free agency.
Chandler was disappointing in the playoffs (mainly due to injury), but he is still an elite defensive player who could garner a lot of interest on the trade market. As much as he's been criticized recently, mobile 7'2" centers who are effective in the pick-and-roll are hard to come by.
If they choose to explore trades for Chandler, here are four the Knicks could consider.
Begin Slideshow

»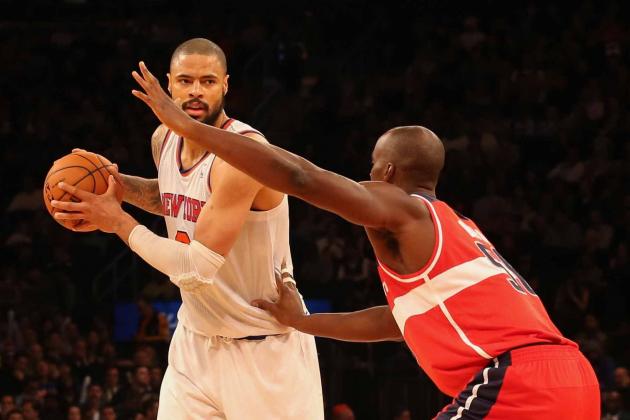 Anthony Gruppuso-USA TODAY Sports

Washington Receives: Tyson Chandler
New York Receives: Emeka Okafor, 2014 second-round pick, 2015 second-round pick
On the surface, it doesn't seem like the Knicks would be getting a fair return in this trade, but the main attraction is Okafor's expiring contract.
Both Okafor and Chandler are set to make $14 million, but Okafor's contract expires a year earlier, allowing New York to be more flexible in next year's free agency.
Though it's too early to start thinking about it, Carmelo Anthony has an early-termination option and could exercise it next season if the Knicks aren't any closer to a title. Saving $14 million could allow them to start adding the help they need to keep him in New York.
Losing Chandler would hurt the defense, but Okafor is still a serviceable player who rebounds well and can give the Knicks an efficient 10 points per game.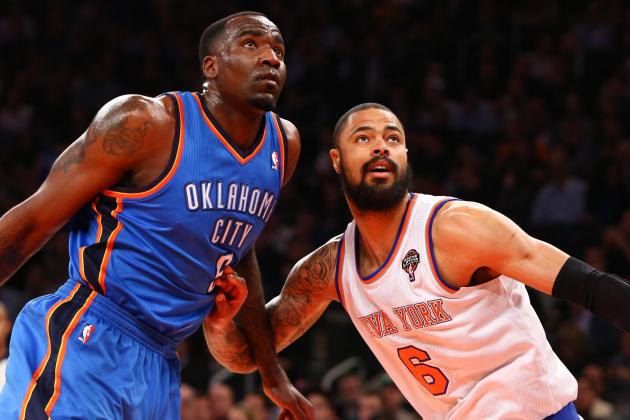 USA TODAY Sports

Oklahoma City Receives: Tyson Chandler
New York Receives: Kendrick Perkins, Reggie Jackson, 2014 first-round Pick
People like to get on Chandler's back for not having an offensive game, but the OKC Thunder have a truly terrible offensive player on their hands in Perkins.
The Thunder will be on the lookout for a replacement starter, and Chandler would be a good option to fill the role. He can run the pick-and-roll effectively with Russell Westbrook and would be an even better defensive anchor than Perkins.
In addition to taking back Perkins, the Knicks would receive Jackson, who was seriously impressive in the playoffs last season. He could be New York's point guard of the future, and for now, he can give the Knicks the energy they need off the bench.
OKC's 2014 first-round pick would also be thrown in to sweeten the deal. And the Knicks would save $4 million in salary, giving them access to the full mid-level and bi-annual exceptions.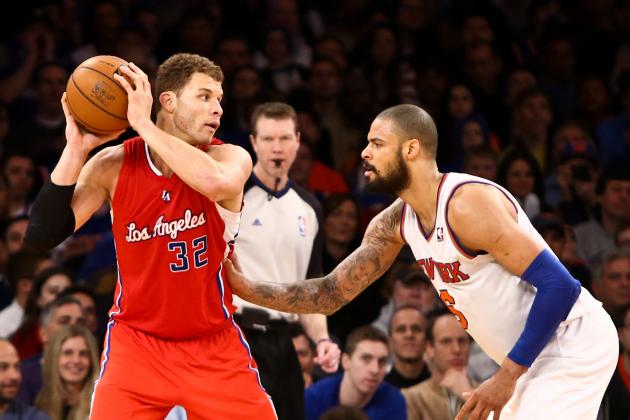 USA TODAY Sports

Los Angeles Receives: Tyson Chandler
New York Receives: DeAndre Jordan, Jared Dudley
As athletic and talented as Jordan is, his inconsistency and inability to shoot free throws really hurt the L.A. Clippers.
Trading for Chandler will give the Clippers a playoff-tested center who knows what it takes to win a title and consistently brings his best on a game-to-game basis. He also shoots 70 percent from the free throw line, allowing L.A. to keep him on the court late in games.
Chandler is a former teammate of Chris Paul's and has great chemistry with him in the pick-and-roll. Playing with CP3, Chandler could easily lead the league in field-goal percentage again.
The Knicks, meanwhile, would be getting some much-needed youth, energy and durability in their frontcourt. Jordan is a player who has the potential to become an elite rim defender with the help of Mike Woodson.
As part of the deal, the Knicks would also receive Jared Dudley, who can spread the floor and play great defense on the wing. Since the Clippers only recently acquired him, the trade would have to take place within the next two months.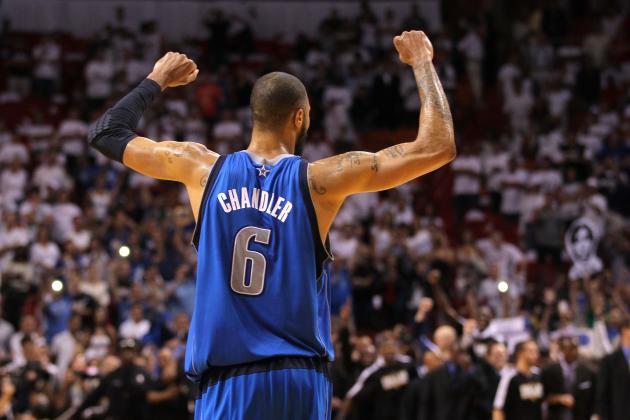 Mike Ehrmann/Getty Images

Dallas Receives: Tyson Chandler
New York Receives: Shawn Marion, Jae Crowder, 2014 second-round pick
Over the past few years, the Dallas Mavericks have let their championship-winning team fall apart, in an effort to make a run at a marquee free agent.
With their three main targets (Paul, Deron Williams and Dwight Howard) all ending up elsewhere, it just hasn't worked out for the Mavs.
Now that Dirk Nowitzki is nearing the end of his career, it wouldn't be fair to him to start rebuilding with him on the roster, so they could try to put together a playoff contender in the short term.
Trading for Tyson Chandler would give them the defensive presence in the middle they were looking for in D12. It would also give them the foundation to start building another contender.
Meanwhile, the Knicks would be saving $5 million this season and $14 million next season by taking back Crowder and Marion's expiring deal, while also improving their perimeter defense.
The Knicks would be without a single center on their roster, but they would be under the luxury tax threshold, allowing them to use the full mid-level exception or explore sign-and-trades to fix the issue.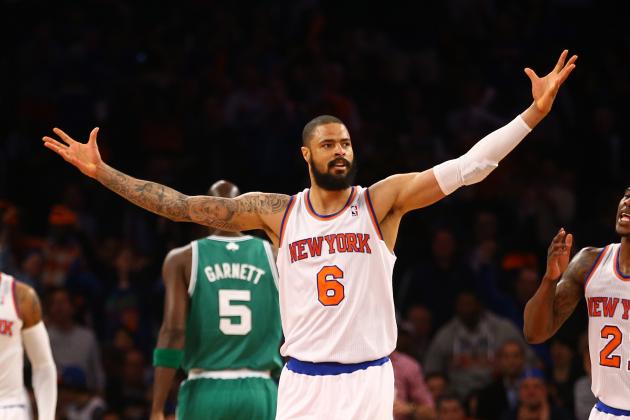 Al Bello/Getty Images

Ultimately, though these trades are worth considering, Chandler means more to the Knicks than he might to any other team.
Because he's making $14 million, he isn't going to be the most attractive player on the trade market and can likely only be traded if another undesirable contract is taken back in return.
Chandler is still an important leader for the Knicks and is the heart of their defense. Even on the other end of the floor, his work in the pick-and-roll and the offensive glass helps to open space up for shooters on the perimeter.
It's easy to forget how good Chandler is because of his under-par showing in the playoffs, but he's still one of the better centers in the league and would leave a huge hole in the middle.
As a luxury tax-paying team, New York isn't going to improve its flexibility significantly by shedding Chandler's deal, as the Knicks would still be over the salary cap without him.
For the time being, the Knicks would be best off trying to make another run with Chandler in the middle and possibly exploring trades next season if they fail to make it out of the second round again. By that point, he will have an expiring contract, making him much more valuable on the trade market.