Who Will Win the New York Jets' Starting Quarterback Battle?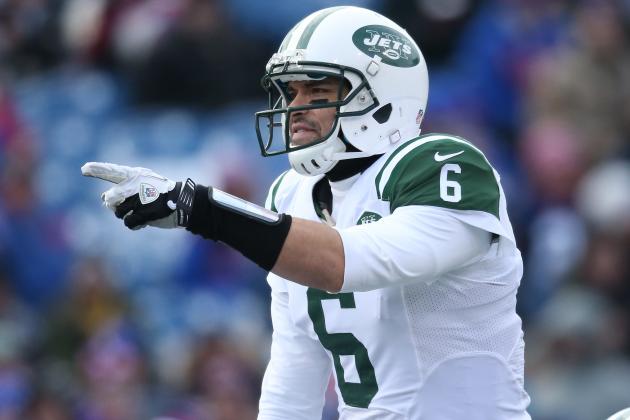 Tom Szczerbowski/Getty Images

The New York Jets' quarterback depth chart has thinned in recent weeks, igniting a two-man competition this offseason between rookie phenomenon Geno Smith and second-rate incumbent Mark Sanchez.
The team will move toward naming a signal-caller for the 2013 season through magnified analysis of each player performance during training camp and the preseason. The quarterback who makes the fewest mistakes, in turn, will likely win the battle and claim the role of Jets starting QB.
Certain critical factors will help dictate which player is delegated the responsibility of being behind center in Week 1, like the ability to execute the team's new offense. The Jets need a quarterback who can control the tempo of the game while maintaining possession and steadily moving the ball downfield.
Sanchez has failed miserably in that regard over the past two seasons but still stands a chance to overtake Smith. Both quarterbacks stare down the difficult task of learning a new offensive system; however, it's arguable that Smith is more likely to quickly succeed in OC Marty Mornhinweg's West Coast offense.
The following slideshow analyzes the Jets' quarterback battle and assesses which player will rise to claim the title of starting QB for the Green and White in 2013.
Begin Slideshow

»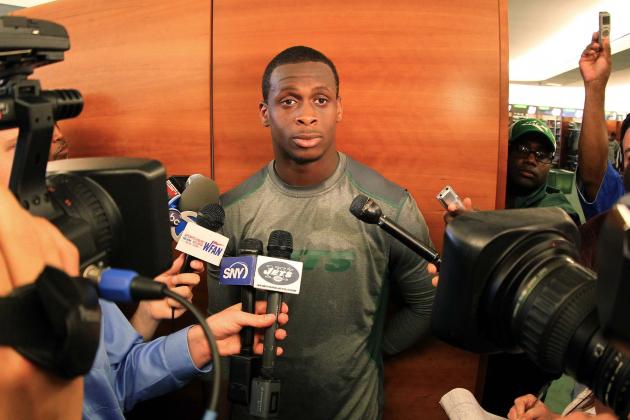 Ed Mulholland-USA TODAY Sports

Rookie quarterback Geno Smith has received some harsh criticism surrounding his unconventional decision to fire his agents after falling to the second round of the draft, opting to hire Roc Nation, a publicity-lathered agency headed by Jay-Z.
The move fueled speculation that Smith intends to use the New York spotlight to brand himself, thus creating a dichotomy inside the Jets' organization, from an outsider's point of view.
The notion of Smith becoming known as a label instead of a football player is indicative of what happens in training camp and how his development translates into preseason game play. The star-studded QB hasn't taken a snap in real-time action for the Jets, but he has subjected himself to what could be perceived as imminent failure.
Smith seems to talk a big game, resonating from a highly successful career at WVU, where he put up dazzling numbers despite failing to lead his team to a significant bowl win at the FBS level. This is a confident kid who believes in his abilities, regardless of what his track record indicates.
The Jets will choose the quarterback who gives the team the best chance to win. It's a tired cliche that seems to always to prove true in similar types of in-house competition.
There's a new "diva" in town, but that doesn't necessarily coincide with the concept of becoming a formidable starting quarterback in the NFL.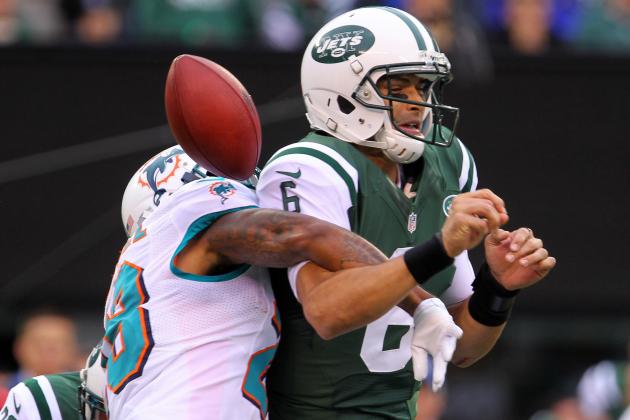 Ed Mulholland-USA TODAY Sports

It's a sad reality for the a strong contingency of Jets' fans, but the man infamous for the "butt fumble" has a wide open opportunity to reclaim his role of starting quarterback for the Green and White in 2013.
Embattled quarterback Mark Sanchez has crippled the Jets' ability to remain competitive over the past two seasons, often devastating the team's chances of winning simply by committing inexcusable turnovers that always seem to land on a never-ending loop of ESPN's "Worst of the Worst" highlight reel.
Sanchez simply doesn't have the capacity to succeed in the pass-heavy NFL. He's a below-average passer who has unsightly QB vision, frequently forcing bad passes into coverage. His confidence is easily broken, a feat defenses fiend on.
He was the ultimate benefactor of a defense that ranked first and sixth respectively in points allowed during the consecutive seasons that the Jets reached the AFC title game.
Sanchez has proven himself to be incapable of leading, despite shreds of seeming confidence in that regard. His numbers rank among the worst of all starting quarterbacks in the past decade, recording a ridiculous tally of 103 turnovers in four full seasons behind center.
On the flip side, Sanchez has achieved 12 regular-season, game-winning drives in his career, a number that still doesn't make good on numerous end-of-the-game flops on his behalf.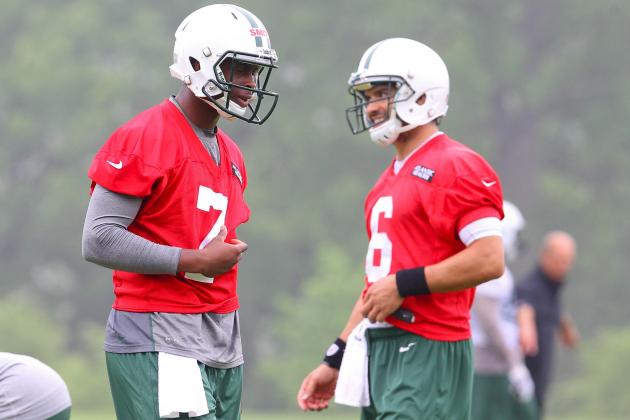 Ed Mulholland-USA TODAY Sports

Jets' OC Marty Mornhinweg is in charge of the offense. The player that best molds his game to reflect perennial success in the team's new system is going to win the quarterback battle.
Smith dominated the blitz at WVU, dishing out 112 screen passes in his final collegiate season to speedy wideouts like Tavon Austin and Stedman Bailey.
He won't have the luxury of throwing to premier receivers in green and white, but he sustains the skill set necessary to excel in a brand of offense that calls for quick delivery on short passing routes.
Sanchez has struggled to effectively achieve an efficient short passing game throughout his career. Those struggles were intensified when the veteran QB tossed a careless screen pass to Damon Harrison, a 6'4", 350-pound lineman known as "Big Snacks," who picked off the team's four-year starter in an OTA last week.
The mistake led to harsh criticism from head coach Rex Ryan, who has suddenly grown distasteful resentment toward the man enshrined in ink on his right arm, dubbing his game play as "unacceptable."
It's arguable that Smith holds a sleek edge over Sanchez because of his ability to be effective in an offense that demands precision on short passing routes.
The Jets don't exactly have the skill position players necessary to succeed in a fast-paced style of offense, but Smith could be a better option because of his dynamic game play in the spread offense at the collegiate level.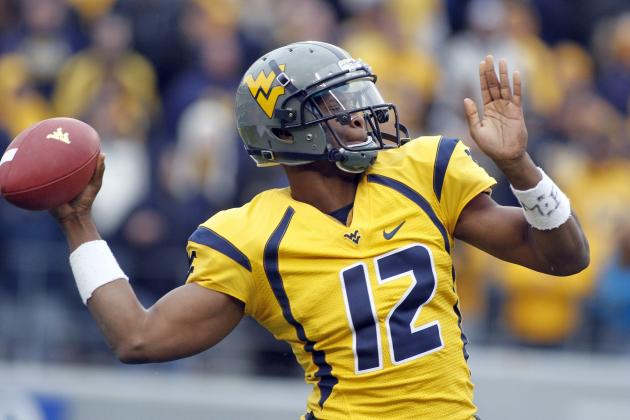 Justin K. Aller/Getty Images

The Jets need to move in a new direction. Nothing would signify that fact more vigorously than naming Smith the team's starting quarterback and official new face of the franchise.
It's not an inevitable occurrence, though. Smith still needs to prove his abilities in camp and over the course of the preseason.
His skill set, however, is more apt to efficiently running the Mornhinweg's version of the West Coast offense.
Smith completed 71.2 percent of his pass attempts in his senior season at WVU, demonstrating a high level of effectiveness in a fast-paced offense. The Jets hope that translates well at the next level. It's become status quo for rookie quarterbacks to gain starting status in the NFL over the past decade.
Smith should be no different.
The Jets overhauled their roster this offseason to commence a tumultuous rebuilding process that highlighted key defunct areas of need, like quarterback. Sanchez has flashed few moments of brilliance, frequently succumbs to pressure and too often forces the Jets out of the game.
Smith symbolizes a new era in Jets football. It's likely that he won't sustain immediate success on a large scale, but he ultimately possesses a dynamic skill set that should increase the Jets' chances of winning this season, especially given the lack of playmakers on the offensive depth chart.
Sanchez is old news, outdated and virtually proven unworthy of having the talent necessary to compete in today's NFL. It's time to hand the reins to the new kid on the block, barring injury or catastrophic game play in the preseason.