Pros and Cons of Los Angeles Lakers Committing to Dwight Howard Long-Term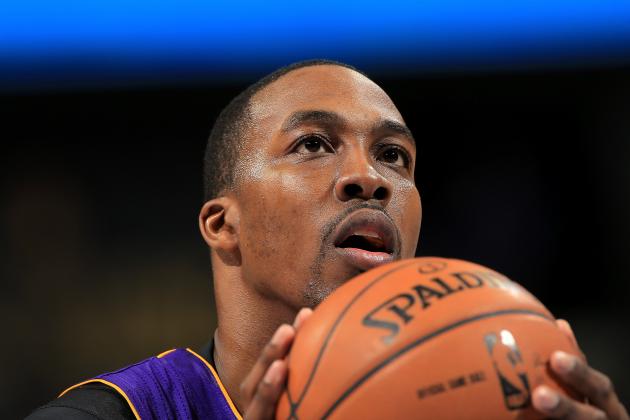 Doug Pensinger/Getty Images

For Dwight Howard, every day is a new day and a chance to right the wrongs that may have preceded it.
Just hours before the Los Angeles Lakers took on the Atlanta Hawks at Staples Center, Howard took to Twitter to let his nearly four million followers know, "Today is a new day. Even if u were wrong yesterday you can get it right today."
The Los Angeles Lakers center has performed admirably in his first season with the Purple and Gold. He averages 16.1 points and 12 rebounds per game, the latter stat leading the NBA. Sunday night against the Hawks, Howard brought down 15 boards in the Lakers' thrilling one-point win.
But in this town, admirable often doesn't cut it.
Fans expect the next Wilt Chamberlain, Kareem Abdul-Jabbar or Shaquille O'Neal. The city yearns for championships and a dominant center who will lead the Lakers to the promised land. The team pinned its hopes and dreams this year on Howard, and the verdict has yet to be handed down.
It was just over a month ago that the Lakers hit rock bottom and found themselves an embarrassing eight games below .500. Pundits and critics voiced their displeasure with Howard, who continued to deal with various injuries and appeared lackadaisical at times.
There was much chatter about trading Howard before the February 21 trade deadline, but nothing came of it.
Lakers general manager Mitch Kupchak went on the air (The Herd with Colin Cowherd on ESPN Radio, via ESPNLosAngeles.com's Dave McMenamin) the day before the deadline to dispel any such notion that the team wanted to deal Howard, stating, "Dwight is our future. ... We're not trading Dwight Howard."
There are pros and cons to signing Howard to a long-term deal. But as he continues to heal and the Lakers keep improving, it seems the positives far outweigh the negatives.
Begin Slideshow

»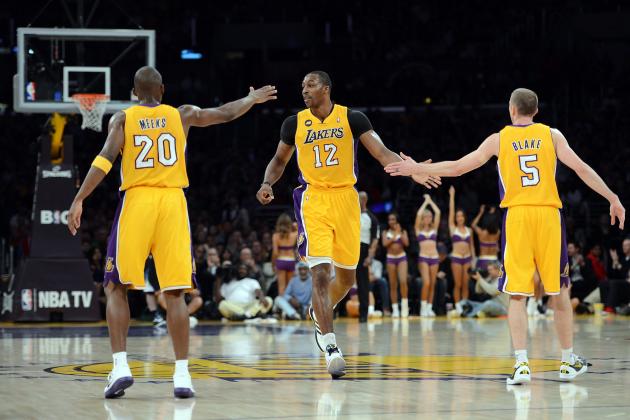 Harry How/Getty Images

The Los Angeles Lakers realize that Kobe Bryant's days in the league are numbered, and they see Dwight Howard as his heir apparent.
Even though Howard is not the prolific scorer that Bryant is, the fact is that any team in the NBA would love to build its future around the 6'11" center.
When healthy, Howard is the most dominant center in the game. He is a three-time Defensive Player of the Year and, at 27, is just now entering his prime.
Great centers come along once in a generation, and Howard is such a player. He jumped directly from high school in Atlanta to NBA superstardom in Orlando.
The Lakers have been identified as Kobe Bryant's team ever since Shaquille O'Neal was traded to Miami in 2004. L.A. won two titles with Bryant leading the way.
In Howard, the Lakers have their next superstar who could, and should, lead them once Bryant retires. Signing him to a long-term extension makes all the sense in the world, and it signals to the rest of the NBA that the Lakers will do whatever it takes to remain a force in the league.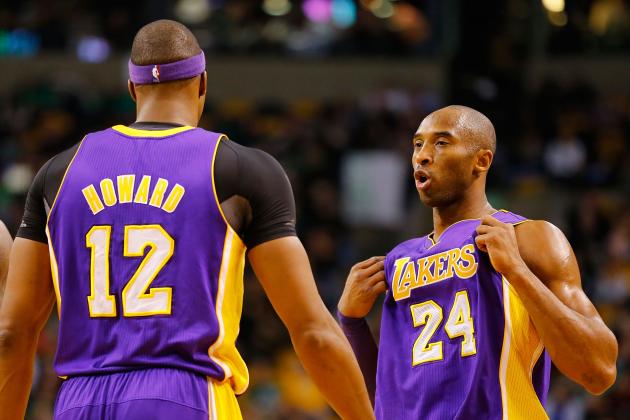 Jared Wickerham/Getty Images

Kobe Bryant has stated publicly that the Lakers are his team until he leaves. That could pose a long-term problem if the Lakers sign Howard and Bryant plays on after his deal expires in 2014.
Prior to the start of the season, Bryant told reporters (via Dave McMenamin, ESPNLosAngeles.com):
I got a question earlier about whose team this is. I don't want to get into the, 'Well, we share ...' No, it's my team. But I want to make sure that Dwight, when I retire, this is going to be his. I want to teach him everything I possibly know so that when I step away this organization can ride on as if I never left.
There has been friction between Howard and Bryant over the course of the season, and several times the two have gotten into shouting matches on the court over who is responsible for what.
But the Lakers are 13-5 since Jan. 23, and winning often cures all such ills. Remember that Bryant and O'Neal fought all the time en route to three straight championships.
Bryant and Howard are night and day with regard to their personalities. But as team chemistry improves and the playoffs seem more possible, the two superstars will put those differences aside. Winning will have that effect.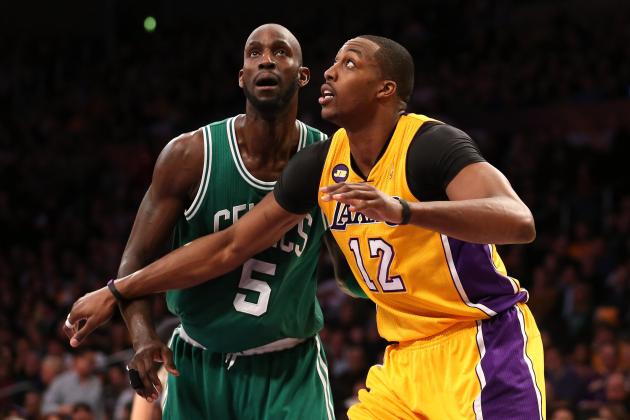 Stephen Dunn/Getty Images

Dwight Howard is the best defensive center in the game, so why wouldn't the Los Angeles Lakers want to hold on to him for the foreseeable future?
Howard intimidates other centers and makes it hard for anyone to drive down the lane. About nine of Howard's 12 rebounds per game come on the defensive end of the court.
Howard averages 2.3 blocks per contest and forces turnovers by his sheer presence and physical nature.
In recent games, Howard appears to have regained more of his foot speed and conditioning. In Sunday's win over the Atlanta Hawks, he pulled down 15 rebounds and had two steals and a block.
Finding a big man who can play defense is difficult because there aren't many in the NBA. Defense wins championships, so Dwight Howard is the ideal big man to build around.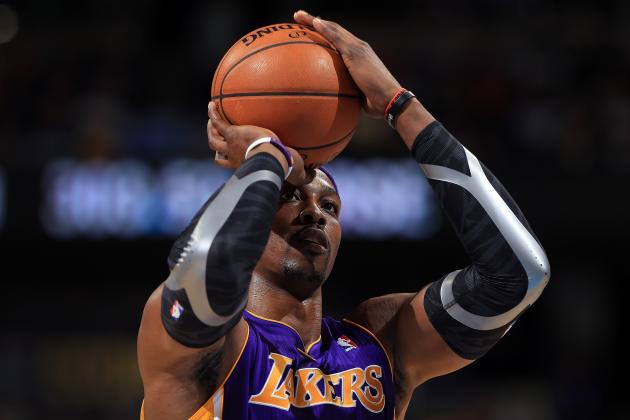 Doug Pensinger/Getty Images

It can be both a blessing and a curse to have Dwight Howard with the ball in a tight game.
Howard will get rebounds, block shots and make the occasional steal. But he will also miss a lot of free throws, and that may cost the Lakers a number of games they otherwise would have won.
For his career, Howard is a 58 percent shooter from the charity stripe. But the past two years he has gotten worse, and this season he is making just 48 percent of his attempts.
Howard claims that he makes about 80 percent of his free throws in practice, and this clip from Lakers Nation would seem to bear that out. He also said that in high school, he made 90 percent of his free throws (h/t Dave McMenamin, ESPNLosAngeles.com, as told to ESPN's Stephen A. Smith).
Making shots in high school or in practice is far different than doing it during an NBA game, though. From 2007 to 2011, Howard converted on about 60 percent of his free-throw attempts, so there may be hope that the numbers will get a little better.
But should a team commit to building a franchise around a player who just can't seem to make free throws?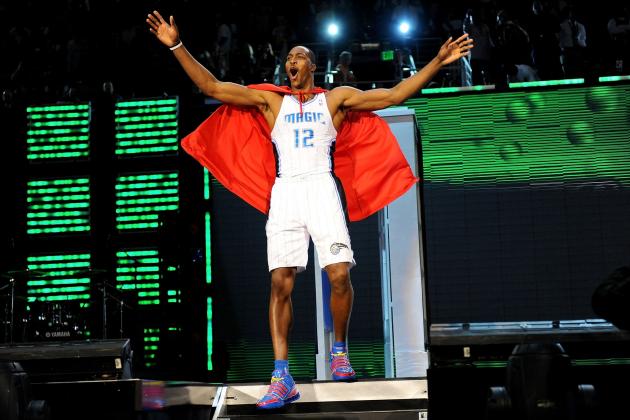 Ronald Martinez/Getty Images

Dwight Howard, aka Superman, has a reputation for being among the most durable players in the NBA.
Now in his ninth year, Howard has been as solid as a rock. Well, he was until a back injury forced the Orlando Magic to shut his season down early in 2012.
From 2004 to 2011, Howard started and played in virtually every game for the Magic. He has averaged over 36 minutes per game and actually spent more time (38 minutes) on the court last year than any other season in his career.
Having a dominant big man that you can rely on year in and year out is critically important to the Lakers. Much like Kobe Bryant and his ability to play through most injuries, Howard has had similar success until just recently.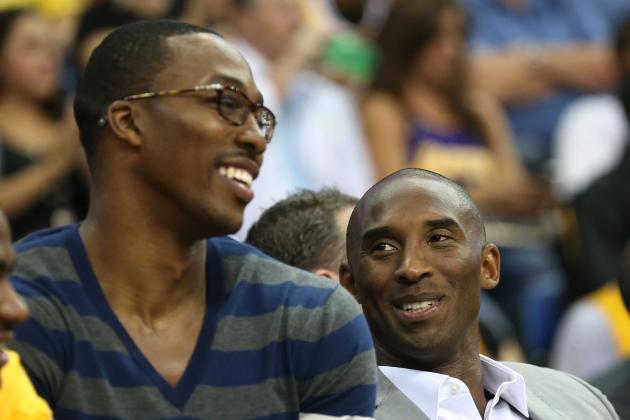 Stephen Dunn/Getty Images

This a very big question mark. Can the Los Angeles Lakers expect to see the old, healthy Dwight Howard anytime soon, or has the herniated disk that Howard suffered last year turned him from Superman into a permanent Clark Kent?
Is this a gamble worth taking?
Howard keeps saying that he is slowly getting back to normal, but he remains at about 70 to 75 percent of full strength. It is obvious to most NBA watchers that he is not jumping the way he used to and that his conditioning is still below par.
There is always the chance that the Lakers sign Howard to a five-year extension this summer, only to see him regress or re-injure his back. He is also playing with a torn labrum muscle, which has affected his shooting and rebounding.
But Howard says he is on the mend and getting better with each game. In a conversation with Shahan Ahmed of NBCLosAngeles.com, he said, "I think I'm in good shape for a basketball player but not in 'Superman' shape. I want to get into 'Superman' shape."
Howard said he is eating better, staying away from candy and doing whatever it takes to improve his physical health.
It's a gamble, but one the Lakers most likely will take.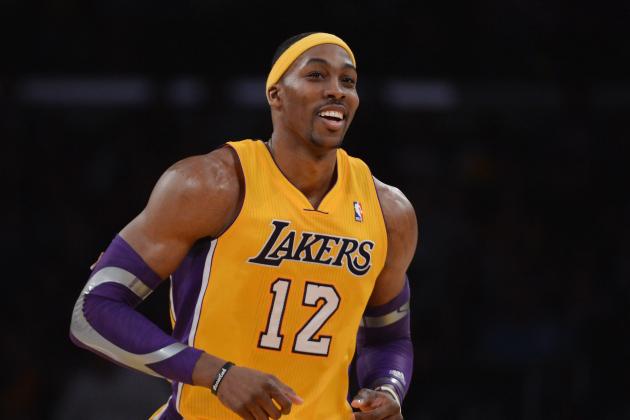 Harry How/Getty Images

The most popular superstars in Los Angeles tend to be the ones who are able to balance the glitz and glamor of an entertainment town with its fans' passionate desires for championships.
There's no question that Dwight Howard loves the limelight. His famous smile and easygoing personality are indicative of a nice guy who wants to please everyone.
As long as he performs and the Lakers win championships, the Dwight Love Fest will continue.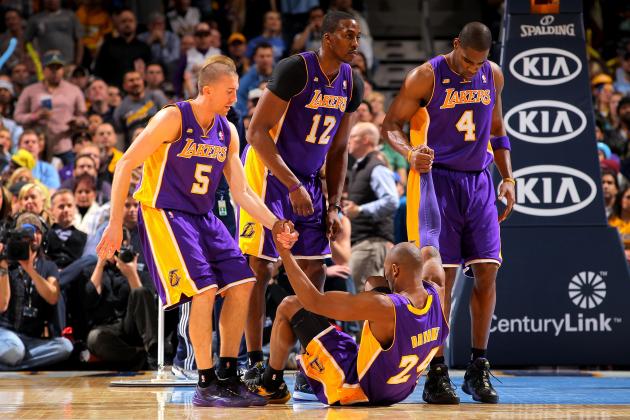 Doug Pensinger/Getty Images

Dwight Howard says he wants to win and will do whatever it takes to make that happen.
In the same breadth, Howard tells reporters that he will do what makes him happy and that his happiness comes first, above everything else.
Howard and Kobe Bryant approach the game of basketball in totally different ways, and it has caused problems for the Lakers. Bryant is not the only player to call out Howard's often immature demeanor on and off the court.
The Lakers need a true leader to grab the torch from Bryant when he decides to hang up his sneakers. Howard has yet to prove he has what it takes to be one.
Over the years, the Lakers have been blessed with leaders, from Jerry West and Magic Johnson to Kareem Abdul-Jabbar, James Worthy, Derek Fisher and Bryant. They all led in different ways, but one could never question their resolve to win.
Howard has yet to prove his will to win. There's no questioning his abilities as one of the great players in the game. However, until he helps lead his team deep into the playoffs and to an NBA title, Howard will continue to be thought of as a great individual talent and not a team player.