Predictions for the Divisional Round of NFL Playoffs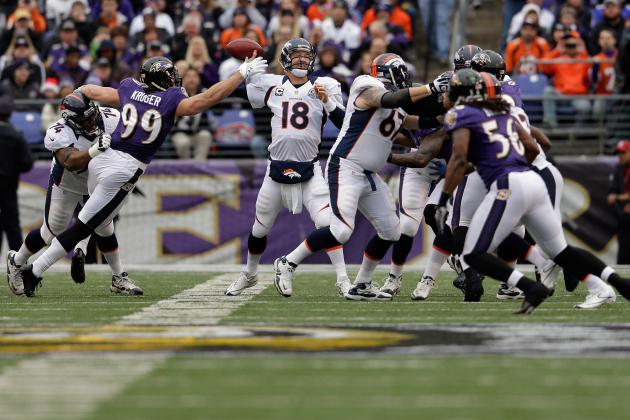 Rob Carr/Getty Images
Does Peyton Manning have the Ravens number?
Predicting NFL playoff games can be tricky business. You have to look at teams coming off of a bye week, injuries from the Wild Card games and how the teams fared when they met earlier in the year.
The divisional round of the playoffs is one of the favorite times of the year for NFL football fans, when they get to see two divisional playoff games on Saturday and two more divisional playoff games on Sunday.
The winners of these four games will then meet next weekend for the AFC and NFC Championship games with the right to represent their conferences in Super Bowl XLVII.
NFL fans should be treated to some strong offensive performances this weekend. Of the eight remaining teams in the postseason, they all are ranked in the top 11 teams in scoring average. The New England Patriots finished No. 1, averaging 34.8 points per game, while San Francisco finished at No. 11 with an average of 24.8 points per game.
We will take a detailed look at each of the four divisional games and predict the winner as well as a final score.
All point spreads are courtesy of ESPN.com.
Begin Slideshow

»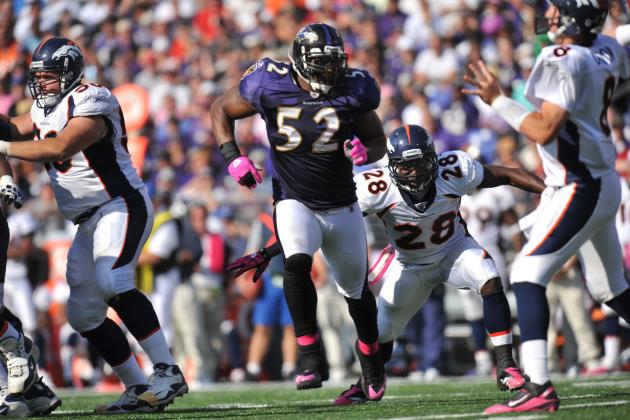 Larry French/Getty Images
Ray Lewis willl be looking to disrupt the Denver offense.
On Saturday the Baltimore Ravens will travel to face the hot Denver Broncos in the first divisional round playoff game this weekend. The Broncos are heavy favorites, as the Ravens are receiving nine points in this game.
There are plenty of reasons why Denver is such a heavy favorite.
Peyton Manning has won his last nine meetings against Baltimore, including regular-season games and playoffs. The Broncos are riding an 11-game winning streak coming into this game, while Baltimore was just a .500 team on the road this year (4-4). When these teams met in Baltimore back in Week 15, Denver came up with a convincing 34-17 win.
Of course Ravens fans will point out that Ray Lewis wasn't playing due to his injury and they are right. Football fans want to see Lewis go out on top, and the Ravens will be inspired to play an emotional game for him.
But the Broncos were put together to be able to win now. They are the better overall team on both sides of the ball than Baltimore is.
There are only two teams remaining in the postseason that have a top-10 overall offense and a top-10 overall defense. They are the Denver Broncos and the Houston Texans.
We all watched how Pittsburgh played in the higher altitude in Denver in the playoffs last year. The Ravens won't be immune to the conditions either.
Final Score Prediction: Denver 27 - Baltimore 20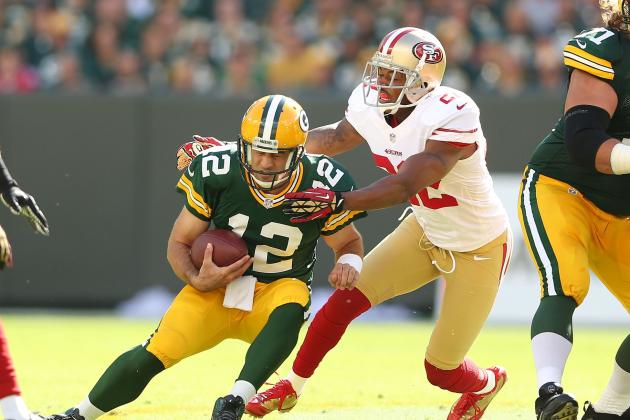 Andy Lyons/Getty Images
San Francisco will need to apply steady pressure on Aaron Rodgers.
On Saturday evening, the Green Bay Packers will travel to San Francisco to face the 49ers in the final game of the day. The Packers are three-point underdogs on the road.
Green Bay is coming off a playoff win against the Minnesota Vikings, as the Packers run defense did a much better job of containing Adrian Peterson the third time around.
For San Francisco, the 49ers enjoyed a bye week and rested up their injured players to get ready for the postseason.
The San Francisco 49ers defense gets a boost this week as it is expected that star defensive lineman Justin Smith will be able to return for the game. No word yet on how effective he will be due to his triceps injury, but his mere presence should provide a boost for Aldon Smith.
For Green Bay, it recently got a shot in the arm when Charles Woodson came back from his collarbone injury. He will be needed to slow down the 49ers offense.
The Packers, meanwhile, continue to score points (averaged 27.1 points per game in the regular season) without the benefit of a strong running game. That is thanks to the outstanding play of quarterback Aaron Rodgers and his talented receiving corps.
For the 49ers, Frank Gore figures to play a key role in this game, as does Colin Kaepernick. The Packers faced Alex Smith when these teams met back in the season opener, and the 49ers offense has changed greatly from what Green Bay saw back in Week 1. San Francisco won that opening game, 30-22, and I think it will win this game as well.
Final Score Prediction: San Francisco 49ers 26 - Green Bay Packers 24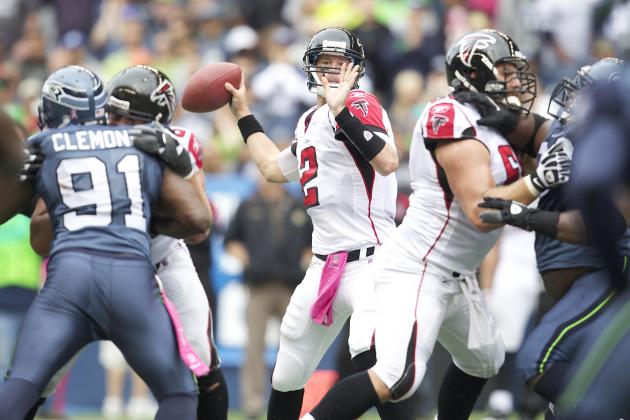 Stephen Brashear/Getty Images
Can Matt Ryan win a playoff game?
The first game on Sunday will feature the hot Seattle Seahawks, who travel to face the Atlanta Falcons, who have the best record in the NFC. As a sign of respect for what Seattle has done lately. they are only a one-point underdog in this game. That is an indication that this game should be competitive and could go either way.
These teams met back in Week 4 in the 2011 regular season in Seattle. Atlanta won that game, 30-28, but this Seattle team is much different from the team it faced last year.
Russell Wilson and a solid 2012 draft class has helped to transform this team into one of the hottest NFL teams in the league. The seahawks got the road playoff monkey off of their backs by defeating the Washington Redskins last weekend. As a result, Seattle is loose and confident, while Atlanta is dealing with the pressure of trying to come up with a win in the postseason.
Atlanta is, however, playing at home, and as Seattle fans can attest, playing at home can be a major advantage.
Look for the Atlanta defense to try to control Marshawn Lynch on the ground and force Russell Wilson to beat them in the air against the talented Falcons secondary. Falcons defensive coordinator Mike Nolan has been using the bye week to prepare for the likes of Wilson or Griffin, so he should have a solid game plan ready.
Getting DE John Abraham back to help out the pass rush is a big plus for the Falcons. The Falcons will have to figure out how to contain Wilson in the pocket, which is no easy task. They have had some practice trying to contain Cam Newton in the NFC South, but Wilson is a different breed of quarterback than Newton.
The Seahawks lost their best pass-rusher when Chris Clemons went down with an injury last weekend. That places more pressure on rookie Bruce Irvin to make up for the loss of Clemons, so we will see if he is up to the task.
While Atlanta is motivated to stop the embarrassing losses in the playoffs, it is also trying to step up as an organization to win a playoff game for tight end Tony Gonzalez. Speaking of Gonzalez, he should be a major factor in this game, as the Seattle secondary will have its hands full trying to figure out which targets to try to take away from Matt Ryan.
I see this as a relatively low-scoring game, in the mid-20's with the possibility of an overtime finish.
Final Score Prediction: Atlanta 24 - Seattle 21 (in overtime)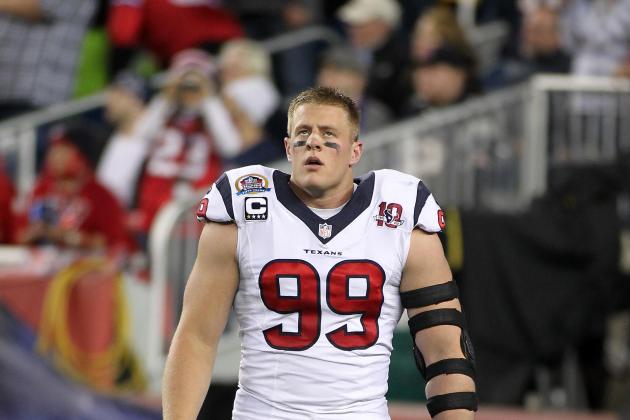 USA TODAY Sports
J.J. Watt didn't have a big impact when these teams met in Week 14.
Our final playoff game this weekend has the Houston Texans traveling to face the New England Patriots. The Texans were playing at a very high level when they were at 11-1, but since then the team's performance has tailed off.
The New England Patriots have the No. 1 scoring offense in the NFL, as they are averaging a whopping 34.8 points per game in the regular season. These teams met in New England back in Week 14, and the Patriots won easily 42-14. That game made a number of NFL experts question how good the Texans really were. It was a nationally televised game, and the Texans went into a funk after that.
As a result, the Texans are a big 10-point underdog coming in to this game. It will be up to players like DE J.J. Watt to step up with a big game if Houston is to have any chance at all to advance to the AFC Championship Game. When they met in Week 14, Watt was held to four tackles and three quarterback hits. For him, that is a pretty quiet game.
The best chance that Houston has in this game is to put constant pressure on Brady when he is in the pocket and to orchestrate long drives when it has the ball. Matt Schaub hasn't exactly played his best football in big-game scenarios, so he will also need to elevate his game to a higher standard.
The Patriots get back All-Pro tight end Rob Gronkowski, who wasn't even playing in the Week 14 contest, which is just one more reason why the Patriots should win this game going away.
Final Score Prediction: New England 38 - Houston 24