The Best Free Agent Fit at Every Position for the Chicago Bears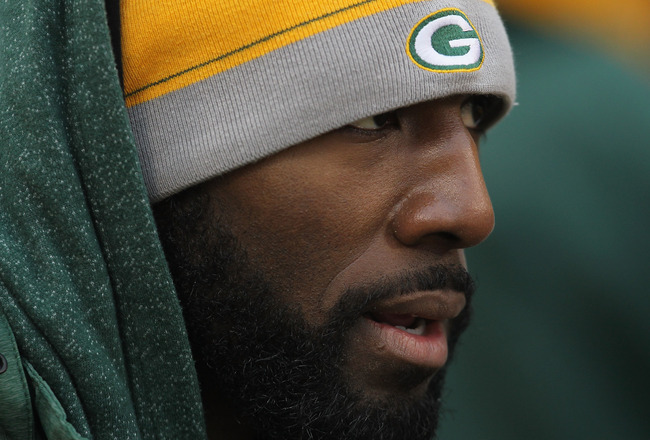 Greg Jennings
Jonathan Daniel/Getty Images
The NFL playoffs are upon us, but unfortunately the Bears are not in the postseason tournament. Instead, they are searching for a new coach and putting together the framework for what could be a busy postseason.
There are plenty of holes on this Bears team, despite winning 10 games. The offense needs some work and the defense is getting older. Where does general manager Phil Emery go? He has plenty of options on the market in a very deep free-agent class this year.
Here are the best free-agent fits for the Bears at every position.
Quarterback, Matt Moore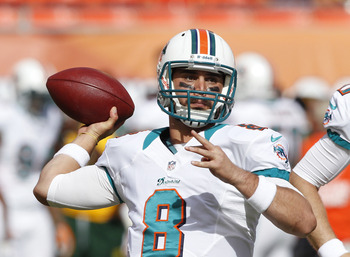 Matt Moore
Joel Auerbach/Getty Images
The Jason Campbell experiment just did not work so don't expect him back next season. Not all of it was his fault, but he was very tentative and unsure of himself when on the field.
This puts the Bears in the same situation they were in last season. They have to find a viable backup for Jay Cutler—a player who can come in hot in relief and can move around and make plays.
Matt Moore is one of the better options available. He will not be back in Miami as it continues on with its young quarterback. Moore had his best season in 2011 where he threw for 16 touchdowns with a completion percentage over 60 in 12 starts.
Moore is a mobile quarterback who is used to coming off the bench. He has a similar skill set to that of Jay Cutler and could be counted on if for some reason he needs to take over a game for Cutler.
Running Back, Kahlil Bell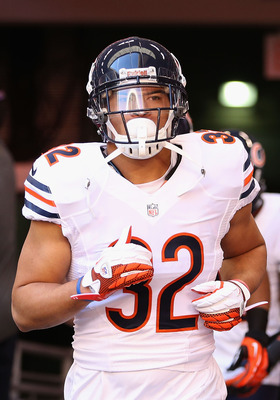 Kahlil Bell
Christian Petersen/Getty Images
Last year the Bears spent a ton of money on Matt Forte and Michael Bush. Both players are two quality backs who can do more damage in a better offensive system. Therefore, there's no need to go out and spend more big money on a back.
Instead, the Bears should look toward bringing back Kahlil Bell. Bell has been with the team on and off since 2009. He's comfortable with the team, city, organization and has been a solid option as a third running back.
Most importantly, Bell should not cost much money which will allow the Bears to focus on other areas.
Wide Receiver, Greg Jennings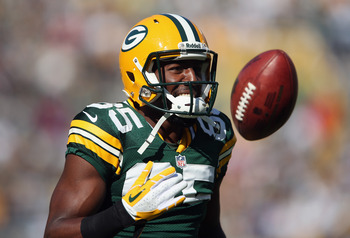 Greg Jennings
Jeff Gross/Getty Images
This is one of the tougher positions to go after. The market is very deep and the Bears have multiple needs, making the final decision a difficult one. Ultimately, the combination of skill and experience without breaking the bank should win out.
Greg Jennings will most likely not be back with the Packers. Green Bay has a ton of weapons and it will likely part ways with the 29-year-old two-time Pro Bowl receiver.
There are some miles on Jennings, but he fits a big need for the Bears. He did his best work in Green Bay out of the slot and would be an instant upgrade with the Bears in that role.
It will be interesting to see how much money and, most importantly, how many years Jennings will command. Regardless of what it is, if the Bears want to make some serious upgrades on offense, they need to look strongly at a man with 425 career receptions.
Tight End, Martellus Bennett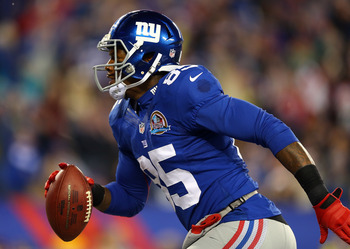 Martellus Bennett
Elsa/Getty Images
It took Martellus Bennett four seasons and a second team to finally figure out his talent. What transpired in New York this past year was a breakout season for the former Cowboys second-round pick.
The Giants will most likely try and keep the huge target but they also have a tendency to let tight ends walk due to their many skill players already cemented on the outside. This could give the Bears the opportunity to fulfill one of their biggest holes on the roster.
Bennett is still only 25 years old, making him a player to build around for years. Just imagine Jay Cutler finally having a big security blanket over the middle, which he so desperately needs.
Offensive Tackle, Branden Albert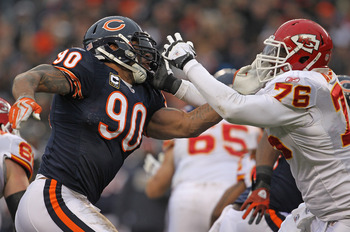 Branden Albert
Jonathan Daniel/Getty Images
Most people are going to want Jake Long but need to realize he is a player on the decline right now. Injuries have caused him to lose a step, allowing Miami to look in another direction. Furthermore, Long will still ask for a huge price tag the Bears shouldn't even entertain.
Instead, they should look towards a player general manager Phil Emery is already familiar with. Kansas City Chiefs tackle Branden Albert has been a solid player on a bad football team. Emery worked with him back in his Kansas City days and should know the ins and outs on the 28-year-old former first-round pick.
Albert will be an instant upgrade over J'Marcus Webb. He has been durable for the most part and wouldn't cost nearly as much as other players on the market would. This allows you to still address the issue in the draft without investing too much money into the position.
Guard/Center, Andy Levitre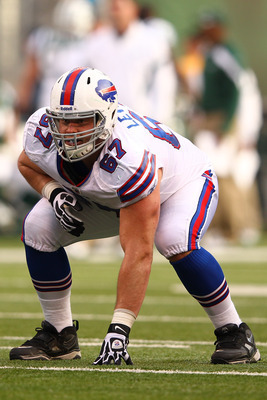 Andy Levitre
Al Bello/Getty Images
At some point the Bears are going to have to make a big splash and break the bank. Here's their big shot to do so. It may not look like it now, but Buffalo Bills guard Andy Levitre will be one of the hot commodities on the market.
When you think back to the running game, you remember the Bears have all that talent in the backfield but they aren't doing much with it. No matter who the new coach and person calling the plays are, they have to get the run game going.
Levitre is the kind of guard who provides instant stability. He was one of the driving forces behind Fred Jackson and C.J. Spiller's success in Buffalo. The 26-year-old former second-round pick has played and started in all four seasons of his career.
Defensive End, Mike DeVito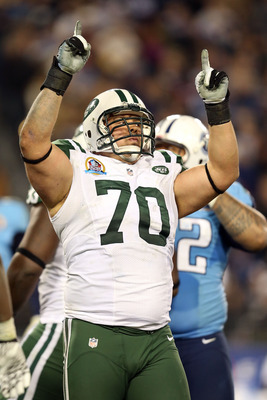 Mike DeVito
Andy Lyons/Getty Images
There's a chance the new coach could bring in a 3-4 scheme on defense. That's all well and good, but when you look at the Bears' roster there aren't many players on the team who fit that scheme.
The Bears are pretty well-stacked at defensive end, but should they change their defense, they should look at Mike DeVito. The six-year veteran has not only been in Rex Ryan's 3-4 defense for a while but he provides flexibility playing inside and outside on the defense.
Defensive Tackle, Henry Melton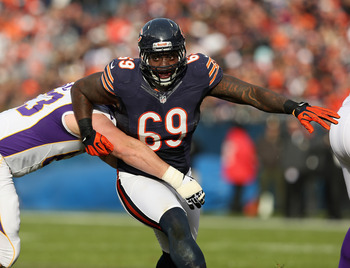 Henry Melton
Jonathan Daniel/Getty Images
Here's the biggest no-brainer for the Bears brass. The best defensive tackle and one of the best free agents on the market is your own player. Henry Melton is an emerging star who needs to be in a Bears uniform by any means necessary.
Melton is going to his first Pro Bowl this year and looks poised to be in many more going forward. The Bears are going to have to open up the checkbook to keep Melton, but it will be well worth the investment.
Linebacker, Rey Maualuga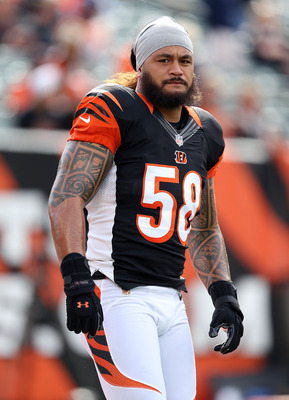 Rey Maualuga
Andy Lyons/Getty Images
The linebacker position could be one of the biggest shuffles on the team. Questions surround Brian Urlacher and Nick Roach. They may or may not be back and it's fairly certain Geno Hayes will not be back.
If the Bears decide to start fresh in the middle, there's a young man available who hasn't quite reached his full potential in the NFL. Rey Maualuga has had a decent career, but not like what was expected when he came out of USC in 2009.
The good thing about Maualuga is he's still young. The 25-year-old has the chance and talent to be a perennial Pro Bowl player. Maybe an environment like Chicago is what he needs for that.
Cornerback, Marcus Trufant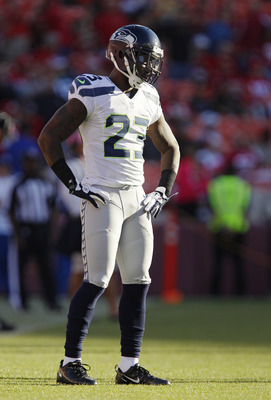 Marcus Trufant
Brian Bahr/Getty Images
The Seattle Seahawks have put together one of the most dominant defenses in the league. They have done so with a secondary that matches skill, speed and enormous size. Their young corners have taken over, leaving a veteran like Marcus Trufant out in the cold.
The Bears don't need any starters. Charles Tillman and Tim Jennings have those positions on lock down. They could use a nickel corner but might find a young player in the draft to fill that need. Trufant would be a nice rotational veteran who can fill in when needed.
Trufant is a former Pro Bowl player who still has plenty in the tank. He would be an upgrade over Kelvin Hayden and D.J. Moore.
Safety, Nate Clements
Nate Clements
Larry French/Getty Images
Safety is another position the Bears are pretty solid at. Major Wright played a full season and Chris Conte has provided stability in the back end of the defense. They also will get rookie Brandon Hardin back from an injury that knocked him out in the preseason last year.
Should the Bears choose to find some depth at safety, they will most likely go the veteran route. Nate Clements is a 12-year veteran who has played every role in the secondary in his career and has seen it all. He won't provide you with much, but could be a nice fill in for any players due to injuries or fatigue.
Kicker/Punter, Shane Lechler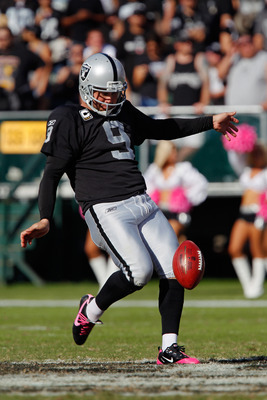 Shane Lechler
Brian Bahr/Getty Images
No need for a kicker or punter. Robbie Gould will be back after injury and Adam Podlesh rebounded to have a nice second half of the season. Still, if the team is not overly excited about Podlesh, then one of the league's best punters is on the market.
Shane Lechler is a seven-time Pro Bowl player with the Oakland Raiders. Again, don't expect the Bears to make a change here, but if they entertain the idea, then they might as well aim high.
Keep Reading

Chicago Bears: Like this team?