Pros and Cons of New Orleans Hornets Trading or Keeping Eric Gordon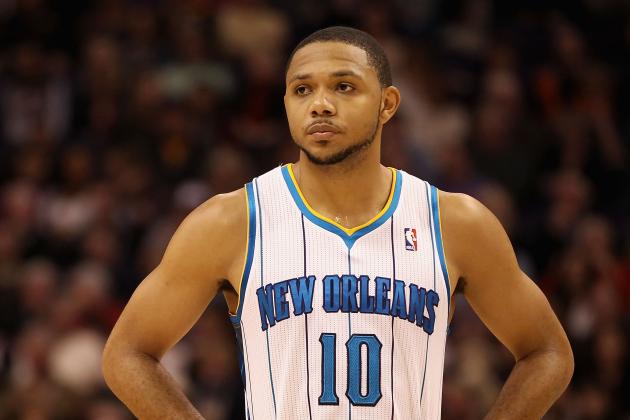 Christian Petersen/Getty Images

Now that Eric Gordon is back from injury, the New Orleans Hornets must weigh their options as to what to do with their star player. Do they trade away their talented-yet-brittle shooting guard or take the chance that Gordon can stay healthy enough for the team to build around him?
Gordon made his triumphant return on December 29 after missing the first 29 games of the season with a knee injury. It was the same troublesome knee that kept Gordon out of all but nine games of last year's abbreviated season.
In his season debut, Gordon showed off the skills that convinced the Hornets he was worth matching the four-year, $58 million offer the Suns made to him over the summer. He came off the bench and lit up the Charlotte Bobcats for 24 points and seven assists. He also added two steals for good measure.
The former Indiana Hoosier standout showed no signs of being hampered by his bum knee. He was aggressive attacking the basket, notching 14 trips to the free throw line. He nailed a pair of threes and, most importantly, played 25 minutes without any setbacks.
Those were the positives. But can the Hornets continue to place their future in the hands of a guy who has played all of 11 games for the team in the past season and a half? With a postseason visit next-to-impossible this season, the Hornets must look ahead to upcoming seasons and how Gordon figures into those plans.
A case can be made for trading or for keeping the centerpiece to last year's Chris Paul trade. It is time to take a look at the pros and cons of both of those routes and come to a conclusion on what's best for the Hornets.
Begin Slideshow

»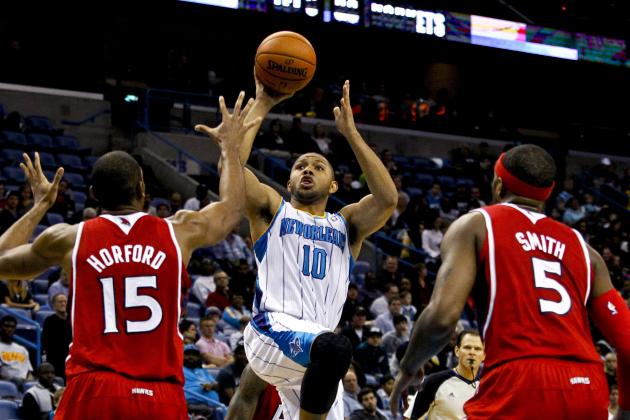 Derick Hingle-US PRESSWIRE

With Eric Gordon back, the New Orleans Hornets can pair him with forwards Ryan Anderson and Anthony Davis to give the team a trio of young stars to build around. Anderson leads all Hornets in scoring at 17.5 points per game and leads the league in three-point attempts. He is quietly having an All-Star caliber season.
Davis has had his share of injuries, resulting in some missed time, but when he's on the court he's been one of the team's bright spots. He leads the team in rebounds (8.7 per game) and blocked shots (averaging two a night). He's also progressing offensively, scoring 14.1 points per game.
When healthy, Gordon is the team's best offensive weapon. He's a dynamic scorer as adept at attacking the basket as he is draining shots from long range. While his numbers are skewed by playing just two games so far this season, his 17.5 points per game is the kind of offensive outburst the team had been hoping for.
Together, Davis, Gordon and Anderson make up the team's top three scorers. It also gives the team a nucleus of under-25-year-old stars signed to the team long-term. When you add in reigning Western Conference Player of the Week Greivis Vasquez (25 years old) and emerging center Robin Lopez (24), the Hornets have an excellent young core.
As good as Davis and Anderson have been, the team was 6-23 in Gordon's absence. Gordon's presence takes pressure off Anderson and the shooting ability of both men opens things up for Davis inside. As the Hornets' best player, Gordon is an integral part to the team's big picture.
That would be a tough void to fill if the Hornets opted to move him.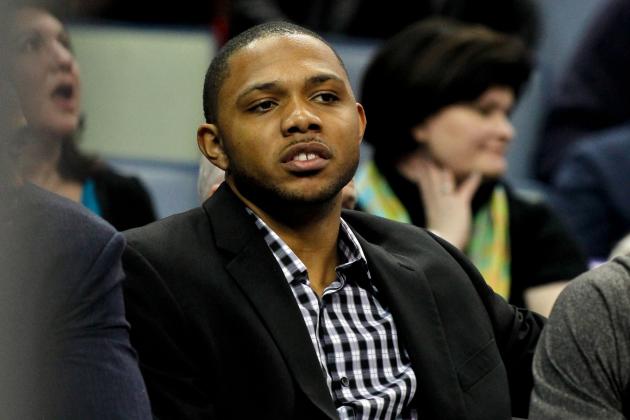 Derick E. Hingle-USA TODAY Sports

There had to be a catch for all of the positive things Eric Gordon brings to the table for New Orleans. Talented as the 24-year-old two-guard is, his body has proven to be made of paper mache.
Gordon has yet to play a full season in his entire career. He's missed 136 games in a little over four years in the NBA. He has played only 11 games for the team since coming over from the Clippers last December.
There's a huge risk in continuing to depend on someone who can't keep himself off the trainer's table. The team will pay Gordon between $14-15 million annually over the next four years to be one of the faces of the franchise. That's a lot of money to invest in an oft-injured guard whose game is predicated on athleticism, on attacking the basket and being an excellent jumper.
Knee troubles derailed the career of former Trail Blazers All-Star Brandon Roy. Gilbert Arenas was never the same after his knee problems, and it ended up costing the Washington Wizards big-time. The constant abuse Vince Carter received from routinely driving to the basket took so much of a toll that he's become more of a shooter in the latter stages of his career.
While the knee has been the main source of trouble during his Hornets career, it isn't the only injury Gordon has suffered as a pro. His tenure with the Clippers was marred by issues from his hamstrings to his wrist.
By sticking with Gordon, the team is rolling the dice that he can stay healthy and be the star they are paying him to be. That's a big gamble that could set a young, rebuilding team like the Hornets back if Gordon's nagging injuries continue to be an issue.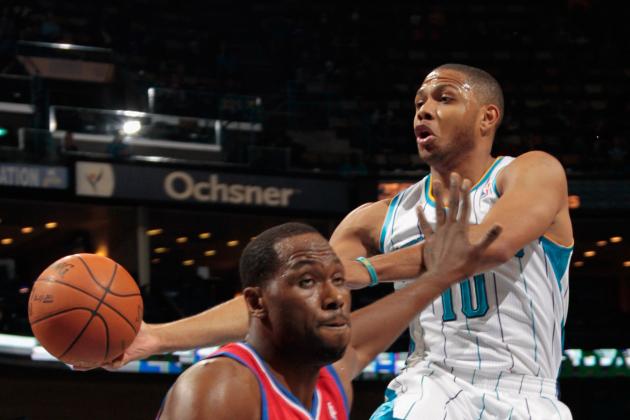 Chris Graythen/Getty Images

To counter the risk mentioned in the previous slide, the Hornets could deal Eric Gordon in a trade for an expiring contract or for lesser parts that won't absorb so much of the team's cap space. There is a precedent in the team's history in this type of situation.
Back in 2005, the Hornets traded away talented-yet-oft-injured guard Baron Davis for a pair of expiring contracts in Dale Davis and Speedy Claxton. Davis' battles with the coaching staff and inability to stay healthy made him too risky to keep on the team, so they moved him to Golden State for below market value.
The same could happen with Gordon. In a previous article, I pitched the idea of the Hornets trading Gordon to the Milwaukee Bucks for guard Monta Ellis, who can opt out this summer. The deal would rid the Hornets of Gordon's contract, while also netting them almost nothing in exchange for their best player.
It's a tough trade to try to sell to Hornets fans, especially after seeing franchise point guard Chris Paul head to Los Angeles last year. However, the Hornets took a big risk investing so much money in a player so lacking in durability.
If injuries continue to sideline the star guard, the team will end up losing money and games anyway. Now that Gordon is healthy again, the team can use this bit of good fortune as a way to showcase their best player to other teams.
If Gordon can stay healthy and continue to flash the potential that made him a franchise cornerstone, the team has a chance of finding a suitor for their $58 million man. It's a decision that could blow up in New Orleans' face but, then again, so could putting so many eggs in such a fragile basket.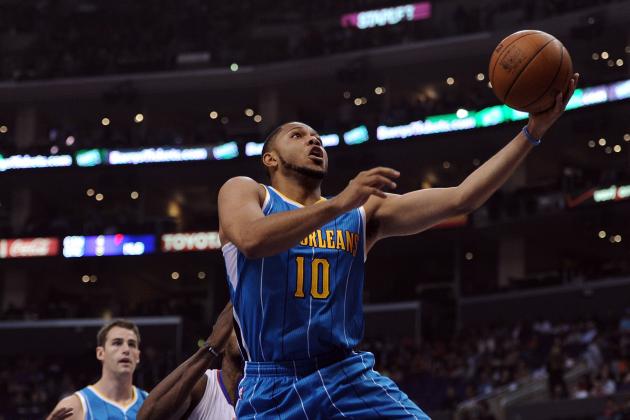 Harry How/Getty Images

Given Eric Gordon's injury history, the Hornets have very little chance of getting fair value for a player who could be one of the best at his position when healthy. After all, if the Gordon gamble didn't work out for the Hornets, what would compel other teams to give up premium talent in the event things would go any differently for them?
The motivation to move Gordon's contract, given his unreliability, is understandable. However, if the Hornets can't get a fair deal for their oft-injured guard, what would be the point in moving him? The cap space opened up by eliminating Gordon's deal from the payroll only makes sense if the team can use that money to find a suitable replacement.
How many marquee free agents are going to line up to play for a franchise that has currently won 29 games in the past season and a half? Anthony Davis and Ryan Anderson are nice building blocks, but are they enough to lure a guy like Stephen Curry or Al Jefferson to New Orleans? Doubtful.
Plus, by trading away Gordon after a little over one season, the Hornets would essentially be stamping the Chris Paul trade as a bust. Center Chris Kaman is currently in Dallas. Small forward Al-Farouq Aminu lost his starting job to Lance Thomas. Austin Rivers, whom the team drafted with the first-round pick it acquired from Los Angeles, has been off to a slow start.
With Gordon out of the picture, the Hornets would have gotten less in return for CP3 than they would be getting for their current best player. Even a trade of evenly talented players, such as dealing Gordon to Indiana for small forward Danny Granger, wouldn't be worth doing for New Orleans.
If the Hornets can get a potential star in return for Gordon as it did for Paul, then making a trade makes sense. But such a deal is unlikely so long as Gordon proves to be physically unstable. It would also hurt the Hornets from a PR standpoint if Gordon manages to stay healthy with his new team and lives up to his potential.
Ezra Shaw/Getty Images

The Hornets used the No. 10 overall pick in the 2012 NBA Draft on Duke guard Austin Rivers as a way to both bolster the team's offense and have an insurance policy in the event something happens to Eric Gordon.
As it stands, that plan went 0-for-2. Rivers is scoring 7.4 points per game and shooting 34 percent from the field. By the end of the first month of the season, the team replaced the rookie with veteran Roger Mason Jr. as Gordon's temporary fill-in.
Rivers' struggles can be attributed to a number of causes. However, if there's one thing that could help the former Blue Devil, it would be spending time watching Eric Gordon now that he's finally on the court. From a style standpoint, Rivers is a poor man's version of Gordon.
Both men are solid shooters who also like to attack the basket. Rivers hasn't been as successful doing either in the pros as he was in college, but there is still time to salvage the pick. Rivers is only 20 years old. He has plenty of room to grow, and it can only work to his benefit to accept pointers from one of the best young scorers in the game.
As disappointed as Gordon may have been in the offseason over Rivers' arrival, he would be taking a large step in endearing himself to fans and becoming a leader by mentoring the rookie. If Gordon's tutelage leads to Rivers living up to his potential, everyone comes away winners.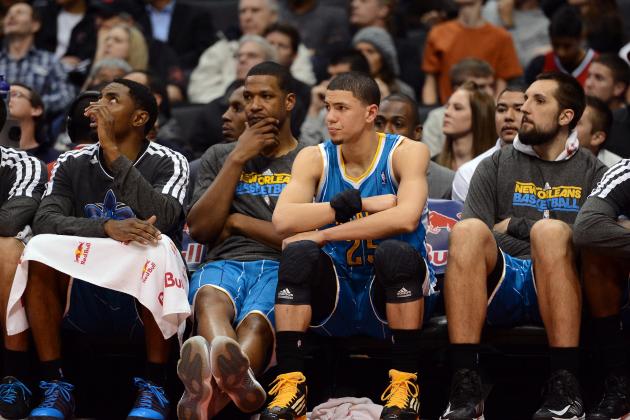 Harry How/Getty Images

As long as Eric Gordon is the starting shooting guard for the New Orleans Hornets, Austin Rivers won't be much more than the team's sixth man. The team flirted with the idea of turning Rivers into a point guard, but the emergence of Greivis Vasquez diminishes that need.
If Rivers can't be the team's starting shooting guard or the team's starting point guard, that means the team spent a lottery pick on a scorer off the bench. In fairness, there aren't too many who can say they saw this Vasquez breakout season coming. Plus, it is unlikely Gordon will stay healthy enough to keep Rivers on the bench for the rest of his career in New Orleans.
Still, the presence of those two veterans will dip into Rivers' playing time. Even if Rivers steps his game up, there's no way the team plays him over Gordon, and he'd have to make serious strides as a facilitator to justify playing him over Vasquez.
It's too early to call Rivers a bust, but the early results aren't promising. There's still time for Rivers to turn things around, but he faces an uphill battle for minutes with guys like Gordon, Vasquez, Brian Roberts and Roger Mason Jr. on the roster.
If the team moves Gordon, Rivers' only real competition for playing time becomes Mason Jr. The aging veteran is a free agent at the end of the season, which means the starting job would be Rivers' to lose next season.
However, if Gordon stays, Rivers' role is reduced to being the team's bench ace. Granted, that role worked out well for Manu Ginobili in San Antonio, but some people aren't as comfortable taking the back seat.
Rivers could still see some time playing alongside Gordon, but his future will always be hampered by the former Clipper's presence. The Rivers pick will only make sense if he either lives up to his potential or replaces Gordon in the lineup.
Right now, the Hornets have whiffed on both counts.
USA TODAY Sports

While getting market value for Eric Gordon is unlikely, the Hornets could use a trade to fill multiple holes. The team has a gaping hole at small forward, where nobody from the Lance Thomas/Darius Miller/Al-Farouq Aminu triumvirate has stepped up.
A deal for a package of lesser players may hurt the team from an overall talent standpoint, but it would round out the starting lineup nicely. If the team can get, say, DeMar DeRozan and Landry Fields from Toronto, the team would be splitting Gordon into two decent starters. They may not possess Gordon's talent individually, but the cumulative value would give the team more balance.
Gordon is a potential star and, as long as he's on the court, the Hornets have a bright future. The downside is that if Gordon goes down, a huge chunk of the team's overall talent goes down with him. By dealing him for what would be essentially spare parts, the team wouldn't take the chance of investing too much into one player.
A trade for two decent starters and draft picks could help the team in the long run. It avoids the suspense of wondering if Gordon can be relied upon for an 82-game season (not including playoffs, assuming a healthy Gordon can get the Hornets there).
Do you remember when the team traded Alonzo Mourning to Miami in 1995? They didn't get a dominant big man in return, but they managed to get back a solid small forward in Glen Rice while also acquiring a suitable replacement at center in Matt Geiger.
A similar addition-by-subtraction strategy could take place with Eric Gordon, and it might pay off for the Hornets the same way the Mourning trade did.
Jeff Gross/Getty Images

After going 21-45 last season, GM Dell Demps took a sledgehammer to the infrastructure of this Hornets team. The result was a 2012-13 squad that saw six players return from last year. One of those six was Eric Gordon, a guy who hasn't been able to develop a connection with his teammates thanks to injuries.
By trading Gordon, the Hornets would be destroying all of the chemistry that this season's team has built. The team has waited patiently for Gordon to return, so that he could get accustomed to those around him. The wait would end up being for naught if they trade Gordon after only a couple games back.
As much time as writers and fans spend talking up offseason moves and the building of "super teams," the key to winning in the NBA is developing chemistry. It took Miami a second season of "The Big Three" playing together before they found their comfort zone. The Boston Celtics, meanwhile, found their groove early after Kevin Garnett and Ray Allen joined the team.
The Hornets are a work in progress, an unfinished product still trying to find its way in the pros. Demps made some savvy moves over the summer in an attempt to build a Hornets team with promise and potential.
He got lucky when he picked up Robin Lopez, while the jury is still out on Austin Rivers. The biggest move Demps made was bringing back Eric Gordon. Demps made Gordon's return a priority, and he clearly had enough faith in Gordon's talent to match such an expensive offer.
For him to give up on Gordon now would mean a return to the drawing board. The team would have to assimilate more new teammates while hoping that someone can fill the promise left by Gordon's absence.
It is important, especially for a young team like New Orleans, that everyone be on the same page. A major move like trading Eric Gordon would disrupt the order and derail a team that is trying to progress.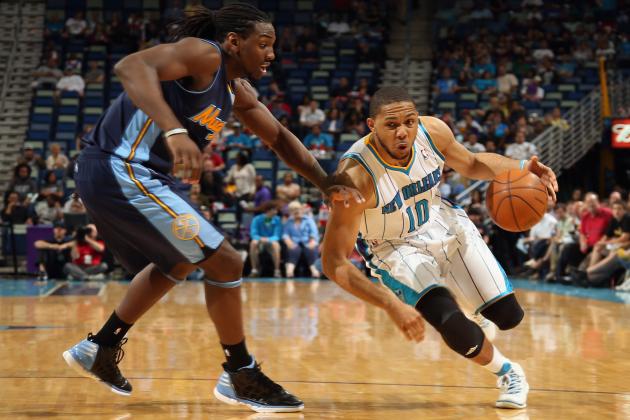 Chris Graythen/Getty Images

The Eric Gordon era in New Orleans has gotten off to a rocky start, but it is important that the Hornets see this experiment through. Nobody the team would get in return for Gordon is going to make this team exponentially better.
Is relying on Gordon to stay healthy a huge risk? Absolutely, but the team knew Gordon's reputation before they decided to match Phoenix's offer. The Hornets made their bed with this Gordon deal. The time has come for them to sleep in it.
The potential of a Gordon-Anthony Davis-Ryan Anderson trio far outweighs the risk of hanging on to the oft-injured guard. Franchises dream of having a core of three rising stars like the Hornets have with those three players. GM Dell Demps has also done an excellent job in supporting that core with great finds like Greivis Vasquez and Robin Lopez.
There's a chance that Gordon's injury woes are behind him. While unlikely, it's the kind of optimistic outlook the team needs to take going forward. When healthy, Gordon is one of the best young shooting guards in the league. He brings an element to this offense that the Hornets would find tough to replace.
The team can't afford to start over by giving up on Gordon now. This season has been a disappointment, but all is not lost. If Gordon can stay healthy and help develop Austin Rivers, the Hornets can enter next season much stronger than they were this year.
It's a huge gamble, but a healthy Eric Gordon is worth more to the Hornets' future than anything it could possibly get in return.