L.A. Lakers Stock Watch: Players Rising and Falling Near Season's Halfway Point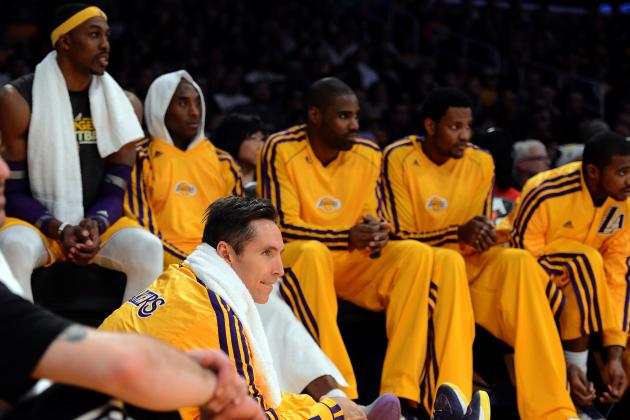 Harry How/Getty Images

The season's halfway mark is rapidly approaching and the Los Angeles Lakers are struggling, there's really no denying that.
The team is currently 15-16 and the 10th seed in the Western Conference. Not exactly the superteam Metta World Peace predicted back before the season started.
The inconsistency shown in that sub-.500 record has frustrated Laker fans across the NBA world and has trickled down to the players.
Some players like Steve Nash have steered clear of that inconsistency and are on the upward trend.
Others, like Pau Gasol, have been the subject of that inconsistency and are on the downward trend.
Read on to see which players are seeing their stock rising and which see their stock falling as the season's halfway point nears.
Begin Slideshow

»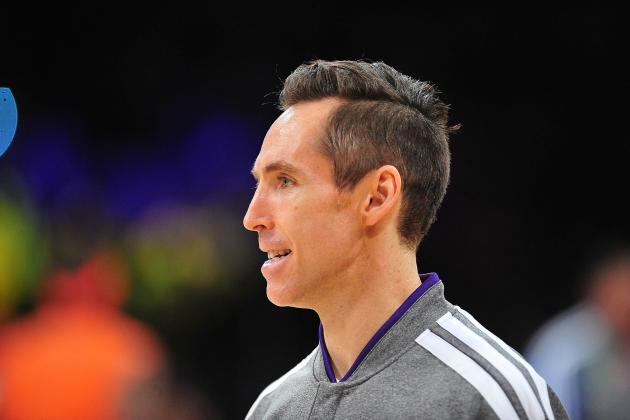 Gary A. Vasquez-USA TODAY Sports
Steve Nash is finally back to run the Lake Show
Steve Nash returned late December from a serious leg injury, and the Los Angeles Lakers couldn't have asked for a better Christmas present.
In his five games since returning, Nash is averaging 12.2 PPG, 9.6 APG, 2.8 RPG and is shooting 58.7 percent from the field.
In other words, Nash is performing exactly how the Lakers envisioned he would once they traded for him this offseason.
The offense is running much smoother through Nash, and the team has won three out of five games since Nash returned.
With the second half of the year looming, Nash is ready to prove he can still hang with the elite point guards of the NBA.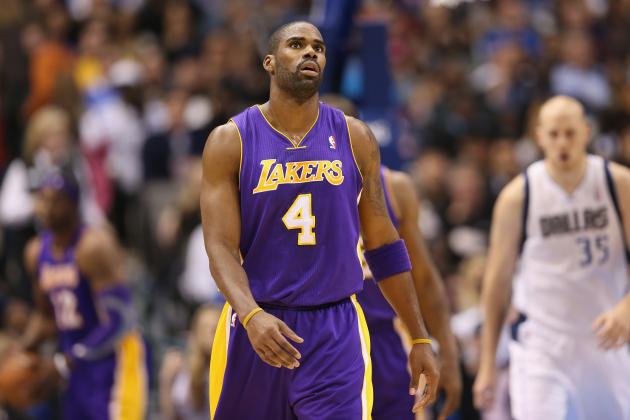 Ronald Martinez/Getty Images
The Antawn Jamison struggle face
Antawn Jamison was supposed to be a notable offseason addition to a lackluster Los Angeles bench.
However, lately Jamison has spent more time on the bench than off it.
He has fallen out of favor with coach Mike D'Antoni, hasn't played in five consecutive games and is seemingly stuck on the end of the Laker bench for the long haul.
This is not the role Jamison envisioned he would have on the Lakers, and as a result, he's trending in the wrong direction.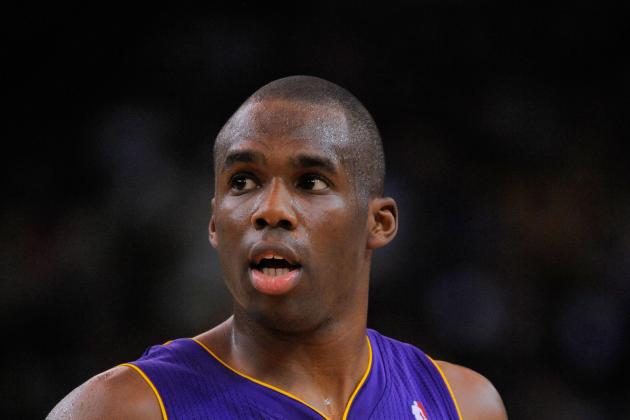 USA TODAY Sports
Jodie Meeks is a key bench player for the shooting-deprived Los Angeles Lakers
Jodie Meeks started out the season by performing inconsistently under Mike Brown and didn't play more then 16 minutes in any game under Brown.
Once Mike D'Antoni was hired, Meeks saw a considerable increase in minutes and rode that momentum to a successful December.
Meeks has the kind of shooting stroke that Mike D'Antoni values a great deal and played under 20 minutes in only two games during December.
As long as D'Antoni is the head coach of the Los Angeles Lakers, Meeks will have value.
As the season's halfway point approaches, Meeks is a rare L.A. bench player trending the right way.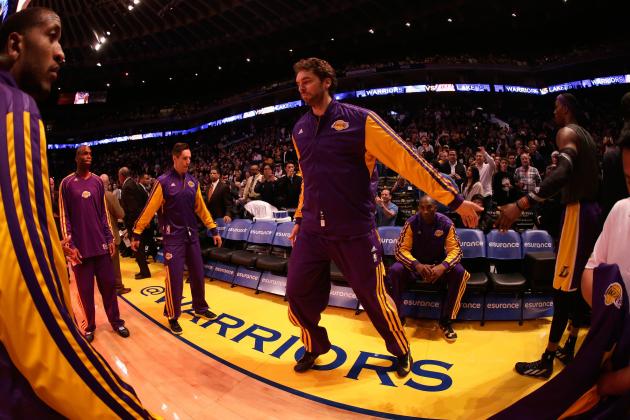 Ezra Shaw/Getty Images
Pau Gasol is trending in the wrong direction
Pau Gasol's frustrating season has been well-documented throughout NBA circles, and the trade winds have begun to brew, even though the Los Angeles Lakers have shot down several possible trades.
Gasol is versatile and skilled enough to fit in almost any NBA offense but has struggled to find his place in Mike D'Antoni's perimeter-based offense.
In D'Antoni's offense, Gasol has been forced further and further away from the basket and hasn't been able to contribute a consistent offensive game.
Combine that with a troublesome bout with tendinitis in his knees and the season has been forgettable for Gasol.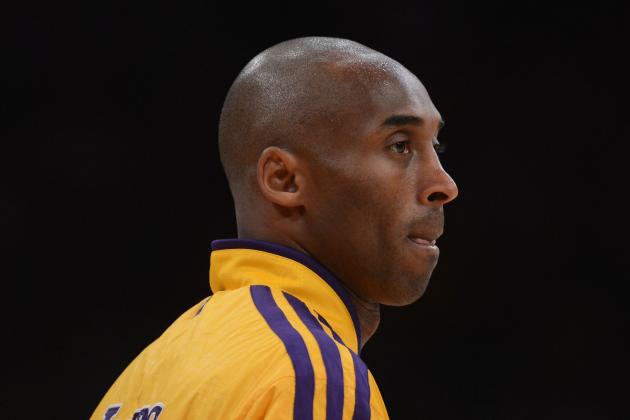 Harry How/Getty Images
Kobe Bryant is getting stronger as the season advances
Can Kobe Bryant get any better? Apparently so.
Kobe has been playing at an extremely high level throughout the season but raised the bar on himself with his play during the month of December.
During December, Kobe averaged a league-leading 33.8 PPG and 40.6 MPG in what was a truly dominant month for the Black Mamba.
The NBA's leading scorer has carried the load for a struggling Los Angeles squad, all the while increasing his stock to among the highest in the league.
As the second half of the season approaches, nobody in the NBA is hotter than Kobe Bryant.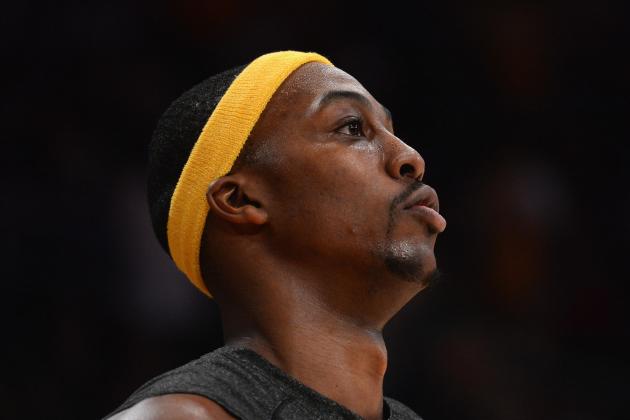 Harry How/Getty Images
Dwight Howard does not seem himself
Dwight Howard was the biggest offseason acquisition for the Los Angeles Lakers but came with plenty of red flags.
Chief among those red flags were serious concerns about his ailing back, and those concerns have emerged again as Dwight has said he's still not 100 percent.
His per-game averages show he is clearly the NBA's best center, but they aren't what we've been accustomed to from Howard.
He has struggled to adapt to playing second fiddle to Kobe Bryant, and as his production shows, it's obvious his health is an issue.
As the season's halfway point approaches, Dwight Howard is subject to a slight decrease in his stock.