5 Biggest Draft Needs for the Dallas Cowboys
Ronald Martinez/Getty Images
DeMarcus Ware needs help defensively....and fast !
Now that Cowboys Nation has received their annual December kick in the groin, building the 2013 roster and the plan that accompanies it will become the center of the universe. With season after season ending in disappointing fashion, the Cowboys will enter a critical stage of the Jason Garrett era.
While many felt that this year's storyline would end differently, the Cowboys were unable to overcome a multitude of injuries, inconsistent play and numerous mental mistakes. Back-to-back 8-8 seasons is all you need to know when it comes to how much this team really needs to improve.
There really is just no masking the problem when it comes to a lack of progress, but this team has failed to make the playoffs since 2009. And when you watch rookies like RGIII, Andrew Luck and Russell Wilson have such immediate success while heading to the postseason, the disappointment manifests even more.
Are the Cowboys really that far off? What is preventing them from getting over the proverbial hump? Is it talent? Chemistry and scheme? Leadership? The answer is probably a dash of everything, but statistics don't lie, people do. And Jerry Jones needs to be honest with himself in assessing and building this team going forward.
There are numerous needs, depth concerns and issues with a roster that possesses a solid core of young talent, but it needs solidifying. The first part of any plan that will help the Dallas Cowboys starts with identifying needs. With little salary cap room available and major decisions ahead for Jones, the Cowboys will need to hit some home runs in the draft.
The future depends on it. Let's take a look at the prioritization of those needs.
Begin Slideshow

»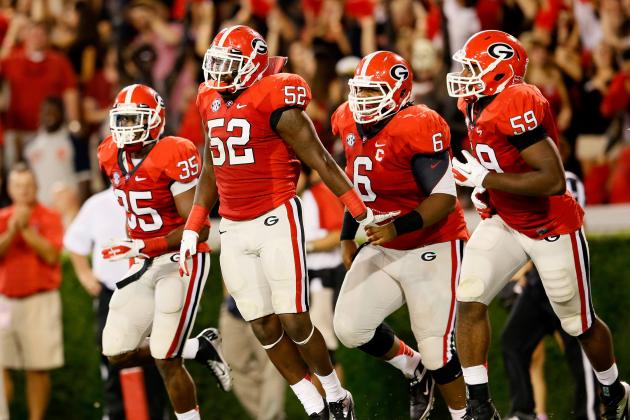 Kevin C. Cox/Getty Images

Up until now, the overwhelming consensus was that the need to upgrade the offensive line would be paramount. Addressing the offensive line still is an urgent priority, but what I saw in the finale against the Redskins changed everything in a second for numerous reasons.
Putting the defensive injury situation aside, the Cowboys need to make significant improvements to this defensive line. For the foreseeable future, Dallas has to deal with RGIII, Eli Manning, Alfred Morris, Ahmad Bradshaw, David Wilson and LeSean McCoy. The Cowboys need to be stout against the run and able to put significant pressure on the quarterback.
Currently the Cowboys defensive line depth chart consists of Marcus Spears, Tyrone Crawford, Sean Lissemore, Jay Ratliff, Jason Hatcher, Robert Callaway, Brian Schaefering, Ben Bass, Kenyon Coleman and Josh Brent.
It's hard to speak for other teams, but this unit is not scaring anybody. The Cowboys defensive line finished the 2012 season with a combined 7.5 sacks, and that simply isn't good enough anymore. Although the absence of Ratliff and Brent was visibly felt, this unit was completely shredded while defending the run, and the pressure was way too inconsistent.
This unit needs a new direction, more size and strength and an infusion of talent. There is existing talent, but overall it's a mix-and-match collection of players that lacks an identity. From the existing group, players like Hatcher, Crawford, Lissemore and Ratliff should be in the plans for 2013, but it's time to add some serious beef to this unit, as well as talent.
Sam Montgomery, John Jenkins, Sheldon Richardson, Star Lotulelei and Damontre Moore would all be welcome additions.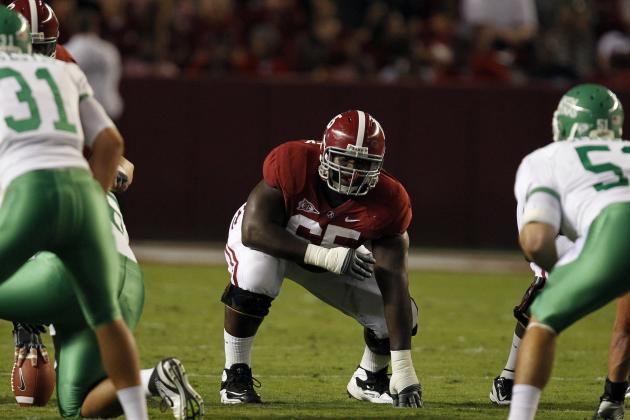 Butch Dill/Getty Images

The offensive line has seen its share of ups and downs this year. Protection has been inconsistent for most of the year. Doug Free wound up in a right tackle platoon with Jeremy Parnell, and the unit as a whole was average. If the Cowboys are going to become a perennial Super Bowl contender, their offensive line needs to become elite.
Last season, the Cowboys added free agents Nate Livings and Mackenzy Bernadeau to their existing unit, as well as coach Bill Callahan. With a different salary cap situation for 2013, the Cowboys will absolutely have to address this area in the draft. The interior line needs the most attention, and now tackle has become a priority as well.
Signing Branden Albert or Jermon Bushrod would be ideal, but that's all contingent on financial flexibility. Selecting offensive linemen aren't exactly flash picks, but the time for messing around is over. The Cowboys have a great running back in DeMarco Murray, and it's time to elevate this running game to maximize this offense.
The Cowboys need to make a decision on Free, they need to improve the quality of the depth and find out about players like Kevin Kowalski, David Arkin and Phil Costa.
Barrett Jones, Jonathan Cooper, Chance Warmack, Eric Fisher and Ricky Wagner are some names that the Cowboys need to target.
It's a must.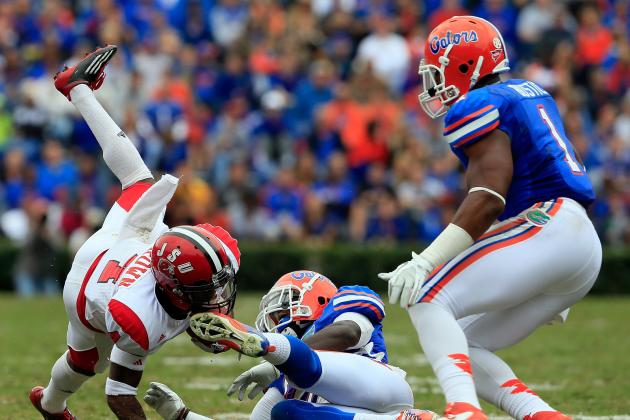 Sam Greenwood/Getty Images

The unfortunate injury to Barry Church opened up an opportunity for Danny McCray. Unfortunately, that is not working out. While McCray is a special teams stud, his play at safety is reminiscent of Keith Davis. Gerald Sensabaugh is a solid starter and he plays through a lot of injuries, but in addition to Church's injury, the Cowboys failed to get a glimpse of Matt Johnson because of his.
When depth became a concern, the Cowboys were forced to sign Charlie Peprah and Eric Frampton during the season. Both players saw significant playing time and could remain in the mix for training camp competition, but the Cowboys could use an upgrade in this area.
When you watch how the Cowboys used their safeties, there was clearly a lack of impact. There were still too many miscommunications, too many blown coverages and too many big plays given up. The Cowboys were very high on Matt Johnson coming out of the draft, but it's hard to evaluate a player who can't get on the field.
Maybe he's the wild card in the equation or maybe he's not, but the Cowboys need an answer. They also need to monitor Church's rehabilitation from his injury. Again, it would be rather difficult to address this need in free agency due to financial constraints, so drafting a safety prospect seems the way to go.
This unit simply needs to create more takeaways, be more assertive and strike a little bit of fear in their opponents. Matt Elam, Kenny Vacarro, Duke Williams and T.J. McDonald represent some intriguing prospects that could help this unit.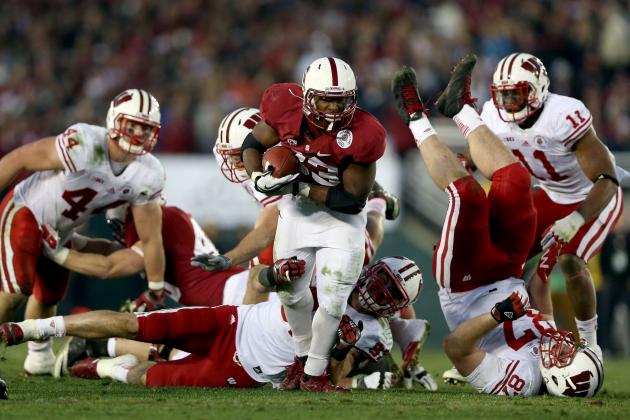 Jeff Gross/Getty Images

The Dallas Cowboys were out-rushed by their opponents 2,003 to 1,256. That statistic not only tells you a lot about the 2012 running game, but it also lets you know that there needs to be a damn good explanation for it—and there is. DeMarco Murray, who is emerging as a great player when healthy, can't stay healthy. Felix Jones, who continues to be an enigma, simply needs to move on.
Behind those two players are undrafted free agents Phillip Tanner and Lance Dunbar. At times Tanner and Dunbar have displayed some ability, but when you're 8-8, it's time to evaluate the position. The Cowboys need a combination of a free-agent addition like Chris Ivory or Peyton Hillis to replace Jones and a draft prospect like Stepfan Taylor, Andre Ellington, Kenjon Barner or Montee Ball on this roster.
The NFL is currently a pass-happy league, but there is still something to be said for a running game. You can see the difference in this offense when Murray is running well, following his blocks and sustaining drives by getting tough yards. This franchise needs to believe that a solid running game will help them get to the top.
It's time to scrap the Felix Jones experiment and let him walk in free agency. It's also time to stop plugging the depth with undrafted free agents. Until Murray can prove that he can hold up over a 16-game schedule, this is the necessary plan of action.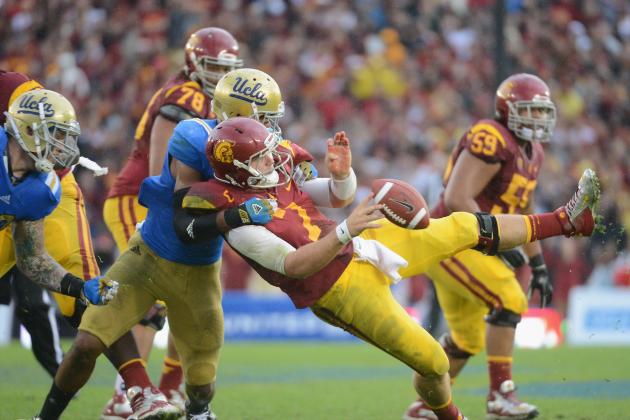 Harry How/Getty Images

Anthony Spencer has enjoyed his most successful season to date. But Spencer will be looking to cash in, and the Cowboys have a major decision to make in the process. They can sign him to a long-term deal, which would make the most sense, or franchise him again. Either way it will cost big money.
The Cowboys also have to prepare for the option of letting him walk voluntarily or simply getting outbid by a team willing to throw a ridiculous amount of money his way. But Spencer isn't the Cowboys' only problem. They will have Sean Lee and Bruce Carter returning from injury, they need to evaluate some existing talent and they need depth.
So in reference to linebacker, both inside and outside have become needs. The Cowboys will continue to run a 3-4 alignment, so this position becomes just as much of a premium as cornerback is. And it's becoming clear that you can never have enough linebackers. Just ask Ernie Sims and Brady Poppinga.
I do believe that Jerry Jones will find a way to keep Spencer, but this unit and this defense could stand to gain another playmaker. DeMarcus Ware will be coming off of two surgeries and he's not getting any younger. Victor Butler, Ernie Sims, Poppinga and Orie Lemon will be free agents so this unit will face some major turnover.
Signing Spencer would take up resources and any additional free-agent signings would have to be of the bargain variety. The best way to attack this area is through the draft. Anthony Barr, Khaseem Greene, Kevin Reddick, Arthur Brown and Shayne Skov are prospects that would be welcome additions.
The Cowboys do have many needs to address with a limited amount of cap space and draft picks. The key is to maximize those resources. You could prioritize the needs any way you want but one thing remains true: The Cowboys need to find great, not good, football players.