FC Barcelona: Grading Tito Vilanova's First Year so Far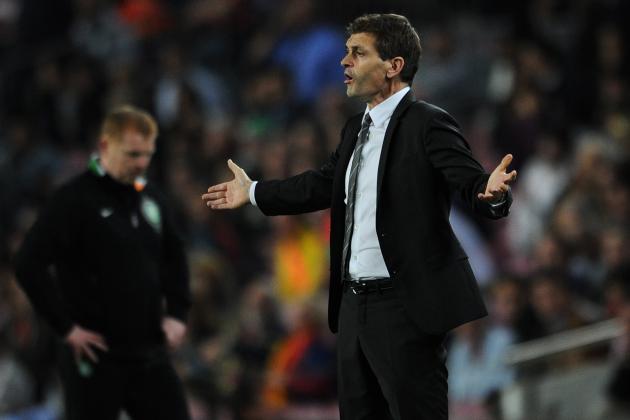 Jasper Juinen/Getty Images

Just this summer Barcelona was dealt a blow when successful manager Pep Guardiola announced he would not be returning to the club. However, his successor was already selected in Tito Vilanova (via fcbarcelona).
Vilanova had been Guardiola's assistant for five years and the duo made a tremendous managerial force that saw Guardiola's Barcelona secure 14 trophies in four seasons.
But, with Guardiola leaving the club as a legend, Vilanova would have a lot to live up to.
The first season under Tito Vilanova is reaching its midway point and much has already been learned. The club no doubt made the right choice in naming their new manager, albeit it may have been their only option.
With 2012 coming to an end, let's take a look at Tito Vilanova's ratings as Barcelona's manager thus far.
Begin Slideshow

»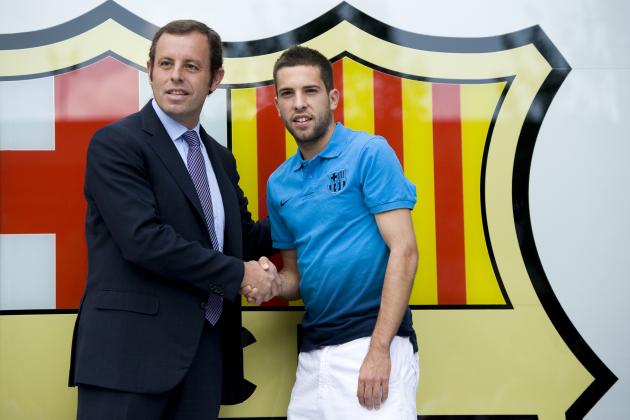 David Ramos/Getty Images

The first obstacle Tito Vilanova faced once he became the new Barcelona manager was the summer transfer window. It is very hard to grade the Catalan boss on his transfer policy, mainly because there is not much to go off just yet.
I gave Vilanova a solid B for two reasons. First, he made a good move in bringing in Jordi Alba who was desperately needed. Secondly, Tito did not make any bad moves. It could have been better, but also a whole lot worse.
Jordi Alba was brought in to replace the aging and recovering Eric Abidal (via Goal).
The young Alba grew up a Catalan in Barcelona's famous La Masia. He has already made his spot his own and will be at the club for many years to come. His pairing with many of his teammates from the Spanish National Team has been nothing short of sublime.
Vilanova did not stop there, though, also making a curious signing in midfielder Alex Song (via dailymail).
Song was brought in to be a strong role-player. He can fill in for Sergio Busquets, as well as slot into the center of the back line. His physical presence is much needed at Barcelona, but perhaps the money could have been better spent.
Many fans believed a new center back should have been bought. But, with Javier Mascherano and two upcoming youth players, Vilanova opted to not replace Carles Puyol just yet.
More time, and more transfer windows, is needed to see the full capacity at which Vilanova can operate. But at this point, he isn't making drastic mistakes and a B is quite fitting.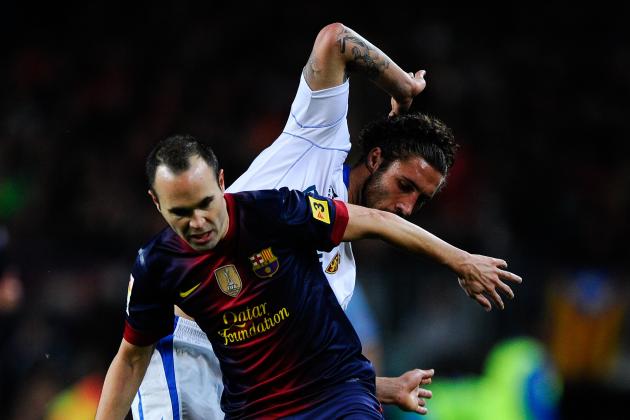 David Ramos/Getty Images

If there is one thing Tito Vilanova has gotten right so far, it is rotating his lineup. At a club like Barcelona, every player is a star who deserves time.
It has to be stated that Tito Vilanova definitely knows his players, not only in football terms, but in a personal way as well.
Vilanova has done a terrific job in not only spreading out playing time but also in making sure he fields a strong side in the process.
Many managers tend to give players time at random, but the lineups that Vilanova puts out seemed to be planned weeks in advance.
Tito has also succeeded in playing players out of position when needed. Whether it be Iniesta on the wing or Adriano—well anywhere—he continues to get the best out of his players.
Rotation also involves more than merely picking a lineup.
Vilanova has been able to keep the close knit atmosphere of the locker room stable as "Mes Que un Club" continues to rule the team above all else. The family aura of Barcelona only gives La Blaugrana further strength as a club.
The fans can always count on Vilanova starting each game with a strong side full of players that have earned the start during the week.
David Ramos/Getty Images

As we all know, Barcelona is a club built from its academy. When choosing the next manager, the club clearly wanted someone familiar with the youth players who was willing to give them plenty of chances.
Tito Vilanova has been exactly that.
He has given plenty of time to Martin Montoya, Thiago, and Cristian Tello, making them practically relied upon. This has been integral in their development, as they continue to get even better.
The only issue has been the case of Marc Bartra. When the club did not purchase a center back this summer, it was thought that Bartra's time to become a starter had come.
Instead, Vilanova has often opted to play Song or Mascherano over the 21-year-old. Bartra must get more playing time to become a regular in the back line, and he has certainly earned the spot. But, Tito may simply be taking precaution not to rush Bartra.
As far as other youth players are concerned, Vilanova has worked wonders.
Ha has taken every chance to give them playing time while also fielding a strong lineup in the process. Instead of fielding a pure B team in unimportant games, the manager has opted to play youth with experience to help grow the young talent.
It is clear that Tito Vilanova wants Barcelon's youth to be the future, and for that he gets a solid B+. He just misses out on an A because of the issue with Bartra.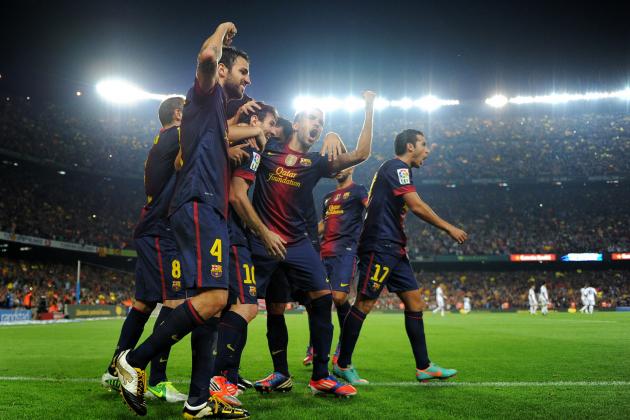 Jasper Juinen/Getty Images

In his short time in charge of Barcelona, Tito Vilanova has already faced quite a few big games. Luckily for him, he has passed with flying colors.
The first of the big games began with the Spanish Supercopa, a competition that Barcelona could have won. The trophy was lost after a 2-1 defeat to Real Madrid, but the score line should not reflect poorly on Tito (via Guardian).
La Blaugrana started the game terribly, but changes made by Vilanova saw the Catalans take control of the game and almost pull off a tremendous comeback.
Vilanova was also instrumental in the huge 4-1 win against Atletico Madrid last week, which saw Barcelona take a resounding nine-point lead in the table (via Goal).
Then there are the games which the result just never seems to be there.
Barcelona was, on multiple occasions, stopped by the opposition. Vilanova was the key in pulling out victories that seemed impossible such as the victory against Sevilla at the beginning of the season. Champions win when they shouldn't; Vilanova is proving that he is a championship-caliber manager.
There are certainly much bigger games ahead for Tito Vilanova, but to this point, he has shown he is capable of handing his team when the pressure is on.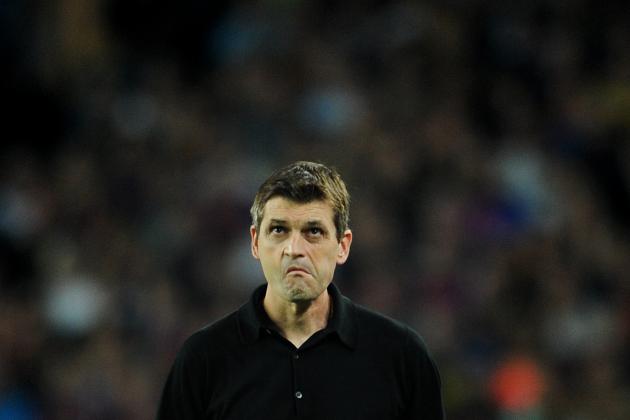 Jasper Juinen/Getty Images

It would be insane to claim that Vilanova has not done a great job with the success he has secured to this point.
Under Tito, Barcelona has set, and continues to extend, the best ever start to a La Liga season (via Goal). La Blaugrana also won their Champions League group and have been lights out in Copa del Rey action.
The entire culmination of Tito Vilanova's work continues to yield outstanding results. Some say "stats don't lie," but for Tito, it may be better to say that results don't lie.
The Catalan boss has innovated Barcelona with new and stronger approaches to their style offensively, while also getting the best out of recently flopping players such as Cesc Fabregas.
One thing is for sure, Tito Vilanova was the right man for the job. We will have to wait to see if he is able to bring in silverware this season, but at this pace, a treble may even be possible.
For his success thus far I give Tito Vilanova a solid A; you cannot ask for better. Nine points ahead in La Liga, 13 points ahead of Real Madrid, great position in Champions League and Copa del Rey—this is what a great manager produces.
Even before Pep Guardiola made his exit official, I was calling for the job to go to Tito Vilanova. I must say that he has not failed to impress, and I personally hope he stays at Barcelona for many years to come.
But the honeymoon is over. Now the real test starts.
What do you think of Tito Vilanova's job thus far? How well can Barcelona finish this season? Don't forget to leave your comments and opinions below!
Tre' Atkinson, The Catalan Blood of Bleacher Report. Follow @TreAtkinson
Also, check out my latest articles here:
A Look at the Issue between Barcelona and David Villa
Thoughts on Barcelona's shaky win over Cordoba