How Cowboys Stadium Has Given Dallas a Home Field Disadvantage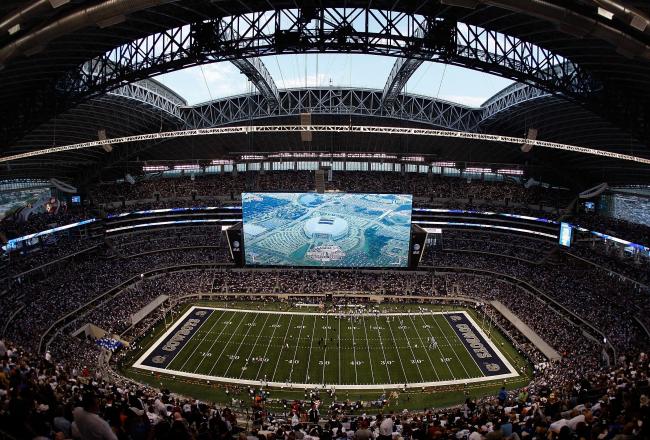 Ronald Martinez/Getty Images
Jerry Jones and the Dallas Cowboys unveiled Cowboys Stadium in 2009, with hopes of giving the Cowboys a monstrous home field advantage for decades to come.
The $1.3 billion palace came equipped with enough sideshows to satisfy a circus, and even included the world's largest HD screen (at the time).
Things started off on the right foot. In 2009, the Wade Phillips-led Cowboys kicked off the stadium's inaugural season in style, posting a 7-1 home record, and even winning a playoff game for good measure.
That's about where the good news ended.
After 2009, the Cowboys have been a deflating 9-11 at their home base, and Eli Manning's New York Giants sport a perfect 4-0 record in the dome.
But 2012 has been especially hard to watch.
It began with a squeaker of a win over the Tampa Bay Buccaneers, and was followed up by an absolutely embarrassing loss to the Chicago Bears the following Monday.
Eli scooped up win number four a month later, and last week, the Cowboys needed overtime to claw past the Browns (after being shut out in the first half).
The games against the Bears and Giants especially stood out. In what should have been two of the biggest games on the Cowboys schedule, the home crowd was seemingly nowhere to be found.
The stadium was so darn quiet when the Bears offense took the field that it became hard to tell who the home team actually was.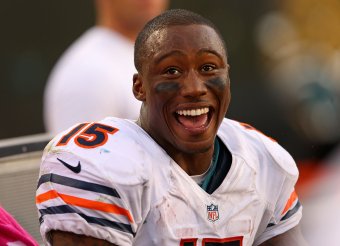 Brandon Marshall's comfort level in Cowboys Stadium may help explain his 7 catch 138 yard performance against Dallas earlier this season.
Mike Ehrmann/Getty Images
And the Bears players took notice.
As reported by Darin Gantt of NBCSports, Brandon Marshall tweeted that the Monday night contest "felt like a home game" and fellow teammate Charles Woodson commented: "Cowboys Stadium felt like Soldier Field with all of the Bears fans."
No kidding.
The Giants game wasn't any better. After spotting the G-Men a 23-0 lead, the only thing that could be heard above of the ongoing chorus of: "Cruuuuuuzzzzz" from the Giants crowd, was the equally enthusiastic: "Booooooooo" from the Cowboys (un)faithful.
It was the loudest that Cowboys fans had been all year.
Jason Hatcher tried to downplay the apparent absence of fans, noting that it doesn't matter if "you can hear a cricket farting, we (the Cowboys) just got to go out there and do what we got to do."
But Jason, isn't that easier to accomplish when you have some home support?
Or at least fans who would cheer louder than a farting cricket, perhaps?
Just ask Seattle if it helps to have a supportive fan base. The Seahawks and their famed 12th man are 5-0 at home this season, with wins over the New England Patriots, Green Bay Packers, Minnesota Vikings, New York Jets and the Cowboys themselves.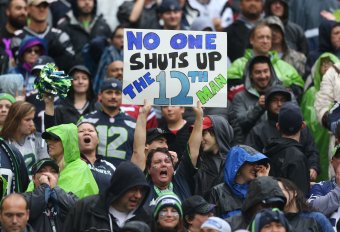 Seahawks fans give their team something the Cowboys don't have—a 12th man.
Otto Greule Jr/Getty Images
But maybe the fans aren't the only ones to blame. Let's see what it costs to attend a Cowboys home game.
First you have the cost of a game ticket. The average price is right around $110, but that number is misleading. Trying to buy tickets through the Cowboys website (the only place to get them at face value) is absolutely futile.
The cheapest seats ($90 for upper deck tickets) are nearly always sold out, and the only option left to buy at face value are the $500+ club seats.
Exactly what a family of four is looking for.
No worries; that's why we have StubHub , right?
Guess again.
When seeking Cowboys seats on StubHub, one can sometimes get lucky enough to scrape together $150 tickets for upper level seating.
Multiply that out, and it equates to $600 for a family of four. About as much as a weekend vacation.
But that's only the beginning; what happens if our family gets hungry?
Home to the most expensive concessions in all the land (everything is bigger in Texas, right?) casual fans find themselves subjected to $5 bottled water, $6 fountain drinks, $10 popcorn, and $60 small pizzas (four slices).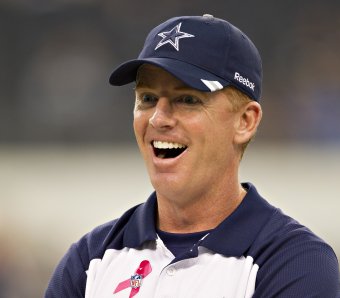 $75 for parking? Jason Garrett can't believe it either.
Wesley Hitt/Getty Images
Ain't nobody got money for that!
Parking, however is the deal-breaker.
How much is it for our family of four to park their vehicle that brought them to the game?
Seventy-five dollars.
That's right. That would be a seven, and a five. $75!?
Fun fact: the Cowboys parking rate is $30 more than any other team in the NFL.
The whole thing is just ridiculous. It's a show, a spectacular circus. Going to games at Cowboys Stadium is no longer about raucously willing the Cowboys to victory; it's about setting up an elegant cocktail party for the rich.
But have it your way, Jerry. Enjoy the palace that will forever be your stamp on the Dallas Cowboys franchise. It's what you always dreamed of, right?
By the way, enjoy the crowds whose tenacity rivals the student section of a high school girl's basketball team—on a good day.
This article is
What is the duplicate article?
Why is this article offensive?
Where is this article plagiarized from?
Why is this article poorly edited?

Dallas Cowboys: Like this team?