NASCAR Power Rankings: Top 20 Drivers Coming out of Phoenix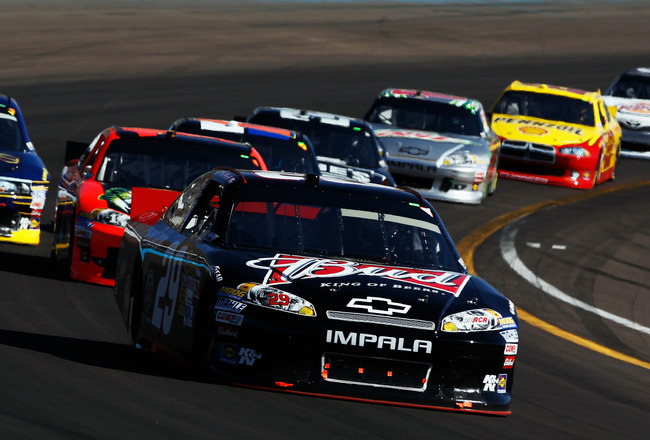 Tom Pennington/Getty Images
Good luck making sense of the end of Sunday's Advocare 500 at Phoenix International Raceway.
The penultimate round of the Sprint Cup season featured two miffed caution calls, a retaliatory wreck that ended in a brawl in the garage, a major swing in championship points, and a potentially lame-duck driver taking his first victory in 14 months. And that was all in the final third of the race.
We head into Homestead with Brad Keselowski having taken the points lead from Jimmie Johnson, Jeff Gordon's fate still in the hands of NASCAR, and plenty to talk about with just about every other driver, too. Without further ado:
1. Brad Keselowski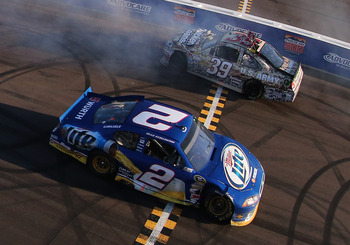 Christian Petersen/Getty Images
Thanks to his ability to avoid trouble, the championship is suddenly Keselowski's to lose. The confidence he felt coming out of Texas, even after Jimmie Johnson stole the victory from him on the final restart, paid off with a sixth place finish.
It wasn't easy, though.
Keselowski had to deal with a slew of Chasers trying to run him down late in the race, as well as avoiding both of the major accidents that happened in the final 10 laps. He actually sustained plenty of right side damage in the wreck coming to the finish, but simply by making it, he holds a 20-point advantage going into the season finale at Homestead.
2. Jimmie Johnson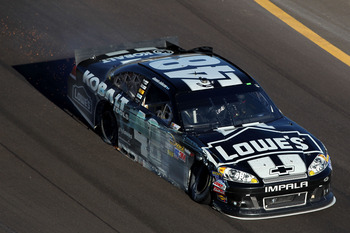 Todd Warshaw/Getty Images
So this is how it ends, probably, for Johnson: a beaded tire, a 32nd place finish and a 27 point swing. Unlike 2010, when he went into Homestead 15 points behind Denny Hamlin, a point effectively means one position on track; in effect, he needs to beat Brad Keselowski by 20 points next Sunday to win the championship.
It's too bad that it had to go this way, because Johnson had been running in the top 10 prior to the accident. He and Keselowski had been setting up to enter the season finale on nearly equal footing, just like Carl Edwards and Tony Stewart last season. Now it'll take a miracle to alter the standings.
3. Kasey Kahne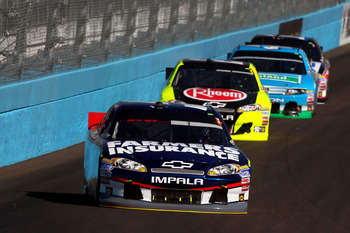 Jonathan Ferrey/Getty Images
The defending November Phoenix race winner had another strong run in this year's event, finishing a strong fourth place when all was said and done. While he wouldn't lead a lap and has been mathematically eliminated from the championship, he also gained a spot in the championship standings to rank third.
All in all, it hasn't been a bad debut season at Hendrick Motorsports for Kahne. Once he made it into the Chase, he really stepped up his game—the 321 points he's scored in the past nine races make him the third best driver in that span.
4. Kyle Busch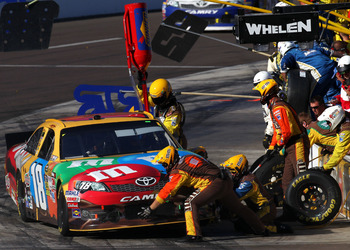 Jonathan Ferrey/Getty Images
Stop me if you've heard this one before—Kyle Busch was dominating a Sprint Cup race until he lost the lead late and couldn't get it back. Sound familiar, Watkins Glen and Dover? Because it happened again at Phoenix.
It's been a rough year for Busch, who missed the Chase, struggled in Nationwide with his own team and has only one win in the three national series this year. But he's got plenty of momentum right now, as he's scored the fourth most points of any driver in the past nine races.
Expect great things next season.
5. Kevin Harvick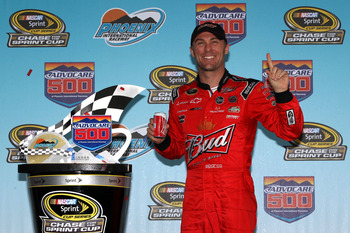 Tyler Barrick/Getty Images
It's safe to say that this was quite the up and down weekend for Harvick and team owner Richard Childress. On Friday, ESPN's Marty Smith reported that Harvick would be leaving RCR in 2014 to drive for good friend Tony Stewart, a report that all sides refused to comment on.
But Sunday was a different story. Starting 19th, Harvick worked his way up through the field to put himself in position to challenge for the win late. He passed Kyle Busch on a lap 305 restart and maintained the lead through a green-white-checkered finish, snapping a winless streak that dated back to Richmond last September.
6. Denny Hamlin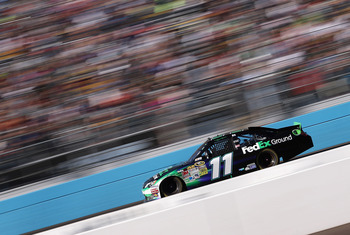 Christian Petersen/Getty Images
Hamlin led 46 laps on the way to a second place finish, his first top five finish of the Chase since his runner-up run at Charlotte. It ended a three-race slide of subpar finishes where his average result was a disappointing 22.0.
While Hamlin is out of the championship hunt, the good news is he's back into the top five in points. He may be 62 points from the championship lead, but third place Kasey Kahne is within reach, only 12 points ahead of him.
7. Clint Bowyer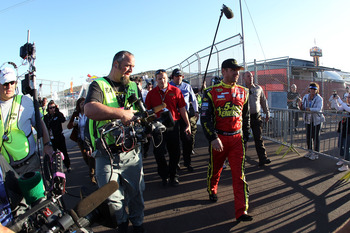 Tyler Barrick/Getty Images
There's not much to say about Bowyer that hasn't already been said more eloquently elsewhere in the media right now, other than that he had a pretty big bum-out of a day. What had been a bona fide top five run turned into 28th place and the loss of one position in the standings.
Of course, Bowyer's lap 311 incident with Jeff Gordon also altered the entire outcome of the race, as well as the highlights package of Monday morning's SportsCenter. Both crews brawled while a fuming Bowyer sprinted into the garage to try and track down Gordon, forcing Hendrick Motorsports employees to restrain him. That's not the greatest way to end your day when poised for a top five finish.
8. Matt Kenseth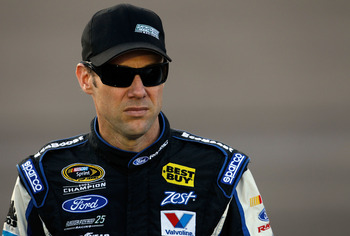 Tom Pennington/Getty Images
Kenseth started 22nd and finished 14th in his second to last race for Roush Fenway Racing. It was a solid if not spectacular performance, one that allowed him to retain sixth place in points going into the season's final race.
Next week represents a turning point in Kenseth's lengthy Sprint Cup career, as he says farewell to the only team that's ever fielded him at this level and replaces Joey Logano at Joe Gibbs Racing. Expect a sentimental farewell, and maybe, just maybe, one more win for the tally.
9. Greg Biffle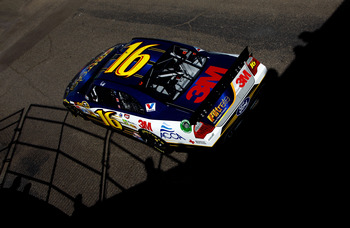 Tom Pennington/Getty Images
It's too bad that Biffle's championship hopes basically eroded in the Chase. It became relatively obvious early in the ten-race playoff that Biffle's best races were behind him, although under the old points system, he would walk into Homestead with a mathematical shot at the title (third in points, 29 behind Keselowski).
That being said, it's not all bad for Biffle right now. He's at least reclaimed a solid spot in the top 10 in points, currently ranking seventh after a seventh place finish at Phoenix on Sunday. He also has a shot to finish the year with a win at Homestead; with three wins there, it's tied with Michigan as his winningest track.
10. Ryan Newman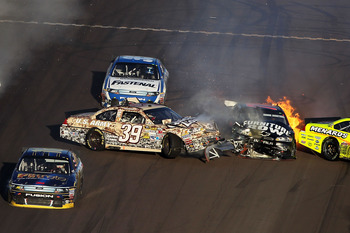 Todd Warshaw/Getty Images
Although he did so while wrecking across the finish line, Newman scored his second top five finish of the Chase by finishing fifth at Phoenix. He also led five laps in the process, scoring his second bonus point in two weeks after seven consecutive weeks without spending any time up front at all.
Newman now ranks 14th in points, battling Carl Edwards for that position in the season finale at Homestead. He may have a tough time holding on, however; while Newman's average finish there is a pedestrian 18.4, Edwards has two wins and seven top-10s in eight starts for an average run of 5.2.
11. Tony Stewart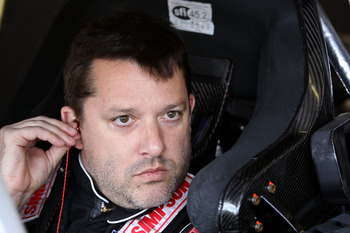 Todd Warshaw/Getty Images
Sunday was a very expensive day for Stewart. A late-race spin left his car disabled and screaming like a banshee as he drove it back to the pits. He would eventually finish 19th, one lap down, and fall to ninth in points.
But it was the last-lap incident that really hurt Stewart's checkbook. Danica Patrick's car had already been limping towards the start-finish line when Ryan Newman spun down the frontstretch behind her. For Stewart and Newman, their cars were only running in their second races apiece; Patrick's car, after significant damage, may be a write-off.
12. Jeff Gordon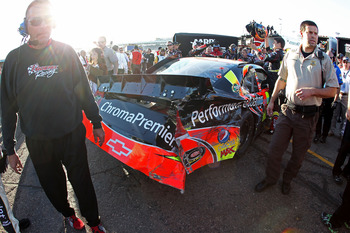 Tyler Barrick/Getty Images
Gordon didn't exactly do himself any favors by choosing to take out Clint Bowyer the way he did on Sunday. Deciding that Bowyer had run him over one too many times this season after their contact cut his tire, Gordon slowed down, ignored a black flag from NASCAR and wrecked both Bowyer and Joey Logano in the process.
The result was a fracas unlike any that we've seen in the sport in years. You know it's bad when four policeman have to stand guard outside of the NASCAR hauler after the race in order to escort Gordon out. Don't be shocked if he gets quite the penalty for his method of retaliation.
13. Joey Logano

Tom Pennington/Getty Images
Logano was the innocent victim of somebody else's mess on Sunday, as the Jeff Gordon-Clint Bowyer incident relegated him to a disappointing 27th place finish (his car is behind the No. 24). He had a strong run going before the accident, in what would have been the fifth top-10 of his Chase.
Frustrated, Logano took to Twitter after the race, expressing a great deal of disappointment with Gordon over the incident. "I'm not disrespecting a four-time champ," Logano claimed. "A four-time champ disrespected me today."
This one may not be over.
14. Dale Earnhardt Jr.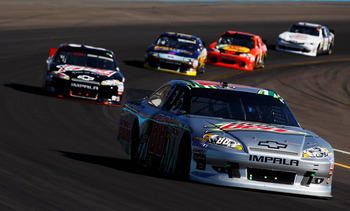 Tom Pennington/Getty Images
Uh-oh.
Earnhardt Jr. is back to the type of mediocre runs that defined his 2009 and 2010 seasons at Hendrick Motorsports. Starting 23rd on Sunday, he fell two laps down and eventually wound up with a 21st place finish.
It may be too early to speculate on whether Earnhardt Jr. is still feeling the long-term effects of his injuries. After all, Hendrick's focus has likely been on getting Jimmie Johnson his sixth title, especially after Earnhardt Jr. missed two races to recover. But don't be surprised if the slump carries at least part of the way into next season.
15. Martin Truex Jr.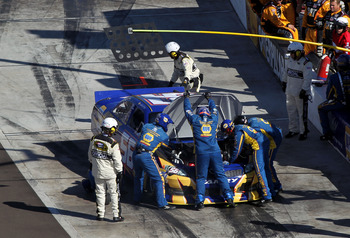 Todd Warshaw/Getty Images
Truex's weekend went pretty poorly with his outside pole run in qualifying negated immediately by an engine failure. After completing only ten laps, Truex finished 43rd and last, dropping three spots in points to 11th place.
While he may not have had as high profile of a bad weekend as teammate Clint Bowyer, it's still true that Truex is outside of the top 10 in points for the first time since the Daytona 500. What had been a lock for the first top-10 championship finish of his career is now 21 points out of his reach. Unless Jeff Gordon is suspended or penalized heavily for his altercation with Bowyer, he may be missing the end-of-season banquet.
16. Kurt Busch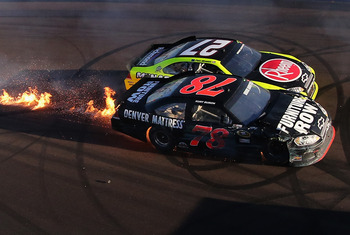 Christian Petersen/Getty Images
Did NASCAR's hottest temper know something about Furniture Row Racing that the rest of us didn't?
After taking two weeks to adjust to his new employers, Busch has tallied finishes of 15th at Martinsville, eighth at Texas, and now eighth again (wreck aside) at Phoenix. In the short term, he's beginning to get his career back on track.
But better yet, Busch's career prospects may have taken a step forward with Kevin Harvick's decision to leave Richard Childress Racing in 2014. Childress is a valued adviser to Busch, and there were rumors that Busch would be replacing Jeff Burton in the No. 31 car after the season. But with both Harvick and Burton gone in 2014, and only one of Childress' grandsons, Austin Dillon, ready to run Cup at that point, Busch could be a natural hire with a decent 2013.
17. Carl Edwards
Todd Warshaw/Getty Images
Edwards finished 11th at Phoenix, his third best run of the Chase, after starting 13th. As most of the year has gone for Edwards, he didn't really make much noise, failing to lead a lap for the 11th consecutive race and relying on a mid-race Lucky Dog to get back on the lead lap.
Perhaps a change atop the pit box will make a difference for Edwards in 2013. Rumor has it that, with Scott Graves likely to pair with Ricky Stenhouse in the No. 17 car at Roush Fenway Racing next year, the current No. 17 crew and crew chief Jimmy Fennig could move to Edwards' team. A Roush employee since 1996, Fennig could provide the change in leadership that Edwards needs to get back up front.
18. Aric Almirola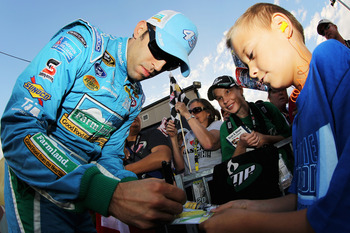 Todd Warshaw/Getty Images
While we're still looking for answers in Aric Almirola Contract Watch 2012, the Richard Petty Motorsports driver continued a streak of runs toward the front of the pack. His driver rating on Sunday was 88.2, 11th best in the field, while he spent over 85 percent of the race in the top 15.
Though he got caught up in the Jeff Gordon-Clint Bowyer accident and ended up 16th, Almirola takes some significant momentum into Homestead. He's been in the top 20 in seven of the past nine races, including his fourth place finish at Martinsville. That tied a career best set in 2010, a mark set at—guess where?—Homestead.
19. Paul Menard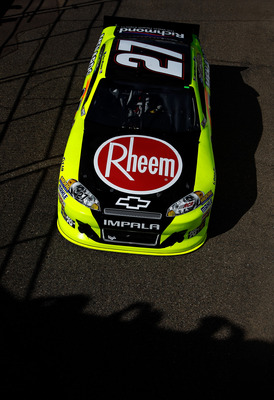 Tom Pennington/Getty Images
For the second time in the Chase, Menard had a car that looked strong enough to win on Sunday at Phoenix. Running as high as second place in the middle of the race, he spent much of the race in the top 10, rebounding from a brief drop late to finish a solid ninth.
That ninth place came with a price, though, as Menard arguably got the worst of the frontstretch accident caused by Danica Patrick's disabled car. As the field pushed forward across the line and swept up behind Patrick, Menard's car plowed forcefully into the back of the No. 10 Chevrolet, leaving both cars with heavy damage.
20. Danica Patrick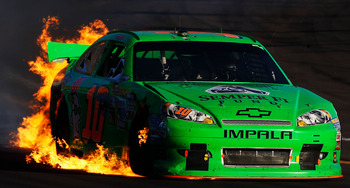 Tom Pennington/Getty Images
Last-lap fiasco aside, Patrick had exactly the kind of run she needs to have to keep improving in stock cars: a quiet, under-the-radar, lead-lap performance. This time, for the first time in her Cup career, she cracked the top 20, finishing 17th in her last race of the year before going full-time in 2013.
Unfortunately, that 17th place could have been a 13th if not for contact with Jeff Burton on the first lap of the green-white-checkered finish. NASCAR also could have avoided the wreck at the finish line had they called a caution and cleaned up the leaking fluid from Patrick's mangled car. For her purposes, though, she should be pleased with her performance, even if the final lap and a half were disastrous.
For more from Christopher Leone, follow @christopherlion on Twitter.
Keep Reading