7 Reasons This Boston Celtics Team Will Be Better Than Last Year's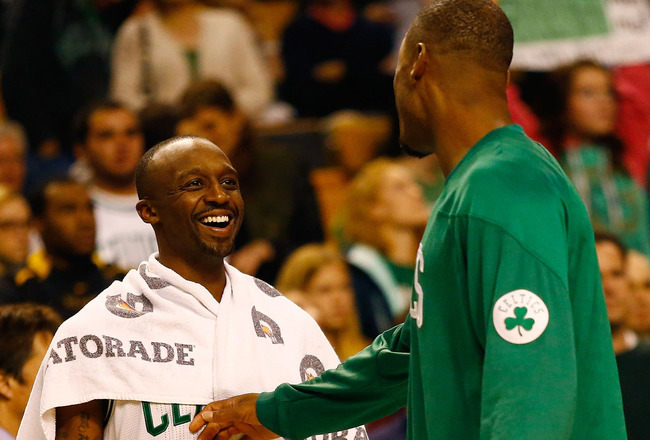 Jared Wickerham/Getty Images
We all saw the changes the Boston Celtics made this offseason. The 2012-13 Celtics will look entirely different from the 2011-12 version, with only five players who were on the playoff roster last season returning (and one of them, Avery Bradley, missed the Eastern Conference Finals). The question is, what are the reasons why this Boston team will be better than last year's?
On paper, one can look at the two rosters and automatically give the edge to this season's squad. The Celtics just look incredibly balanced and appear to have a platoon of guys who can consistently produce throughout an 82-game grind and then the postseason.
Of course, the game is not played on paper, so you have to come up with logical reasons to explain your position on how this Celtics ballclub will be improved from 2011-12.
Here are seven reasons which do that very thing.
More Depth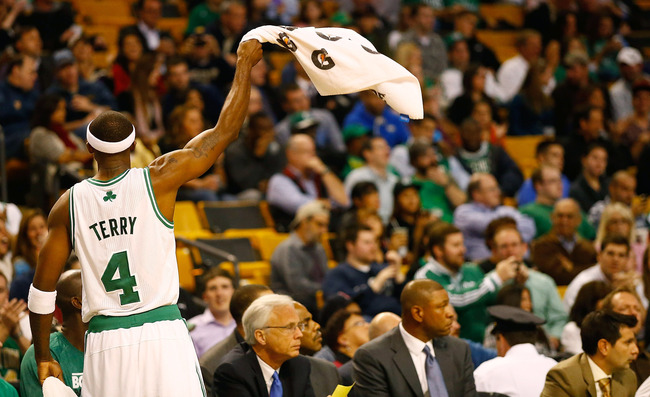 Jared Wickerham/Getty Images
This figures to be the biggest factor in the 2012-13 Celtics being better than the 2011-12 team.
Last season, Boston was very prone to scoring droughts, and that had a lot to do with the fact that Kevin Garnett, Paul Pierce, and Rajon Rondo were their only reliable scorers. Ray Allen could have been one of them, but he spent some time out with a bum ankle and was never the same when he returned from it. The C's needed some production from their bench, and they didn't get it.
One could argue that the lack of points from reserves was the Celtics' ultimate downfall against the Miami Heat in the Eastern Conference Finals. Sure, guys like Keyon Dooling and Mickael Pietrus had their moments, but it wasn't nearly enough.
Well, Boston should have no such problem this year, as it now boasts an incredibly deep bench that consists of Jason Terry, Courtney Lee (he is currently starting, but he will likely head to the bench when Bradley returns from his shoulder surgeries), Jeff Green, Jared Sullinger, Leandro Barbosa, Chris Wilcox, Darko Milicic, Jason Collins, Kris Joseph, and Fab Melo. That is a line that can best some starting lineups.
So, should the C's ever have a game where one of the Big Three of Garnett, Pierce, and Rondo is struggling from the floor offensively, there shouldn't be much of an issue.
Better Rebounding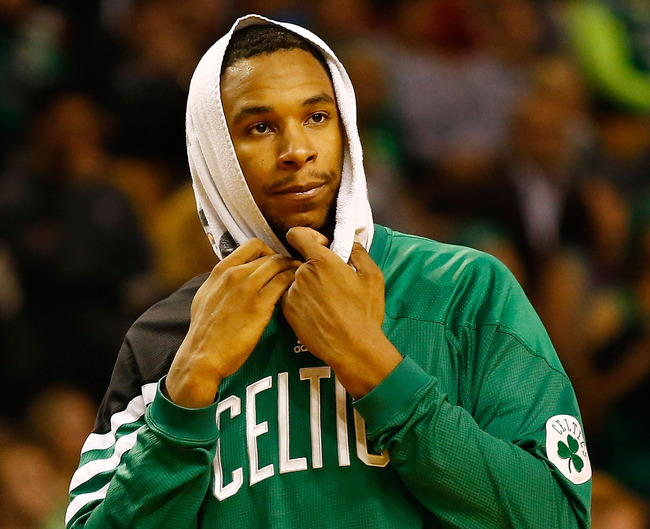 Jared Wickerham/Getty Images
The Celtics were one of the worst teams in the league on the glass last season, and don't think that didn't adversely affect them against the Heat. It seemed like many a time, Boston would make an outstanding defensive stand and force Miami to take a low-percentage shot late in the shot clock only to see someone come up with an offensive rebound to create another possession.
With the players the C's added this offseason, expect to see much less of that in 2012-13.
First and foremost, the Celtics drafted Sullinger, a 6'9", 260-pound big man who was an animal on the boards in college, and he displayed that same ferocity in going after the basketball during the preseason. Wilcox and Green, 6'10" and 6'9", respectively, are both returning from heart procedures, so they should also help the cause. Plus, Boston added size in the likes of Milicic, Collins, and its other first-round draft choice, Melo, as well.
It will no longer just be K.G. against the world on the glass.
Better Interior Defense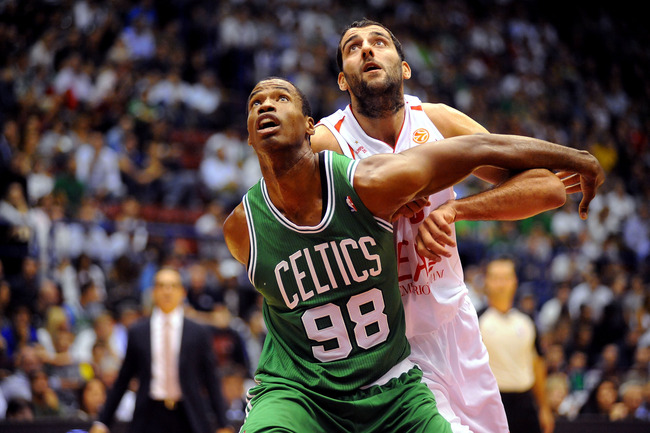 Roberto Serra/Iguana Press/Getty Images
If there was one thing the Celtics lacked defensively last year, it was intimidation in the paint. Garnett was really the only guy Boston had who could play that role.
That is no longer the case, as newcomers Sullinger, Milicic, Collins, and Melo will be more than up to the task of aiding K.G. down low.
Look for Milicic and Collins to assume this position specifically, as they are known for being tough guys who can deliver some hard fouls, and don't think that won't come in handy against Miami, a team that absolutely loves to attack the basket with reckless abandon.
Opposing teams will now think twice about driving the lane with all of the size the C's have down there.
Where said size will be more important though will be against teams with good centers. Expect to see plenty of Milicic and Collins against Andrew Bynum and the Philadelphia 76ers and Dwight Howard and the Los Angeles Lakers.
More Athleticism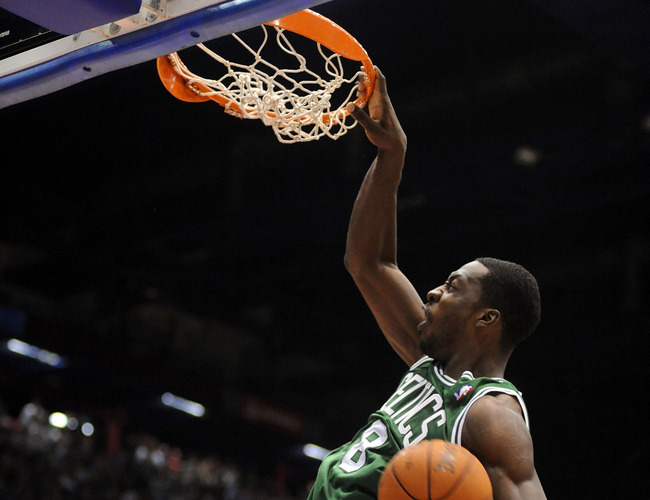 Roberto Serra/Iguana Press/Getty Images
Throughout the Big Three era, the Celtics were never mistaken for an athletic group. Garnett was just not the freak he was with the Minnesota Timberwolves, Pierce was never all that athletic to begin with, and Allen was a guy who relied primarily on his outside shooting.
That will all change this year, as the infusion of younger blood into Boston's system will now give the team another dimension.
The C's' offense wasn't just shoddy because of poor bench play last year. It was also due to the fact that the club depended on generating points from the half-court set far too much. The Celtics just did not have the personnel to get out in transition and score easy buckets that way.
Now, with guys like Lee and Terry aboard and Wilcox and Green returning, Rondo will have plenty of running mates to make Boston one of the better fast break teams in the league. Rondo is at his best when he can utilize his outstanding court vision out in the open floor, and he now has the teammates to help him maximize those talents.
It should be interesting to watch, to say the least.
An Improved Rajon Rondo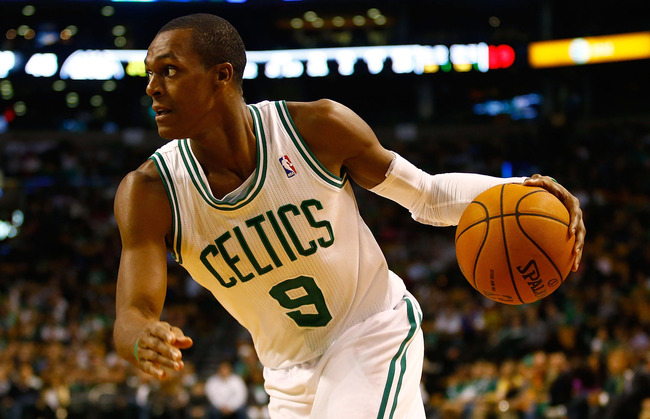 Jared Wickerham/Getty Images
If you can believe it, Rondo still has room to grow.
Already one of the best—if not the best—point guards in the league, Rondo is only 26, and if the Eastern Conference Finals were any indication, there is more uncovered talent left in that 6'1", 185-pound body.
One thing in particular you may see Rondo look better at this season is shooting the basketball. We saw him start to gain more confidence in his jumper during the playoffs last year, and there is plenty of reason for optimism going forward. Rondo, a career 61.9 percent free throw shooter, shot 77.3 percent from the charity stripe this preseason. Sure, it's a small sample size, but it's something to take note of, nonetheless.
We all know how good of a facilitator, defender and rebounder Rondo is. The man is a walking triple-double. However, we also know how much he has struggled shooting the ball. If he can become a respectable free throw shooter and hit the mid-range jumper with some consistency, the rest of the NBA should take cover.
Ability to Cause Matchup Problems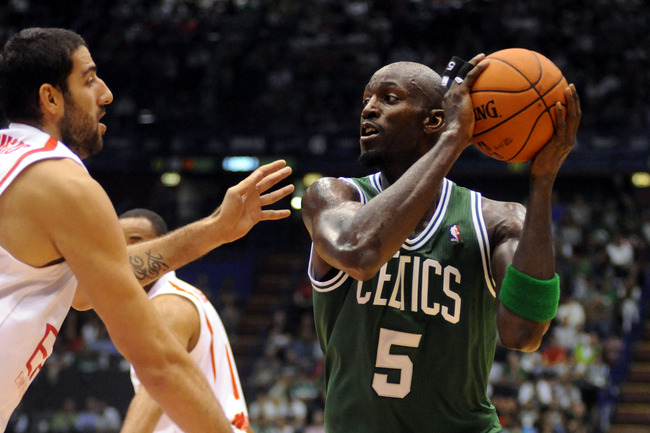 Roberto Serra/Iguana Press/Getty Images
This past postseason, Garnett and Rondo gave the Celtics' opponents fits. None of the three teams Boston played could find a true answer for K.G., and Rondo has historically lit up the C's' biggest rivals down in Miami. However, outside of those two, the Celtics lacked any kind of uniqueness offensively.
Sure, Pierce could go off at moment's notice, but he was playing on a sprained MCL in the playoffs, and the lack of depth behind him hurt severely.
With the offseason additions Boston made, Doc Rivers can now safely say that he can give any opponent his ballclub faces nightmares.
Green is back, and he can play either forward position. He flashed a much-improved post game throughout the preseason, demonstrating that he can handle playing at the four for stretches. His size will also give smaller threes issues.
Then you have Lee and Terry. Not only are they great three-point shooters, but they are excellent in transition. It's a double-edged sword.
And if a team wants to try and take away either Garnett or Rondo; well, good luck. The C's have so much depth that they can afford an off night from one of those two in terms of scoring the basketball.
Better Health (Fingers Crossed)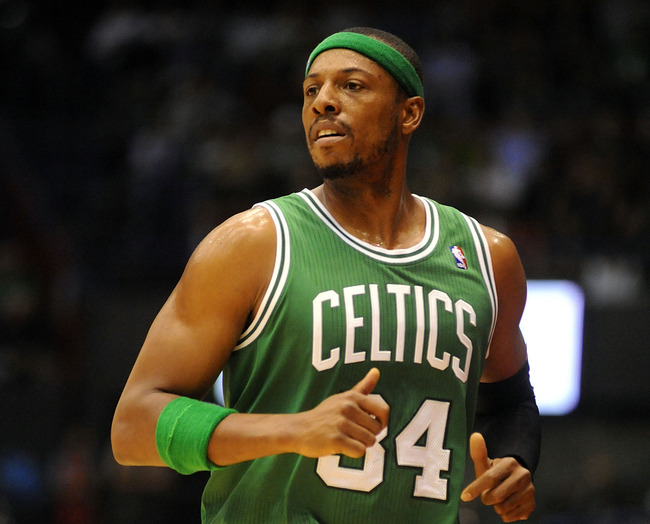 Roberto Serra/Iguana Press/Getty Images
Obviously, no one can guarantee good health over the course of a brutal regular season. However, going into opening night last year, the Celtics had already lost Green due to his heart condition. They then went on to suffer a multitude of injuries throughout the season and in the playoffs, and those injuries may very well have cost Boston its 18th banner.
Well now, Green is back. Wilcox is too. Pierce is back to 100 percent after hurting his knee in last year's postseason, and instead of worrying about Allen's ankle problems, the C's replaced him with two very durable guards in Terry and Lee.
Of course, Bradley is going to be out for a bit, but one would have to assume that, overall, the Celtics aren't going to endure the same kind of hardship in terms of health that they did during the 2012 campaign. The laws of probability seemingly won't allow it.
Like it says in the title, though; fingers crossed.
Keep Reading

Boston Celtics: Like this team?