Colts vs. Titans: Final Grades and Player Analysis for Tennessee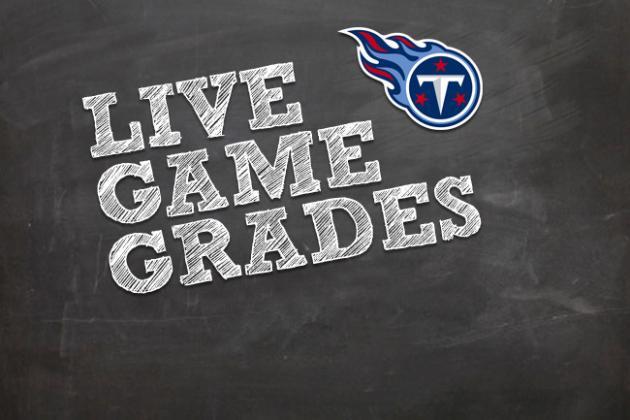 As a Titans fan, I may be a little biased, but as far as I'm concerned, the Colts win was about as legitimate as the Seahawks' win over the Packers.
Either way, the Colts get their first road win of the season and move to second in the AFC South and the Titans drop to 3-5.
Despite the injuries on the offensive line, it was penalties that killed the Titans. Three offensive pass interferences were called against the Titans that negated a touchdown, a 43 yard pass, and a first down pass.
Final Score: Colts 19, Titans 13

Begin Slideshow

»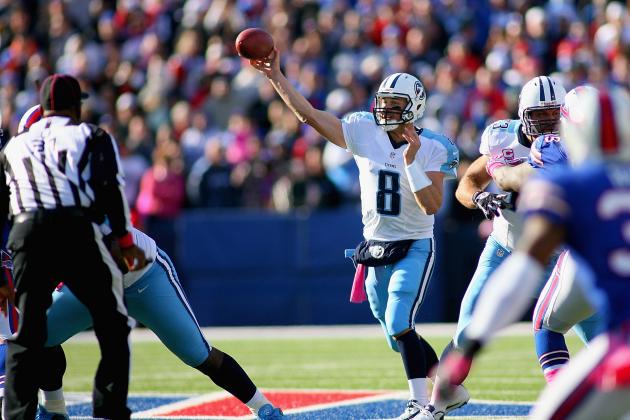 Rick Stewart/Getty Images

Matt Hasselbeck's numbers were good overall. He completed 22 of 29 passes for 236 yards, a touchdown and no interceptions.
He had a couple of miscues though, some that were his fault (like the fumbled snap), and some that weren't within his control (like the three pass interferences called against Titans receivers).\
The Colts don't have the best defense in the league though, so Hasselbeck doesn't get the high grade he would if this were a tougher opponent.
However, he still did great for the most part, kept the offense on the field, and put the Titans in a position to score.
Final Grade: B+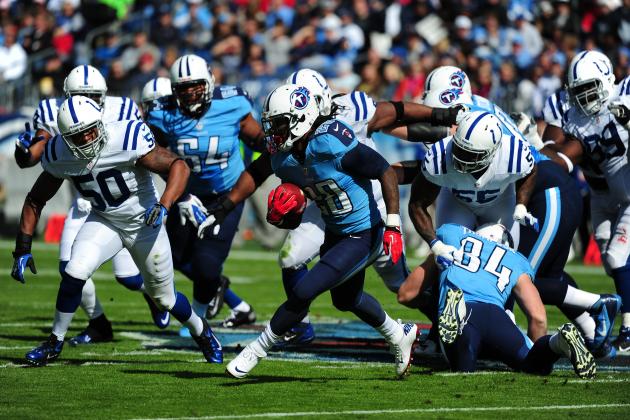 Scott Cunningham/Getty Images

Chris Johnson had a big game, rushing for 99 yards, and that sounds good until you remember that the Colts give up, on average, 141 rushing yards per game.
The only reason I'm still giving Johnson a pretty good grade is that the Titans offensive line was in shambles. Michael Roos was out from the beginning, Leroy Harris was taken to the locker room in the first quarter, and even David Stewart missed a couple of snaps.
Even so, Johnson wasn't that impressive and missed a couple of opportunities for big plays. He also made a couple of big plays, so it evens out to a slightly better than mediocre performance.
Other rushers combined for two carries for three yards.
Final Grade: B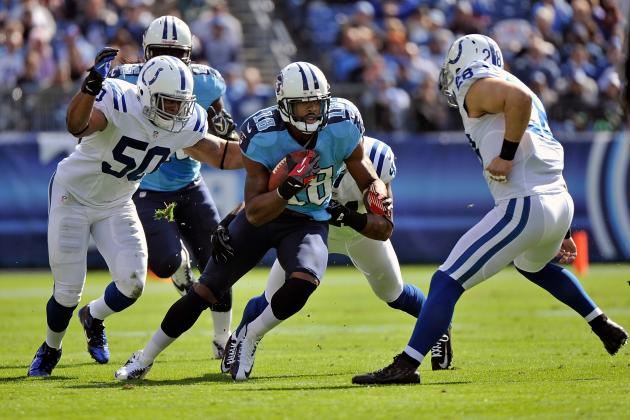 Frederick Breedon/Getty Images

Hasselbeck spread the ball out pretty evenly, hitting nine different receivers over the course of the game.
The leading receiver was again Nate Washington, who caught five of the six passes thrown his way for 69 total yards. Kendall Wright had one of his best games so far, catching four passes for 47 yards and a touchdown.
Kenny Britt caught three passes, and Lavelle Hawkins and Damian Williams each had one catch, and the group put up, altogether, 157 yards and the Titans' only touchdown.
The numbers for Britt would be better if he weren't called for two pass interference calls, only one of which was legitimate by any measure.
Final Grade: B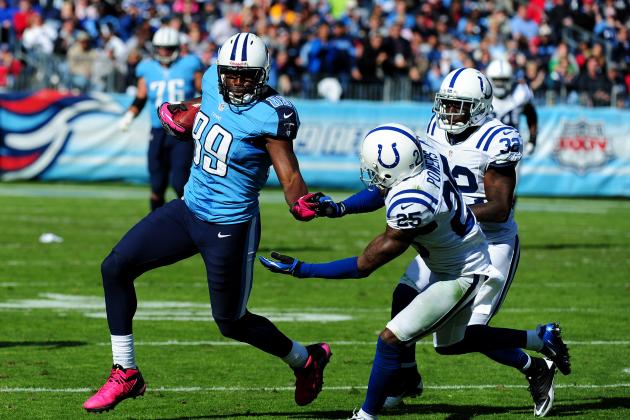 Scott Cunningham/Getty Images

Jared Cook finally became a part of the passing game again, catching three of four passes for 45 yards. Like Britt, he would have another catch if it weren't for a bogus pass interference called against him which negated a touchdown pass.
Craig Stevens had a couple of catches as well, totaling 15 yards. He was targeted three times.
Taylor Thompson didn't have much to do in the game today.
Final Grade: B+
Brian A. Westerholt/Getty Images

Now I know that the offensive line played the entire game without two starters, but they still get a pretty poor grade.
Michael Roos was out for the game since he had an appendectomy earlier in the week, then Leroy Harris was taken out of the game in the first quarter, leaving their spots to Mike Otto and Kevin Matthews, respectively.
The running game suffered, and the Titans finished up with just 112 yards rushing against a team that gave up an average of 141 yards per game.
They also gave up a couple of sacks, which is a poor performance by their standards.
Final Grade: C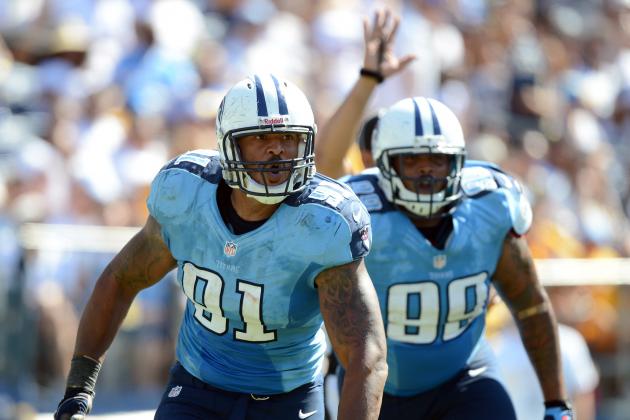 Harry How/Getty Images

Derrick Morgan had a pretty good game, with a sack, a pass defended, and another hit on Andrew Luck. Kamerion Wimbley got credit for the half of Morgan's sack as well and a hit on Luck as well.
The interior line, on the other hand, was pretty quiet against the Colts. Sen'Derrick Marks got to Luck a couple of times, but the only other time that a defensive tackle got into the backfield was when Mike Martin drew a penalty for roughing the passer.
Overall, it was a mixed outing for the defensive line.
Final Grade: C+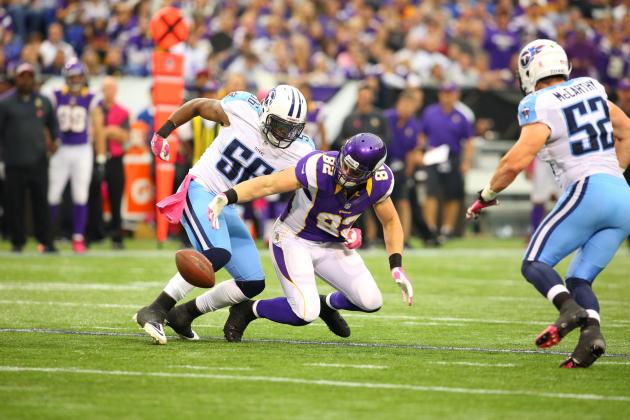 Adam Bettcher/Getty Images

The linebackers, for the most part, did well.
Akeem Ayers had a big game, with seven total tackles, a sack, a defended pass, a tackle for a loss and two quarterback hits. He's been getting to be a better all around player as the season has progressed.
Ayers also forced a fumble that he didn't get credit for since the refs gave the ball back to the Colts without reviewing it.
Colin McCarthy had a couple of mistakes and missed tackles, but he showed yet again how important his leadership is to the rest of the group. He didn't have a bad outing though, as he led the team in total tackles with 11 and solo tackles with nine. He also had two tackles for loss.
Zach Brown also had a good game, getting four tackles, all of them solo, and a quarterback hit.
Final Grade: A-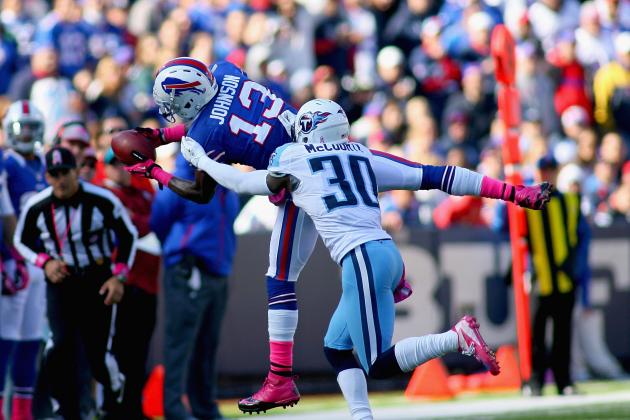 Rick Stewart/Getty Images

Michael Griffin had his best game of the season against the Colts. He had eight tackles, a defended pass, an interception, and a blocked field goal. It's good to finally see some big plays from him.
Jordan Babineaux tied with Colin McCarthy for most tackles with 11, but that was his only contribution.
Jason McCourty had a couple of defended passes and nearly had a red-zone interception, but couldn't hold on. He also had two solo tackles, but gave up a few first downs that he should have been able to prevent.
Alterraun Verner gave up a couple of big plays too, but made up for it with nine total tackles (seven solo) and thee tackles for loss.
Like the defensive line, the defensive backs had a mixed outing, but limiting Andrew Luck the way they did doesn't give much to complain about.
Final Grade: B+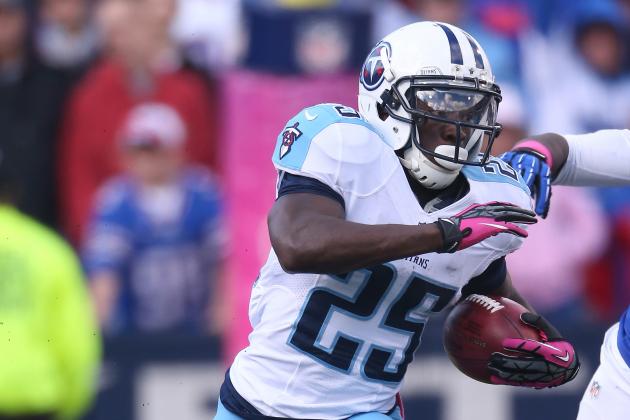 Tom Szczerbowski/Getty Images

Special teams were quiet for the most part today. The blocked field goal was outstanding, and but for one more tackler, Jordan Babineaux could have maybe gotten a touchdown before halftime.
Darius Reynaud also had a pretty good punt return, but that and a seven yard short kick return, Reynaud didn't get any chances to do anything in the return game.
Rob Bironas missed a 45 yard field goal, and in a close game like this, that kills teams.
Because of the lack of returns and the missed field goal, the special teams get a lower grade than they normally get.
Final Grade: B-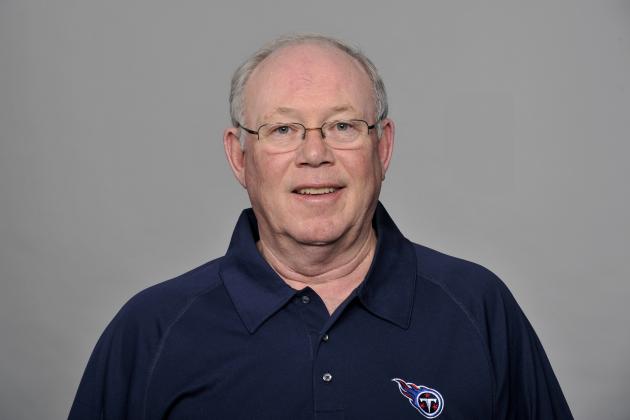 Handout/Getty Images

The coaching, for the most part, was pretty good this game.
Jerry Gray seems to have found something that works for the Titans' safeties, and the defense was more solid overall than it's been in the past.
Chris Palmer, who's gotten a lot of heat for predictable playcalling, did a good job as well. The calls were balanced, and they kept the Colts defense on their tows.
Overall, it was a solid job for the coaching staff, and there wasn't much else they could have done to change the result with what they had and what they were given.
Final Grade: B+