NASCAR Sprint Cup: 10 Lessons We Learned at Kansas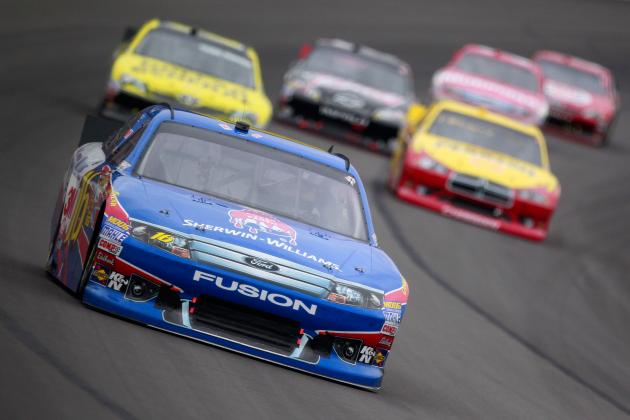 Geoff Burke/Getty Images

The repaving of Kansas Motor Speedway made for an exciting race this past Sunday. While the Chase standings didn't really change, Kansas was filled with cautions because of blown tires and drivers spinning out.
It was also filled with several lessons that both drivers and fans learned as we gear up for the final four races of the NASCAR season.
Jimmie Johnson managed a comeback from a crash and didn't lose any ground on points leader Brad Keselowski.
Clint Bowyer held onto his position in points and still has a chance to move up the standings.
We also saw a scuffle between Danica Patrick and Landon Cassill—one that would end with Patrick in the wall.
The Hollywood Casino 400 had the most cautions of any race so far this season. It was a tough race for points leader Brad Keselowski, but he managed to hold onto his lead coming out of Kansas.
With only four races left in the Chase, Kansas separated some of the Chase drivers from the rest of the field.
Here are 10 lessons we learned at Kansas.
Begin Slideshow

»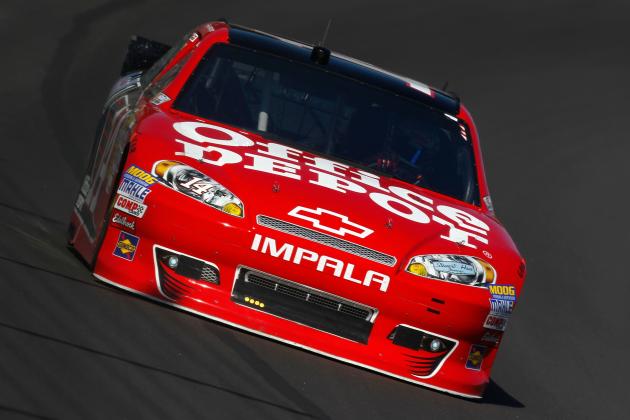 Tyler Barrick/Getty Images

Tony Stewart doesn't have the best pit crew in the NASCAR Sprint Cup Series. That was clear last season, even though Stewart still managed to win the Chase. His driving alone was a huge reason he came from the back in several of last season's Chase races to dominate the competition.
It's been the same story this year. While Stewart hasn't dominated races, he's had to make up from his pit crews mistakes, and they carried over at Kansas. One crew member left the wrench from a wedge adjustment still attached to Smoke's car, and he had to re-pit and lose track position.
Smoke would have restarted 16th following that caution, but he had to go all the way to the back due to the mistake.
Stewart also had other issues that day, including spinning out at one point, but he recovered, came back from bad positioning and finished the day in fifth place.
Stewart was right to question his pit crew after it made the costly early mistake, but it should be nothing new to him at this point—his pit crew was lackluster at Charlotte last week as well.
Without a doubt, Smoke's pit crew has cost him spots in some races this year. And while he might be too far out of the Chase to be a real contender, it can't be easy for Stewart to battle bad track position thanks to pit crew mistakes and the other drivers on the track.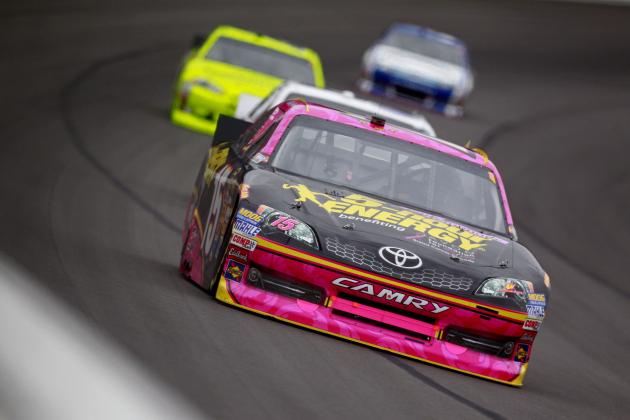 Geoff Burke/Getty Images

Kansas is a track where Clint Bowyer tends to struggle. After his win at Charlotte, Bowyer looked like he'd be the one to shake up the Chase. With a history of poor performances at Kansas, though, how successful would he be?
Clint ended up having a solid run at Kansas, running up front for most of the day and finishing in sixth.
The biggest thing for Bowyer, though, is how his position in the standings didn't change. He sits 25 points behind the leader Brad Keselowski, and he managed to finish in front of the three drivers ahead of him in points.
Now that Kansas is behind him and he managed to come out with a solid finish, Bowyer can move on to next week's race and not worry about making up ground or dropping in the standings.
After the Chase got underway, the three drivers everyone seemed to be talking about were Keselowski, Johnson and Hamlin. Now, after winning at Charlotte and a solid finish at Kansas, Clint Bowyer is clearly another driver people should keep their eyes on.
Clint Bowyer managed to prove that he is a serious contender for the Sprint Cup title with his solid performance at Kansas.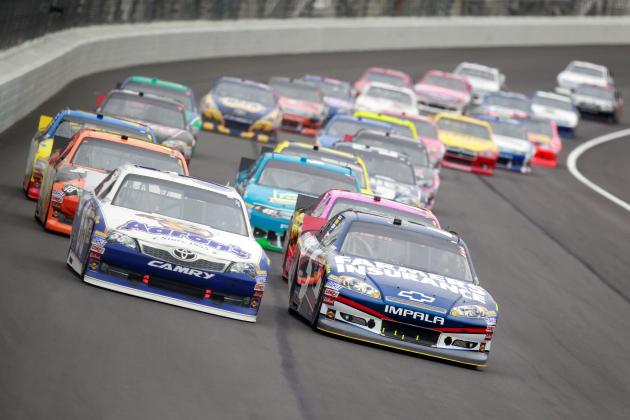 Geoff Burke/Getty Images

While Clint Bowyer managed to hold on to his fourth place in the Chase standings, the rest of the field is starting to separate.
Kasey Kahne sits 30 points behind the leader and still has some time to make an impact. But it would require both luck and skill. Kahne needs to win some of these last races—or at least finish in the top five—and for the drivers in front of him to make some mistakes.
Besides Kahne, though, the rest of the drivers in the Chase are too far behind to have any real impact on those at the top of the points.
Martin Truex Jr. moved up one spot, but he sits 43 points behind Keselowski. Truex hasn't won a race this season, and while he is a solid driver, he has no chance of making enough noise to shake up the Chase.
Veteran Tony Stewart is also too far down in the standings to make a comeback. He also moved up one spot following the race, but at 47 points behind Keselowksi, Stewart won't be able to win the Chase for the second consecutive year.
Greg Biffle had a chance to move up in the standings, especially since he has had success at Kansas before. But after crashing and having to go into the garage though, Biffle's chances at the championship are done.
Kansas didn't stir up the standings like Talladega did, but now, with only four races left in the season, the top four drivers—and possibly Kasey Kahne—are the ones who have a real shot at winning the championship.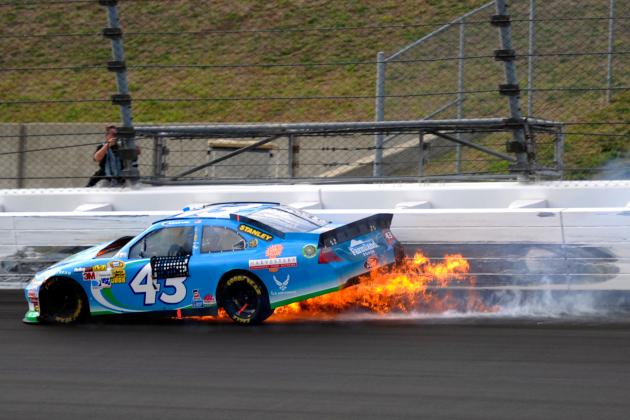 John Harrelson/Getty Images

The new pavement of Kansas Motor Speedway clearly gave drivers a harder time than they were expecting.
Whether it was tires blowing or drivers getting extremely loose, there were tons of cautions at the Hollywood Casino 400 race and several drivers whose days ended in frustration.
Greg Biffle seemed like a solid pick to win this race. Unfortunately for the Biff, though, his day would end when he hit the wall—and so would any chance of him ending up as a top Chase competitor. He dropped five spots in the Chase, and with four races left, he has no chance of making a comeback.
Jimmie Johnson also had issues with the new pavement at Kansas, sliding into the wall and taking major damage to his car. He managed to save his position in the points, but he was one of the leaders prior to his accident and had a car to beat.
Kansas could have been Johnson's chance to take the lead in the Chase or make up even more ground on Keselowski.
Aric Almirola was another driver who had his day ruined by the new pavement. Almirola was extremely fast, and he led a lot of laps during the race. Unfortunately, though, he ended up hitting the wall. And as his car began to light on fire, his day was done.
Other drivers had problems as well, making one thing was clear by the end of the race: New pavement can cause massive problems.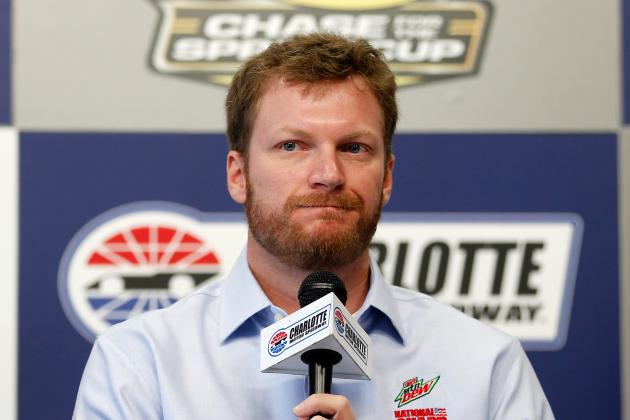 Chris Graythen/Getty Images

Rick Hendrick got ahead of himself when he said Dale Jr. was clear to race at Martinsville next week.
Hendrick had to correct himself during the Kansas race and explain that his driver had not yet been cleared and still had some testing to complete during the upcoming week.
"I didn't know until (Hendrick Motorsports PR Director Jesse Essex) informed me that I had gotten ahead of myself and that there is a closed test on Monday that Dr. Petty will attend," Hendrick said (via Yahoo! Sports). "Dale will be back in the car (for that test) and he'll make the decision with a final test on Tuesday."
While I'm sure plenty of fans will be happy when Earnhardt gets back into the 88, NASCAR is taking all the steps necessary to make sure Junior is 100 percent.
Since he is last in the Chase, Dale Jr. has nothing to lose. It's always better to be safe than sorry, and while Hendrick feels Dale Jr. will be back for Martinsville, Earnhardt's health is more important than seeing him get back in the No. 88.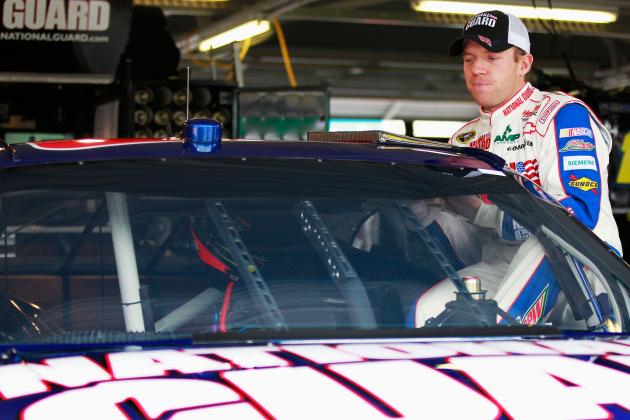 Geoff Burke/Getty Images

Driving for Dale Earnhardt Jr., Regan Smith blew an engine at Charlotte after making it up to the top 10. He was given another chance at Kansas to prove himself and take advantage driving the No. 88 car.
Regan delivered.
After qualifying toward the back of the pack, Smith worked his way forward throughout the race and eventually finished in seventh place.
Seventh place isn't too bad when you consider everything that happened at Kansas. From blown tires to drivers spinning out, Smith was able to avoid it all and finish in the top 10.
He took advantage of a big opportunity, and hopefully in the near future it will pay off. With Dale Jr. more than likely returning next week, Smith will head to Phoenix Racing to compete in the rest of the NASCAR season.
Smith also impressed Steve Letarte, Earnhardt's crew chief. Letarte was quoted by Fox Sports as saying, "Great work Regan, great work, man. I really enjoyed working with you. You're a great race car driver."
Smith definitely impressed at Kansas. Driving for Hendrick in the 88 car threw Smith into the spotlight, and he delivered.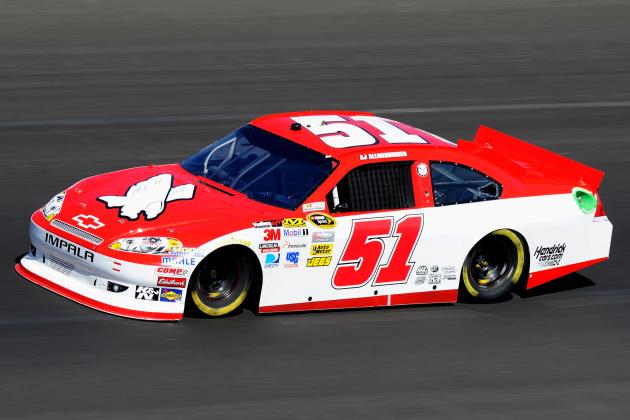 John Harrelson/Getty Images

One thing we learned about A.J. Allmendinger after the Kansas race is that his future is unclear.
With Dale Jr. going back to the 88 and Regan Smith going back to Phoenix Racing next week, Allmendinger will be out of a ride.
Allmendinger had car trouble at Kansas, but at one point, he was solidly running in the top 10 and looked like he could have finished in the top 10 as well.
The Dinger was quoted by NASCAR.com as saying, "I've learned in life, I don't expect anything or not expect anything. To jump back in a couple of weeks after being reinstated, I feel very fortunate.''
He may not end up getting a ride for the rest of the season, but after being suspended earlier in the year for a positive drug test, Allmendinger was extremely lucky to be given another opportunity to race in NASCAR.
Hopefully for his sake, he impressed someone at Phoenix Racing. If not, it's hard to see Allmendinger coming back to the Sprint Cup Series.
At this point, A.J. Allmendinger's future is unclear. Will he get a chance to race in the Sprint Cup again?
We will have to wait and see.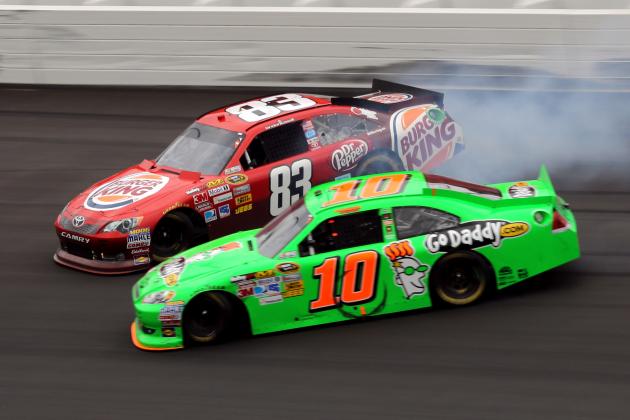 Ed Zurga/Getty Images

One of the big questions throughout the NASCAR year, and one that will probably be around at the beginning of the next season, is whether or not Danica Patrick is ready to make the jump to the Sprint Cup Series.
After the race at Kansas, Danica is not ready.
It doesn't matter if she is ready or not, though: Next year, she will be driving full time in the Sprint Cup Series.
Still, after her poor choice of action at Kansas, it's hard to believe Danica will have much success next year.
It's completely acceptable to try and defend yourself, to push back when you're being pushed, like Danica claims Landon Cassill was doing to her. Danica, though, ended up losing in the end. As she tried to spin out Cassill, she herself went for a spin and ended up hitting the wall.
Patrick's crew chief, Greg Zipadelli, wasn't too happy with her actions.
"Bull---- right there," he said (via ESPN). "You know better than to do that."
As she enters the Sprint Cup, Danica will need to worry more about picking her battles. Was her attempt to spin out Cassill worth it? He managed to save his car, unlike Patrick.
Passing Cassill and finishing higher than him would have been a better way for Patrick to get revenge.
Sure, she shouldn't let people push her around. But when she enters the Sprint Cup Series full time, there will be some drivers who are going to try to do so. And if Kansas was any indication of how she is going to respond, then clearly Patrick isn't ready for the Sprint Cup Series.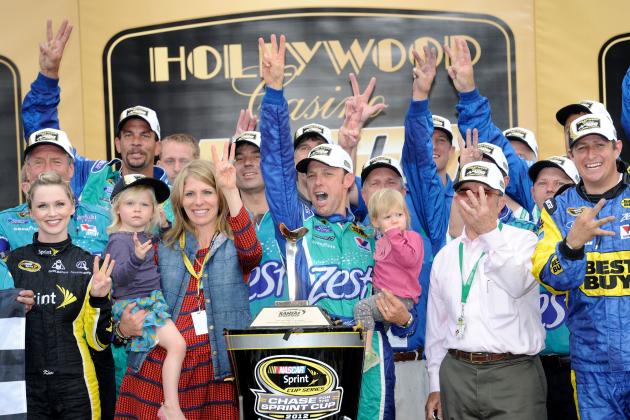 John Harrelson/Getty Images

Matt Kenseth won his second race in the Chase at Kansas. While he might be too far back in points to make a run at winning the championship, he only added to his impressive year with the win.
Regardless of his signing with Joe Gibbs Racing for next season and beyond, Kenseth continues to win for Roush Fenway Racing.
He has been one of the top drivers this year, and JGR clearly signed an elite driver for next season.
"I just have to thank God for the opportunities he has put in front of me and the guidance he has given me throughout my whole life," Kenseth said (via the Sporting News). I have to thank Jack Roush and Robbie Reiser and Mark Martin. Without them, I would have never been at Roush Fenway Racing."
Kenseth showed his class as a driver and as a person with his win at Kansas, managing to avoid the problems the other drivers were having. Also, Kenseth is clearly still on good term with Roush Fenway, despite him leaving the team next year.
Not only did he show his respect to Roush Fenway Racing after his Kansas win, but he also managed to show that Joe Gibbs Racing is getting one of the top drivers for next season.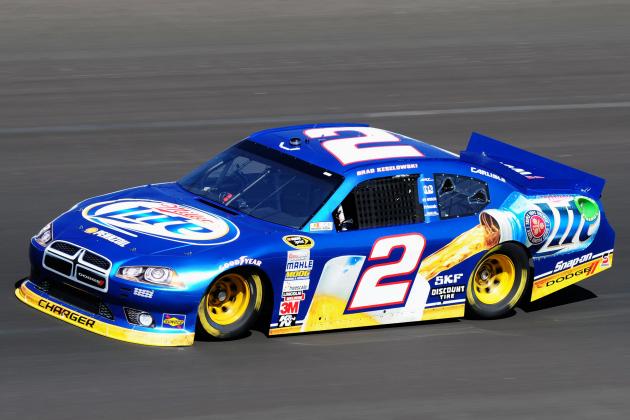 John Harrelson/Getty Images

Keselowski did nothing special at Kansas.
He simply survived.
Brad was very conservative and might have lost the points race if not for a bit of luck.
Meanwhile, second-place Jimmie Johnson, who clearly had a dominant car for this race, spun out and had to make a major pit stop while running in the front. Johnson's car needed a lot of repairs, and even when he was able to get back out on to the track, he never had the same speed.
Denny Hamlin also had his fair share of bad luck. After getting trapped a lap down during green-flag pit stops, Hamlin wasn't able to make any ground on Keselowski or Johnson.
Hamlin was quoted over at ESPN as saying: "This is a race where when you've got the other guys you're racing finishing eighth and ninth, you've got to beat them, especially wrecked race cars. We just shot ourselves in the foot a lot today."
While Keselowski needed to drive to the front in order to increase his points lead, he simply wasn't able to break into the top 10 until the end of the race. It ended up not hurting him, though, in the end because of what happened to Johnson and Hamlin.
Keselowski's eighth-place finish, conservative style and a bit of luck were enough to keep him first in the standings.