Los Angeles Lakers: Assessing the Top 7 Expectations for 2012-13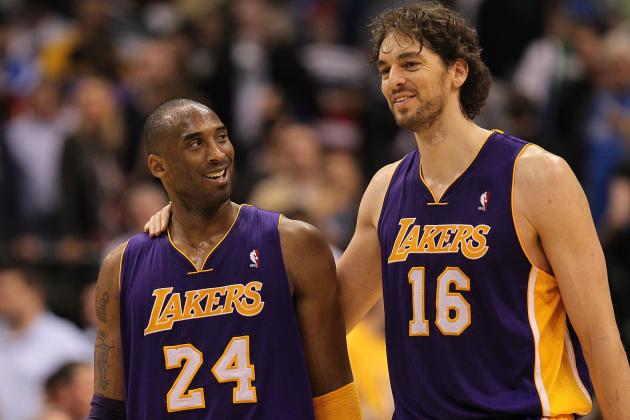 Ronald Martinez/Getty Images

The Los Angeles Lakers enter the 2012-13 season with a revamped roster and renewed purpose.
While the Lakers are always a team looking to finish the season winning their last game, heading into 2012-13 they've built a roster that can actually achieve that goal. From starters to bench, the team offers both top-end talent and dependable depth that can guide them through an arduous 82-game campaign. Combine this group of players with an improved coaching staff, and the front office has also added the sideline leaders the team needs to improve upon past season's failures.
But, with such talented new additions come expectations.
This team will be expected to achieve certain milestones throughout the season in order to be viewed as a group that reached their ceiling. Not doing so means falling short in some way—it means they've left something on the table that was theirs to be had.
And make no mistake, these expectations come with burdens attached—burdens that can weigh heavily and serve as distractions ready to derail the Lakers off their path to reach their ultimate goals.
Will this team be mentally strong enough to deal with them? Will they have the chemistry to overcome the outsiders looking in on them, attempting to hold them to such high standards? Will they have the focus, as individuals and as a group, to persevere through a long regular season and playoff push to achieve the levels they hope to?
If you're a Lakers fan, the hope is yes, but it is in no way a given.
Especially when remembering that only a handful of these men know what it means to carry the torch of being a Laker. Every day they'll be tested on and off the court in playing for the NBA's marquee franchise, while trying to win at the highest level.
With that in mind, let's countdown the top seven expectations the Lakers have in the 2012-13 season.
Begin Slideshow

»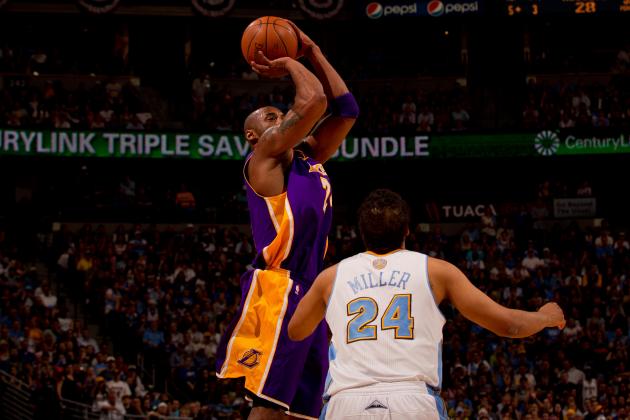 Justin Edmonds/Getty Images

With the offensive talent the Lakers have acquired, having a top-five offense in the league should be a given.
With Steve Nash running the Lakers' offense, the team has one of the best floor generals in the league quarterbacking their sets.
In the eight seasons Steve Nash played for the Suns, they ranked in the Top 10 in offensive efficiency every season, including ranking first or second in the league six times. It's been proven that having Nash run your team means you'll have an elite offense.
With Kobe Bryant playing shooting guard, the Lakers still have the premier scoring threat from the backcourt.
Kobe finished 2nd in points per game in the 2011-12 season and could have made a run for first if he had decided to play in the Lakers season finale. Pairing Kobe with Nash means that opponents have one fewer perimeter option to help off of to send help Kobe's way, which equates to more space to operate and cleaner looks at the basket.
This should translate to a more efficient Kobe.
Dwight Howard and Pau Gasol offer the Lakers a big man tandem that covers the entire spectrum of skill and versatility you'd want in a frontcourt.
Shooting range, power post ups, passing skill, touch around the basket and elite finishing ability are all covered by these two. Gasol's ability to pass to Howard in high-low situations means Howard will get easy chances to score at the rim often.
And Gasol's ability to hit a mid-range jumper and duck in on the weak-side for post ups means he should get better looks at the basket than he has in recent seasons.
Beyond the Lakers' top four players, add in a reportedly rejuvenated Metta World Peace, a legitimate scoring threat in Antawn Jamison as a sixth man and sharp-shooter Jodie Meeks backing up Kobe, and the Lakers have eight very good offensive players to rotate in and out of their lineup on any given night.
Even with questions about how all these pieces fit together the expectation is that they'll play their way into a top five offense. They have too much talent not to do that.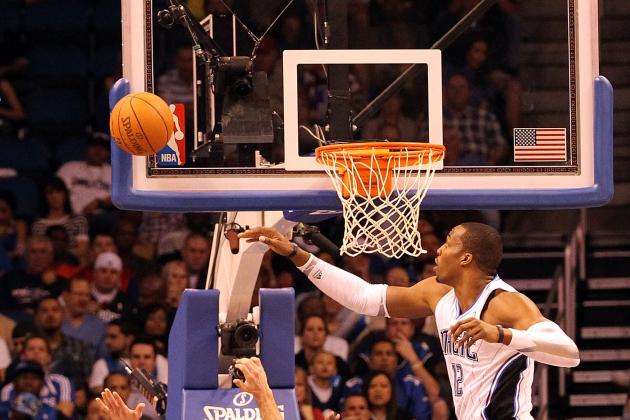 Sam Greenwood/Getty Images

One of the key reasons for the Lakers demise in the 2011-12 season was that their defense fell off so horribly as the season went on. A unit that began the year firmly in the top five in terms of defensive efficiency, closed the campaign struggling to remain in the top 20.
It would seem far-fetched to expect the Lakers to make such a large jump in defense next season, especially to a top-five ranking.
But this is exactly what I expect.
And the reason is pretty simple: Dwight Howard.
In the five seasons that Dwight Howard was coached by Stan Van Gundy, the Magic finished in the Top 10 of defensive efficiency in the league four times, including three times in the top three.
During that time, Howard also won the Defensive Player of the Year award three times in a row. On his own, Howard is a defensive monster whose capabilities can prop up a defense in similar proportions to how Steve Nash can prop up an offense.
It's not just that Howard is a fantastic defensive player, it's that his skill set on defense is exactly what the Lakers have lacked in recent seasons.
Howard uses a combination of quick feet, high energy and terrific instincts to patrol more of the court than nearly any other defensive player. He can hedge on the pick and roll at the three point line, stay with ball handlers as they try to turn the corner and either recover to his man or challenge shots that are taken anywhere near his general vicinity.
This infusion of defensive effort and aptitude can only help elevate a unit that had some of the ingredients to be a top performing D, but lacked consistency.
And it's not just Howard whose presence will aid the defense.
Reports have Metta World Peace in fantastic shape headed into training camp, Kobe has lost weight in order to help him better chase wing players on D, while also helping his foot speed when playing in isolation and Gasol helped anchor Spain's national team D using his length and smarts.
Together, these players with Howard (and new defensive assistant Steve Clifford) can help turn around a Laker D that sorely needed an infusion of new blood and a recommitted approach.
And while there will surely be challenges (Steve Nash and Antawn Jamison have well earned reputations as below-average defenders), they'll be put into a structured D where they can be somewhat hidden and protected.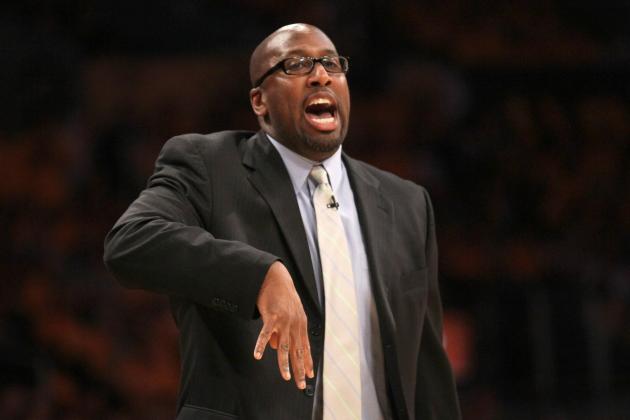 Stephen Dunn/Getty Images

During the Lakers' run to three-straight Finals appearances and back-to-back championships, one of the most impressive stats they compiled was never losing three consecutive games.
The team found a way to avoid long stretches of poor performance and bounce back to win games once they'd lost two in a row. They did this, despite the opponent and whether or not they were on the road or at home.
It was one of the marks that spoke to their quality as a group.
In the past two seasons the Lakers simply didn't have the roster to pull off such a feat. They lacked depth through their bench and received diminishing returns from starters not named Kobe, Pau or Bynum.
But in 2012-13, the expectation is that the Lakers will return to that quality of play.
The Lakers have the best starting lineup in the league.
While their bench isn't the best in the NBA, they have a nice mix of veterans and young players to not only give their starters some rest, but can thrive when they're on the floor.
One through ten, the Lakers have a rotation with elite top-end talent and reserves, who know their roles and can give quality minutes executing them. Even more importantly, the Lakers' bench players have complementary games that can either mix well with one another or blend into lineups that predominantly feature starters, who would carry the load on both ends.
Imagine a lineup with Steve Blake, Kobe, Devin Ebanks, Jordan Hill, and Pau.
This would technically be a "bench" unit but could lean heavily on Pau and Kobe as offensive anchors, while using the Princeton offense as a foundation for their success. This group also has some very solid defensive players who could prevent the other team from scoring.
Now imagine a lineup with Nash, Meeks, World Peace, Jamison, and Howard.
This unit could rely heavily on the pick and roll between Nash and Howard while Meeks, Jamison and (to a lesser extent) Metta space the floor. This unit would also have good balance defensively and could also be thrown out against other teams' reserve units.
All in all, the Lakers could play multiple variations of the two units listed above, send them out against other teams' benches and win long stretches of any game.
This, in turn, would ensure that the Lakers could rack up wins and, more importantly, avoid the types of losing streaks that have plagued them in their non-title years of 2011 and 2012.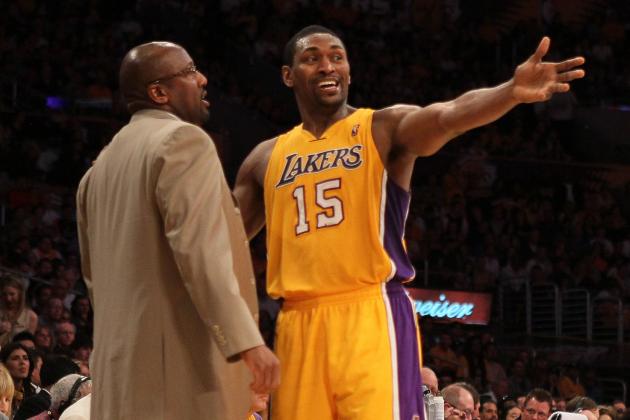 Stephen Dunn/Getty Images

When Mike Brown was hired to coach the Lakers it came as a surprise to many people.
Instantly, his hire led to questions about his ability to coach the team—questions that didn't stop the entire year of mostly up-and-down play.
Through the entire season, one of the main excuses afforded Brown and his staff was that the Lakers didn't have a full training camp to integrate his schemes. And, when you add that to the vetoed Chris Paul trade, the Lakers started off on unsure footing and never really found their stride.
There's merit in this reasoning and I tend to give this line of thought some weight.
However, those days are now over.
In the 2012-13 season, Brown will have a full training camp to teach schemes on both sides of the ball. He'll have a full camp to experiment with rotations, roles and minute allocations. He'll have a full camp to get everyone comfortable with his style and to exert his will, where needed, over his players.
All of these facts mean that Mike Brown should be better in year two than he was in his first season pacing the Lakers' sideline.
The players that return should have a better feel for him, and the newcomers should have ample time to get used to his style and learn the ropes under him.
Combine this with the fact that he has better players in year two than he did in year one, and Mike Brown's performance should only improve as well. After all, as every great coach will tell you, you're only as good as your players.
Mike Brown now has the quality of players who he can use to bring forth better results.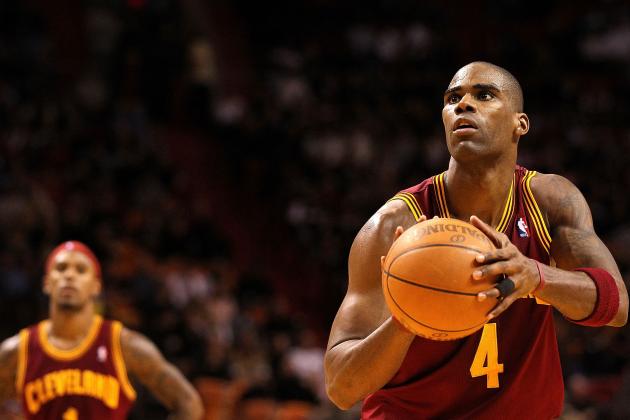 Mike Ehrmann/Getty Images

In bringing back Jordan Hill, while signing Antawn Jamison and Jodie Meeks, the Lakers have taken the appropriate measures of improving a bench that was a weak point of their 2011-12 season.
With guys like Troy Murphy, Jason Kapono and Josh McRoberts no longer part of the team, the Lakers are in position to have a better performing group of reserves than the one that allowed close games to turn in their opponents favor, or watched leads evaporate.
The key addition is Jamison.
He's a career 19.5 points-per-game scorer that instantly adds offensive firepower to a bench that's sorely lacked it. Jamison can space the floor for the Lakers' group of post players, while also providing an outlet in pick and roll actions when help is shuttled in his teammates' direction.
Furthermore, Jamison is a fantastic off the ball worker who has a knack for finding the creases in a defense as a slasher. His ability to turn broken plays into buckets and serve as a cutter when the defense overloads a side will help a bogged-down offense stay revving at a high level.
In Meeks, the Lakers grabbed a similar player to Jamison, but in a shooting guard rather than a combo forward.
Meeks can shoot the ball well in the half-court and in delayed fast breaks, providing spacing for a team that has struggled to find it in recent campaigns. And while Meeks isn't a great option to create off the dribble for himself or teammates, he can work as a runner off picks to provide a catch-and-shoot option for an offense that has too often relied solely on post ups and isolations to produce baskets.
Jordan Hill, meanwhile, is a rugged defender that attacks the backboards hard in search of rebounds.
In 2011-12, playing limited minutes, he posted one of the NBA's best offensive rebounding rates and did a great job finding creases in defenses that payed extra attention to Pau Gasol and Andrew Bynum. In 2012-13, Hill can provide similar work next to Pau and Dwight Howard by thriving as a put-back artist and easy bucket-getter when the D collapses on the other side of the floor.
Combined, this trio (along with Steve Blake and Devin Ebanks) should provide the Lakers with enough points, rebounds, shooting and defense to rekindle a bench that had lost its spark.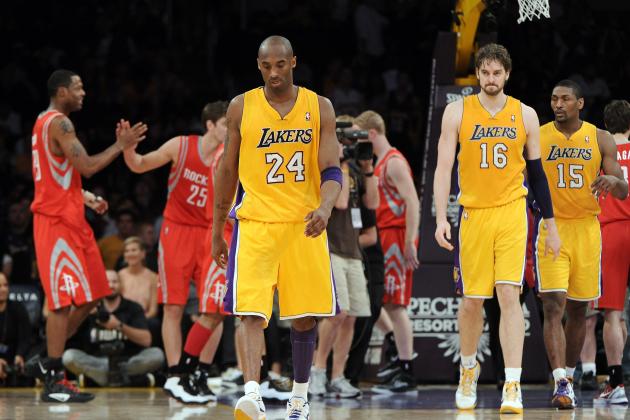 Harry How/Getty Images

Recently, Metta World Peace declared that the Lakers would challenge the 1996 Chicago Bulls' record for wins by pushing for 73 regular season victories.
While I don't support the Lakers chasing such a high win total, I do expect them to earn a top-three record in the league.
Let's just put a few facts on the table:
*The Lakers have an elite starting five.
*The Lakers have a more than serviceable bench that can play independent of or complement the starters.
*The Lakers have a strong group of coaches that are installing schemes to maximize their play.
*After not winning the championship in two seasons, the Lakers have a renewed hunger to play well from the get go.
When you combine these facts, the Lakers are well-positioned to be one of the league's top teams and challenge for one of the league's best records.
They won't have the inherent advantage of having the same team from last year.
Nor will they have their full team together from the start of training camp, with Dwight Howard still rehabbing his back. However, in the large picture, these are hurdles that can be overcome through the sheer talent on the roster.
Objectively speaking, the Lakers may still end up with fewer regular season wins than the Miami Heat and the Oklahoma City Thunder. However, when looking past those two teams there's not another team that is clearly better and should end up with a better record than the Lakers.
The team has all the ingredients to chase one of the top-three records and from a pure positioning standpoint, they'd be wise to do so. The team will want home-court advantage in the playoffs for as many rounds as they can get it, and the only way to earn that is to have one of the league's best records.
The expectation shouldn't be to chase a mythical number of wins that only one or two teams have ever reached, but possessing one of the top-two to three records should be squarely in their cross-hairs, as it's a worthwhile and achievable goal.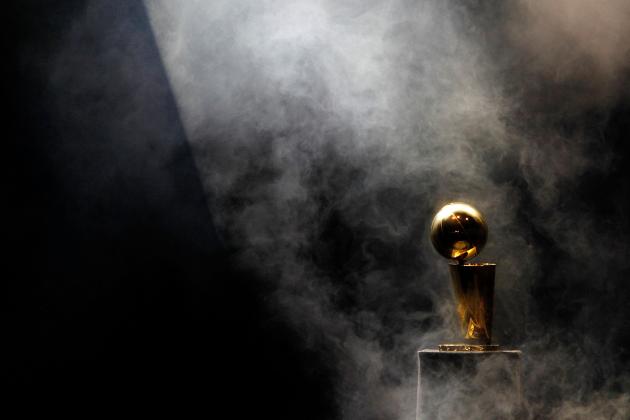 Mike Ehrmann/Getty Images

If there's one expectation that supersedes the rest it's that the Lakers will win the championship in 2012-13.
In a single offseason, they've added the best center in the league and one of the game's elite point guards. They still have one of the game's best power forwards and one of the two best shooting guards. Surrounding this foursome of elite players is an upgraded bench and a group of solid, yet unspectacular, veterans that can fill the roles they're asked to do every single night.
The team surely has question marks in their age, ability to stay healthy and how well their talent will mesh together. And, fair or not, these are questions that will linger with this group throughout the season until they're either disproved or end up being correct.
However, every top team has a similar list of question marks attached to their championship chances.
Whether or not the Lakers prove to be better than any of these other teams remains to be seen. The games will be decided on the court, not in the minds of analysts or in the simulations of a computer.
However, the Lakers are built to win now.
They possess size and quickness; they have experience and hunger; they have the talent and skill level to produce top-flight offensive and defensive numbers, while not straying from the identities of the players on their roster.
There will be hurdles along the way.
The scrutiny will be more severe than most teams have ever faced, and enough uncertainty to keep the media engaged in second-guessing their present chances and their future construction.
But, in the end, the Lakers have the leadership and personalities to block all that out and reach their ultimate goal. And just as the fans and the front office expect, the team, itself, should expect that they'll do it too.