Why Added Pressure on Carmelo Anthony Is Completely Justified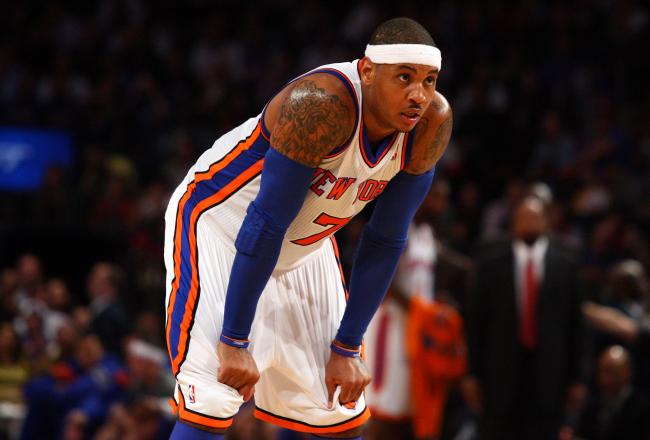 Chris Chambers/Getty Images
Carmelo Anthony has advanced past the first round of the playoffs once during his nine NBA seasons, but now that LeBron James has won a championship, fans and the media are waiting for Melo to do the same. Based on his decisions over the past few years, the added pressure is completely justified.
Anthony and James have been connected since they joined the league together to much fanfare in 2003. Melo had just led the Orange to a national championship in his freshman season at Syracuse University and James was the first pick in the draft after making the quantum leap from high school to the pros.
The two were close friends, had flashy games and entered a league searching for superstars in the post-Jordan era. Some basketball enthusiasts predicted they would develop a rivalry similar to the one that Larry Bird and Magic Johnson had in the 1980s.
When the New York Knicks failed to land LeBron in the summer of 2010, they turned to Melo as a backup plan. Unfortunately, for the Knicks and their fans, Carmelo Anthony's game is not comparable to James's. He is not even among the top ten players in the league and at that level, the gap between top five and top 10-15 is enormous.
The Knicks' forward is a brilliant scorer, as he demonstrated against Nigeria in the Olympics, dropping 37 points in just 14 minutes. Melo uses his quickness to take his man off the dribble and complemented by a devastating jab-step and lightning-quick jump shot. There are few, if any, players you would rather have take the last shot with the game on the line.
But Anthony's game is limited.
Offensively, he prefers to operate in isolation and rarely creates scoring opportunities for his teammates. He is an average defender and his PER (player efficiency rating) has never been among the top ten in the league.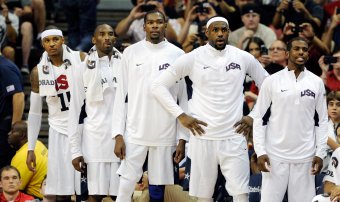 Anthony is not on the same level as his Olympic teammates LeBron James, Kobe Byrant and Kevin Durant.
David Becker/Getty Images
Anthony also does not compete as hard or work on his conditioning as diligently as superstars like LeBron James,
Derrick Rose
and
Kobe Bryant
, nor is he a natural leader. He sulks at times on the court when things are not going his way.
Carmelo may be capable of leading a team to a championship, but he does not have the necessary pieces around him in New York. As Phil Jackson said on HBO's Real Sports, the Knicks' roster is "clumsy," and "Stoudemire doesn't fit well with Carmelo." New York also lacks the three-point shooting necessary to win a title.
The expectations on Anthony, intensified by the bright lights of Broadway and teammates like Stoudemire and Jason Kidd—whose reputations have surpassed their abilities—are unrealistic, but they are justified. Carmelo asked for this.
He believes he is on the same level as his Olympic teammates LeBron James, Kobe Bryant, Dwyane Wade and Kevin Durant and has acted accordingly.
Anthony sought out the media capital of the world when he demanded that the Denver Nuggets trade him to the Knicks. Upon arrival, he played up his image as the prodigal son, referring to his Brooklyn roots at every opportunity.
He also brought added pressure upon himself by forcing the Knicks to gut their roster in order to acquire him. Had he waited and signed with them as a free agent—which would have cost him a significant amount of money under the new collective bargaining agreement—he would have a greater supporting cast to share the burden with.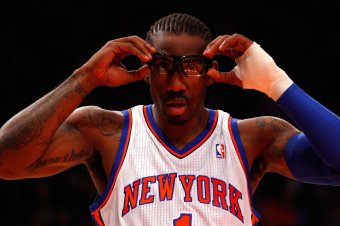 As Phil Jackson said, "Stoudemire does't fit well with Carmelo."
Jeff Zelevansky/Getty Images
Then Anthony upped the ante last season by refusing to conform to coach Mike
D'Antoni
's offensive system, which is predicated on spreading the floor and allowing the point guard to create shots through pick-and-rolls. Frustrated by his inability to reach his star player,
D'Antoni
resigned midseason.
The Knicks replaced him with interim coach Mike Woodson, who ran the offense through Carmelo, relying heavily on isolation plays on the wing and in the post. Carmelo publicly lobbied for removal of the interim tag from Woodson's title and the coach was given a new contract this summer.
Anthony is being paid over $22 million per year to play for the team of his choice, under the coach he endorsed, in a system that he prefers. He may not have the game or teammates necessary to withstand the added pressure that comes with it, but he brought it on himself.
This article is
What is the duplicate article?
Why is this article offensive?
Where is this article plagiarized from?
Why is this article poorly edited?

New York Knicks: Like this team?