Indianapolis Colts Don't Want to Be Called Losers and Other AFC South Stories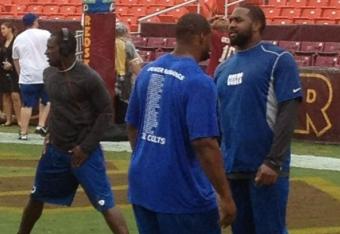 The Colts have "power rankings" shirts that emphasize they are the worst team in football (courtesy Albert Breer's twitter feed)

No one expects the Indianapolis Colts to win many games in 2012, and they are not happy about it.
The Article of the Day comes from George Bremer of The Herald Bulletin, who writes that the Colts are staging a rebellion against the media.
You see these kinds of stories pop-up around bad teams every year. Coaches rile up players and turn the media into the enemy.
"Us verses them" is a dangerous game to play with players, because it encourages them to listen to what people outside the walls of the team complex are saying. Obviously, it doesn't matter what media members think about a team and their direction. If you encourage players to listen when they say bad things, they'll be in the habit of listening when they say good things.
That's how upsets happen.
I would rather a coach teach a team to tune the media out entirely and to pay no attention. That was Tony Dungy's tact in Indianapolis, and it worked to perfection.
I can't speak for other writers, but I don't make predictions for fun. It's my job. It's what people want. I'm one of the chorus saying these Colts aren't a good team and will lose double-digit games. I don't like predicting bad things for teams. I would rather have everyone in the South finishing 11-5 and fighting for first-round byes.
That's not the way the NFL works, however. The averages say there will be a couple of bad teams in the AFC South. I happen to think those teams are Jacksonville and Indianapolis.
If the Colts use that as fuel to propel them to unlikely victories, then so be it. I think there has to be a higher octane of gas out there than media predictions.
General Interest
Bill Barnwell of Grantland explores trade value
Neil Paine at Football Perspective says the playoffs are more random than ever.
Brian Billick of Fox Sports previews the AFC South.
Mike Kurtz at Football Outsiders continue educating fans about officials.
Stephanie Stradley of Chron.com reflects on the Texans' roster.
Andy Benoit of the Football Outsiders previews the Texans.
Dale Robertson of The Houston Chronicle says "the leap" isn't easy to make.
Tom Gower of Total Titans analyzes the 53-man roster.
John Glennon of The Tennessean says the Titans need Kamerion Wimbley to bring the pressure.
I appeared on the Music City Miracles podcast previewing the AFC South.
Michael Pointer of The Indianapolis Star looks at Vontae Davis.
Scott Kacsmar of Bleacher Report examines what we've learned about Andrew Luck.
Kyle Rodriguez of Colts Authority looks at the final 53-man roster.
Judy Battista of The New York Times looks at Peyton Manning's exit from Indianapolis.
Barnwell breaks down bad contracts, and says the Jaguars have many.
Paul Kuharsky of ESPN.com believes the Jaguars won the Maurice Jones-Drew holdout.
Jeffery Chadiha of ESPN.com thinks the system is to blame.
Gene Frenette of the Florida Times-Union says Jones-Drew refused to admit he was wrong.
This article is
What is the duplicate article?
Why is this article offensive?
Where is this article plagiarized from?
Why is this article poorly edited?