Where Do Philadelphia Eagles Rank Among Top NFC East Pass Rushers?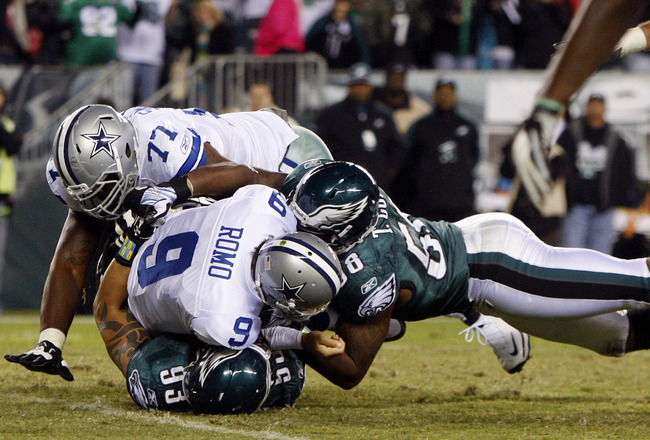 Rich Schultz/Getty Images
The NFC East is the new black and blue division. If for anything else, because of the beating opposing quarterbacks will take from the best group of pass rushers from any division. Three of the top five leaders in sacks from 2011 came from this division: DeMarcus Ware, Jason Babin and Jason Pierre Paul have all established themselves as elite pass rushers in the NFL.
The Redskins might have the fourth-best collection of pass rushers in the East, but a duo of Brian Orakpo and Ryan Kerrigan isn't too shabby.
Where do the Eagles rank in the best pass rushing division? Jason Babin and Trent Cole have to be up there after recording 18 and 12 sacks in 2011.
What about some of the other pass rushers on the Eagles roster?
Brandon Graham has a world of potential but has shown very little to prove his worth in his first two seasons. Phillip Hunt is a raw pass rusher, now in his second season from the CFL. Vinny Curry and Fletcher Cox are rookies in 2012 but should fit in perfectly as pass rushers in the wide-9 scheme. Also, don't forget about Cullen Jenkins. He did rack up 5.5 sacks last season.
Here are five Eagles that will rank in the top 10 in the NFC East in sacks.
5. Vinny Curry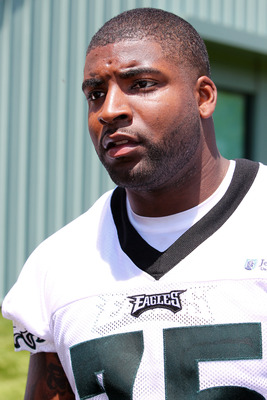 Rich Schultz/Getty Images
Vinny Curry had to be on cloud nine during the second round of the 2012 NFL Draft. Not only did he get drafted by the team he grew up pouring his heart out for, but he got drafted by a team that has the scheme to best utilize his skill set.
At this point in his career, Curry is best served as a pass rusher as opposed to a complete defensive end. He will become a complete player down the road, but right now, he is just a pass-rushing specialist. In the Eagles wide-9 defensive line scheme, Curry will line up wide and rush the backfield.
It's a simple job. Just get after the quarterback.
We often see rookies struggle early on in their career because they are adjusting to the speed of the game, the scheme and the playbook. Curry won't have to think as much as a rookie.
Just rush the passer.
He has the physical tools to do it at a very high level. He will also benefit from playing on obvious passing downs. You can expect him to get a lot of opportunities on third-and-long-type situations. More yards to gain on third down means the routes will take more time to develop, which means the quarterback has to hold the ball longer than usual.
All that adds up to more sacks for Curry.
2012 Sack Prediction: 7
4, Fletcher Cox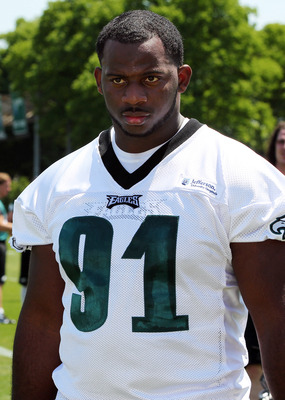 Rich Schultz/Getty Images
Fletcher Cox is a truly special athlete at defensive tackle. He isn't your typical 300-pound defensive tackle. He looks more like a 320-pounder. That's because he is one of the most toned defensive linemen in the NFL. He is a big, physical tackle who runs more like an athletic defensive end.
Cox should be an outstanding inside pass rusher in this league. He should be able to put up some really impressive numbers early in his career as he will be lining up next to the likes of Trent Cole, Jason Babin and Cullen Jenkins. That means he will rarely see double teams and will be matched up against less athletic offensive guards.
Cox is going to be lined up all over the defensive line. This is what his coaches did while he was at Mississippi State, and this is what we can expect the Eagles' coaches to do as well.
This will give him different types of match-ups throughout the game and also force the offensive line to adjust their protection schemes.
Last season, Henry Melton of the Chicago Bears had the most sacks of any defensive tackle in 2011 with seven. I believe Cox, with plenty of help from his teammates and a very comfortable scheme for him, can do even better in 2012.
2012 Sack Prediction: 7.5
3. Brandon Graham
Andy Lyons/Getty Images
Brandon Graham has been labeled a first-round bust after just two seasons.
It's not difficult to understand why a player with two career sacks is receiving that type of criticism. Especially since Jason Pierre-Paul, who was selected a couple spots after Graham, had 16.5 sacks last season.
Graham has been a player on a mission this summer. He is stronger and in better shape than he has ever been. He has that look in his eye of a player that badly wants to prove his doubters wrong. I don't like to bet against those type of players.
Focus plus talent equates to success.
Graham won't be a starter this season, but he will see plenty of time in the Eagles defensive line rotation. He should see somewhere around 30 to 40 percent of the snaps this season (depending on how he performs). That means he will be fresh all season long. As offensive lines are tiring out late in the season, Graham won't be. He should get better and better as the season goes on.
2012 Sack Prediction: 8
2, Trent Cole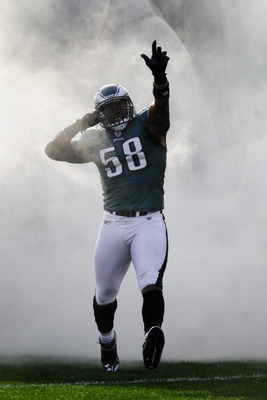 Rob Carr/Getty Images
Trent Cole isn't the best pass rusher on his team, but he might be the most complete defensive end in the entire league. When you watch Cole on tape, it's hard to find a weakness in his game. He is strong, physical, athletic and very skilled. He is relentless on every play and is outstanding at anticipating the snap count.
Cole doesn't have freak-like speed or strength, but he is still plenty strong and fast.
Last season he had 11 sacks in 14 games in his first season in the wide-9 scheme. Cole is the type of player that will thrive in any scheme. He has a great skill set that can work for any scheme.
I expect Cole to post career numbers in 2012.
He gets a full season to work with defensive line coach Jim Washburn and become an even better player in the wide-9. Cole also missed two games in 2011. If he can manage to stay healthy for all 16 games, I think 12 or 14 sacks is definitely possible.
Remember, he is on a stacked line that rotates players in order to keep everyone fresh. That means a fresher Cole that will face very few double teams.
2012 Sack Prediction: 13
1, Jason Babin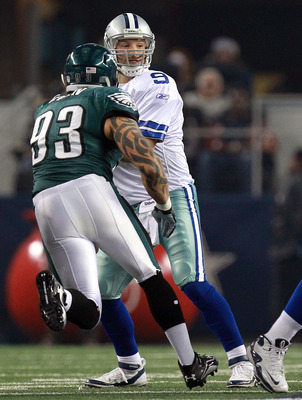 Ronald Martinez/Getty Images
Jason Babin is just a pure pass rusher, plain and simple. He isn't a complete defensive end, but he is an elite pass rusher. He has a great deal of flexibility, power and a motor that never stops.
He is the complete package for a pass rusher.
Babin had 18 sacks last season, which ranked third in the NFL. In 2010, his first season in the wide-9, he had 12.5 sacks. He had just 17.5 sacks in his previous seven seasons combined. Babin is right at home in the wide-9 and should continue to put up high sack numbers.
It's a bit much to expect Babin to match his 18 sack total from last season.
The depth at defensive end is better for the Eagles this season. He is also 32 years old. That means we should expect him to see less snaps this season. That doesn't mean his snap total will decrease drastically, but a slight decrease in snaps will lead to a slight decrease in sacks.
I would compare the Eagles defensive line this season to a hockey team that has a lot of talent in all three scoring lines.
You won't see one 50-goal scorer, but you will see a lot of players putting up at least 25 goals. That is what the Eagles defensive line will be like this season.
It wouldn't be so crazy to see six Eagles rack up at least seven sacks and possibly three Eagles put up double-digit sack totals this season. The depth on this defensive line is something the NFL hasn't really seen before.
2012 Sack Prediction: 15
Keep Reading

Philadelphia Eagles: Like this team?