5 Biggest Media Misconceptions About Carolina Panthers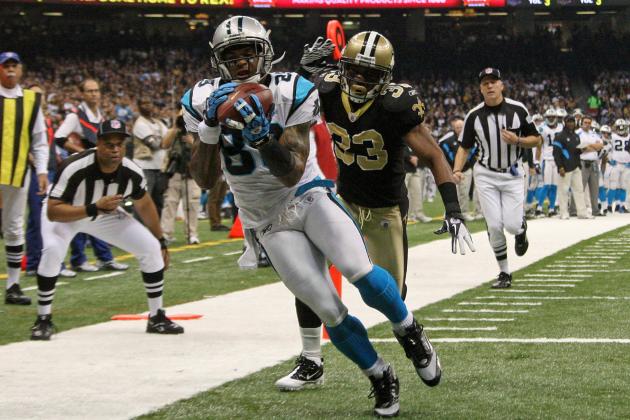 Scott Cunningham/Getty Images
Steve Smith (89) needs a veteran No. 2 receiver to line up across the field...or does he?
The Carolina Panthers are an NFL team on the rise, ready to challenge for NFC South supremacy and make a run for the playoffs in just the second year of the Cam Newton-Ron Rivera era, or at least that is what Panthers players like Steve Smith and the media would have you believe.
But the Panthers are a run-first team, right? And running teams are a thing of the past in today's high-flying NFL.
Plus, Carolina needs a reliable, big-play No. 2 receiver to play opposite Steve Smith and they do not yet have one on their roster.
And there is no way Cam Newton will stay healthy all season because he is a run-first quarterback.
To top it all off, the Panthers lack what every playoff-bound team needs in the NFL—a reliable home field advantage.
These are all prevailing thoughts among Panthers fans built upon media speculation, local and national sports talk radio, and articles and blogs on this site, the Charlotte Observer and CatScratchReader.com.
But much of what we believe to be facts are just opinions and misconceptions based upon what we have read, heard and discussed on golf courses, in tap houses and in barber shops across the Carolinas.
Have no worries, though, because the truth will set you free, and I am here to dispel the most predominant myths about the 2012 Carolina Panthers.
Begin Slideshow

»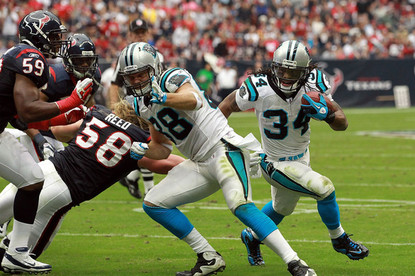 DeAngelo Williams (34) gets the corner against the Houston Texans. (December 17, 2011 - Source: Ronald Martinez/Getty Images North America)
Cam Newton rewrote the NFL's rookie passing records in 2011.
He started the season with consecutive 400-plus yard games and he threw for 4,051 yards.
Carolina also led the NFL in "big plays" over 20-yards in 2011, and theirs is a ball-control/big play offense.
However, in the Panthers' six victories last season, they ran the ball more than they passed in each of the final five wins. They also finished the season ranked third in the NFL in rushing.
The Panthers have arguably the best tailback tandem in the NFL with DeAngelo Williams and Jonathan Stewart—aka "Double Trouble"—in the backfield and both running backs are capable of putting up 1,000 yard seasons if they get enough carries.
With the addition of versatile fullback Mike Tolbert in the offseason, Carolina added another player who can run, block and catch out of the backfield.
Carolina was most effective last season when they ran the ball between 55-60 percent of the time in 2011 and they will need to employ a similar ratio in their play-calling in 2012 to get to double-digit wins and make a run for the playoffs.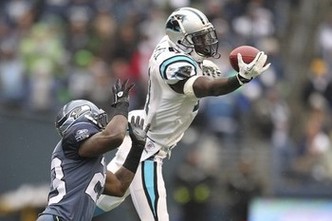 Brandon LaFell (11) extends to catch a pass against the Seattle Seahawks. Photo courtesy Getty Images.
I am as guilty as anyone clamoring for the Panthers to bring in a proven No. 2 receiver to play opposite Steve Smith.
In 2011, I pleaded for Marty Hurney to sign Brandon Lloyd and just a few weeks ago, I argued that Carolina should sign Plaxico Burress.
I will probably write that the Panthers should sign a veteran wide receiver (Percy Harvin, anyone?) at least once or twice before the trade deadline, whenever that may be, but the fact is the Panthers' coaching staff seems to be happy with Brandon LaFell heading into training camp as the designated second starting receiver.
David Gettis, who had a strong rookie season in 2010, will be back in action this year after missing all of last season with a torn ACL, and he has the speed to be a serious deep threat for Cam Newton.
So, for all the talk that the Panthers need to bring in another receiver to take LaFell's spot, it looks like the third-year receiver out of LSU is going to get a chance to prove himself as a viable No. 2 and become a household name throughout the NFL in 2012.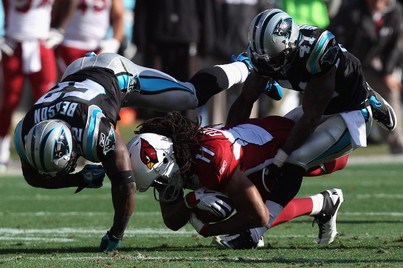 Jon Beason (52) and Captain Munnerlyn (41) take down the Cardinals' Larry Fitzgerald.(December 18, 2010 - Source: Streeter Lecka/Getty Images North America)
Ron Rivera was a heck of a defensive coordinator with the San Diego Chargers.
So good, in fact, that the Carolina Panthers hired him to be their head coach in 2011.
However, it is a common misconception that head coaches who excelled coaching one side of the ball immediately improve the same unit on their new team.
Brian Billick coordinated the 1998 Minnesota Vikings to a then-NFL record 556 points and just three years later won a Super Bowl as head coach of the defensive-minded Baltimore Ravens in 2001.
Billick's defensive coordinator, Marvin Lewis, left the Ravens to become the Cincinnati Bengals' head coach in 2003 and it took him nearly a decade to have a feared defense in Cincy even though his early teams had one of the NFL's highest scoring offenses.
Even Tony Dungy, whose Tampa Bay Buccaneers had one of the league's best defenses using Monte Kiffin's "Tampa 2" scheme, won his only Super Bowl coaching Peyton Manning and the high-scoring Indianapolis Colts.
Rivera can bring in defensive players to improve the defense, and he did so with the Panthers' first pick of the 2012 NFL draft, Luke Kuechly.
He can also help re-create a defensive mindset and culture for the Panthers' organization.
But ultimately, the head coach oversees the entire team, and Carolina's defensive coordinator Sean McDermott will deservedly get credit for how well or how poorly the Panthers' defense performs in 2012.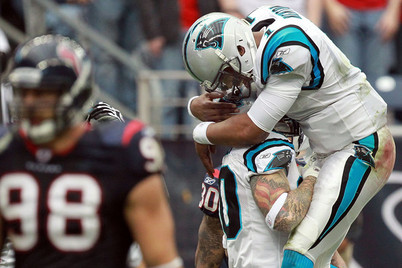 Cam Newton (1) celebrates a touchdown with Jeremy Shockey. (December 17, 2011 - Source: Ronald Martinez/Getty Images North America)
Cam Newton ran for 706 yards and 14 touchdowns in 2011, but he is not a run-first quarterback.
Carolina's offensive coordinator, Rob "Chud" Chudzinski, designed and installed a set of read-option plays to take advantage of Newton's preternatural ability to run the football last season.
Newton may even have more designed run plays called for him than any other quarterback in 2012.
But when it comes to the passing game, Newton is a quick decision maker and a pocket passer first.
Even when the pocket dissolves and he scrambles to avoid the pass rush, he keeps his eyes peeled for a big pass play downfield.
When all else fails and the best option is to run, Newton will tuck the ball and use his legs to move the chains, as any smart quarterback should, but his primary focus is as a passer.
So, to sum it up, Cam Newton is a pass-first, pass-second, run-third quarterback.
But, oh, how we love it when he runs.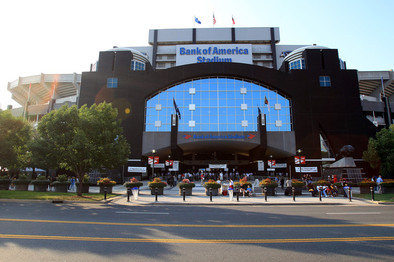 Home of the Carolina Panthers. (August 31, 2011 - Source: Streeter Lecka/Getty Images North America)
Charlotte is a transient town filled with bankers who grew up in the suburbs of Chicago, Buffalo and New York City cheering for teams other than the Carolina Panthers.
Even Charlotte natives older than 25 began their NFL fanhoods rooting for either the Washington Redskins, Dallas Cowboys or Pittsburgh Steelers because the Panthers did not exist until 1995.
For that very reason, Bank of America Stadium often looks like an extension of the home field for visiting, traditional NFL teams with loyal, national fan bases.
However, the Panthers' fan base is experiencing a resurgence with the excitement surrounding the team and its second-year quarterback, Cam Newton.
As Carolina continues to improve and win games with Newton leading the way, there will be more fans in Panthers gear than ever before and the stadium will continue to get louder and louder in support of the home team.
In the franchise's 18th year, this is the Panthers team that will cement the team's popularity in the Carolinas and secure a home field advantage for the next 25 years.
Jimmy Grappone is a Featured Columnist covering the NFL and the Carolina Panthers for Bleacher Report since 2008.
Recent articles by Jimmy Grappone:
5 Reasons Defense Will Lead Panthers' Playoffs Push

Predicting the Panthers' Statistical Leaders in 2012

5 Questions Panthers Must Answer in Camp
Constructing the NFL's OKC Thunder