Predicting Carolina Panthers' Statistical Leaders in 2012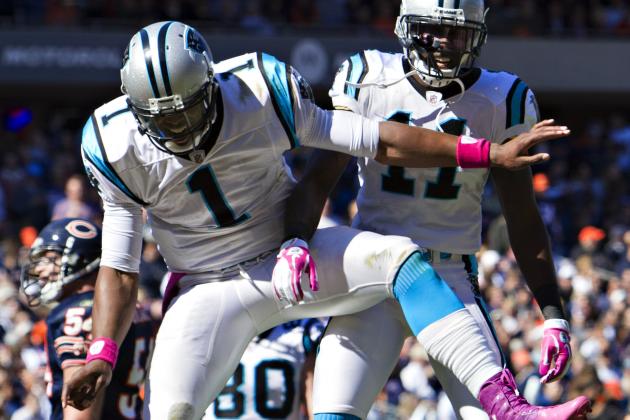 Wesley Hitt/Getty Images
Cam Newton (1) and Brandon LaFell (11) jump for joy against the Bears.
As much as American students hate arithmetic, Americans love statistics, especially when they can get them with a side of sports. Carolina Panthers fans are no different.
We are all obsessed with our top athletes' and teams' scoring averages, their shooting percentages, their ERAs and their YACs.
As Carolina Panthers fans, you want to know how many yards Cam Newton passed for or how many rushing touchdowns he scored last week.
You want to know just how many tackles Luke Kuechly had in his NFL debut.
And you want to know whether DeAngelo Williams or Jonathan Stewart, or both, will rush for more than 1,000 yards in 2012.
So, while Panthers players and hopefuls are busy staying out of trouble (unlike the Detroit Lions) and preparing for training camp, you are getting ready for your fantasy drafts and arguing about which Panthers will have the biggest seasons in 2012.
Though I would not take my own NFL fantasy advice—I have finished at or near the bottom in every league I have ever joined—I can tell you who will lead the Panthers in each of the major statistical categories in 2012.
Just click that "Begin Slideshow" button, okay?
Begin Slideshow

»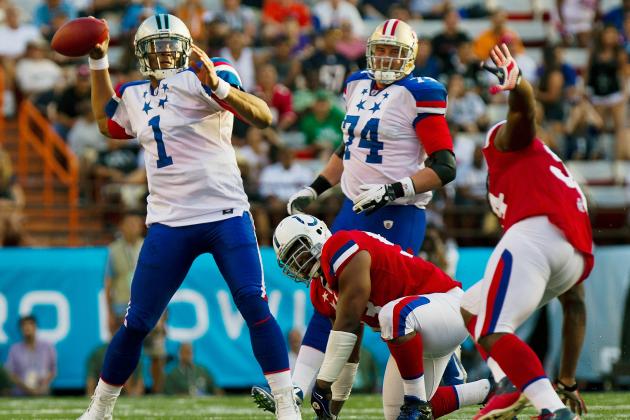 Kent Nishimura/Getty Images
Cam Newton (1) in the 2012 NFL Pro Bowl
Ho-hum, this slide is a no-brainer.
Cam Newton had a rookie quarterback season unlike any before him in NFL history and he is about to take the league by storm again in his second season.
Newton, the NFL's 2011 Rookie of the Year and a controversial first-alternate to the Pro Bowl, began his career with consecutive 400-yard passing games and became the first NFL quarterback to pass for more than 4,000 yards in his rookie year.
Newton also rushed for an NFL-record 14 touchdowns in 2011, a feat no other quarterback in NFL history, including great running QBs like Fran Tarkenton, Randall Cunningham and Mike Vick, has ever accomplished.
With all the help Newton has in the backfield, he will hand the ball off more in 2012 than he did a season ago and he will pass for under 4,000 yards.
However, Newton's completion percentage and touchdown passes will increase in his sophomore year, and he will cut down on turnovers as his decision making and awareness will improve in his second pro season.
As long as winning is the only thing Cam Newton cares about, he will never have to throw for 4,000 yards in a season ever again.
Predicted Stats: 3,750 yards, 32 touchdowns, 8 interceptions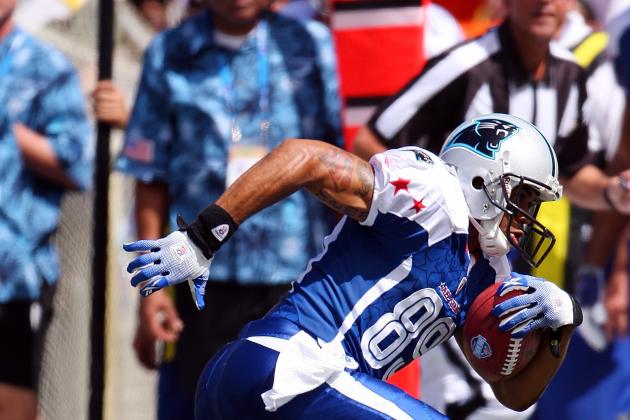 Paul Spinelli/Getty Images
Steve Smith (89) returned to the Pro Bowl after a breakout season in 2011.
There is no debate in Carolina over the identity of the Panthers' No. 1 receiver and Cam Newton's favorite target, Steve Smith.
Arguably the most talented and popular, yet enigmatic, Panther in the team's 18-year history—right alongside Julius Peppers—Steve "Mighty Mouse" Smith had a resurgent year in 2011 in his first season with Newton, catching 79 passes for 1,394 yards and seven touchdowns en route to the Pro Bowl.
Smitty will get even better looks and more balls thrown his way in 2012 with help from his fellow receivers, Brandon LaFell and David Gettis, who will split between 100-120 balls.
With last season's No. 2 receiver, Legedu Naanee, out of the mix, LaFell should be able to add at least 20-30 grabs to his 36-catch total of a year ago.
And David Gettis, who sat out the 2011 season with a torn ACL, is a legitimate deep threat whose ability to get open down the field will free up Smith to haul in more receptions and to gain more yards after the catch.
Smith will lead the Panthers' receiving corps again in 2012, and his second season playing with Cam Newton in Rob Chudzinski's scheming offense will be the finest of his career.
Predicted Stats: 90 catches, 1,620 yards, 12 touchdowns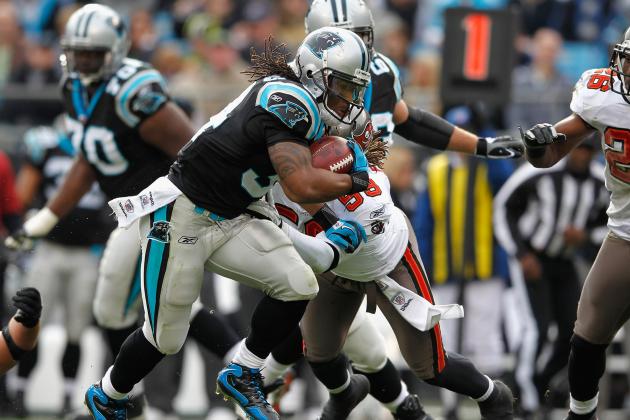 Streeter Lecka/Getty Images
DeAngelo Williams will rush for over 1,000 yards in 2012.
Bold Statement Alert!
The Carolina Panthers have the best tailback tandem in the NFL, and DeAngelo Williams is at least half the reason why.
Williams and Jonathan Stewart form the feared rushing duo, "Double Trouble," and the pair often split carries and alternate series throughout the Panthers' games.
Stewart, the bigger of the two backs, is the grinder who picks up the tough yards between the tackles. while Williams is the home run threat who can take it to the house from anywhere on the field.
Stewart and Williams became just the seventh set of backfield mates to run for more than 1,000 yards each in 2009 and they both averaged a ridiculous 5.4 yards per carry in 2011.
I expect the Panthers' rushing attempts to increase in 2012 and for Williams and Stewart to each eclipse the 1,000 yard mark this season.
However, Williams has led the Panthers in rushing in three of the past four seasons, and he will do so again in 2012.
Predicted Stats:
Williams: 245 carries, 1,323 yards, 11 touchdowns
Stewart: 215 carries, 1,196 yards, 8 touchdowns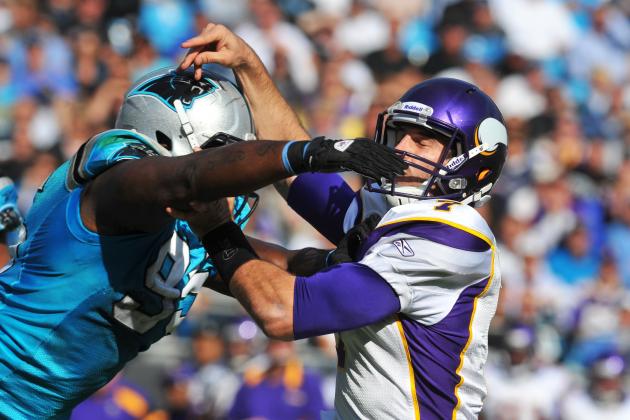 Al Messerschmidt/Getty Images
Charles Johnson (95) is out to terrorize quarterbacks in 2012.
Gone are the days when Julius Peppers terrorized opposing quarterbacks in a Carolina Panthers uniform for the first eight years of his certain Hall of Fame career.
However, the Panthers have a budding star and bona fide sack master in defensive end Charles Johnson.
Johnson's year-over-year production was down in 2011 when he had only nine sacks after racking up 11.5 sacks in 2010, however he has the necessary motivation to improve those numbers in 2012.
Johnson will be out to prove that he is worthy of the six-year, $76-million contract he signed to remain with the Panthers during Jerry Richardson's post-strike spending spree of 2011.
At the other end of the defensive line, Greg Hardy gained nearly 20 pounds of muscle this offseason, up from 280 to 299, in an effort to not get pushed around so much by opposing tackles, and the Panthers drafted another defensive end, Oklahoma's Frank Alexander, to ensure they are getting a good pass rush this season.
Johnson will step up to the challenge in 2012 and earn his first Pro Bowl trip as a pass rush specialist.
Prediction: 14.5 sacks to match Peppers' highest total as a Panther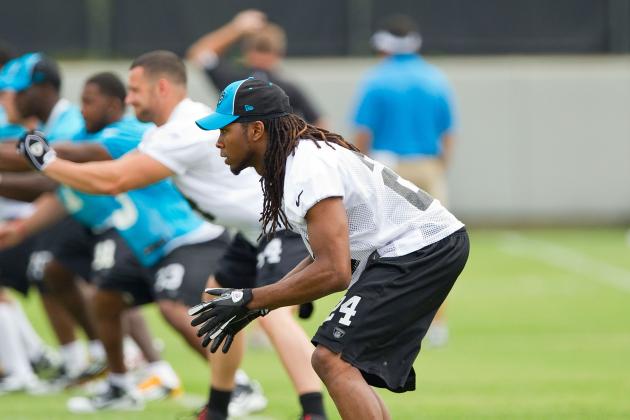 Brian A. Westerholt/Getty Images
Rookie cornerback Josh Norman (24)
Josh Norman, Brandon Hogan and Captain Munnerlyn will be in a much talked about and much publicized competition for the Carolina Panthers' other cornerback position opposite Chris Gamble once training camp gets into full swing in early August.
And based upon my prediction of Norman being the Panthers' top pick-man in 2012, you can correctly assume who I think will win the job.
Norman, the Panthers' fifth-round draft pick out of Coastal Carolina, is as brash and arrogant as they come, and that can be a great quality in an NFL cornerback.
However, as often as he makes the big play, his inexperience will show at times during his rookie season.
Norman will lead the Panthers in INTs this season because he will have the most opportunities as opposing teams will throw at him much more often than his counterpart, Gamble.
He may also lead Carolina defenders in big plays and touchdowns allowed, but Norman has a bright future with the Panthers and he will likely prove to be a starter in the Carolina secondary for many years to come.
Predicted Stats: 7 interceptions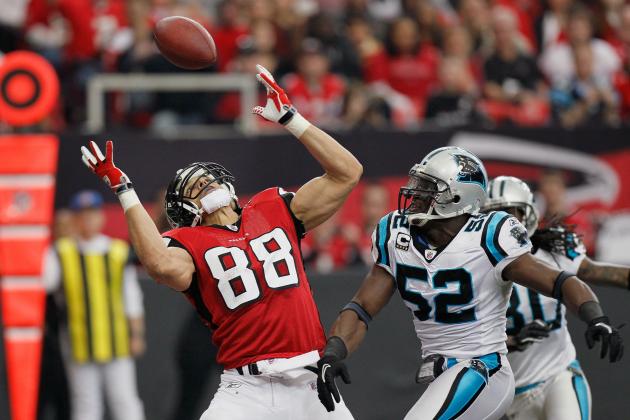 Kevin C. Cox/Getty Images
Jon Beason (52) closing in on the Falcons' Tony Gonzalez (88).
What a year for the Carolina Panthers' linebackers in 2011.
Jon Beason tore his Achilles tendon in the first game of the season and Thomas Davis blew out his ACL for the third time just a week later.
Both players were lost for the season.
Fortunately, James Anderson managed to step up and finished sixth in the NFL with 145 tackles, but that did not prevent the Panthers from having one of the worst defenses in the league.
Without their two best linebackers, Carolina finished 25th in the NFL against the run, 28th in total defense and 27th in points allowed.
Beason is back in 2012, and Davis should be, too, but the Panthers added another linebacker to the mix this offseason by drafting Boston College's Luke Kuechly, the nation's leading tackler and the winner of both the Butkus and Bronko Nagurski awards last season.
Kuechly is a tackling machine and Anderson's 145 tackles are three more than Beason had in his best season in 2009.
So, who will lead the Panthers in tackling this season?
That's easy. Jon Beason.
As I've written in the past, Beason is the heart and the soul, the eyes and the ears of the Carolina Panthers' defense, and he will be darned if he is going to step down and let another player make more stops than he will in 2012.
The Panthers' defense will be much improved this season with Beason leading the way.
Predicted stats: 152 tackles, 2.5 sacks, 2 INT
Jimmy Grappone is a Featured Columnist covering the NFL and the Carolina Panthers.
You can follow Jimmy Grappone on Twitter @imapone24.
Also, check out my new writer fan page on Facebook, and be sure to "like" me. I look forward to your comments.
Recent articles by Jimmy Grappone:
5 Questions Panthers Must Answer in Camp
Constructing the NFL's OKC Thunder
Plaxico Burress" target="_self" href="../../articles/1228742-5-reasons-carolina-panthers-need-to-sign-plaxico-burress-to-one-year-deal">5 Reasons Carolina Should Sign Plaxico Burress
5 Early Winners and Losers of Panthers' Offseason
Panthers Making Progress in Cam Newton's First Full Offseason