NBA Finals 2012: Kevin Durant Will Never Be League's Best Until Defense Improves
June 21, 2012

Mike Ehrmann/Getty Images
Stop the MVP chants.
Kevin Durant is the best scorer in the NBA. That's it—scorer. And he'll never hold the title as the league's best player until he makes a greater impact on the defense.
Durant isn't a poor defender. In the Western Conference Playoffs, his defense on Kobe Bryant late in games clinched the series for the Oklahoma City Thunder. But as Serge Ibaka would say, Durant can play defense for two or three minutes, but not 48.
In Game 5, Scott Brooks assigned Durant to Mario Chalmers to prevent him from getting into foul trouble. KD apparently thought he had Ed Reed range and played off Chalmers like a free safety to help Thabo Sefolosha defend LeBron James. It didn't work.
After going 2-15 from the field in the previous two games, Chalmers dropped 25 points, sparking the Heat to a 3-1 series lead. That doesn't happen to the best player in the league—ever.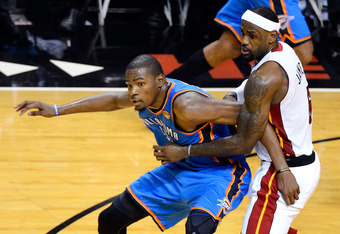 Ronald Martinez/Getty Images
Is Erik Spoelstra forced to hide LeBron on Sefolosha? No, because James is capable of influencing the outcome of the game on both ends of the floor. And that's what a player must do to be the best.
Michael Jordan wasn't just an unstoppable scorer—he was the best on-ball defender in the league and yes, better than Scottie Pippen. Bryant was never the NBA's best on-ball defender, but he wasn't voted on the All-Defensive First Team nine times because Phil Jackson hid him on the opposition's Mario Chalmers. And let's just say Shaquille O'Neal enjoyed playing offense a bit more than defense, but he still imposed his will against opposing bigs in each area of the game.
When MJ, Kobe and Shaq were labeled the best player in the NBA, they weren't just solid defenders—they were elite. Durant isn't an elite defender, not even close. With his phenomenal length and athleticism, he has the ability to be just that, but until then, he'll just be one of the best.
David Daniels is a featured columnist at Bleacher Report and a syndicated writer.