Philadelphia Eagles: The 25 Most Average Players During the Andy Reid Era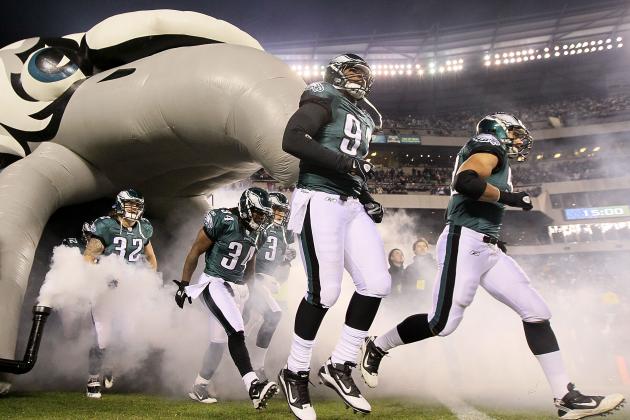 Jim McIsaac/Getty Images

Earlier this week, the sports blog, Kissing Suzy Kolber, published an article on the 100 most average football players of all-time, listing former Philadelphia Eagles wide receiver James Thrash No. 1 on that list.
The definition of average according to dictionary.com is "typical, common, ordinary." Synonyms of the word average include mediocre, normal and generally boring. That reminds me of many players I remember watching during the Andy Reid era.
Here are 25, in particular, who stand out to me.
Begin Slideshow

»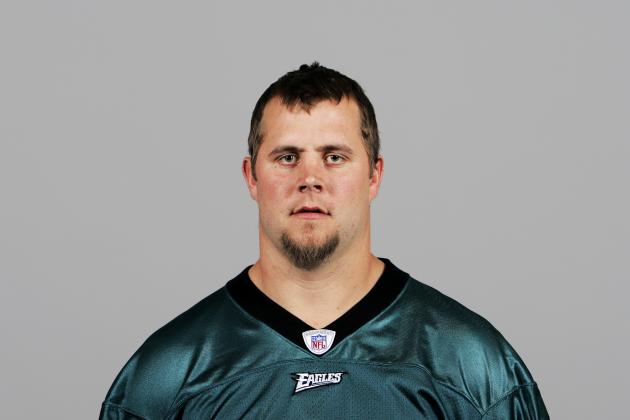 Getty Images/Getty Images

It's easy to be average when you're a fullback, and that was the life of Josh Parry. He had two separate stints with the Philadelphia Eagles but never really did much to make anyone remember him.
Parry never carried the ball, caught just 22 passes in two seasons and eventually lost his starting job to Thomas Tapeh of all people.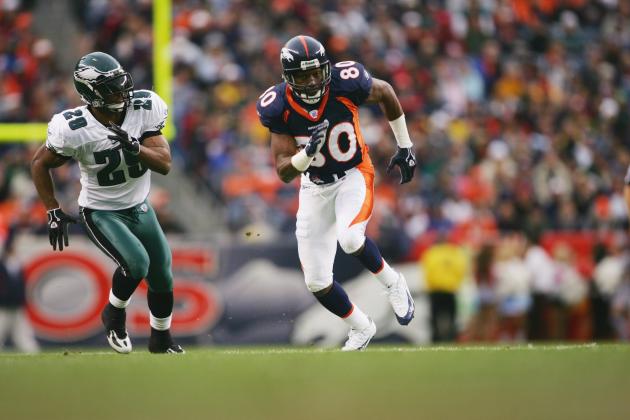 Doug Pensinger/Getty Images

Rod Hood was one of many dime a dozen guys the Philadelphia Eagles had returning kicks for them in the era after Brian Mitchell. Hood handled the return duties for two seasons, averaging 22.4 and 23.7 yards on 53 total returns.
Those numbers are about what you'll get from most returners around the league. Hood was also just an average nickel or dime cornerback on defense.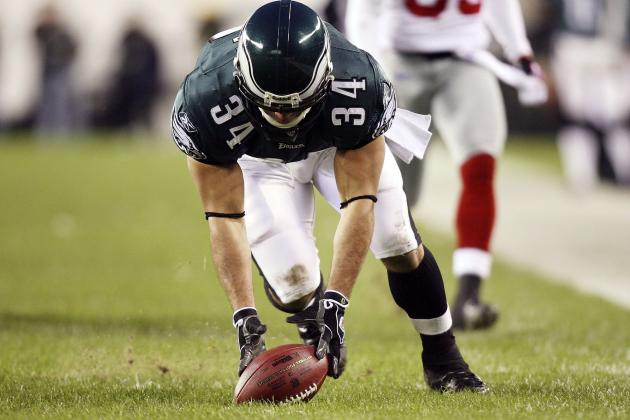 Doug Benc/Getty Images

I have absolutely no reason why the Philadelphia Eagles kept Reno Mahe around for five seasons. That's about five too many. He offered very little as a third running back, and he never broke a punt return for a touchdown.
One of the great mysteries in life to me is how Mahe managed to lead the NFC in punt return average (12.8) in 2005. Sometimes, I still wonder if that's a typo.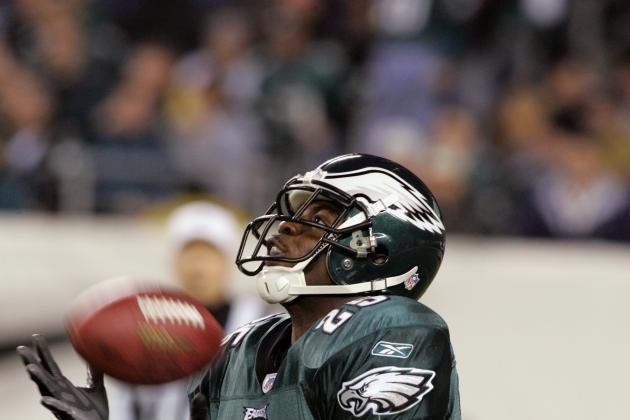 Jim McIsaac/Getty Images

Lamar Gordon had a pretty disappointing NFL career, bouncing around the league with three separate teams after going as high as the 84th overall pick in the draft. He spent one season in Philadelphia, rushing for 182 yards and a touchdown on 3.4 yards per carry.
I don't remember any highlights from Gordon, and his numbers show that his longest carry with the Eagles was 11 yards. That's nothing to get remembered for.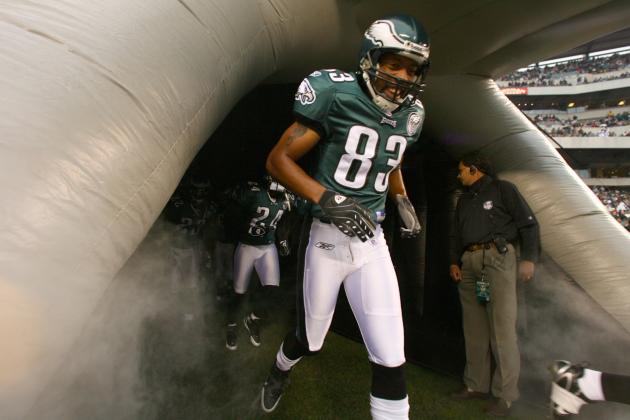 Al Bello/Getty Images

Greg Lewis spent six seasons with the Philadelphia Eagles, slowly and surely causing me to hate the position of wide receiver. He caught just eight touchdowns during that time, although he somehow managed to become the only Eagles' wide receiver who ever lived to catch a touchdown in the Super Bowl.
Most puzzling about Lewis is that Andy Reid started him for all 16 games in 2005. Lewis responded by catching 48 passes for 561 yards and one touchdown. I don't think he kept too many defensive coordinators up at night.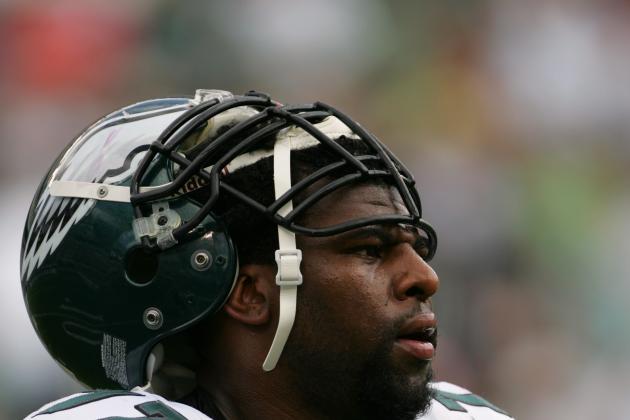 Jamie Squire/Getty Images

For the most part, the offensive linemen for the Philadelphia Eagles have been terrific—Jason Peters, Jon Runyan, Tra Thomas and Shawn Andrews to name a few.
Artis Hicks only started two seasons, bridging the gap between Jermane Mayberry/John Welbourn and Andrews/Todd Herremans.
Hicks was just your average lineman, although he's since managed to 40 games for two teams in the last six seasons.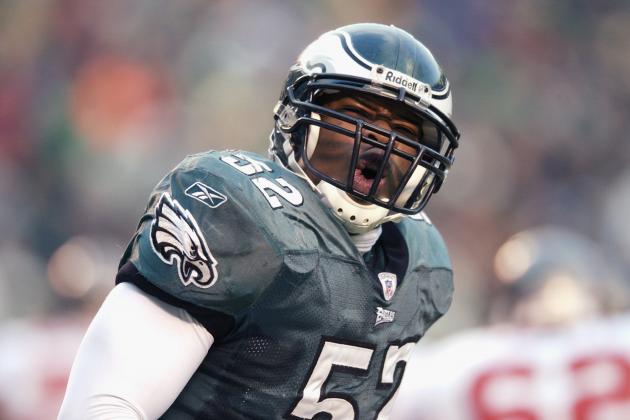 Ezra Shaw/Getty Images

The Philadelphia Eagles wasted the 35th overall pick on Barry Gardner—a linebacker who was supposed to team with Jeremiah Trotter to give the Eagles one of the better units in the game.
Instead, Gardner started just 18 games in four seasons and none in his final two. He never intercepted a pass with the Eagles and had just two sacks.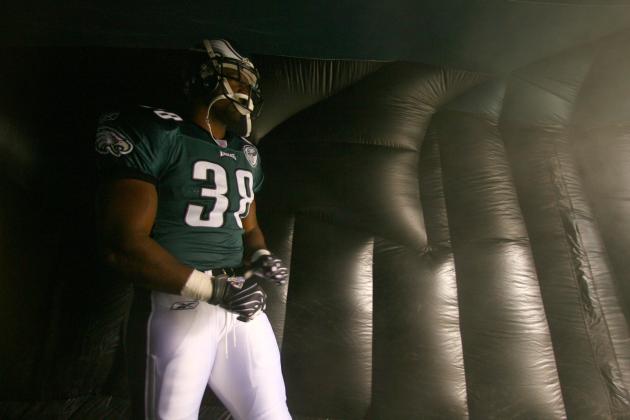 Al Bello/Getty Images

If it makes Thomas Tapeh feel any better, most fullbacks are pretty mediocre. And Tapeh was just like the rest of them. He rushed for 69 yards and caught 27 passes for 157 yards in four seasons, nothing really worth bragging about.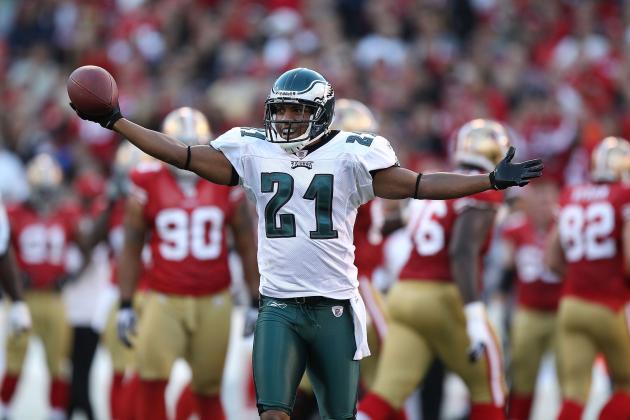 Jed Jacobsohn/Getty Images

How in the world has Joselio Hanson managed to last six seasons—and entering a seventh—strictly as a backup cornerback?
Because of playmakers like Lito Sheppard, Sheldon Brown, Asante Samuel and Nnamdi Asomugha, there has never been the need for Hanson to start.
That's fortunate because he really isn't anything more than a career nickel or even dime cornerback.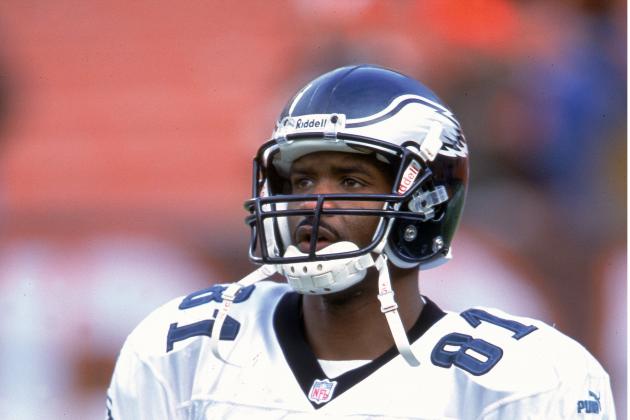 Tom Pidgeon/Getty Images

I'm not really sure what Andy Reid was thinking when he employed Charles Johnson to be Donovan McNabb's No. 1 receiver. It's really a testament to McNabb that he managed to not only survive—but thrive—with Johnson as Torrance Small catching passes from him.
Johnson caught 56 passes for 642 yards and seven touchdowns in 2000 before he left the Eagles for the New England Patriots. There's nothing about him to remember.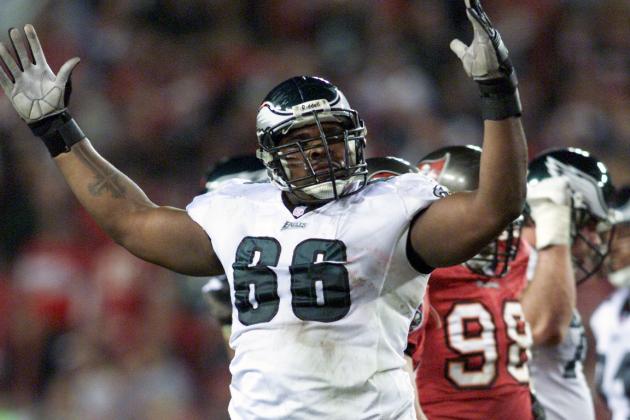 Andy Lyons/Getty Images

As a Philadelphia Eagle, Bobbie Williams was strictly a backup-caliber guard who didn't do much to separate himself from the rest of the bunch. He played in 33 games, starting 12, in three seasons.
What's interesting about Williams is that after he left Philly, he went on to have a solid enough career with the Cincinnati Bengals, starting 118 games in eight seasons.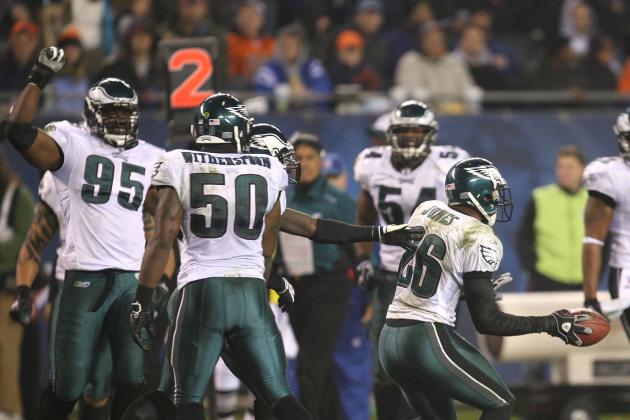 Jonathan Daniel/Getty Images

Sean Jones had the unfortunate task of trying to replace a legend in Brian Dawkins, and that's no easy chore.
Jones started nine of 15 games in 2009, racking up two interceptions, five passes defensed, and one sack before the Philadelphia Eagles moved on from this journeyman safety.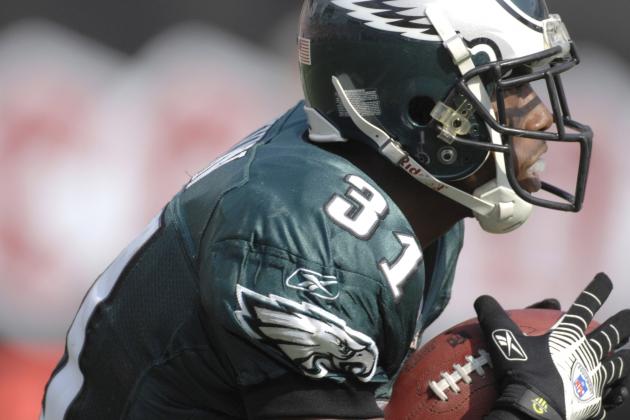 A. Messerschmidt/Getty Images

In three seasons as a reserve cornerback, Dexter Wynn never picked off a pass. He was also highly mediocre as a returner, averaging 17.8 and 20.1 yards per kick return in his two primary seasons as the returner.
His longest runback was just 34 yards, which is certainly nothing to write home about.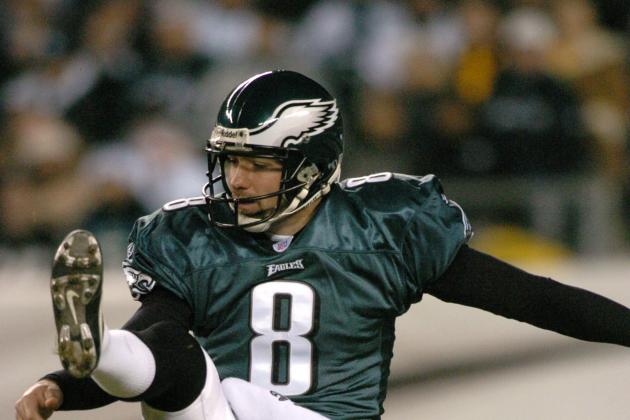 Brian Killian/Getty Images

Dirk Johnson was just an average punter during his four seasons with the Philadelphia Eagles, averaging between 40.6 and 42.6 yards per punt each year. Those are averages that would rate him as about the 25th-best punter overall during that span.
Johnson has bounced around the league since, playing for the Chicago Bears, Arizona Cardinals and Tampa Bay Buccaneers for a year each.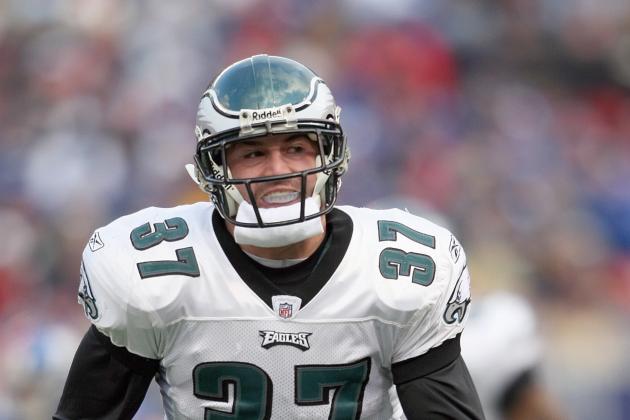 Nick Laham/Getty Images

The Philadelphia Eagles have had their share of fine safeties during Andy Reid's era, namely Brian Dawkins and Quintin Mikell. Sean Considine was not one of those fine safeties.
He started 17 games in four seasons, appearing in 46-of-64 from 2005 through 2008.
Considine was adequate in the run game, subpar in the passing game and really nothing as a pass-rusher.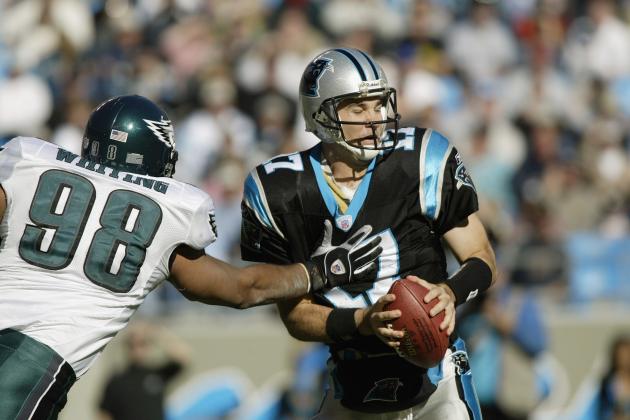 Getty Images/Getty Images

In six seasons with the Philadelphia Eagles, Brandon Whiting appeared in 88 games, starting 59 of those. He averaged fewer than three sacks per season, which made him one of the least effective starting pass-rushers in the NFL during that span.
Whiting also forced just two fumbles and averaged only 19 tackles per season in the running game.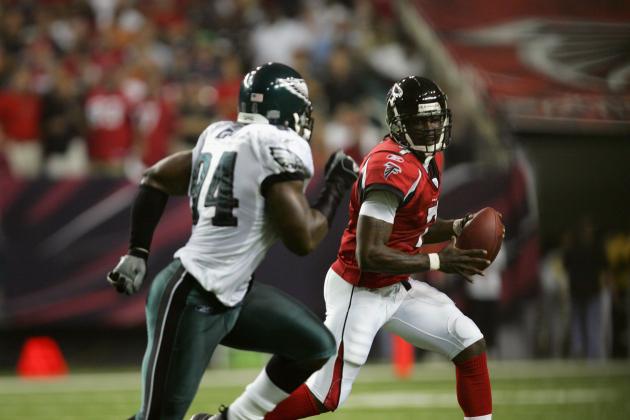 Streeter Lecka/Getty Images

It wasn't until I looked up N.D. Kalu's career numbers that I remembered he played three games for the Philadelphia Eagles as far back as 1997.
It's amazing that the Eagles went to three straight NFC championship games with Kalu as one of their primary defensive ends—and he accounted for just 16.5 sacks during that span.
The only game Kalu ever had that stands out is the three-sack game against the St. Louis Rams in 2002.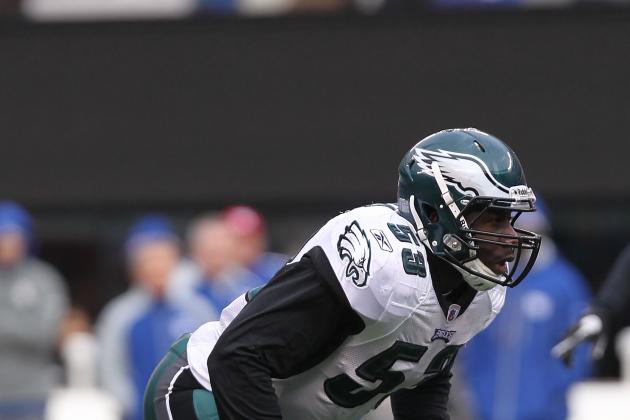 Nick Laham/Getty Images

I'm really glad the Philadelphia Eagles traded for DeMeco Ryans and drafted Mychal Kendricks, because Moise Fokou has been downright boring, mediocre and average as a three-year linebacker.
Fokou has appeared in 43-of-48 games since 2009, finally missing time last year when he broke his ankle and had to be placed on IR.
Fokou has one sack and no interceptions to his name. I'm not sure what Andy Reid sees in him.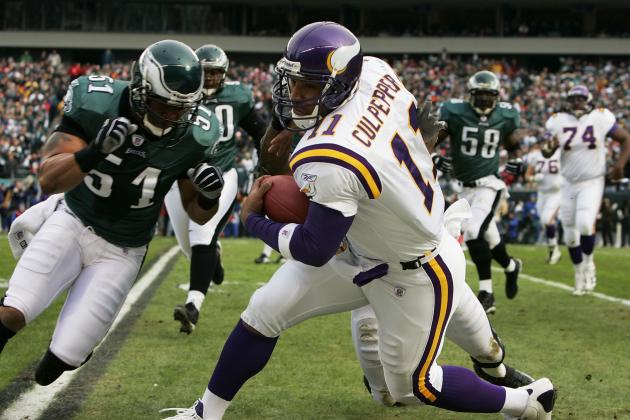 Brian Bahr/Getty Images

The Philadelphia Eagles went 25-7 in the two seasons Nate Wayne started at outside linebacker, but I don't really think that's too indicative of Wayne's abilities.
He was an OK tackler, a decent player in pass coverage and just a mediocre pass-rusher.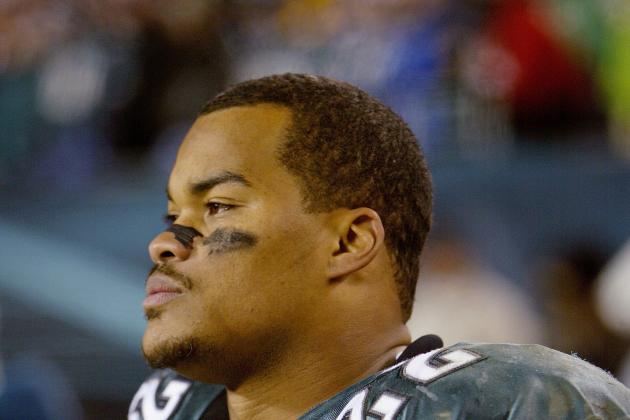 Doug Pensinger/Getty Images

Everyone liked Duce Staley because he was the starting running back, but he really wasn't anything more than the 10th- or 15th-best running back in the game.
Staley topped 1,000 yards three times, but the years in which he did it, he posted a yards per carry of 4.1, 3.9 and 3.8.
He missed some time due to injury during his seven years, which is typical of a starting running back. Staley was just your average starting running back, although he will always be a fan favorite in Philly.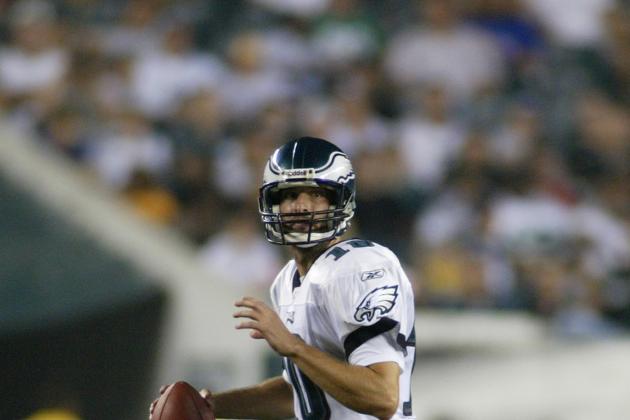 Len Redkoles/Getty Images

I can't believe Koy Detmer managed to stay with one team for eight seasons, especially since Andy Reid—at least these days—puts so much emphasis on the backup quarterback position.
Detmer was undersized, he didn't possess a particularly strong throwing arm and I'm not sure how he managed to turn in that one phenomenal Monday night performance when Donovan McNabb was injured.
Detmer's career line: 52.0 career completion percentage, 10 touchdowns, 14 interceptions and a 61.2 passer rating.
That's pretty typical of a backup quarterback.
A. Messerschmidt/Getty Images

Spoiler alert: The final four spots on this list are all wide receivers and linebackers, which pretty much sums up the Andy Reid era. Mark Simoneau was extremely mediocre during the 2003 and 2004 seasons, averaging 1.75 sacks and two forced fumbles per year.
He didn't pick off any passes and wasn't much of a help in the running game, filling in during the years when Jeremiah Trotter was in Washington, D.C.
The only thing Simoneau ever did that made him stand out was kicking an extra point when David Akers got hurt.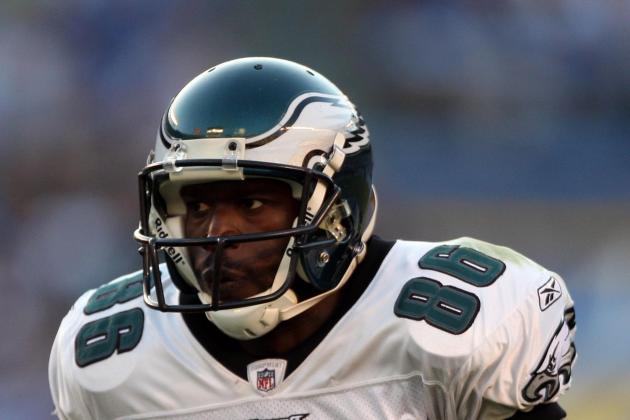 Donald Miralle/Getty Images

Reggie Brown never came close to amounting to the player the Philadelphia Eagles thought he would be when they spent a second round pick on him. Brown started 45 games during his five seasons in the National Football League, never topping 61 catches, 816 yards or eight touchdowns in a year.
Brown all but disappeared from the team when the Eagles drafted DeSean Jackson in '08, and he signed with the Tampa Bay Buccaneers in 2010 but never made the official roster.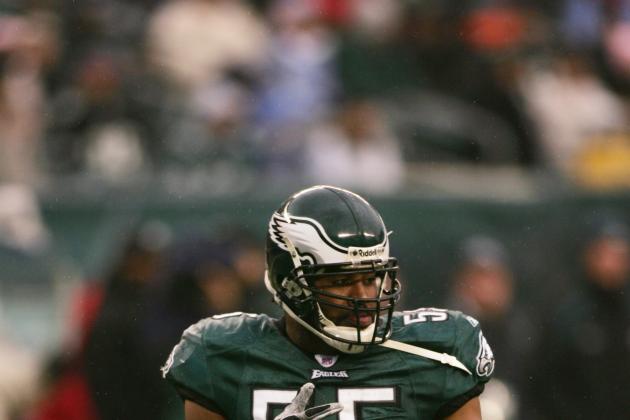 Doug Benc/Getty Images

The fact that Dhani Jones was a starting linebacker for the Philadelphia Eagles makes me want to bang my head against the wall. Jones registered one sack, two interceptions, no forced fumbles and one fumble recovery in 44 games started.
Jones was a classy guy, and he probably has a future in broadcasting, but as a player, he was incredibly frustrating.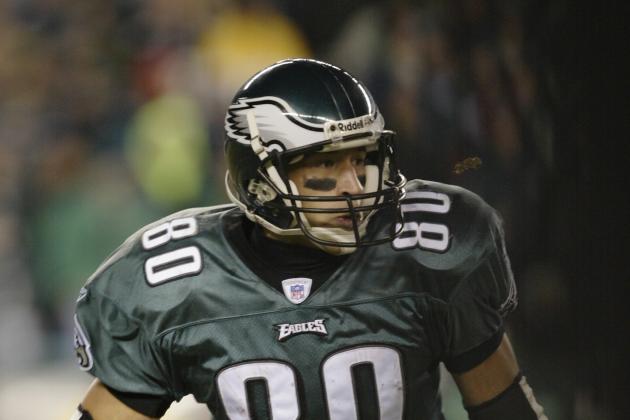 Brian Bahr/Getty Images

In three seasons with James Thrash as the No. 1 wide receiver, the Philadelphia Eagles won 12, 12 and 12 games, appearing in the NFC championship game all three seasons.
Had Thrash been a legit No. 1 receiver, Donovan McNabb would likely have a Super Bowl ring, and he may even still be the starting quarterback in Philly.
Thrash wasn't particularly fast, he wasn't strong, he didn't break a lot of tackles and he didn't have great size. He registered just three 100-yard games in three seasons, simply catching passes because someone had to catch passes.