NFL Feuds to Watch in 2012
May 30, 2012

Leon Halip/Getty Images
Those wanting to watch Alex Smith and Cam Newton—with guest appearances by Patrick Willis and Jon Beason, of course—settle their "feud" on the field will have to wait for a potential playoff matchup. Until then, the NFL will keep us plenty entertained with other feuds between players and coaches alike.
Here are some must-watch, can't-miss feuds to mark on your calendar.  
Jim Harbaugh and Jim Schwartz
When: Sept. 16
Their inaugural bout overshadowed last season's riveting game.
The 49ers traveled into a hostile environment, fell behind and fought back to win on a last-second touchdown. Then came the fireworks. Harbaugh, obviously pumped up and running on adrenaline, met his opponent at midfield and offered a handshake he later described as "too hard." 
Replay shows a firm grasp, quick thumb war and what appears to be a slight "now get out of my way so I can celebrate" shove.
But who really cares?
A lot of people actually, and they'll tune in to watch The Handshake: Round 2. 
Justin K. Aller/Getty Images
Terrell Suggs and Rashard Mendenhall
When: Nov. 18, Dec. 2
In reality, it involves every player on the Steelers roster and every player on the Ravens roster.
There have been Twitter spats, talks of bounties, on-field scuffles and even some back-and-forth T-shirt taunting.
This is pure, unadulterated hate only seen in bitter rivalries. Think Yankees and Red Sox, Lakers and Celtics, Barcelona and Real Madrid, and so forth. I imagine it a prerequisite. In order to play for the Steelers you must despise the Ravens and vice versa. 
And that's the way it is, from the coaches to the players and down to the assistant to the traveling secretary.
The teams play twice during the regular season and may rendezvous again in the postseason. We wouldn't have it any other way, either.
Aaron Rodgers and Alex Smith
When: Sept. 9
"What if the 49ers drafted Rodgers instead of Smith?"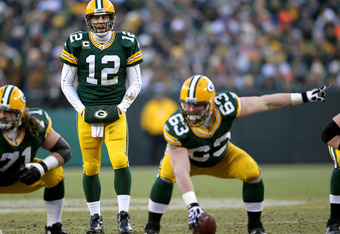 Jamie Squire/Getty Images
"What if Rodgers had to persevere through six different offensive coordinators in as many seasons?"
"What if Smith had time to be groomed behind a Hall of Famer?"
And on and on go the worn-out sentences used when discussing the two quarterbacks. 
Their names will be forever linked after the 49ers chose Smith over Rodgers with the first overall pick in 2005. Since then, it's been a constant battle of "what ifs," and Rodgers—with an MVP and Super Bowl trophy to his name—is the undisputed champ.
Don't count Smith out quite yet, though. He's fresh off a career year and finally playing with confidence and a great supporting cast. A win here may quiet the "what ifs," but I doubt it.
Tom Brady and Eli Manning
When: Aug. 29 (preseason)
Though never vocalized by either of the two, this is a real feud. Trust me. Two competitive guys on two competitive teams with two very competitive head coaches. 
And you better believe Brady is fully aware of his record against Manning—1-3, with two losses coming in Super Bowls. If not, I'm sure Gisele has reminded him at least a few times.
Brady would love another shot at him on the biggest stage, but this preseason game will have to do in the meantime.
Jim Harbaugh and Pete Carroll
When: Oct. 18, Dec. 23
In the world of coaching feuds, Harbaugh sure does get around. 
This one is rooted back to their days together in the Pac-10. Harbaugh was at Stanford, Carroll at USC and they met at the 50-yard line for the famous "What's your deal?" moment after a decisive—and arguably cruel—Cardinal victory. Words were exchanged, questions were asked and repeated again.
So, what exactly is their deal? 
Both deny any notion of a feud, but I beg to differ. Whether or not they have another post-game Q-and-A session—though more of a Q-and- Q—they will surely have their teams prepared on the above dates.
LeSean McCoy and Osi Umenyiora
When: Sept. 20, Dec. 30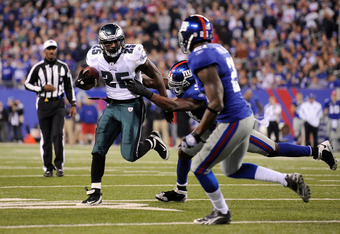 Patrick McDermott/Getty Images
Their Twitter feud only added fuel to an already-burning rivalry between the two teams.
McCoy—since it was totally his business—decided to chime in on Umenyiora's contract situation with the New York Giants and called him "overrated and the third best lineman on the team."
Umenyiora then took a page out of "How to Tease Like a Third-Grader For Dummies" and lashed back. He called McCoy "Lady GaGa" and later referred to him as a "she."
Ouch!
Tackles and hits may break bones, but tweets will never heal. 
Peyton Manning and Tom Brady
When: Oct. 7
Basically, Brady is feuding with the entire Manning family. Even Archie—if he were to suit up again and put the pads on—would somehow get on his nerves.  
This time around, though, Peyton is playing on a new team in a new city with new teammates. But feuds travel, and this one will be well-rested after last year's hibernation.
Grab your popcorn and enjoy.