Kasey Kahne Conquers Charlotte 600
May 28, 2012

John Harrelson/Getty Images
Racin' with Russ - After a long spell of bad luck and poor finishes for one reason or another, Kasey Kahne brought his Quaker State Chevrolet home in first place over a tough field of Sprint Cup drivers in the longest race of the year at Charlotte Motor Speedway.
The Memorial Day classic 600-mile race held on Sunday night proved to be long, hot and unpredictable as ever.
Did the fastest car win? Maybe, but surely not the car that led the most laps. Greg Biffle's Ford Fusion was fast for the first half, butt Kahne's stout Chevy covered the field in convincing fashion over the final hours.
The event started with team Petty, that being Aric Almirola and Marcos Ambrose, on the front row. Ambrose led for a while before Biffle took over, easily showing the fast way around the 1.5-mile oval. While Ambrose stayed among the top 10 for most of the race, he fell to way side with mechanical problems late in the race, netting an underserved 32nd place.
The caution flags only flew for an errant one-car incident and three times for debris, phantom or otherwise.
Once Kahne worked his way past Kyle Busch, he set sail for the final hundred laps with only Denny Hamlin offering any kind of late race challenge.
Kahne's first checkers this year also marked his first since joining Hendrick Motorsports. The big payday also noted his 13th career trophy, third 600 win and changed the record books as the fastest race run by some five minutes overall.
Biffle's fourth place finish keeps him atop the standings by 10 over teammate Matt Kenseth. Danica Patrick made her third Cup start in 40th position. After cruising around the four hour race, she wound up five laps down in 31st.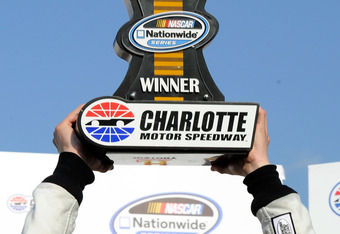 John Harrelson/Getty Images
Nationwide

The Saturday afternoon Nationwide race saw visiting Cup drivers dominate the show. At the finish line, it was Brad Keselowski's Dodge taking the top spot over Denny Hamlin, Kyle Busch, Kevin Harvick and Elliott Sadler.
Points leader Ricky Stenhouse Jr. ran strong early only to succumb to mechanical problems, namely a broken drive shaft, netting him a 26th place finish. He still holds on to the points lead over Sadler by 13 markers.
Danica Patrick started third, yet dropped to 13th by the end of the race.
Indy Cars

This year's Indy 500 proved too hot both on and off the racetrack with near record temperatures. A record 34 lead changes saw 10 different drivers take turns out front, but it was Dario Franchitti sipping the milk in the victory lane after lap 200.
Marco Andretti led a lot of laps but crashed out late in the race earning, a 24th place finish.
In the closing laps, Franchitti and teammate Scott Dixon traded the lead many times before Takuma Sato entered the fray. Sato moved up to second over the final few laps and attempted a pass for the lead on the final lap only to spin out while next to Franchitti in Turn 1, ending the race with Franchitti's third 500 trophy.
Dixon, Tony Kanaan, Oriol Servia and pole sitter Ryan Briscoe capped the Top Five runners.
Overall, the 96th running of the famous race was exciting right down to the checkered flag.
Open Wheel News

The Formula One race in Monaco was also an exciting event with pole sitter Mark Webber the eventual winner over Nico Rosberg and Fernando Alonso. The tight and twisty Monaco course kept the drivers on their toes not to crash out of this historic event.
Alonso's latest result keeps him on top of the points, but only by three over Webber and teammate Sebastien Vettel.
From Rumorville

Media darling Danica Patrick was quoted as saying she's interested in competing in both the Indy 600 and the Coke 600 for next year, according to Nate Ryan of USA Today. It's been done before by the likes of Tony Stewart and Robby Gordon, but tight time constraints make it difficult.
Busch brothers as teammates? Don't rule out the idea for the Busch brothers, Kurt and Kyle, to be teammates at Joe Gibbs Racing if the details can be worked out. Sporting News discussed the possibility last week. Can you imagine that tag team deal?
The latest class of NASCAR Hall of Fame Inductees was named last week. They include Rusty Wallace, Cotton Owens, Buck Baker, Herb Thomas and Leonard Wood. I feel Rusty's pick was a bit early and that drivers such as Wendell Scott, Benny Parsons or Ray Fox should have been considered.

That's it for this week. Next week, RWR will review the triple NASCAR races at Dover along with more racing news from around the globe.

Questions? Comments? Contact Russ at racinwithruss@comcast.net