NFL Rankings: 6 Best Defenders in the AFC East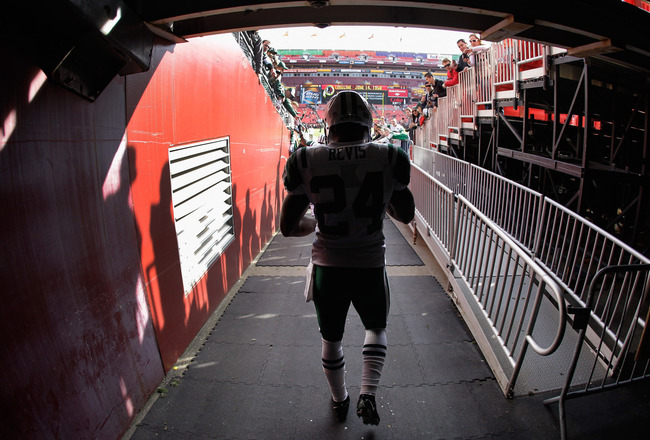 Rob Carr/Getty Images
The AFC East has been dominated by the New England Patriots for much of the past decade, thanks in large part to their defensive-genius head coach, Bill Belichick.
The division features two of the best players in the NFL: Darrelle Revis and Tom Brady. Only one of them, however, is a defensive player.
There is a significant drop-off between the best defensive player and everyone else.
Here are the top six dominant defensive players in the AFC East.
No. 6: Jerod Mayo, New England Patriots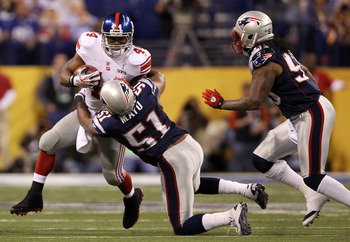 Ezra Shaw/Getty Images
Jerod Mayo is basically the definition of a "ball hawk."
This 6'1" inside linebacker is everywhere on the football field, and is perennially one of the league leaders in tackles, thanks to his 4.56 40-yard dash speed.
The Patriots knew they had an every-down linebacker when he recorded 20 tackles against the New York Jets in his rookie season, and in fact, he did not miss a single snap that season.
Mayo was named to the All-Pro team in 2010 with his incredible stat line of 175 tackles, 114 solo tackles, two sacks, one forced fumble and three fumble recoveries.
He was recently signed to a five-year contract extension which is bad news for the AFC East, as he will be anchoring the Patriots' defense for years to come.
He ranks just ahead of David Harris of the Jets as the best inside linebacker in the division.
No. 5: Cameron Wake, Miami Dolphins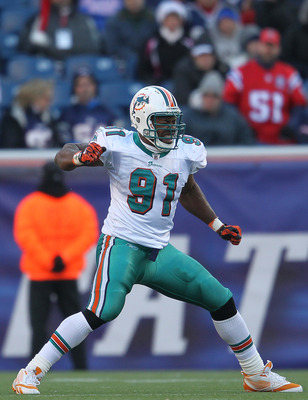 Jim Rogash/Getty Images
Cameron Wake is a perfect example of why to never give up on your dream.
He went undrafted out of Penn State in 2005. He entered the Canadian Football League, where his performance could not be ignored.
In 2007, he won the Most Outstanding Defensive Player award as a rookie, and followed up that performance by winning it again the next year.
The Miami Dolphins signed him to a four-year contract, and he has rewarded them with 28.0 sacks in his first three seasons.
2010 was his finest season, which featured 57 tackles, 48 solo tackles, 14 sacks and three forced fumbles. Last season his sack total dropped to eight, but he is certainly one of the most feared pass-rushers in the league at this point and was a starter in the Pro Bowl for the AFC.
Wake is the second-best pass-rusher in the AFC East behind Mario Williams, but his newly signed four-year contract extension worth $49 million may be incentive for him to improve his play even more.
No. 4: Vince Wilfork, New England Patriots
Jamie Squire/Getty Images
Vince Wilfork is a mountain of a man, perhaps a bit heavier than his listed weight at 325 lbs.
Wilfork is an integral part of the Patriots defense, as he can cause pressure with his potent strength or he can stuff the line with his massive frame and long arms.
His statistics are not as gaudy (excluding his impressive interceptions) as a Haloti Ngata or Kevin Williams, but he is just as important to his team's success.
Belichick is certainly a fan of making several personnel changes, but he does not exactly enjoy taking Wilfork out of the game.
In the AFC Championship game last season against the Baltimore Ravens, Wilfork played in 67 out of a possible 70 snaps. It's mind-boggling that a man of his size possesses such stamina and strength.
The Patriots improved their team speed in the draft which should help the defense's production, and perhaps allow Wilfork to take a few plays off every once in a while.
No. 3: Sione Pouha, New York Jets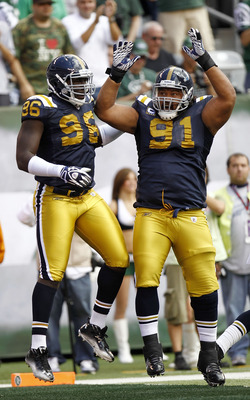 Jeff Zelevansky/Getty Images
In Rex Ryan's 3-4 scheme, the New York Jets absolutely need a big-time run-stopper in the middle of the line. Sione Pouha is just that.
Pouha has made Jets fans forget about the injuries to Kris Jenkins, which ended his 2009 and 2010 seasons prematurely.
The 6'3" native of Utah often went unnoticed early in his career as a Jet, but put together a fantastic 2011 campaign which featured 58 tackles, 41 solo tackles, a sack, a forced fumble and all of this came as a nose tackle, while often taking on double-teams and penetrating the A-gap.
Pouha has developed into one of the premier nose tackle in the game, just ahead of the rival Vince Wilfork.
No. 2: Mario Williams, Buffalo Bills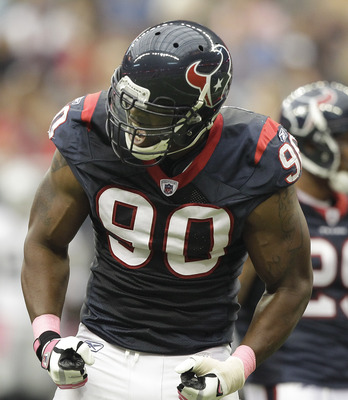 Bob Levey/Getty Images
Mario Williams entered the league amidst high expectations considering he was not only taken as the No. 1 selection of the Houston Texans in 2006 NFL Draft, but he was picked just before the highly touted Reggie Bush.
Williams has not disappointed, as he has compiled 53.0 career sacks to go along with 241 tackles. He set the Texans single-season sack record with 14.0 in 2007, and was an integral part in the rebuilding of the franchise.
On March 15th of this year, however, Williams signed a six-year contract with the Buffalo Bills that could be worth upwards of $100 million.
Williams is tremendously gifted athletically for a 6'6" pass-rusher which has allowed him to be named a Pro Bowler twice in his career.
He has had injury troubles the past two seasons, which could be a cause for concern for the Bills, but a healthy Williams will make their defense much more formidable.
No. 1: Darrelle Revis, New York Jets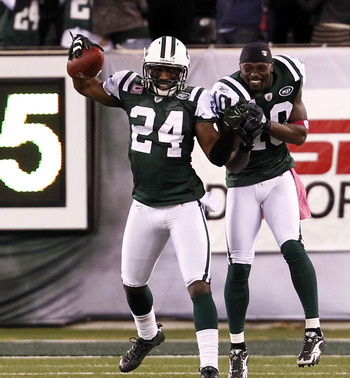 Jeff Zelevansky/Getty Images
Darrelle Revis is not only the best cornerback in the NFL today, but arguably the best since Deion Sanders.
Quarterbacks have generally avoided "Revis Island" since his tremendous 2009-'10 campaign which saw him shut down the likes of Randy Moss, Chad Johnson (currently Ochocinco), Terrell Owens, Steve Smith, Reggie Wayne and Andre Johnson.
Last season was another dominant campaign from Revis who allowed only a single touchdown all season, which was by Stevie Johnson of Buffalo.
His completion percentage against of 41.2 percent was the lowest in the league, and he only allowed 35 receptions all season.
Revis has admitted sometimes he is forced to fight off boredom due to his lack of activity at times.
As long as Revis maintains his dominant level of play, he allows Rex Ryan more freedom in his defensive play-calling, because Revis is able to match up against the opponent's top receiver and essentially render him useless.
Keep Reading