Baltimore Orioles Survive Tough Early May Schedule
May 16, 2012

Rob Carr/Getty Images
Earlier this month I wrote a piece that discussed how the Baltimore Orioles' challenging May schedule may very well dictate the ballclub's course.
This piece pointed to Baltimore facing a brutal 15-game stretch of five games against the New York Yankees, four games against the Texas Rangers and three-game sets against the Boston Red Sox and Tampa Bay Rays.
Brutal to say the least, but Baltimore has withstood this fierce storm, compiling a 9-6 record in this stretch.
Now at 23-14, the Birds are perched atop an increasingly black and blue American League East division with the Tampa Bay Rays.
To point to how competitive this division is this season, every team but Boston has a winning record. Yet after a difficult start to the 2012 season, the last-place Red Sox have won five straight games and are just five-and-a-half games back of first place.
One of the most surprising developments this season, the Orioles have won ball games via the long ball. Currently, Baltimore leads the big leagues in team home runs with 58.
Offensively, the Orioles are in the top 10 in the big leagues in team hits (314), doubles (68), slugging percentage (.449), OPS (.799) and RBI (158).
Pitching-wise, the Birds are 11th in the league in team ERA (3.49). They are also ninth in WHIP (1.26), 10th in opposing batting average (.243) and 12th in strikeouts (271).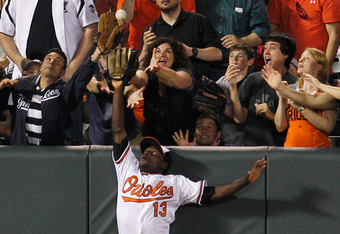 Rob Carr/Getty Images
But for all the success the Orioles have enjoyed, they do have two key issues they must address.
First, Baltimore is fourth in the league in offensive team strikeouts (294). Second, the Orioles are 27th in the league in fielding percentage (.976). The team is also third worst in baseball in errors committed (36).  
But overall, the Orioles and their fanbase are enjoying one of their finest seasons since Cal Ripken Jr. wore orange and white.  
For this, Charm City should be excited.
With continued unity, resolve and address of these listed flaws, the Orioles will go on to achieve great things this season.
Perhaps even a playoff berth.
I know, I know. Knock on wood.
Related Articles:
2012 AL East Race May leave Division Black and Blue