AL East Race May Leave Division Black and Blue
May 3, 2012

Al Bello/Getty Images
It is still early in the 2012 big league season, but current indications point to a pennant race in the AL East that may end up being one for the ages.
As a baseball fan and writer, it is exciting to watch all five teams in this division jockey for early position using their own varying styles. How impressive it is to watch such a vast array of talent displayed in this division this season. How great it is to watch the sheer diversity each team brings to the table is as well.
Starting with the top, the Tampa Bay Rays are 16-8 and have won nine of their last 10 games. While the Rays offense took a blow in recently losing Evan Longoria to a hamstring injury, the team's pitching staff has been worthy of a mass starting pitcher Cy Young Award.
Yet with the Rays current success, I cannot help but wonder if Longoria's loss will place added pressure on the Rays' pitching staff to keep scores down. Doing this every now and then is alright. But sustained pressure over a long period of time can wear on a club—especially in this division. But the Rays have proven in the past that this team possesses a seemingly endless arsenal of pitching that enables them to be in every race at the end of the season.
Right on the Ray's heels are the Baltimore Orioles. Yes, the Baltimore Orioles! This club has been very impressive thus far. The Orioles are showing signs of being much different from other Baltimore teams that struggled mightily the past two decades. Baltimore's starting pitching has been solid, and the bullpen has the best ERA in the big leagues.
Hitting has been clutch as well, even though Nick Markakis and Mark Reynolds have yet to get going. With that said, the Orioles face a challenging May schedule that may dictate the club's course. Should Baltimore emerge from this difficult stretch with its head held high, Charm City may be in for a very fun summer.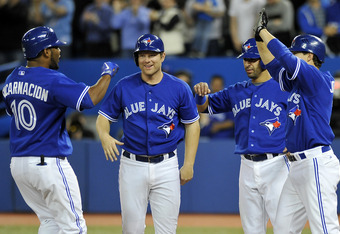 Brad White/Getty Images
Then there are those legendary New York Yankees, sitting at 13-10. Man, I can't help but love this team. As usual, this team wreaks of star power. Derek Jeter, who seems to be having a renaissance, is off to an out-of-this-world start to the season. Curtis Granderson, who is always fun to watch, has played great as well. Alex Rodriguez is showing signs of getting things going. And life should get really interesting once Mark Teixeira and Robinson Cano wake from April's slumber.

One concern for the Yankees, of course, is pitching. Losing Michael Pineda for the season was a big blow to the team. And the Yankees have a few pitching issues to tackle beyond superstar CC Sabathia and budding star Ivan Nova (who seems to win every time he takes the hill).
But just like every summer, one can bet top dollar the Yankees will not idly sit by (no pun intended). And you can guarantee, like a good neighbor, the Yankees will again be there.  
This brings us to the biggest enigma in the AL East so far this season: the Toronto Blue Jays. Right now this 14-11 ball club seems to be the ultimate Jekyll and Hyde of this division. This team undoubtedly has a powerful offense, which was on full display during their 11-5 drubbing of the New Orleans Saints…err Texas Rangers in Toronto this afternoon. Yet at times, the Jays offense seems to disappear from games, which puts undue pressure on the pitching staff.
Like with Tampa, the Jays could have a long go of life, should the wear and tear on this team's hurlers take foot during the grueling summer months. Yet if Jose Bautista and Company unleash the good wood night-in and night-out, we may be in for an even bigger slug fest in the AL East race.  
Strangely, last in the division are the Boston Red Sox. But it would be a grave mistake to count this great ball club out. Though 11-12 record wise, the Red Sox have won seven of their last 10 games. D
Despite fighting the injury bug early on, the Sox offense has been hitting the ball well. This is especially true for David Ortiz, who is putting up MVP type numbers (.386 average with 34 hits, six home runs, and 21 RBI). Mike Aviles and Cody Ross have both put up some nice numbers as well in the lineup absence of Jacoby Ellsbury. Both players have combined for 10 home runs and 37 RBIs.
Consistent pitching has been an issue for the Red Sox, but it has gotten better as well as of late. Like the Yankees, it is difficult to keep the Red Sox down long. This team will adjust. This team will go on a streak. And come September, this team will be right in the thick of the playoff picture.
Looking big picture, it would not surprise me, in light of an additional playoff spot, that the AL East will boast three teams from this division come October. But just who these teams will be is truly anyone's guess at this point.
Of all teams, the Orioles and Jays provide the biggest question marks. Should both of teams remain mentally and emotionally tough through the everyday grind of summer, baseball fans may end up witnessing a black and blue style division where everyone beats each other up all the time.
As a baseball fan, and as a person who always likes good Cinderella stories, I would not have it any other way.